Project Guide
How to Build a Post-and-Rail Fence
Time Required:

Over 1 day

Difficulty:

Intermediate
---
Whether to discourage the flow of traffic on and off of your property or simply to add value to your home, a wood fence is an attractive way to define the edges of your landscape. The simplest kind is a post-and-rail fence. With some time, effort and know-how, you can install one yourself.
There are three basic types of post-and-rail fences distinguished by the shape and design of their posts. The fence and the way you install it depends on whether the posts are square, round or pre-mortised (pre-cut with a hole to receive a joint). Set square posts into the ground, trim them to height and install the rails. Before setting round posts into the ground, cut notches for the rails. Set and plumb pre-mortised posts as you install the rails.
This guide highlights the process of installing a simple square post-and-rail fence in your yard.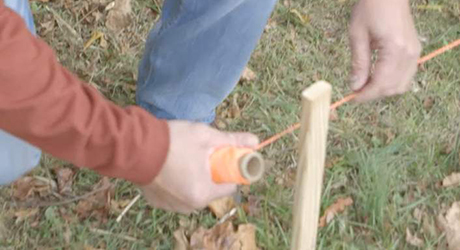 Use the mason's line to mark off the area where you want the fence. This will help you keep your lines straight when setting the posts.
Starting at the corners, measure off 6-foot to 8-foot intervals for your fence posts.
Use a posthole digger to set holes at each interval.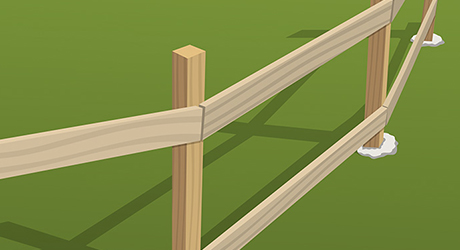 Using a sledgehammer, drive the posts into the holes. For added stability, you can fill the remaining space around each post with cement.
Trim the tops of the posts to the desired height of the fence.
Mark the posts for bottom rails that are 3 to 4 inches above the ground and top rails flush with the top of the posts.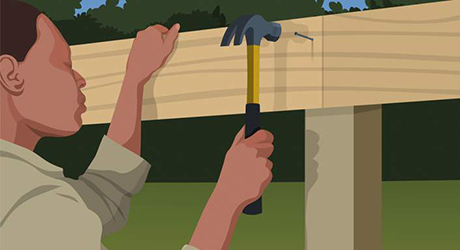 Cut your top and bottom rails long enough to span three posts. The joints where two rails meet should join midway between the edges of the post.
Stagger the rails so that no post along the side of the fence has to bear joints at both the top and bottom. Corners will have to bear both top and bottom joints.
Level each rail and nail it in place with galvanized 10d (3-inch) nails or screw it in place with 3-inch deck screws.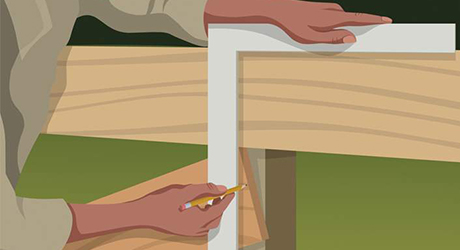 Tack cross rails to the posts and mark them for cutting with a framing square.
Remove the cross rails and make the cuts with a circular saw.
Fasten the cross rails to the posts with galvanized 10d (3-inch) nails or screw them in place with two 3-inch deck screws.