Project Guide
How to Decorate a Pumpkin
Time Required:

2-4 hours

Difficulty:

Beginner
---
Fall holidays are prime time for to decorate pumpkins. While carving pumpkins can be fun, and kits full of pumpkin carving tools are everywhere, sometimes you want the fun of pumpkin decorating without the clean-up. This guide offers a few Halloween pumpkin ideas that let you decorate pumpkins without carving. You can even apply most of these techniques to artificial pumpkins to create decor that will last from one season to the next.
Tip: There's no need to wait until Halloween to decorate pumpkins - when you don't carve into a pumpkin, it will last much longer than your standard carved jack-o'-lantern.
Gather Tools and Materials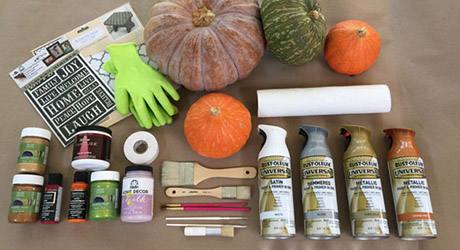 Choose several real or artificial pumpkins for your projects in a variety of sizes as it suits your decor.
Set up a drop cloth to protect your crafting surface.
Collect craft glue, painter's tape, a low-temperature glue gun with glue sticks, and a number of paint brushes and stencil sponges.
Collect various colors of spray paint, acrylic craft paint, paint pens, permanent markers and washable markers.
Gather craft embellishments as needed, including tissue, construction and wrapping papers, ribbon, rick rack, loose and ribbon rhinestones, stickers, self-adhesive stencils, and other decorative materials.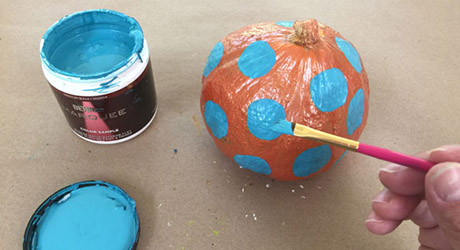 Before applying any paint, wipe the entire surface of the pumpkin with a damp cloth and allow to dry thoroughly.
Use non-toxic spray paint to cover large areas; detail work and stencils can be filled in with acrylic paints and brushes or sponges.
Apply paint in light coats. Do not overspray or cake up paint on the pumpkin surface.
Allow 20 minutes of drying time between coats of paint.
Use painter's tape to mask off areas of the pumpkin for color-blocking.
Let the final project dry for 24 hours before setting it up for display.
Use stencils to paint more complex art.
Tip: Adhesive stencils can be smoothed onto the surface and will stay in place while you paint. Use painter's tape to hold non-adhesive stencils in place to avoid damaging a painted background.
Some creative design ideas:
Cover the pumpkin with dark paint. Allow to partially dry and then use a blunt tool, such as a spoon handle or a wooden chopstick to scratch designs into the paint.
Color block the pumpkin and paint with white and yellow to mimic candy corn.
Paint the surface with a solid color. Once it has dried, paint designs on the surface with glow-in-the-dark paint.
Paint a jack-o'-lantern face onto the pumpkin instead of carving it.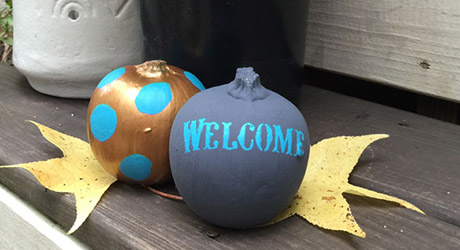 Choose a pumpkin with the smoothest surface you can when drawing designs. An artificial pumpkin is recommended if truly smooth surfaces are desired.
Sketch out designs with chalk or washable marker first, remembering that you will able to wipe away mistakes.
When you have settled on a pattern or lettering, trace with permanent marker or use paint pens with fine or medium points as the design calls for.
For a higher contrast, paint the surface of the pumpkin and let it dry for 24 hours, then draw on the designs or lettering.
Some creative design ideas:
Create an erasable pumpkin by painting the face with chalkboard paint. Use chalk or chalk paint markers to create designs that you can change throughout the season.
Collect several pumpkins of similar size and draw one letter on each to spell out a word.
Mix geometric designs with hand lettering in complementary colors.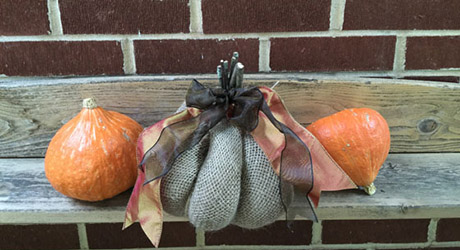 Use embellishments to dress up a pumpkin. Craft glue works well for lighter materials like paper, lace or leaves. For heavier items such as rhinestones, buttons and decorative cord, use a low-temperature glue gun to affix materials.
Some creative design ideas:
Starting at the base of the pumpkin, glue ribbon or cord along the ribs up toward the stem. Wrap the excess ribbon in a twist or bow around the stem and glue in place.
Cut out fall shapes in tissue or construction paper and glue them to the surface of the pumpkin. Place a small ball of tissue paper under the center of each shape and glue around the edges for a 3D look.
Purchase wrapping paper with fall designs and use it to decoupage a pumpkin. Cut out the designs, affix to the pumpkin with decoupage glue, then apply a sealing coat of glue over the entire surface.
Decorative gold leaf adds shimmer and interest to any design. Paint a thin layer of glue over a spot you wish to highlight, then carefully apply a bit of gold leaf, using a soft brush to smooth it down. Let it dry completely then lightly rub the area with a soft cloth to bring out more shine.
Decorate pumpkins without carving and avoid the traditional fall pumpkin decorating mess. These ideas will take your pumpkin decorating and fall decor up a notch without one cut.
Excited by your new Halloween pumpkin ideas? Check out our advice on creating pumpkin planters, buying Halloween decor and other DIY holiday ideas for the seasons to come.