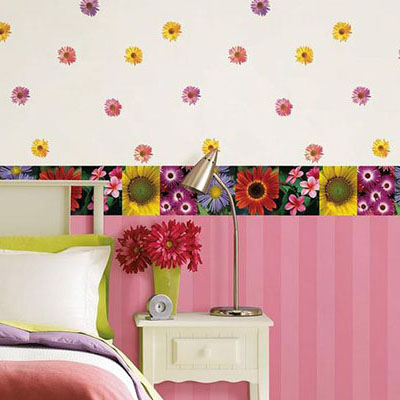 When you're looking to spice up the walls in your home but don't want to paint, you may want to hang a wallpaper border. It requires less time than a full wallpaper installation or repainting.
This guide lists the types of wallpaper borders available. You'll learn how to prep your wall for a wallpaper border on painted, unpainted and wallpapered walls. This guide also outlines the steps to hang a DIY wallpaper border.
1
Benefits of Wallpaper Borders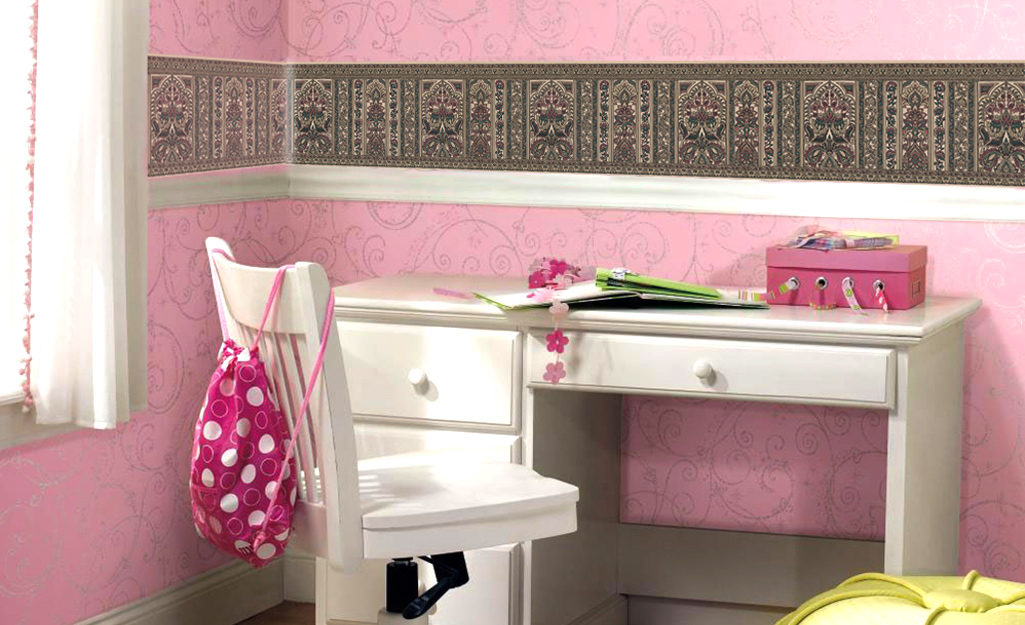 Wallpaper is great for giving a room some pizzazz with a fun pattern or print. Using a wallpaper border is faster than painting or stenciling by hand. It's also more uniform, as hand painting or using a stencil has tiny natural variations.
It's easier to hang a wallpaper border vs. wallpapering a whole wall because there's less paper to handle. It's also quicker to do because the area of a border is a fraction of a wall. Alone or with a partner, you can hang a wallpaper border in an afternoon. 
You don't have to install your border along the top of the room, either. You may decide to put a border around the bottom of the room or more toward the center, known as a chair rail. It's also ideal to highlight an accent wall, bay window or reading nook. 
2
Types of Wallpaper Borders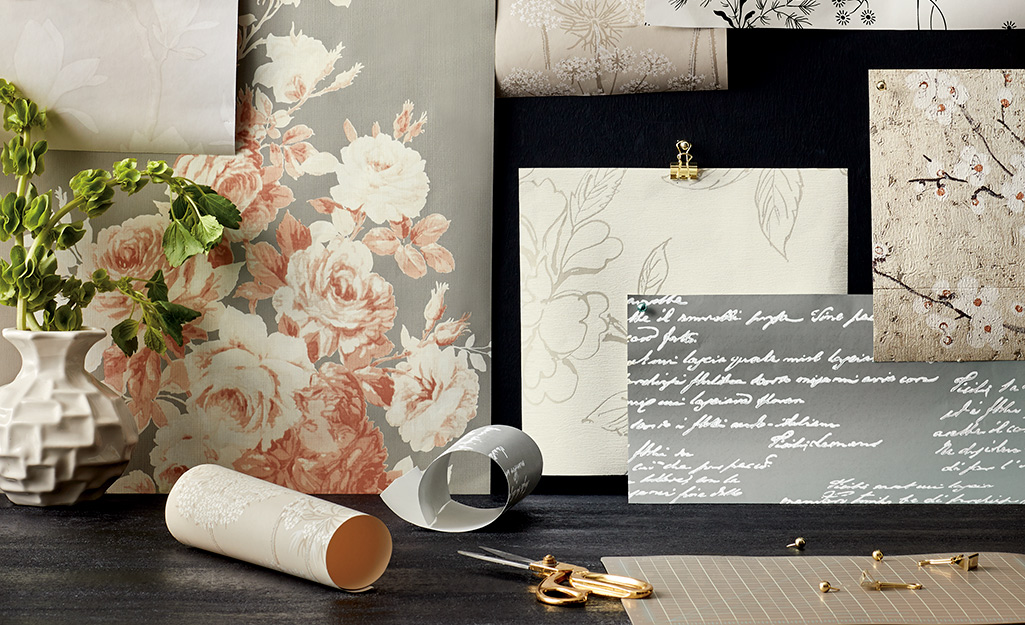 Although there are a wide variety of wallpaper finishes and countless choices for patterns and colors, there are only three main types of wallpaper borders. These types refer to the adhesive on the wallpaper.
Non-pasted wallpaper borders: You'll need to use wallpaper paste to apply this paper. It lasts up to 15 years, the longest of all the wallpaper options. Unless it's hand-painted, this is usually the most economical wallpaper. 
Pre-pasted wallpaper borders: Just wet the paper with water and smooth it where you need it. This wallpaper lasts a middle range of time. The price tends to be in the middle as well.
Peel-and-stick wallpaper or removable wallpaper: Peel off the backing and stick it on the wall. It's also called self-adhesive wallpaper. Removable wallpaper has a low-tack adhesive and is great for a trial run of a wallpaper pattern. You'll pay a bit more for the convenience of easy removal, but if you change your decor often, this is an excellent choice.
If cost is a factor, choose unpasted paper. If you'd rather have the freedom and comfort of easy wallpaper installation and removal, go with self-adhesive wallpaper.
3
Prepare the Wall for a Wallpaper Border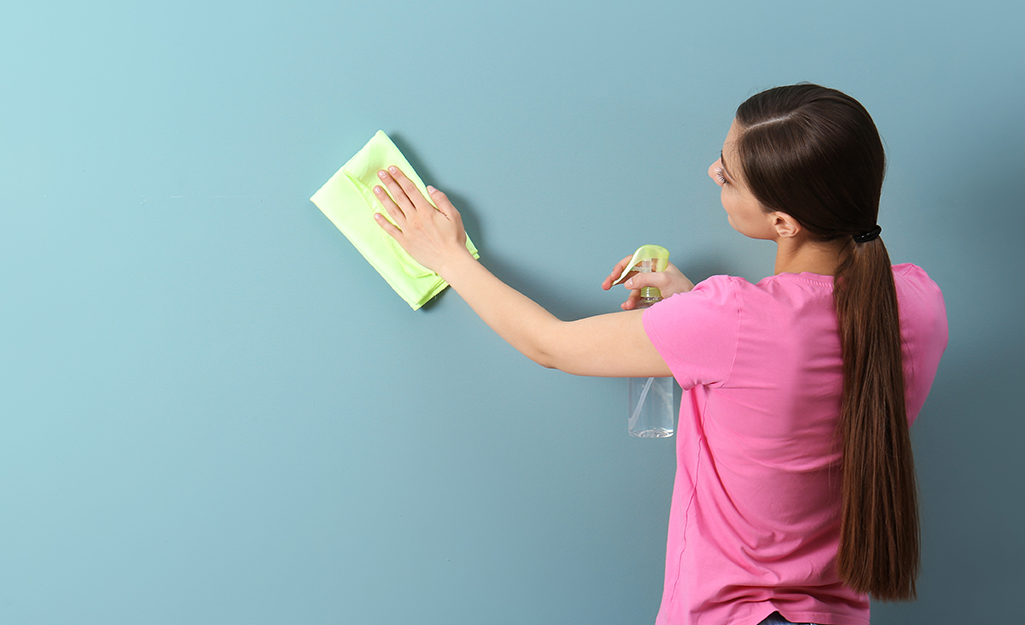 Before you commit to a wallpaper border, make sure your surface is compatible with it. Read on to find out how much prep work your wall needs before papering.
Your wallpaper border reflects the wall beneath it, so start with a smooth surface. You'll need to prime only where your border will be. Repair, clean and prime are the terms to remember here.
Here is how you prepare your wall for a wallpaper border.
Painted walls:
Smooth painted wall: Wash it with diluted dish soap, water and a sponge. After it dries, you're free to prime the surface. 
Damaged painted wall: Patch any cracks, spackle and fill any small holes or divots. Lightly sand it smooth. Wash it, let it dry and prime it.
Wallpapered walls:
Existing smooth wallpaper: The ideal paper is light-colored, non-textured wallpaper that is firmly adhered to the wall. Carefully wipe it down with warm water and dish soap. Avoid soaking the paper. Let it dry, then seal the area under the border with primer.
Existing flocked, embossed or textured wallpaper: This isn't a good option, as your border would look bumpy and adhere unevenly. Remove that wallpaper, prime and then apply your new wallpaper border.
Other wall surfaces:
Textured wall: Wallpaper won't adhere well to a textured wall, such as stucco or plaster. Remove the texture, sand and prime before adding a wallpaper border.
Concrete wall: Concrete lacks the surface for your adhesive to cling. Paint is a better option on concrete walls than wallpaper.
Drywall or an unpainted wall: Sand, dust and seal your drywall with a primer before papering. Never apply wallpaper directly to drywall. Installing wallpaper on drywall means the adhesive seeps into the wall itself. You'd damage the wall when you removed the wallpaper, and pieces of drywall would come off.
4
Measure, Plan and Cut a Wallpaper Border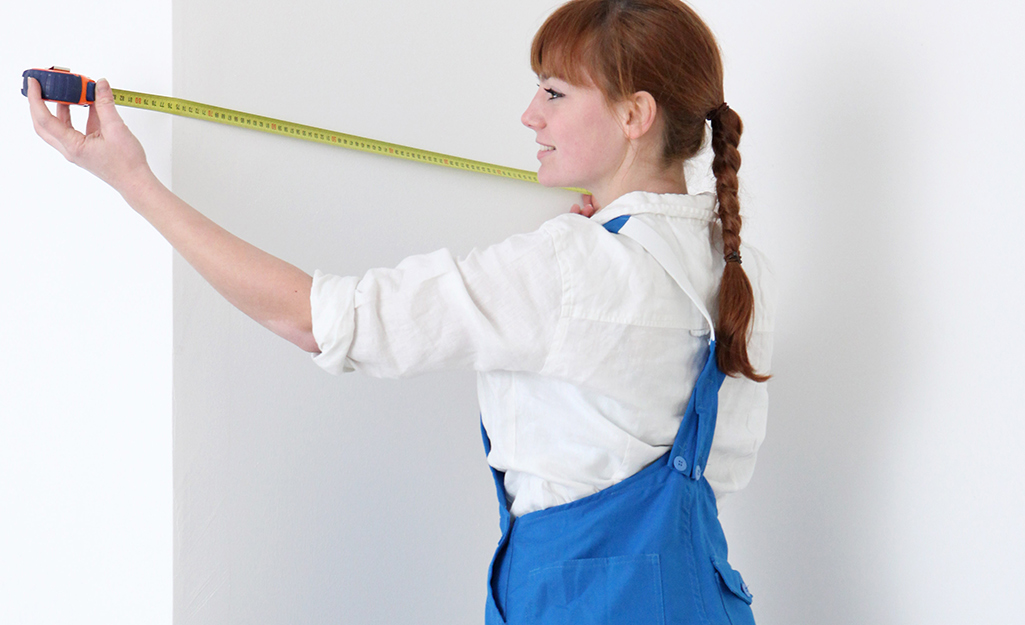 Figure out how much wallpaper you'll need. Use a measuring tape to measure the width of the walls where you're hanging the border. If you've got an idea how tall your border should be, measure that height. Keep it in mind while choosing your wallpaper border.
Use your border to roughly lay out your design.
Cut a border strip that's three inches longer than the width of your wall.
If your border is too short, plan around your seams. Avoid seams that are right in the middle of the wall. Hide your seams in shadows, behind furniture or in a corner.
If you're hanging a border as a chair rail without a moulding, you'll have more planning:
For an 8-foot ceiling, hold up the wallpaper 32 inches off the floor. 
Change your starting level if your ceiling is not 8 feet. Aim for 1/3 of the room height. 
Adjust your height according to what looks best – it helps to have a partner to hold up the wallpaper border. 
Mark the wall lightly with pencil once you find your chair rail height. 
Then use a level to pencil in a line for the whole chair rail length.
If you already have a chair rail moulding, decide whether your border goes above or below it.
5
Prime Wall Beneath Border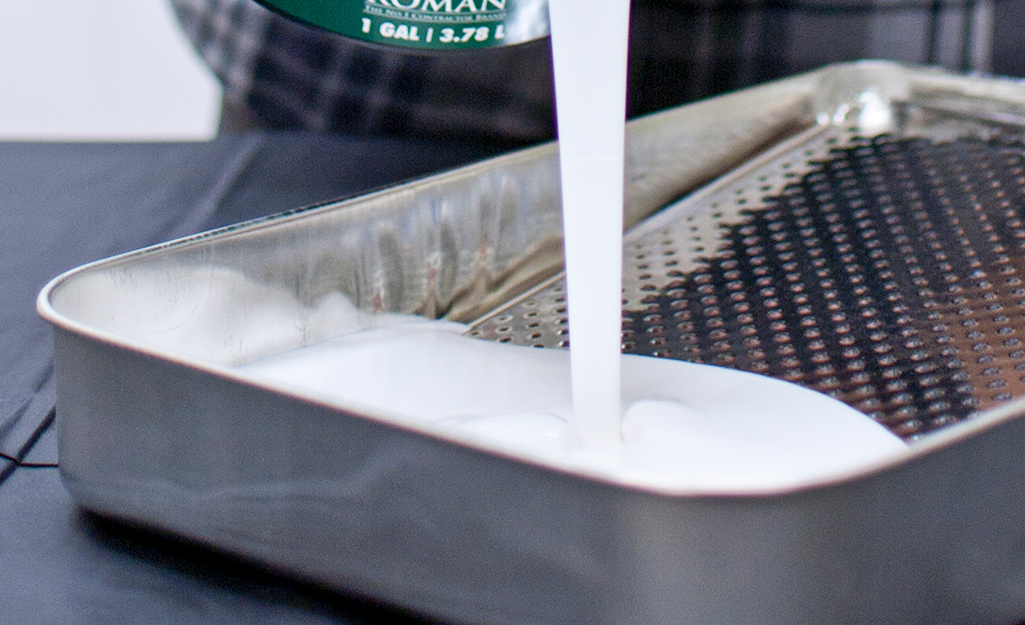 It's important to prime the area of the wall where your wallpaper border will go. When you mark the border edges with pencil and paint within the lines, the primer won't show once your border is hung.

Mask off the area around the border using painter's tape. Apply primer with a paint roller and tray. Following the manufacturer's instructions, wait for it to dry completely before applying a wallpaper border.

Priming your wall before adding a border is important for many reasons:
Your wallpaper gets strong adhesion and a smooth application.
It's easier to install because you can move the paper into place if you need to adjust it.
The wallpaper border sticks to the primer and not the paint below it, so there's less stress on the wall.
It's less hassle to remove the wallpaper border when you're ready to change it.
You won't destroy the drywall behind the border when you remove it.
The wall color won't show through and tint the look of your wallpaper border.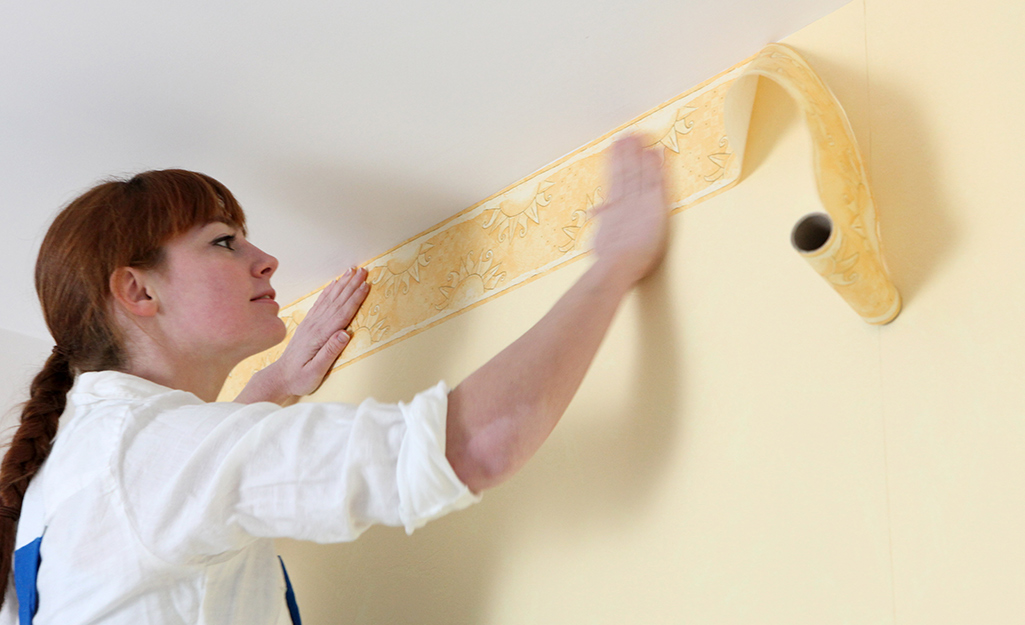 Once your wall is completely dry from being primed, you're ready to hang a wallpaper border. Follow the instructions that came with your wallpaper for best results. Depending on your paper type, prepare the adhesive as follows:
Unpasted wallpaper border: Apply paste and book the paper before hanging. Booking is the process of gently folding both outer pasted wallpaper edges to meet in the middle. The wallpaper will look like an open book. Wait for the paste to activate and become tacky before using.
Pasted wallpaper border: Soak in water, then prepare for hanging.
Removable or peel-and-stick wallpaper border: Peel the backing off to expose the adhesive. 
To install a wallpaper border on your wall, follow these steps:
Bend your border paper gently into an accordion fold. This keeps it manageable, without creasing it.
Begin by hanging the first strip at a corner, overlapping the border onto the adjacent wall about an inch or less. You'll trim it later.
Use the ceiling as a guide to hang the wallpaper border level if you're doing a top border. The paper should rest right below the ceiling and not overlap.
To do a bottom border, use the baseboard or moulding as a guide.
A chair rail starts at the edge of the wall and follows the moulding or your pencil marks.
If possible, have a helper hold the border while you hang it and smooth it with the smoothing brush.
Continue hanging your wallpaper border like this until it is all applied. Address and smooth seams as you come across them.
Tip: If hanging the border by yourself is challenging, give yourself a helping hand. When hanging a high wallpaper border, try pinning the excess folded border with a thumbtack. It'll leave tiny holes, but they likely won't be seen from the ground.
7
Match Patterns at Wallpaper Border Seams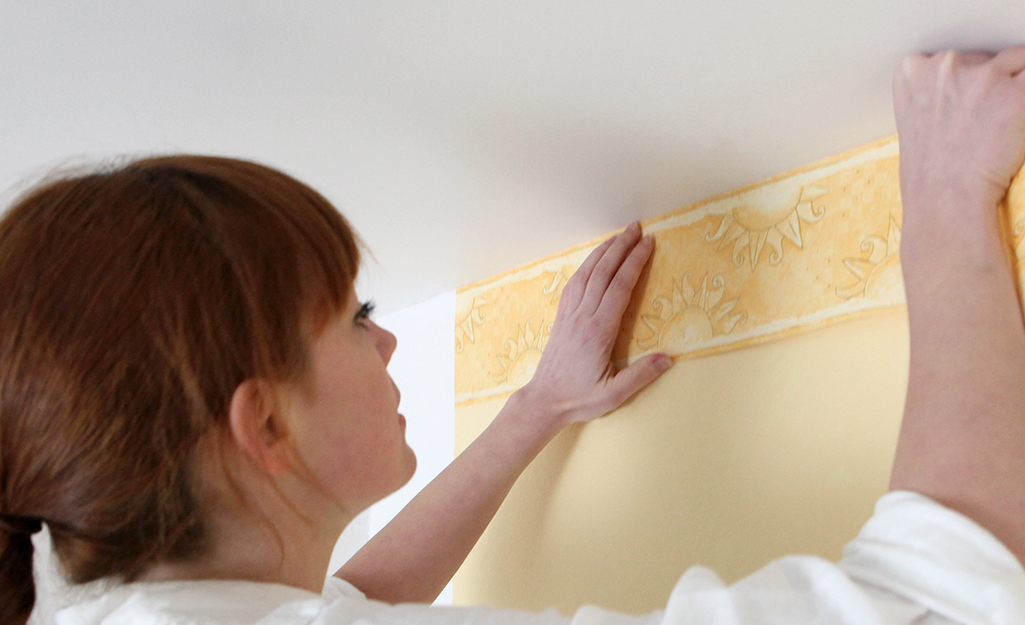 Match your wallpaper border seams at corners whenever you can. A wrap-and-overlap seam assures that your seams are hidden:
Make sure your pattern matches up perfectly.
Wrap your first border piece around the corner. Trim it 1/2 inch after the corner and smooth it onto the adjacent wall. This goes under the other border piece.
Take the other border piece and slice the edge so it falls perfectly into the corner. The border edge overlaps the first piece and lands in the corner. Press into place.
If the seam falls in the middle of the wall, there are two ways to match your pattern:
Overlap the border strips so that the patterns match, then lightly score a cut through both layers with a utility knife. Remove the cut ends and then press the border flat with the smoothing brush or squeegee.
Align your pattern so it's continuous from one border piece to the next. Place the two pieces as close together as possible without overlapping. Roll the seams down with a wallpaper seam roller.
8
Smooth and Trim Wallpaper Border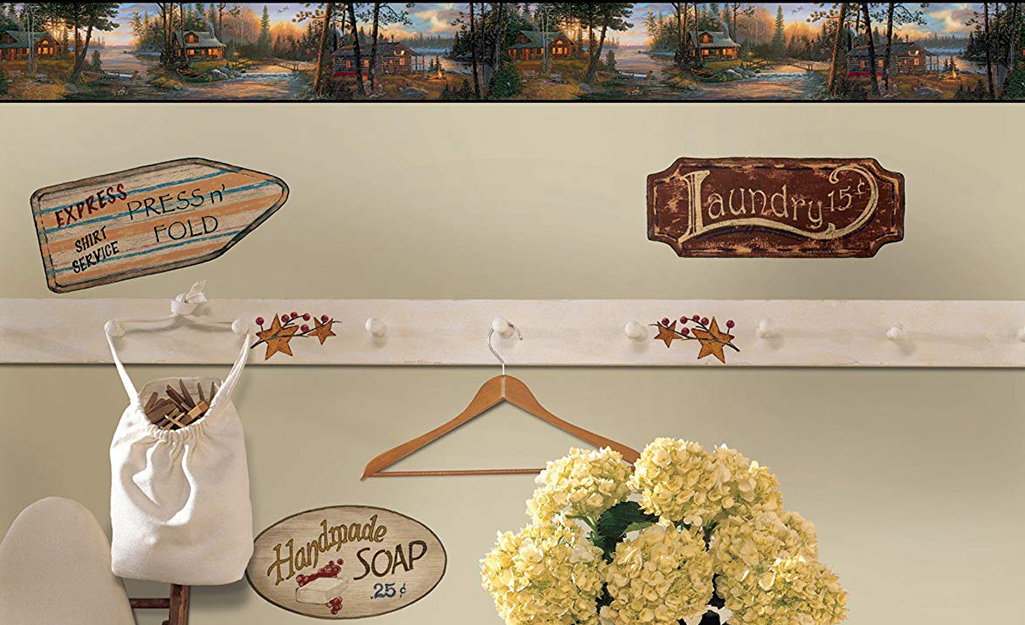 Press the border flat with your hand and finish the border with a smoothing brush or a squeegee. 
Start in the middle and push out air bubbles, swiping toward the edges. That way, the bubbles can escape beneath the paper edges.
To get a clean finish, trim the extra wallpaper that's overlapping on the ceiling and adjacent wall. Wear clean gloves to protect your fingers and the wall.
Place a metal straightedge, such as a carpenter's square or putty knife, along the wall edge where you need to trim. Take care not to scratch the surface with the metal. Then, run a razor blade or utility knife along the edge to cut off the excess paper. Use a new or very sharp blade for a clean cut. 
Now that you've learned how to install a wallpaper border, you're ready to enjoy your space. If you chose a patterned border, you may need to update your decor to match. Shop for pillows, accent pieces and more from the comfort of your own home. Get your online order delivered where and when you want it.
Explore More on homedepot.com