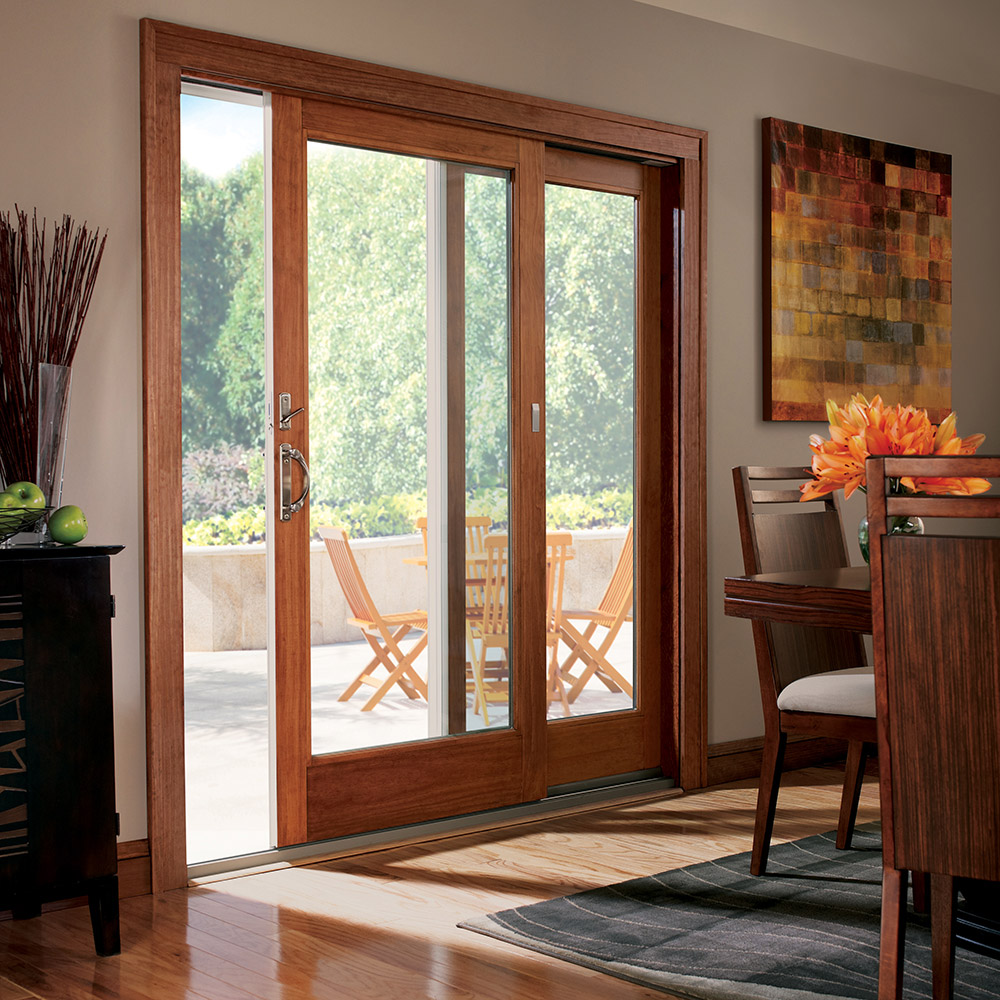 Sliding patio doors, also referred to as just patio doors, are typically made of durable glass and steel, aluminum, vinyl or wood frames. These doors are designed to offer a clear view into your backyard. They can be used to open your home to other areas, like your patio or deck, too. 
This guide will explain how to install a sliding door in your home. Learning how to install a sliding glass door will be easier with a partner. Have someone nearby to help handle the heavy lifting. 
1
Choose the Right Size Sliding Door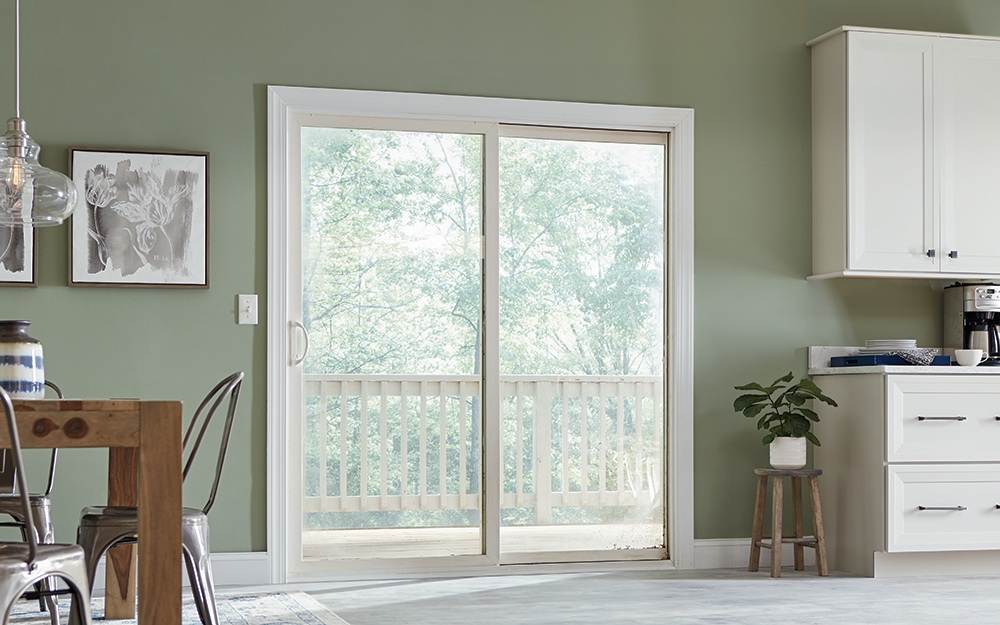 Before you begin the door installation, you'll want to choose the right size exterior doors to ensure they fit in your space. Many homeowners replace sliding glass doors with newer models as a simple design update. Here's how you can figure what size door to get:
Remove the casing from the existing door frame to locate the studs. Set the casing aside somewhere safe.
Measure horizontally across the top and bottom sides to find the rough opening, starting from the studs. Take measurements vertically on both sides.
Use the smallest measurements to fit your new door. For example, if you get 80 inches at the top and 81 inches at the bottom, use 80 inches as the measurement for the best possible fit.
Once you have these measurements, you can begin shopping for new patio doorsthat fit the look of your home. Many include sliding door locks that offer added security as well.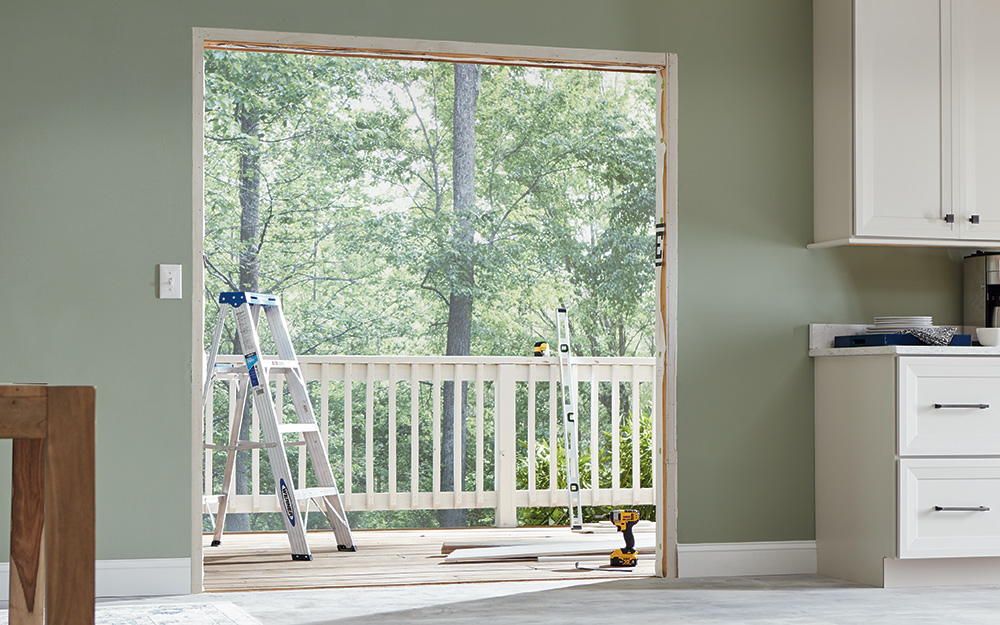 Take a minute to test fit your prehung sliding door to the opening. Make any adjustments from the inside. Then, use shims as needed to ensure a secure fit.
Create a piece of drip edge the size of the opening. Apply silicone caulk to your drip edge. Caulk along the top of the opening between your siding and house wrap.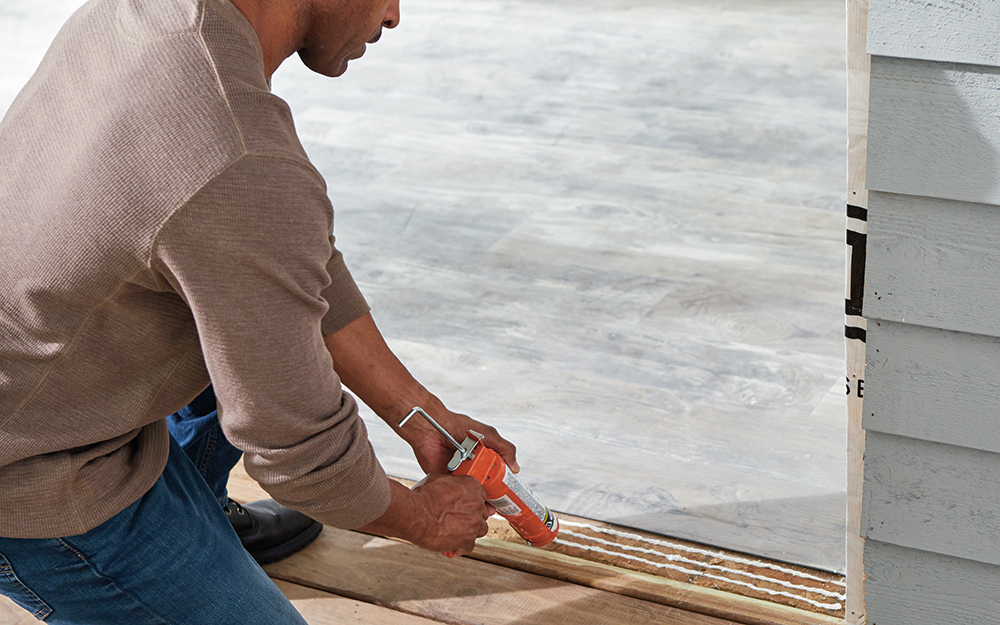 Create a sill pan to fit in the opening using roll flashing. A sill pan is used to collect and redirect water away from the door or window frame. Add caulk to the bottom edge of the opening. Firmly press the sill pan into the caulk.
Put silicone caulk around the edges of your opening where your siding and house wrap meet. You'll also want to put a small amount of caulk at the bottom of the opening.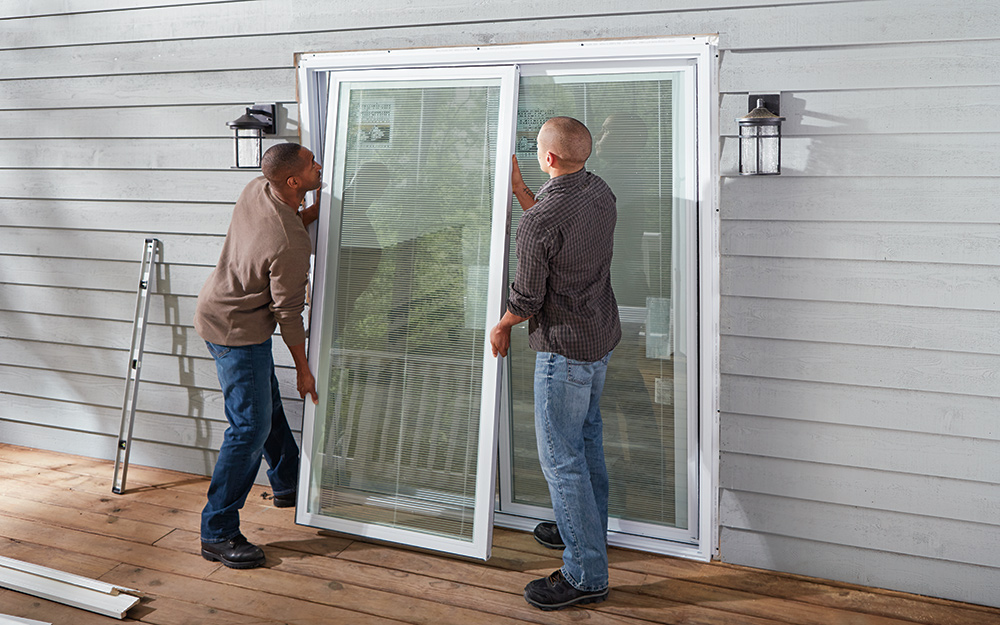 Inspect for proper size and condition and verify that all parts are included. Inspect existing wall and rough opening for structural decay. Repair as needed.
Inspect opening for correct size. Opening should be 1/2-inch larger than door size in width and height.
Check sill plate for level. Sill must be level. If sill is not level, correct before continuing. Check rough opening for plumb and level. If rough opening is not plumb or level, correct as necessary.
Check opening for square by measuring diagonally, upper left to lower right and upper right to lower left corner. Measurements must be within 1/8-inch. If rough opening is not square, correct as necessary.
Begin positioning the door into the opening from your exterior area.
Tilt the door into the opening with the bottom side going in first. Insert shims as necessary to create a secure fit.
Use shims under screw holes to help keep your threshold in good shape.
Place shims around the edges and top of your door frame every 12 inches.
Add your door hinges. Using a drill, secure them in place with screws.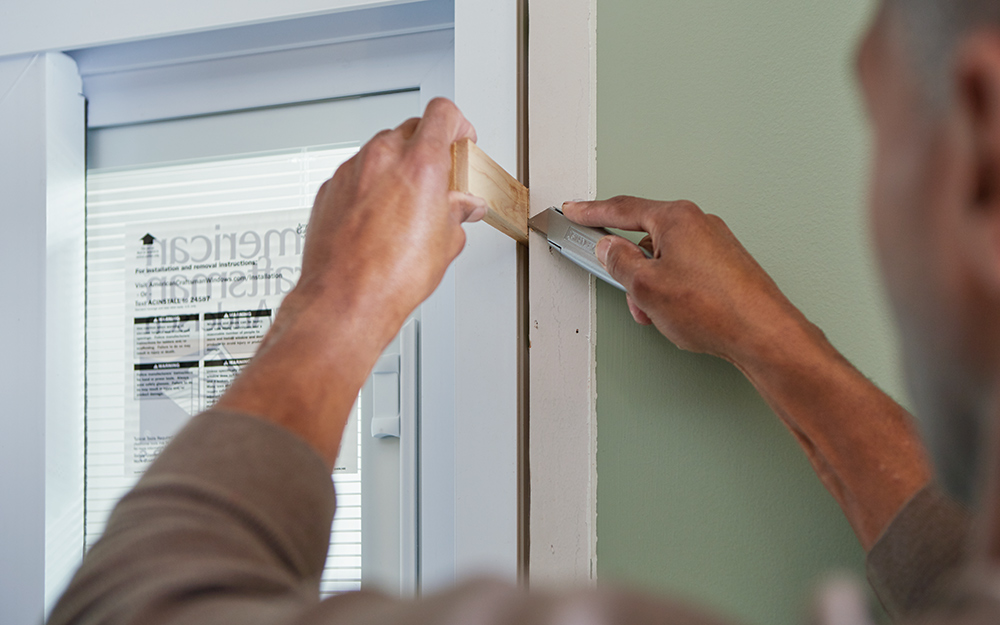 Check that the brick mould is flat against the frame on the outside. If it is, use 10d finishing nails to secure the brick mould and framing roughly every 12 inches or so. Countersink the nail heads. You can also use trim head screws as well.
Move inside the house and use 10d finishing nails, driving them outward through the shims and into the framing. Countersink the nail heads.
Use a utility knife to cut the excess shims. Break or cut them off so they're flush with the door frame. "Flush" means that they're even with the frame and don't stick out.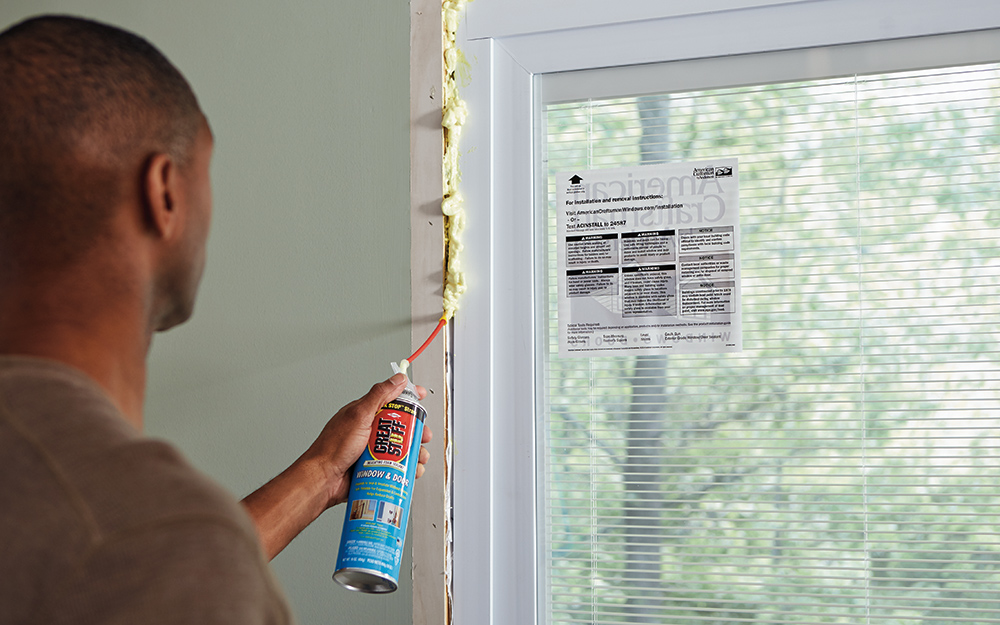 Secure the threshold to the door with screws. Make sure the screws aren't exposed.
Use expanding foam insulation to seal any gaps between the door frame and wall. Use a putty knife to remove the excess after it dries.
Cover the foam insulation with trim.
Add a small amount of caulk to the visible joint between the trim and interior wall area.
Use paintable silicone caulk around the exterior door casing.
Fill all nail holes with spackle to give your door frame a finished look.
Installing a sliding door can help beautify your home and make any room a more enjoyable space. Take your time to install the door correctly. It'll save you from issues down the road. Whether you choose to install it yourself or have a professional do it for you, a new sliding glass door will improve the look of your home.
If you'd like a pro to do this project for you, look into our door installation services. For free design, purchase and installation help with windows and doors, call us any time between 9 a.m. - 9 p.m. EST at 1-833-HDAPRON (432-7766).
Explore More on homedepot.com