One of the best places for updating your kitchen is between your cabinetry and countertop. Tile a kitchen backsplash and create an instant focal point. You don't have to be a professional to learn how to install a backsplash. Even DIY-ers with intermediate skills can master the basics of installing a tile backsplash with proper planning. Use the following steps and learn how to install a backsplash correctly.
Measure your wall to determine its square footage. The square footage determines how much tile is necessary for tiling a backsplash in a kitchen. Proper measurements will help keep tile installation costs down. Be aware of outlets and switches when tiling, making sure to take them into account. 
If you only have one section to cover, multiply the width and height of the wall to get the square footage.  If you have walls with disproportionate sections, separate areas out to measure them. For example for four sections:
Label section "A" as the space on the left side, space "B" as the midsection of the wall, space "C" as the space on the right side and the remaining area as space "D".
Multiply the width and height of each section.
Add the sums of A, B, C and D to get the total square footage of tile needed.
Always add 10 percent of the sum total to your final number. This will fill any small gaps or can be used as replacements for damaged pieces. Make sure you have enough mortar, mastic and grout.
Tip: Determining the amount of materials you need to tile a backsplash can be tricky. Our tile calculator can help you find exact measurements so you get the supplies you need all at once.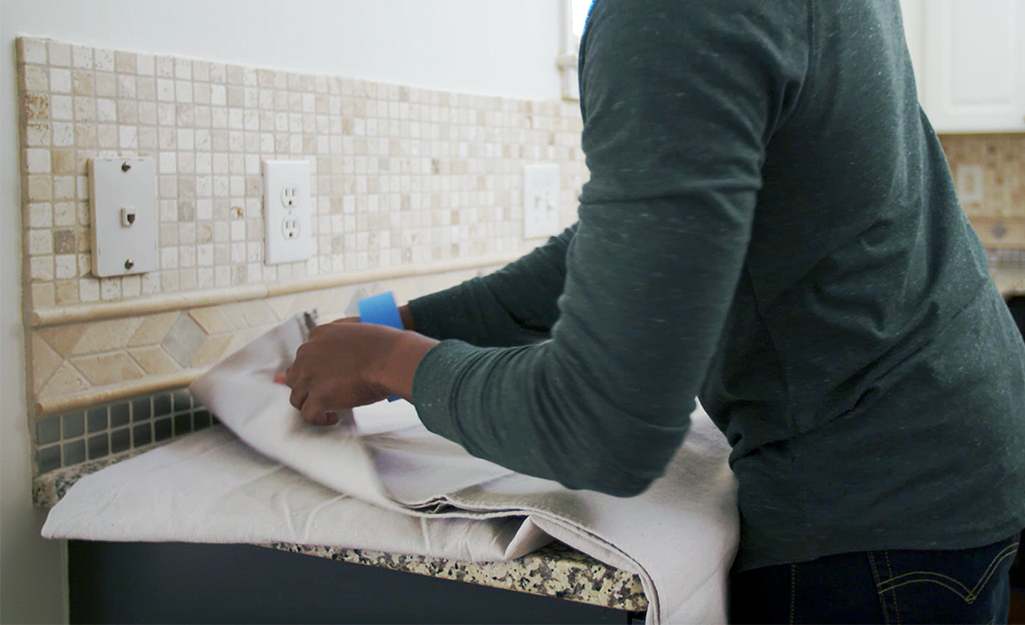 Remove all appliances and cookware from your countertop before you start to tile a backsplash. You may need to move the stove slightly away from the wall so you can easily place tile behind it. Disconnect the stove for added safety.
Place a drop cloth or layer of cardboard over your countertop to protect it from debris. Tape off the existing countertop or backsplash and the underside of the cabinets to protect those surfaces.
Shut off power to any nearby electrical outlets or light switches.  Remove the cover plates.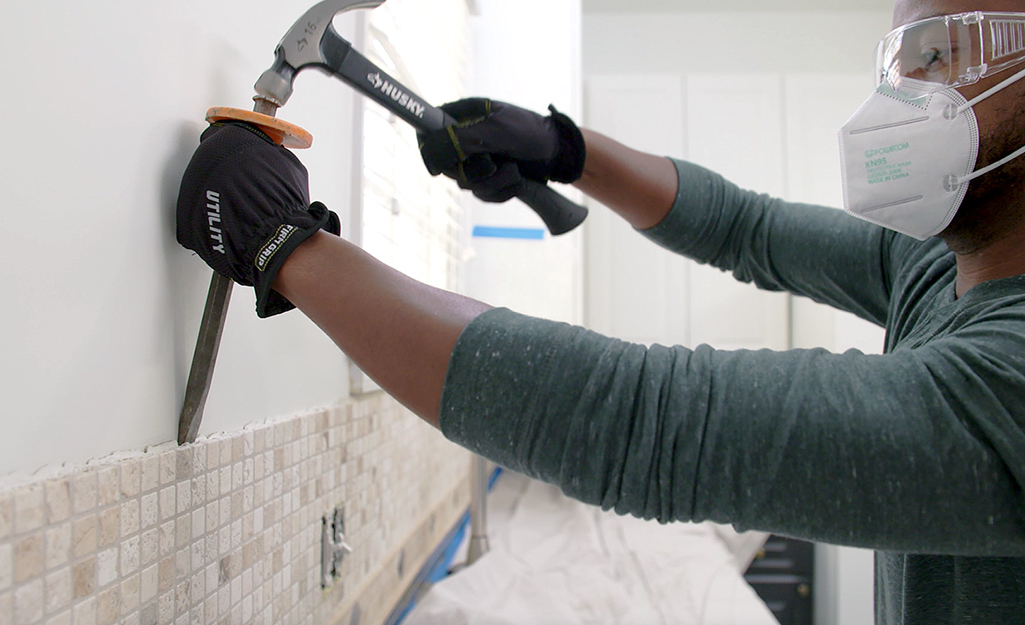 Getting the wall ready properly is essential to having a successful tiling project. 
If there is already tile on the wall:
Scrape between the tiles to loosen and remove old grout.
Use a masonry hammer and chisel to tap the tile pieces free. Always wear safety glasses when removing ceramic tile.
If you're laying tile over a bare wall:
Patch any holes with spackling paste and use sandpaper to lightly smooth the surface of your work area.
Use mild soap and water to clean your walls and allow the surface to dry. Check the wall behind the stove for any oil or grease stains. These should be cleaned with a degreaser or primer if you have tough stains.
Painted walls can be wiped down with tri-sodium phosphate and sanded gently.
Glossy surfaces are typically sanded and de-glossed. Wipe the wall with a soft cloth or damp sponge to ensure a clean, dry surface.
4
Install Backer Board (Optional)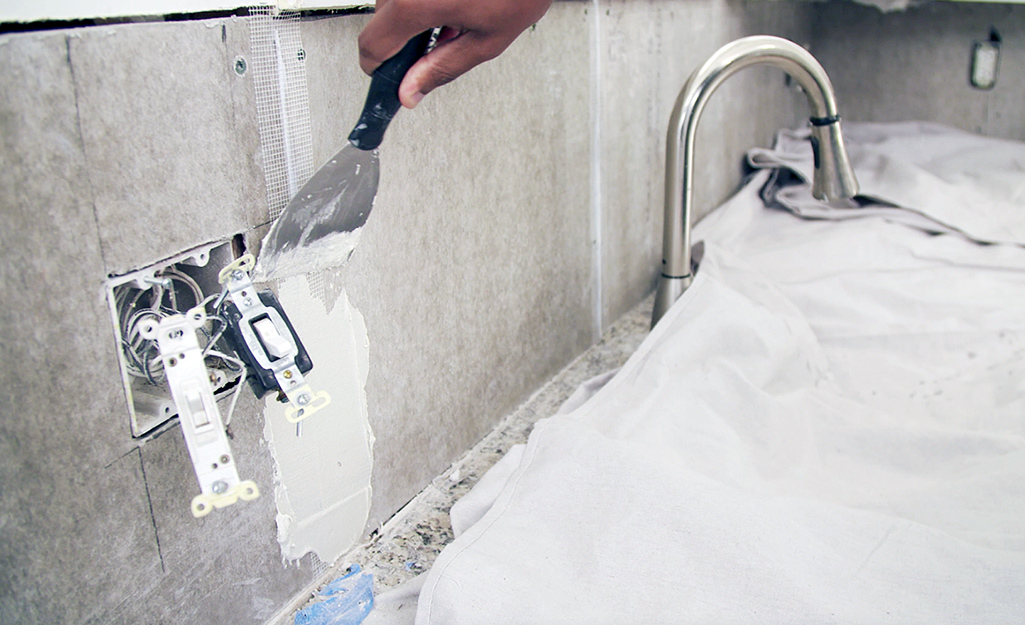 Tiling over backer board gives the most durable tiling results and protects your surface from moisture. Here's how:
Remove your drywall.
Press the the backboard into the space. Make sure the thickness is the same as the kitchen drywall for a smooth transition.
Attach each backer board panel to the studs with 1 1/4-inch backer board screws. Leave a 1/8-inch gap between each of the panels.
Seal the gaps with silicone tile caulk.
Affix fiberglass mesh tape to all seams and corners. Apply mortar over the tape.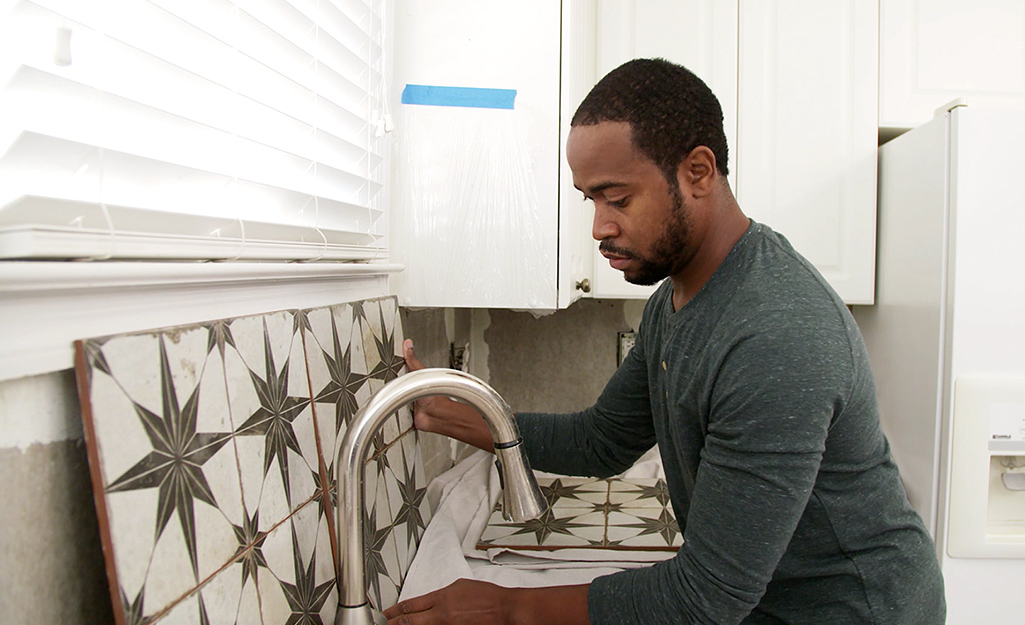 Place the tile across the wall.
Mark your starting and end points. Your starting point depends on the most viewable area of the wall.
Work your way outward and upward from there. A straightedge or level can help you keep the tile even.
Mark the tile positions with a pencil as you go.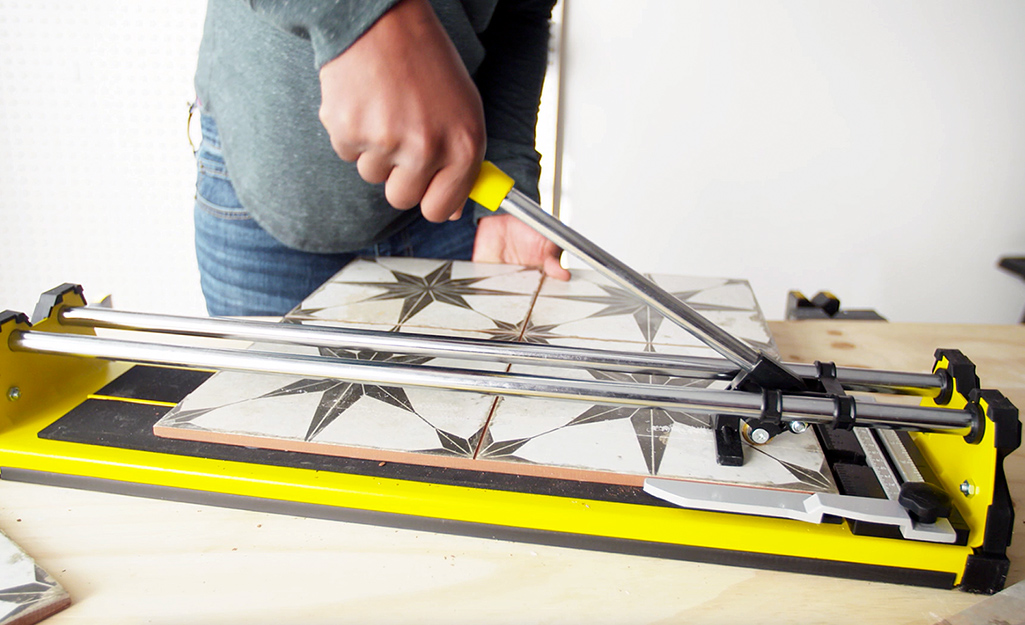 You may need to cut tiles to properly fill your backsplash area. Use a tile cutter for porcelain or ceramic tile. Use a tile nipper for any circular incisions. Use a wet tile saw if you are cutting natural stone to prevent chipping or breaking.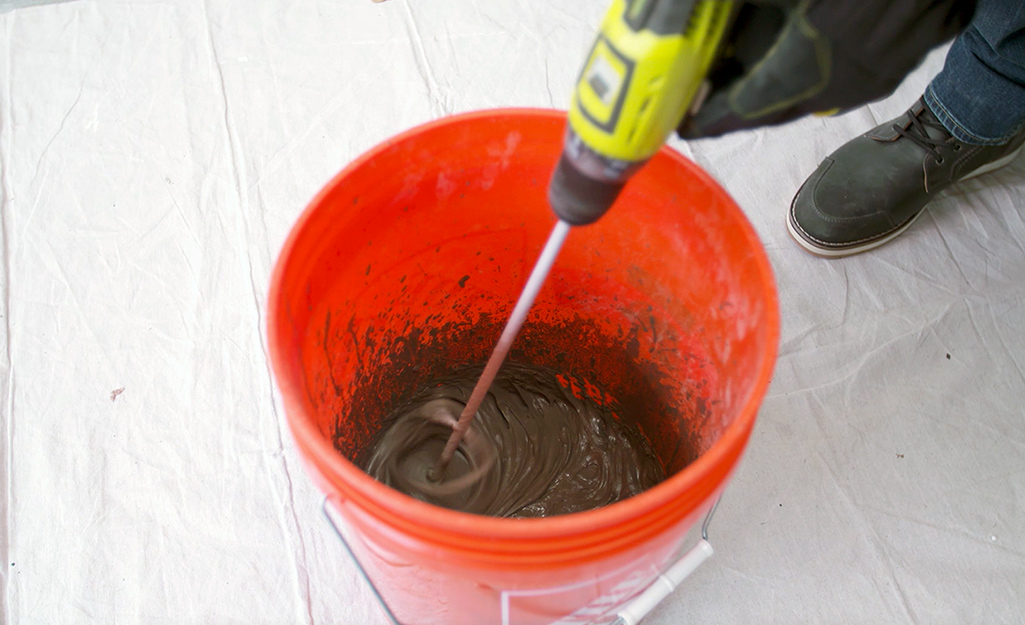 Prepare powdered thin-set mortar for natural stone and mosaic tile. 
Fill your bucket with water in the amount listed on the package.
Gradually add the thin-set powder, mixing it thoroughly.
Let the mixture stand for 5 to 10 minutes, then mix it again without adding more water.
When you're finished mixing, you'll have a limited time to use it. Flex-type mortar can generally be used up to 4 hours after it's been mixed. If you're looking to save time, use a tile setting mat. Tile setting mats adhere to the wall so that you can tile immediately and move on to grouting.
Keep in mind that thin-set mortars require mixing. This adds time and labor to your project versus a premixed product. Many thin-set mortars have higher bond strengths and other benefits versus premixed products. 
Tip: If you use light-colored tile, select a white mortar. Make sure to read the packaging to check if it's compatible with your tile.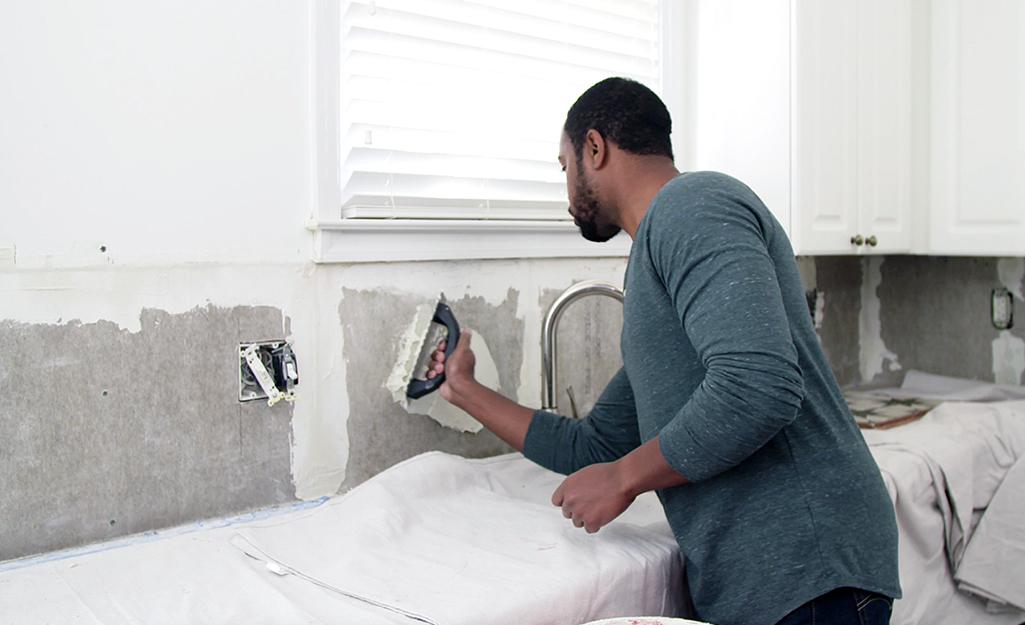 Begin with a 2-foot section. Make sure your notch trowel corresponds with the tile you're installing. Natural stone tile typically works well with a notch trowel that is 1/4-inch x 1/4-inch in size. Here's how to apply the mortar to the wall.
Spread a thin layer with the flat side of the trowel.
Press at a 45 degree angle. This will ensure the mortar fully adheres to the wall.
Using the notched edge, add a little extra mortar onto the trowel.
Comb even ridges in one direction.
Tip: Work in small sections to prevent the mortar from drying or forming a skin. Clean any excess mortar off the face of the tile with a sponge.
Follow the lines you made during your pre-lay in Step 6.
Place the tiles along the wall. Add tile spacers to keep the tile pieces lined up. 
Slightly rock the sheet up and down, perpendicular to the trowel lines. This will collapse the ridges and help the tile settle into place. Flatten the tile with a grout float if necessary.
As you lay the tile, maintain an inch or less of space between the top row of tiles and cabinetry. If it is greater than an inch, cut your extra tile pieces to fit the space. If the gap is smaller, consider installing a piece of moulding to hide it.
Allow the mortar and tile to dry completely. This usually takes 24 hours, depending on the mortar used and the temperature of your home. 
Tip: Use a pre-sealer for natural stone at least three hours before you apply the grout. Pre-sealer helps protect the stone from staining.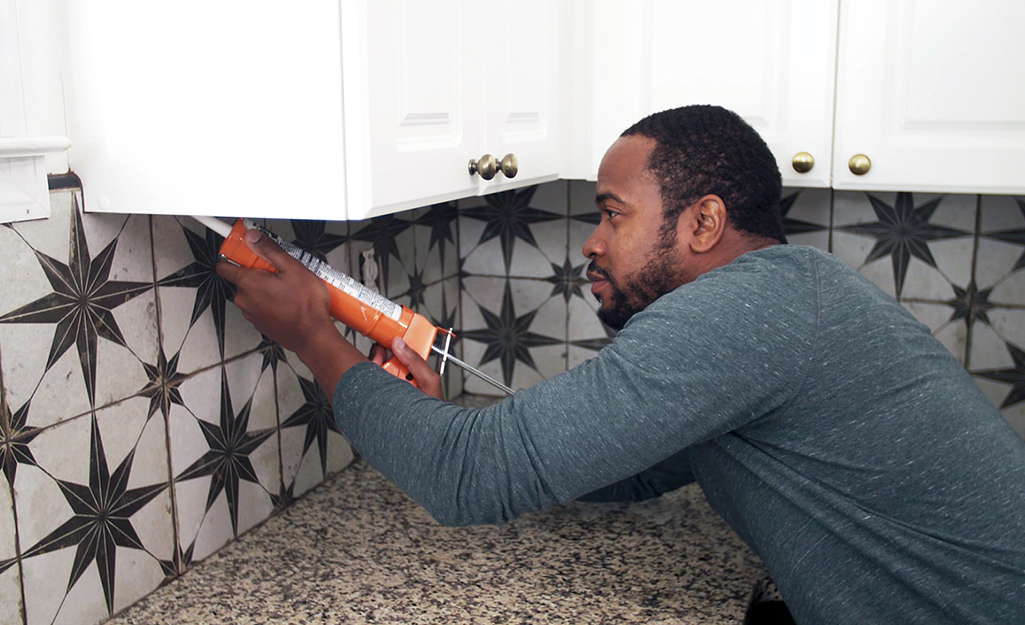 Consider using a poly-blend sanded grout, which is a cement-based product. A sanded grout is great for joints 1/8-inch or greater. For grout joints smaller than 1/8-inch, use poly-blend unsanded grout. 
Wipe the tiles clean with water and remove all spacers before you apply poly-blend sanded grout to natural stone mosaic tile. Carefully follow the preparation details on the package.
Fill a bucket with the appropriate amount of water.
Gradually add the grout powder and mix thoroughly.
Let the mixture stand for 5 to 10 minutes.
Re-mix it without additional water.
Periodically re-mix the grout to maintain the consistency.
Once the grout is mixed, you'll have a limited time to use it. Generally, poly-blend can be used up to two hours after it is mixed. Work in sections, so that you can complete an area within 30 minutes.
Apply the grout with the grout float at a 45 degree angle. Work diagonally. Wipe off any excess grout with the grout float held at a 90 degree angle.
Using a damp sponge, remove the grout from the face of the tiles in a circular motion and shape the grout joints fully. Rinse the sponge in clean water frequently.
Repeat this process several times. Limit the amount of water you use to avoid washing out the grout joints.
After about 3 hours, you can remove the last haze of grout. Use a dampened cheesecloth or sponge to wipe down the face of the tiles.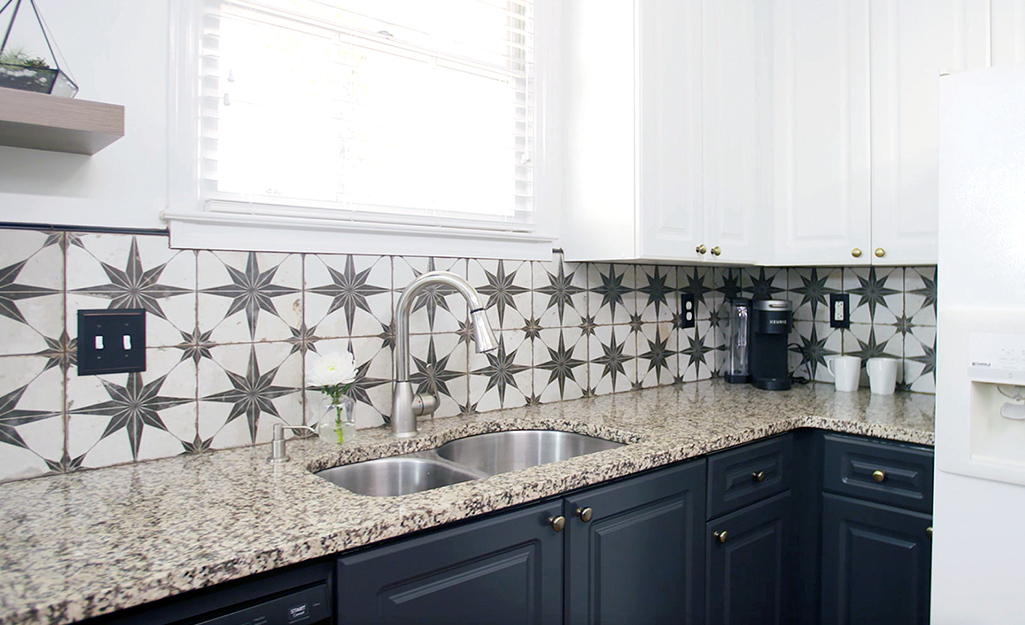 Let the grout dry thoroughly. This can take 24 hours to three days depending on the manufacturer.
Apply grout sealer to protect your backsplash from staining. Let dry.
Add a small amount of latex caulk to the space between your backsplash and countertop.
Replace your counter appliances and cookware.
Restore the power to your electrical outlets.
To maintain your backsplash, wipe it down occasionally with a non-acidic kitchen or glass cleaner.
Learning how to install a backsplash can help you improve the look and value of your home. Installing backsplash tiling adds instant beauty to your kitchen. Shop the latest natural stone tiles, glass tiles or ceramic tiles. And if you need tools or a way to get your tile home, consider tool rental or truck rental from The Home Depot. Not interested in a DIY upgrade? Contact our Kitchen Remodel Services team to get help with design, materials and tile installation services.
Explore More on homedepot.com