If you're looking for an environmentally friendly way to spruce up your patio space, consider covering that concrete slab with attractive tiles made entirely of recycled materials. Multy Home diverts over 2.5 million tons of tires from landfills to produce their green products, including the Envirotiles line of durable outdoor tiles. They can be installed on top of existing outdoor surfaces, on level dirt, and can even be put down in basement areas inside your home. 
1
Clean and Level the Surface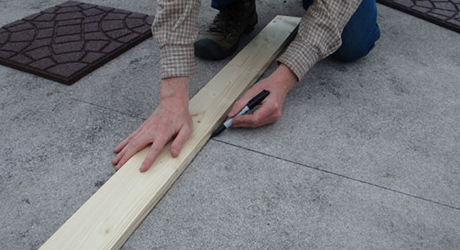 Start out by making sure the surface is clean and level. Sweep clean any loose debris. Use your marker and straight edge to make a 90 degree mark at the center of the surface.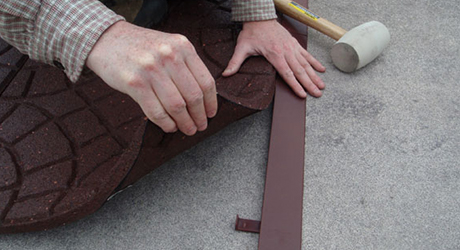 Starting from the center line, lay the tiles working outward to the edges in both directions. At this stage, you can shift and move the tiles to ensure a better layout. Rotate tiles during install to assist you in finding the best fit.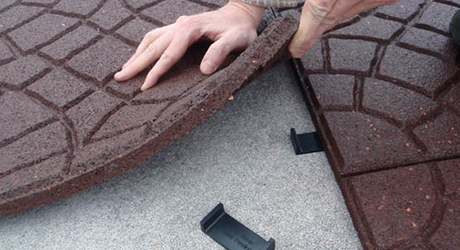 You may need to cut the edges with your knife to ensure the tiles will fit into the space properly. Score the tiles where you intend to cut while bending the tile against the straight edge to get the scoring line deeper.
To fit the tiles around irregular shapes, you can make a pattern from cardboard or heavy paper. Copy the pattern on the tile and then cut with the utility knife or jigsaw.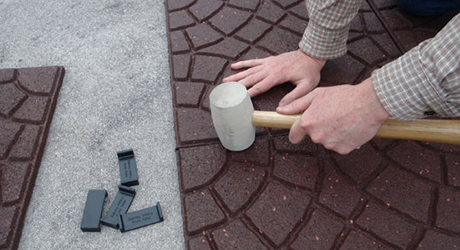 To secure all the tiles in place after layout, use the envirotile clips facing up. To ensure a tight fit, tap each connection into place with a mallet.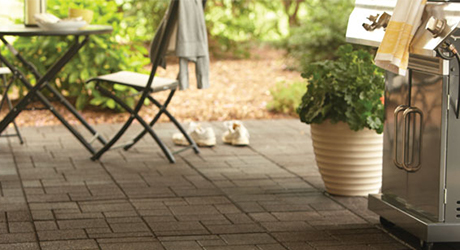 Installing Envirotile over soil takes a little more effort than over existing hard ground surfaces. Anytime you are placing tiles on soil, check for proper drainage and the presence of water where the tiles are to be installed. Weed blocker or landscape fabric can be placed before the tile goes down, but make sure the surface is as level as possible. If you run into soft soil, or prefer that the soil will be thoroughly compacted, consider renting a gas-powered tamper from your local Home Depot Tool Rental.
TIPS:
Make sure you'll have enough tile for the job. As with any tiling project, an extra 10-20 percent will save you trips to the store by ensuring that you have enough.
When you're done installing the tiles, use a border to give a professional finish to any exposed edges. The borders come with built-in clips to ensure a secure fastening to the tiles, and are available as straight edges or corner edges. Simply lift the edges of the tiles after they are put in, and secure them in place with a mallet via the built-in clips.
Shop this Project
Explore More on homedepot.com