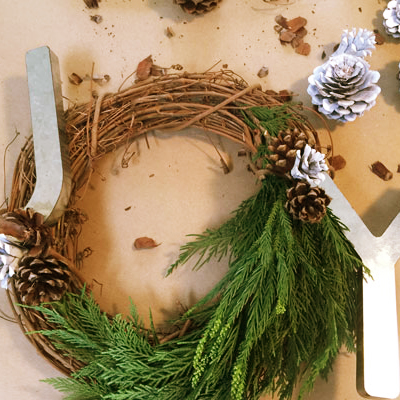 If you're into crafting for the holidays, consider making this wreath. Once you pick up your supplies, you can make this gorgeous wreath in about an hour. This is such a simple project to make. Even if you've never created a DIY wreath before, you can easily make this one.
1
Collect Greenery and Natural Materials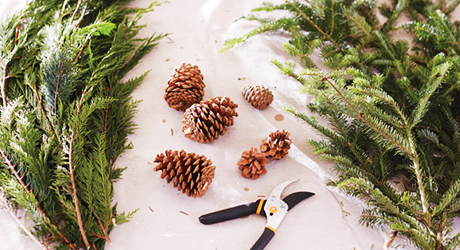 Using your pruners, cut greenery and collect pinecones from your yard. You can even ask your local Home Depot Garden Center for Christmas tree trimmings.
2
Cut the Pinecones for Flowers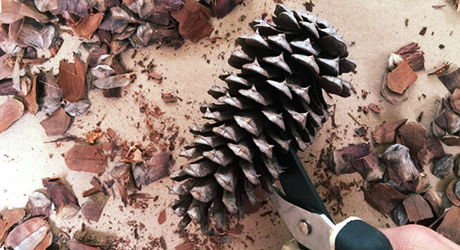 Starting in the middle of the pinecone, use your pruners and cut the pinecones in half. Set the top half aside.
Trim the bottom half with scissors to give it a small cone shape surrounded by petals, like a flower.
Tip: Save the top half of the pinecones for use in another project such as a pinecone wreath.
3
Spray Paint the Pinecones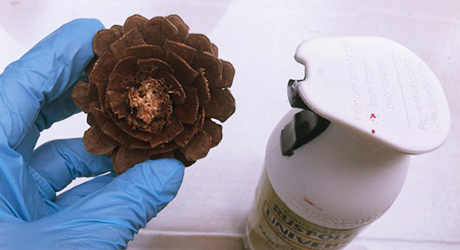 Put on gloves and spray paint the pinecones white or a fun metallic color, such as gold or copper.
4
Attach Ribbon and Adorn the Wreath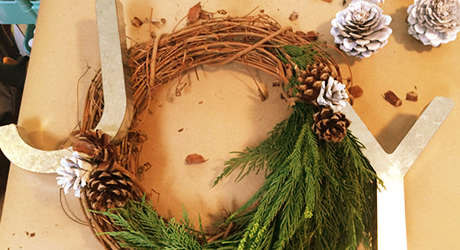 Decide how you want your wreath to look. Once your design is set, wrap Christmas ribbon around the wreath, making sure to leave spaces as you wrap.
Now insert the letter J under one of the grapevines on the wreath to secure it in place. Do the same with the letter Y. Use floral wire to secure further if needed. Trim greenery and place it around the wreath by inserting it under grapevines and use floral wire to secure further.
Attach colorful ornaments and your painted pinecones with floral wire and you're done!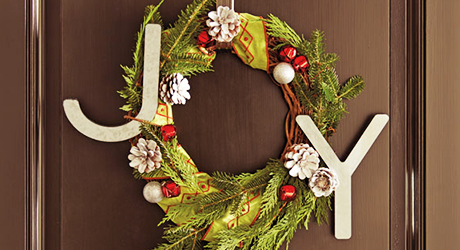 Now just hang up your pretty wreath and enjoy! Keep your wreath fresh by misting it with water every few days.
Explore More on homedepot.com