Project Guide
How to Make a Terra Cotta Christmas Tree
Time Required:

Under 2 hours

Difficulty:

Beginner
---
That stack of terra cotta pots beside your potting bench can do double duty as a rustic Christmas tree. Just grab a stack of pots in varying sizes, age them with a super-simple household solution, paint the rims, pick a location and build your tree.
The very best part? Well, there are three: no need to plug in, no need to water, and when the holidays are complete, the pots can be turned right side up and put to use in the garden.
The terra cotta pot tree seen above on our Ultimate Holiday Decor Porch stands 3 feet, 1 inch tall and costs about $50. It looks smashing next to a front door.
Remove the bottom pots for a tree that's a little over 2 feet tall. For a centerpiece or desktop tree, go with the top two layers.
All told, this project will take little more than a half hour to put together.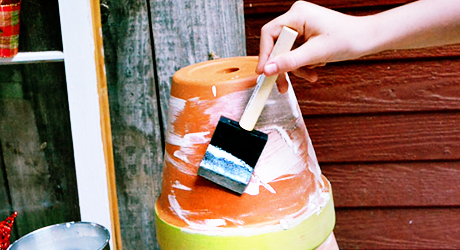 First, give the pots an aged look with a simple solution of baking powder (not baking soda) and water. In a small bowl, mix together a couple tablespoons of baking powder and enough water to make a slurry, just a bit looser than a paste.
Use a foam craft brush to paint this mixture onto the pots using a horizontal motion. A damp paper towel helps clean up any mistakes. The rims got a verdant stripe of Americana Decor Chalky Finish Paint in New Life.
Here's a tip to keep the nesting pots from sticking — use a self-sticking felt pad, just one or two on the inside rim of the smaller pot will do the trick.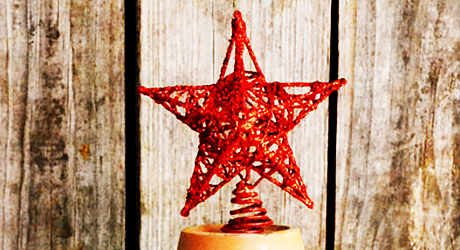 A glittery star tree topper ornament works, too. Decorate the tree with garlands and seasonal decorations.