Project Guide
How to Make a Terra Cotta Snowman
Time Required:

Under 2 hours

Difficulty:

Beginner
---
Whether your home is blessed with temperate winters or graced with blankets of snow, nothing signals the holiday spirit like a bright and cheerful snowman. If you'd like to adorn your house with a snowman who outlasts the thaw and can be counted upon to return year after year, then you'll want to choose a medium more durable than snow.
Using terra cotta planters, we show you how to construct an ideal winter doorman for your porch or patio. Decorate your snowman in classic style, as we've done here, or use these instructions as a template for letting your creativity run wild.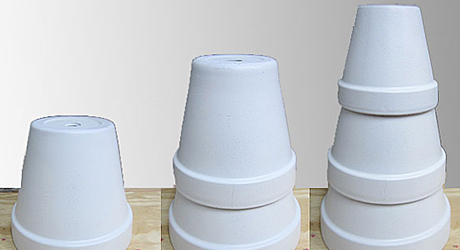 Spray paint the terra cotta pots white, applying additional coats to be certain the original color doesn't show through the white.
Stack the pots upside down, securing them to one another with landscape glue. Work from the top down, gluing the 6" pot to the 8" pot, then both of those to the 10" pot.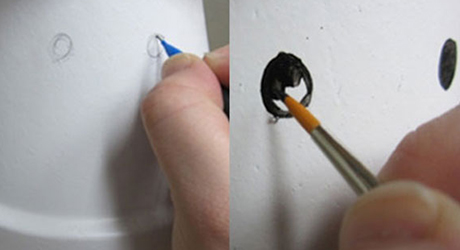 Use a pencil to draw a face on the 6″ pot, then retrace your work using paint. Use a decorative bow for the bow tie, gluing it to the rim of the 6" pot.
Make a hat by gluing or nailing two 4" x 4" piece of scrap wood at a perpendicular angle to one another. Glue it to the top of the snowman—that is, to the bottom of the 6" pot.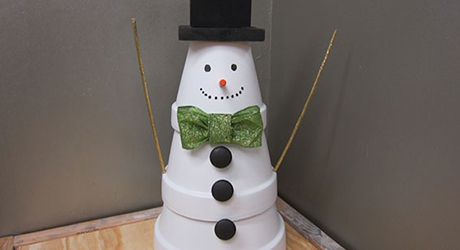 Paint the cabinet knobs whatever color you would like your buttons to be—traditional snowmen used coal for most accessories, so black will give your snowman a classic look. Glue the painted knobs at regular intervals down the torso. Attach the small wooden dowel to the top pot for a nose.
Use sticks for the arms and glue them right above the rim on the 8" pot.