Building a vertical garden is an easy way to add greenery and life to outdoor spaces. If you have an existing fence, a DIY vertical garden is an excellent option.
A DIY vertical garden works especially well for small spaces or where an expansive in-ground garden isn't possible. Like hanging baskets and raised garden beds, a vertical garden lets you grow everything in a relatively small space. You can use a vertical planter on a balcony, deck or patio to grow edible fruit and plants or decorative ferns and flowers.
Read on for step-by-step directions on building a vertical garden wall, plus planting tips.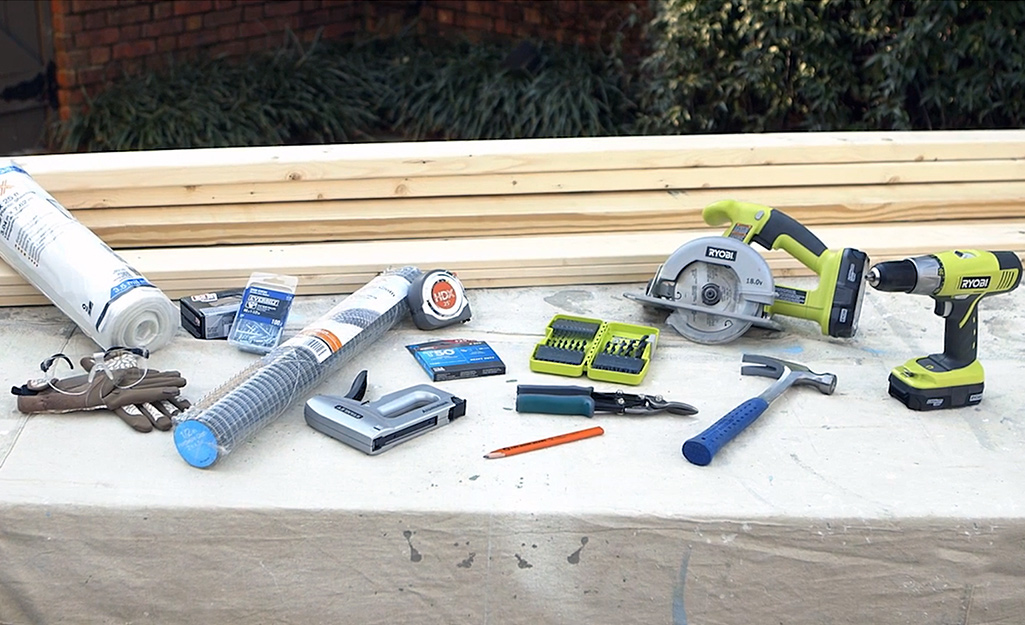 You'll need about an afternoon to create and build your project. If you're short on time, consider breaking the job into two parts. Cut the lumber and build the boxes one day. Build your vertical garden and add soil and plants the next day.
Since your DIY vertical garden will be outside, pressure-treated pine, cedar or redwood is an ideal choice. Here's the lumber you'll need to create the two large planter boxes, the five smaller ones and the supports.
Three 2- x 10-inch x 8-foot boards
Four 2- x 4-inch x 8-foot boards
Sixteen 1- x 4-inch x 8-foot boards
You'll also need:
Tools:
Circular saw
Drill with 1/8-inch drill bit and driver bit for screws 
Wire cutters or tin snips
Stapler
Clamps
Measuring tape
Rafter square
48-inch level
Materials:
3-inch deck screws
1-1/2-inch deck screws
Staples
Wire mesh (hardware cloth)
Landscape fabric
Wood sealant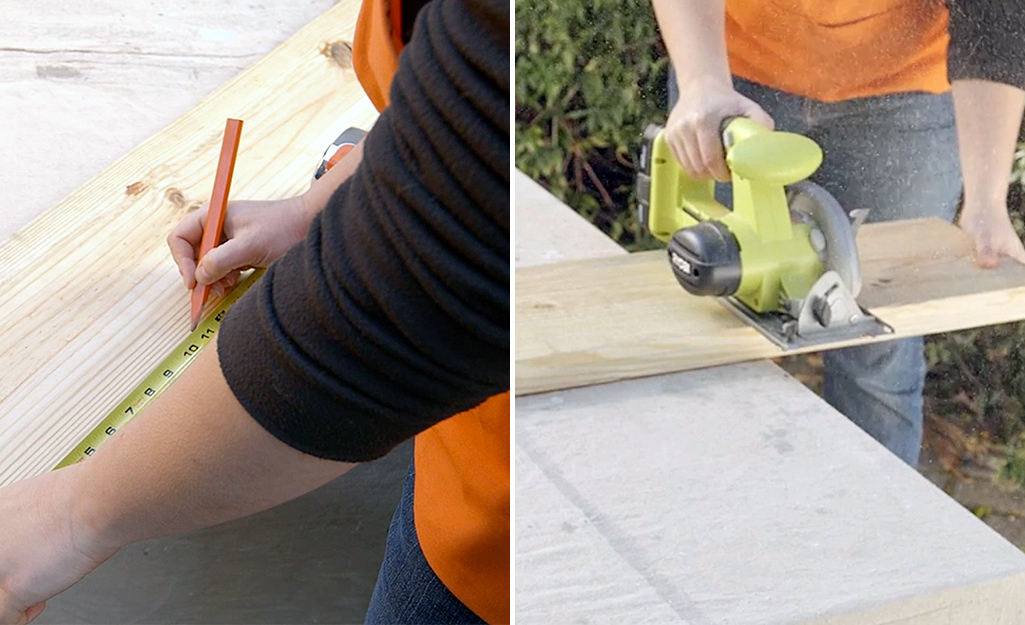 Cut the 2- x 10-inch x 8-foot boards into ten 11-inch pieces and seven 15-inch pieces. 
Cut the 1- x 4-inch x 8-foot boards into 46 pieces that are 30 inches long and 24 pieces that are 3 inches long. 
Cut the 2- x 4-inch x 8-foot boards into 14 pieces that are 27 inches long.
Tip: Always measure twice before you cut.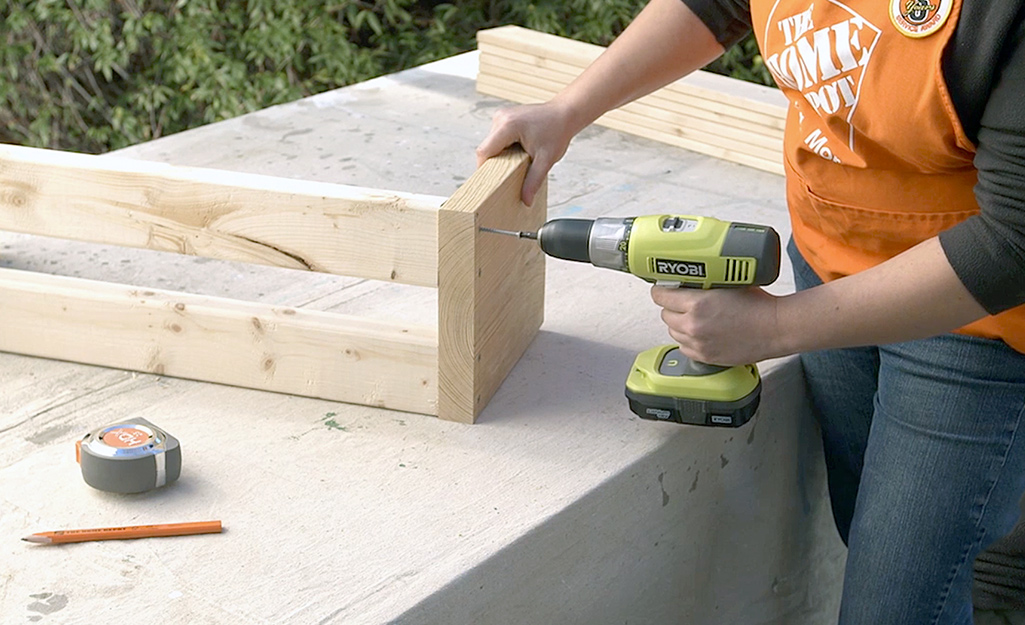 The next step is to make the boxes or planters. You will build two sizes. 
For smaller boxes:
Use 3-inch exterior deck screws to attach two of the 2- x 4-inch pieces between two of the 11-inch 2- x 10-inch pieces. You'll need to make sure it's at the lowest point of the two-by-tens and spaced as desired.
Pre-drill all screw holes through the 30-inch 1- x 4-inch boards and into the 2- x 10-inch boards. Leave a 1/4-inch gap between the boards.
Screw the 1- x 4-inch pieces onto the front and back sides using 1 1/2-inch screws.
For larger boxes:
Follow the same steps above to create the larger boxes, except use 15-inch 2- x 2-inch pieces at the end of the boxes instead.
Pre-drill, countersink and screw on an extra 1- x 4-inch panel on each side of the two larger boxes.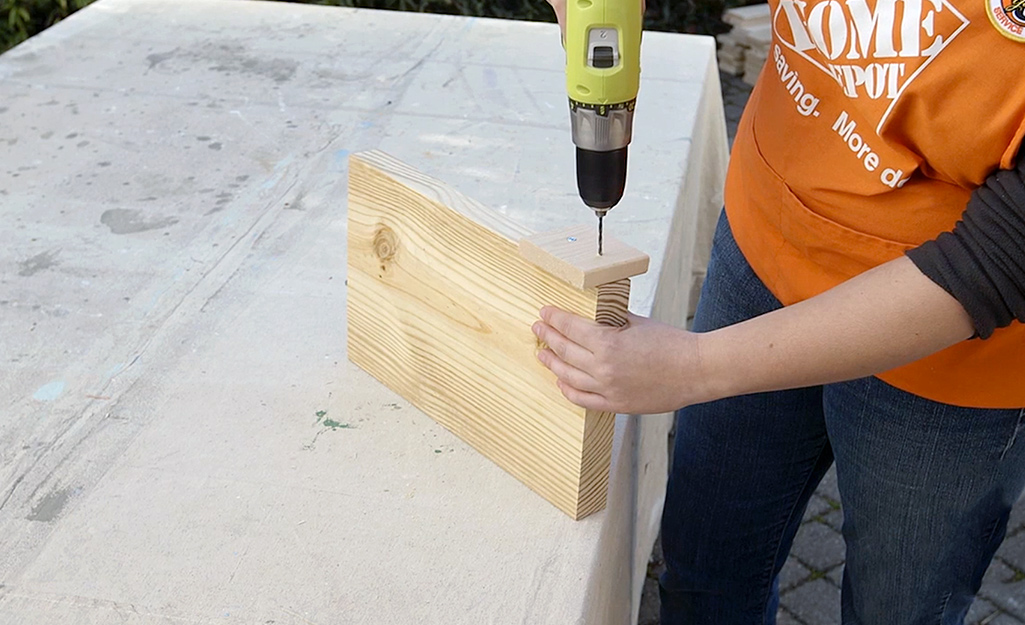 Growing boxes filled with soil, plants and water will be heavy. The side supports will help handle the weight.
Build the three side supports for the vertical planter. 
Use one of the 15-inch 2- x 10-inch pieces and four of the 3-inch 1- x 4-inch pieces for each support. 
Pre-drill and screw through the 1- x 4-inch pieces.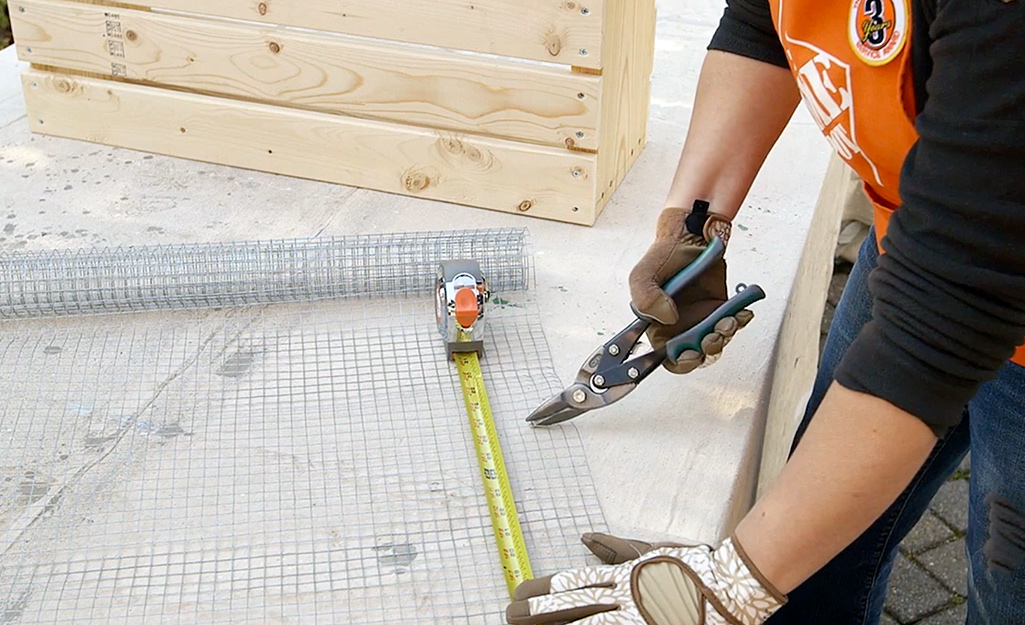 Use wire cutters or tin snips to cut the 1/2-inch gap wire mesh (hardware cloth) into nine 27-inch pieces. 
Line the bottom of each planter with the wire mesh. This will help the soil properly drain.
Use staples and a hammer or a staple gun to secure the wire mesh in place.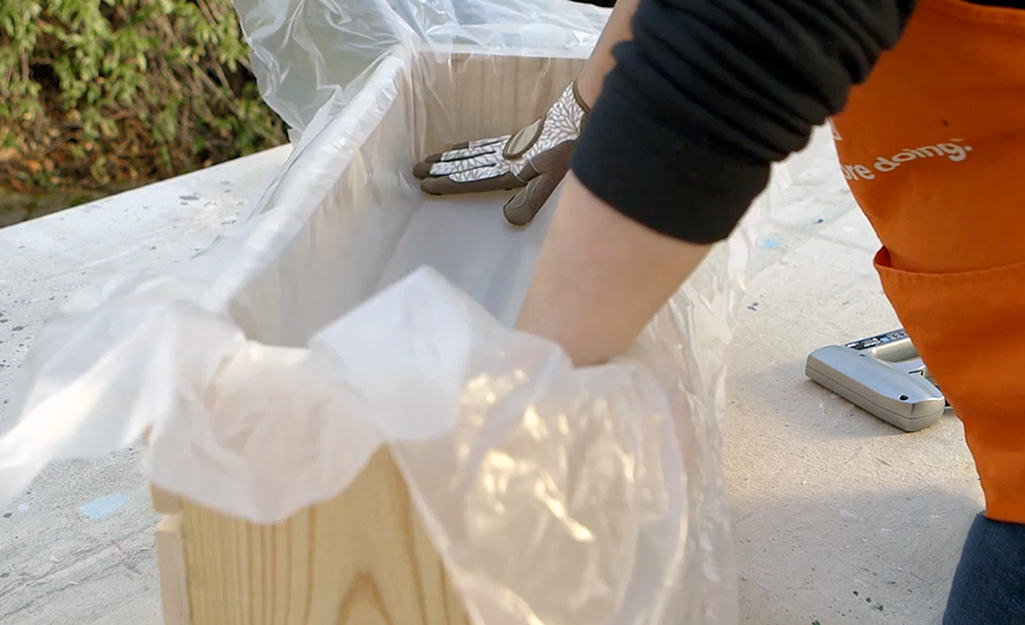 Cut pieces of landscape fabric or plastic weed barrier to line the interior of each box. 
Staple the landscape fabric into place to protect the wood from moisture. Landscape fabric also helps keep potting soil in place.
Tip: If desired, apply sealant to the outside of the wood boxes. Use food grade sealant if growing edibles like herbs, fruits or vegetables.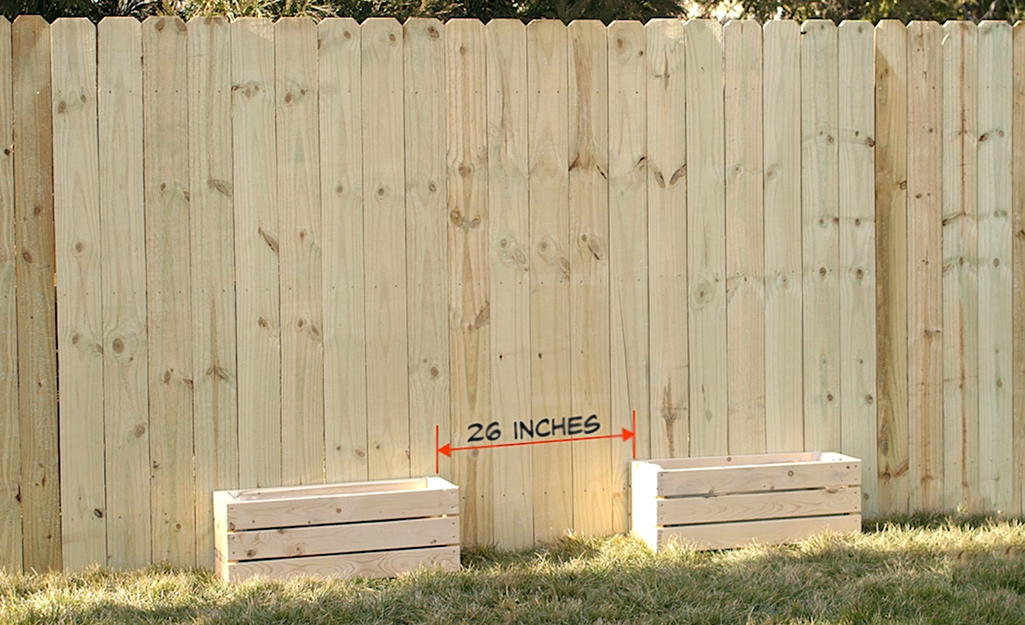 Place two of the smaller boxes on the ground against the fence 26 inches apart. 
Use 1 1/2-inch screws to attach boxes into the fence. Drill the boxes into the 2- x 4-inch railing that runs through the fence, if possible.
Center a large box on top of the two smaller bottom boxes. 
Screw the large box into the fence.
Repeat directions until your vertical garden is complete.
Screw a side support on the outer edges of the small boxes. This will help stabilize the vertical structure.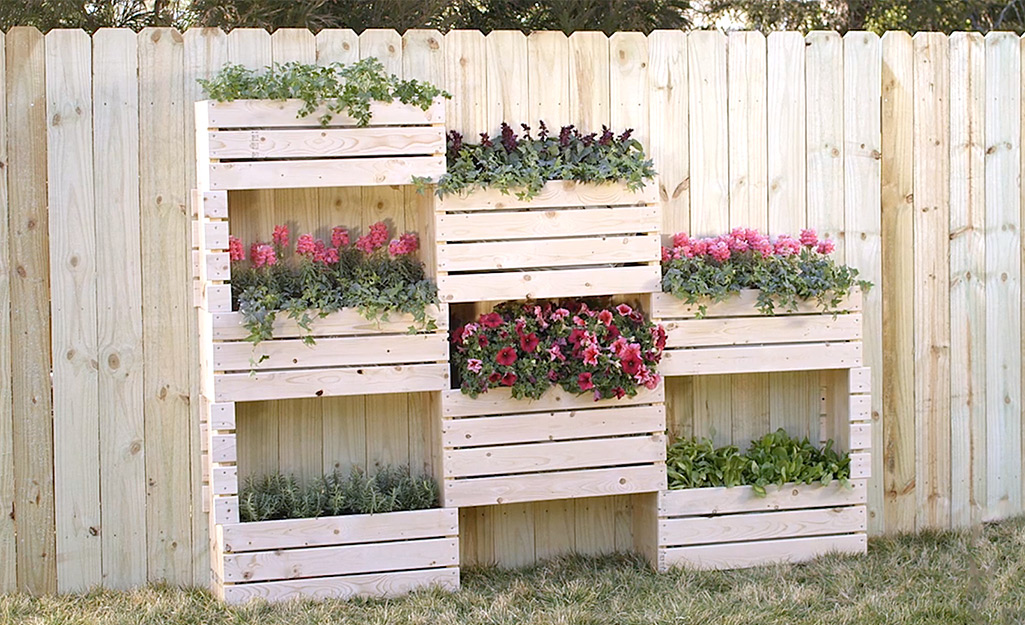 Fill the planter boxes with organic potting soil.
Plant vegetables, flowers or ornamental plants like ferns. Use the smaller crates for plants with shallow roots like herbs.
Follow the instructions for plant depth, sunlight and water requirements on the plant labels.
This unique vertical raised bed garden is ideal for growing flowers, fruit, herbs, vegetables and more. Start by choosing durable pressure-treated cedar or redwood. Measure your lumber twice before you cut it to size. Before you install them, stack the planter boxes against the fence. This will determine if it's tall enough to hang all the boxes. 
Need lumber and gardening supplies to get started? Use The Home Depot Mobile App to locate products and check inventory. We'll take you to the exact aisle and bay.