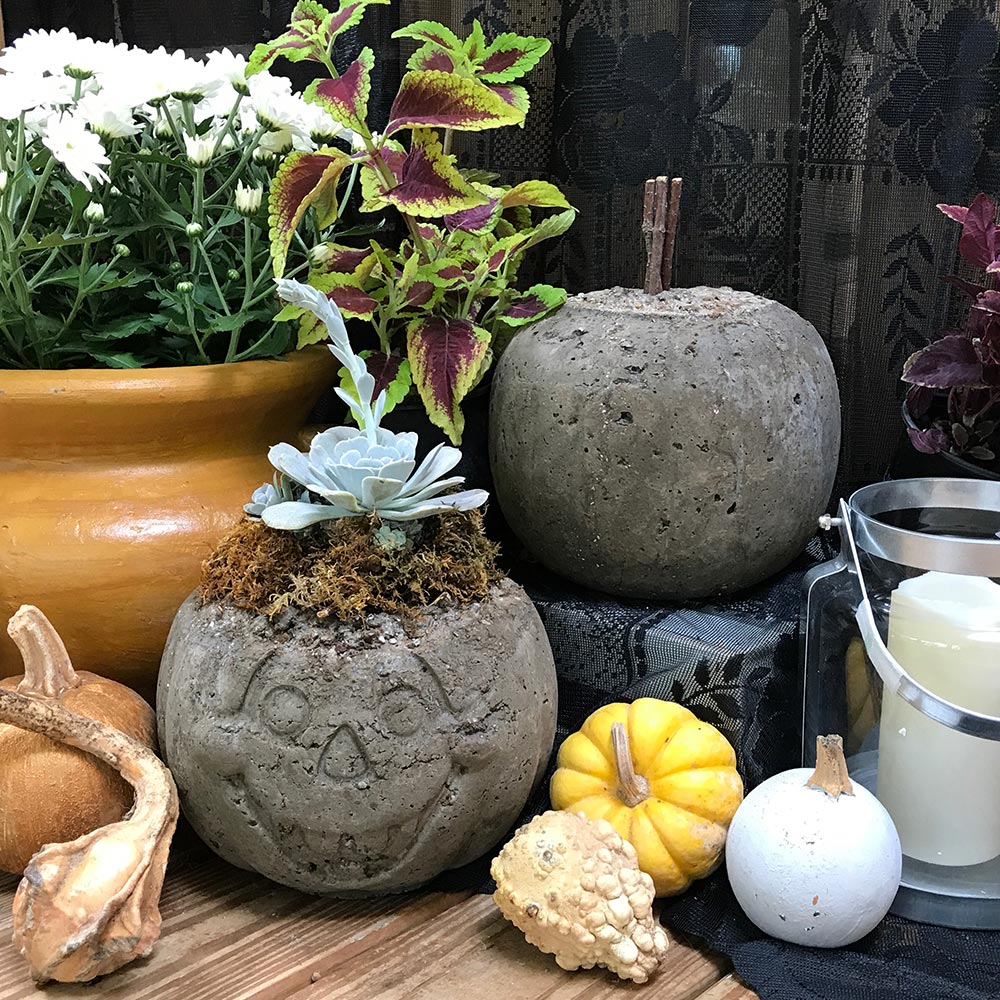 Learn how to make hypertufa pumpkins, a lightweight cement Halloween decoration. These are perfect for Halloween decorating around your indoor or outdoor space.
Creating hypertufa pumpkins takes just four ingredients, an hour from mixing to mold and there's no carving involved.
To make the hypertufa pumpkins mixture, blend wet sphagnum peat moss, perlite and dry Portland cement together, add water and mix. Then fill your plastic pumpkin trick or treat bucket (your mold) with the lightweight hypertufa mixture.
After a few days dry time, you'll have hypertufa pumpkins. See our instructions below for exact details on how to make hypertufa pumpkins.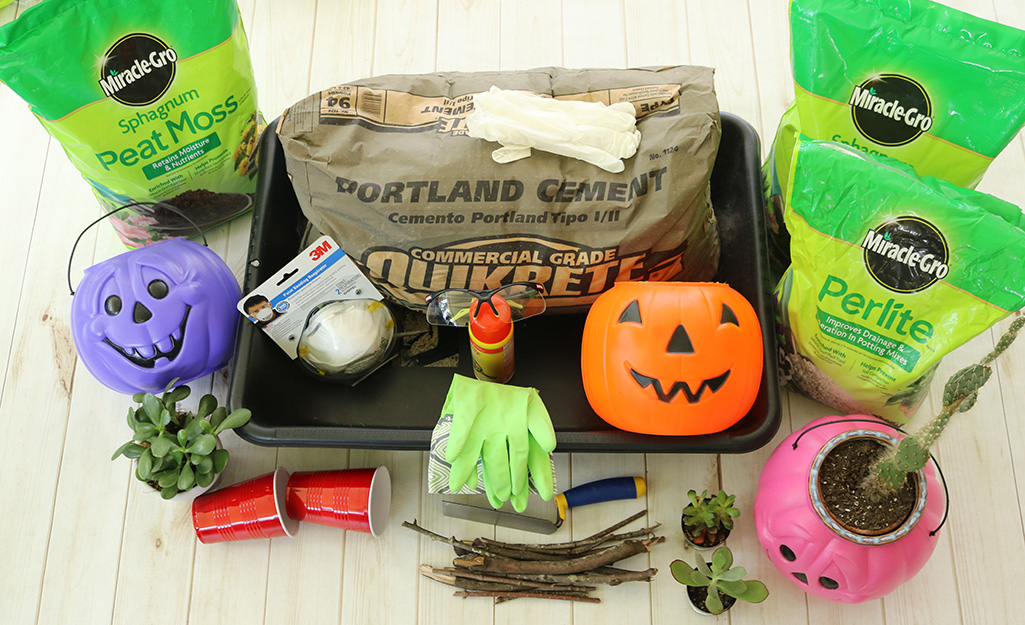 Using this recipe, measure your components for the hypertufa mixture. Don't worry if you don't get the recipe exactly right; cement is forgiving. Start by using small 8-quart bags of perlite and sphagnum peat moss.
This mixture filled three plastic pumpkins. Any extra mixture can be used to make hypertufa containers.
1 1/2 parts Perlite
1 1/2 parts Sphagnum peat moss
1 part Portland Cement
Optional: 1 part water mixed with cement tint
2
Spray Inside of Plastic Pumpkins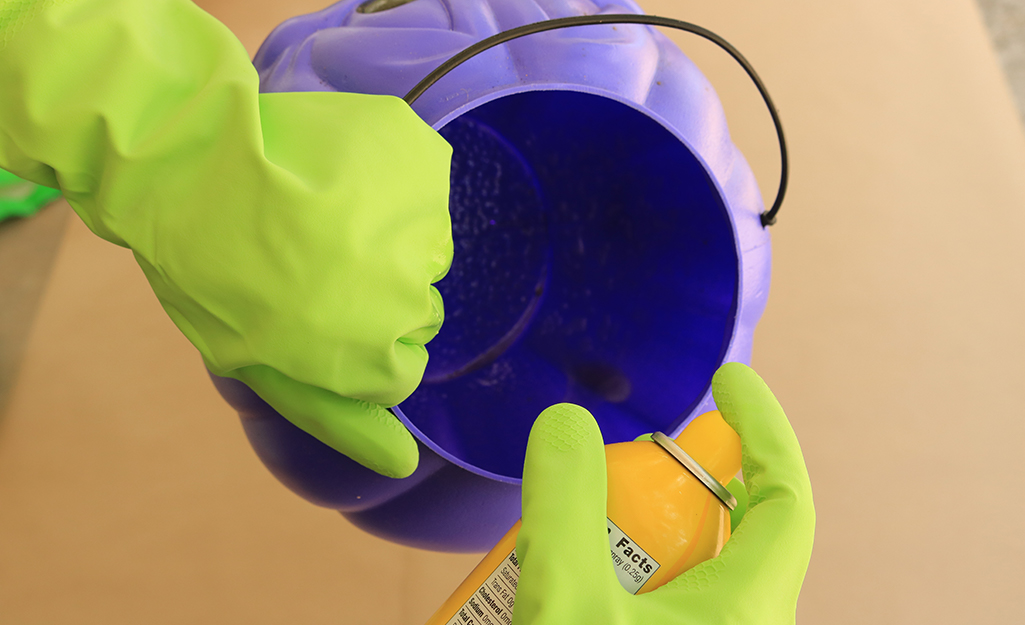 Plastic trick or treat buckets will be the mold for your hypertufa pumpkins. Using your no-stick cooking spray, completely cover the inside of all containers and the outside of all plastic cups or small plastic containers you will use to add indents in the pumpkins.
3
Mix Peat Moss and Perlite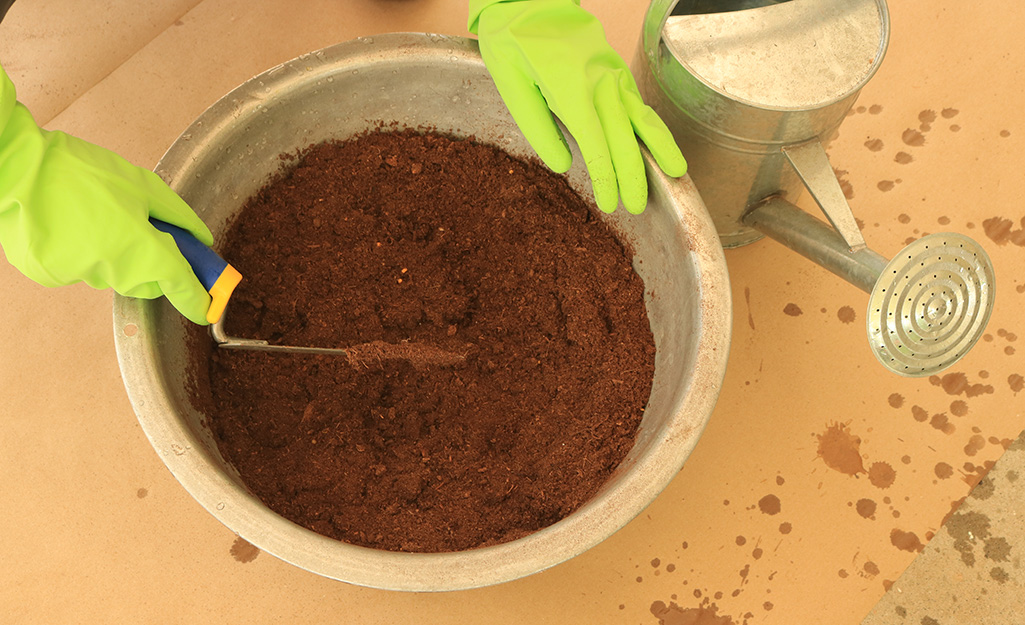 Place a drop cloth or brown Builder's paper underneath your work space. Using a bucket, wet the Sphagnum peat moss. Next, add in Perlite and mix by hand.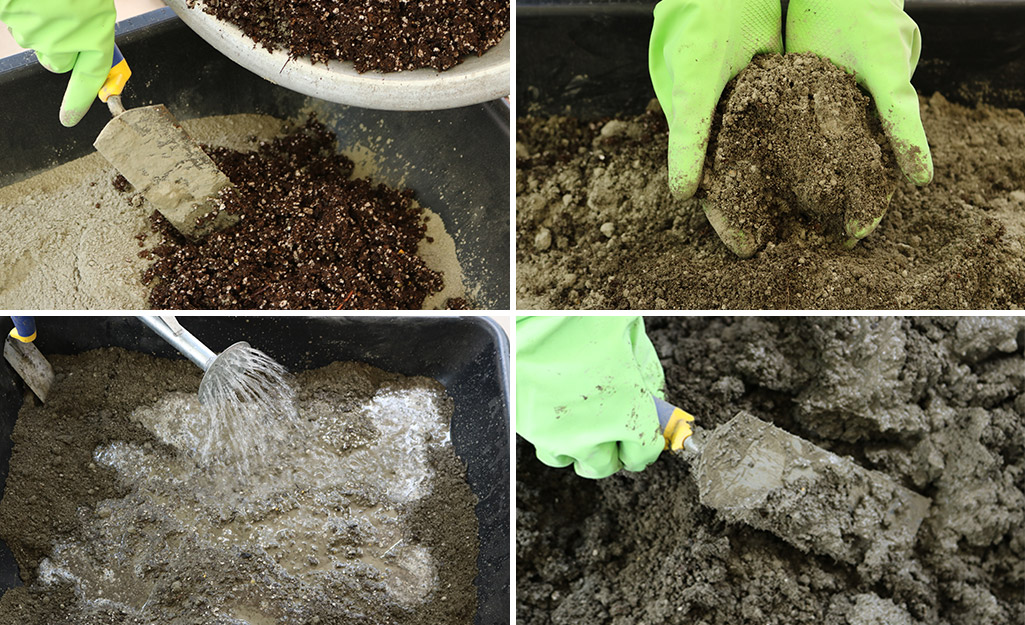 Now put on your gloves, safety glasses and a mask. In a well-ventilated area, add dry Portland cement to your moss and perlite mixture to create the hypertufa. Blend these dry ingredients by hand.
Next, slowly add water and begin mixing with a concrete trowel to work in all the ingredients. To get the right consistency, squeeze a handful in your hand. It's just right when very little water seeps out.
5
Fill Hypertufa Pumpkin Containers and Cover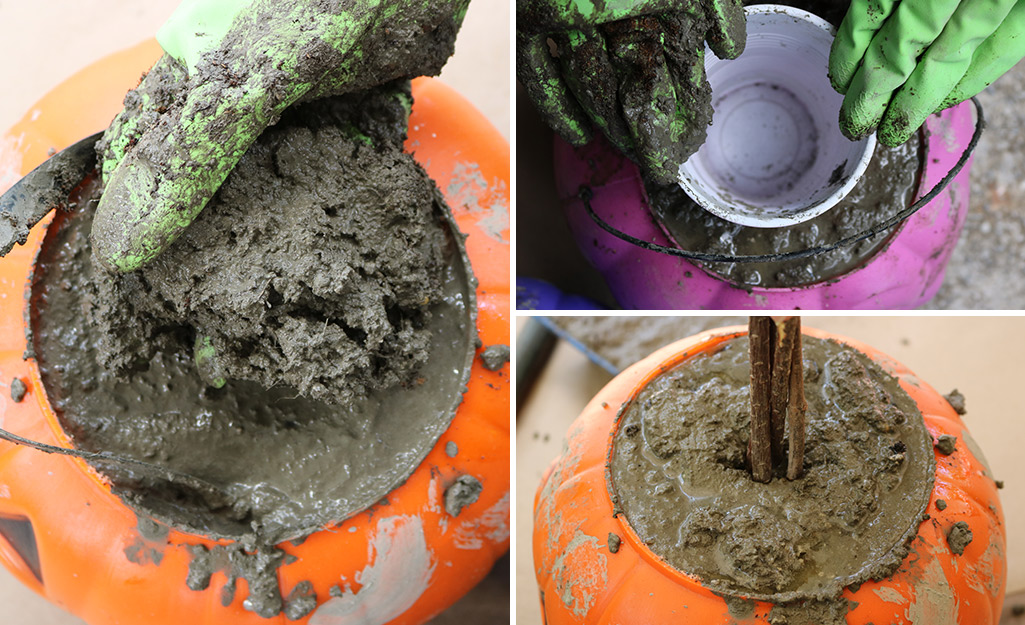 Take handfuls of the hypertufa mixture and fill the plastic pumpkin containers to the top. Pack down as you go. When full, push in plastic cups or small plastic containers as inserts. Continue filling all other pumpkin containers with the mixture in the same manner.
Now place all your hypertufa pumpkin containers inside a plastic garbage bag for curing. After a few hours of hardening, remove the plastic inserts.
6
Cut Away Plastic From Hypertufa Pumpkins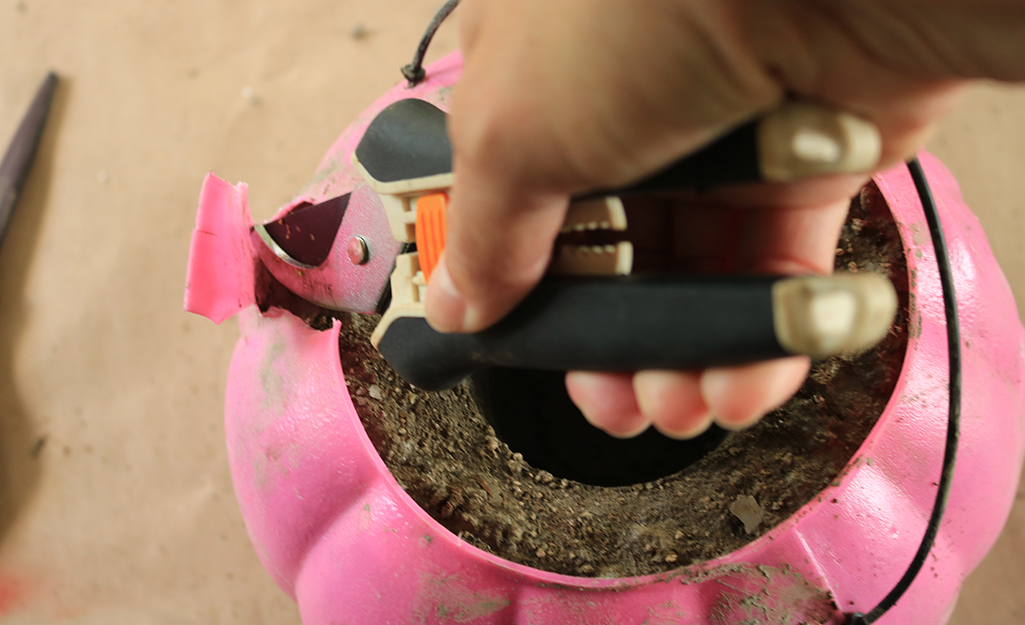 After two days, remove the hypertufa pumpkins from the plastic garbage bag. Use hand pruners to cut away the plastic pumpkins. Cut along the indentations on both sides of the pumpkin. Peel away the plastic until the hypertufa pumpkin slips out.
At this point, it's important to soak the hypertufa pumpkins with water once a week to remove residual lime from the cement because it could harm plants.
7
Plant Succulents in Hypertufa Pumpkins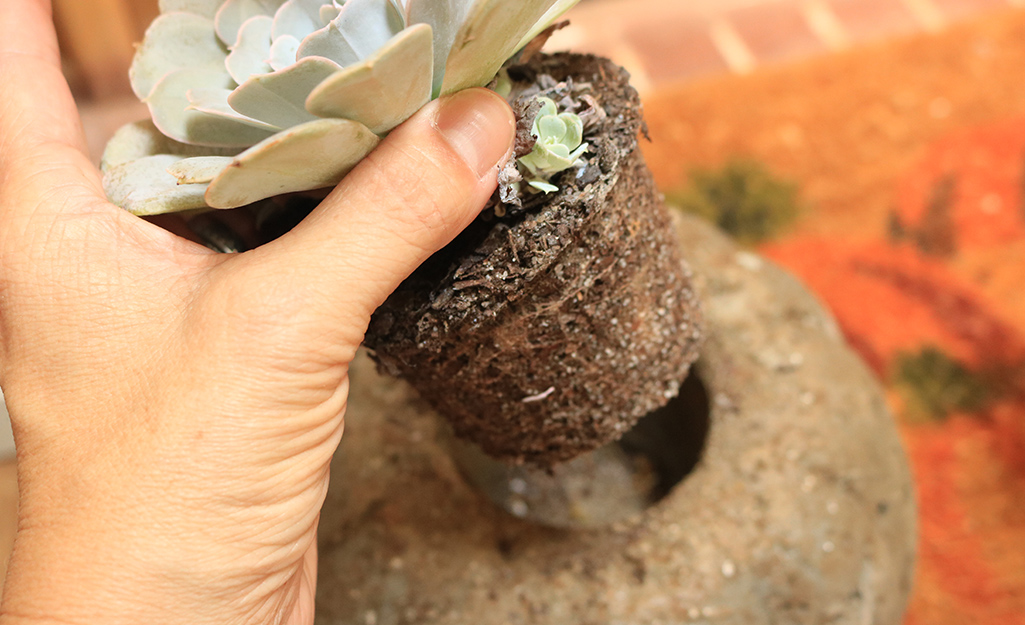 When your pumpkins completely dry, add decorative touches.
On the bottom of your pumpkins, for example, you could paint them gold or bronze.
For the hypertufa pumpkins with planter tops, insert succulents and surround with decorative moss. They look pretty in a decorative setting with your hypertufa pumpkins with stem tops.
Be sure to surround your decorative hypertufa pumpkins with plants of the season. In addition to succulents, add garden mums, brightly-colored coleus, plus pumpkins and gourds, available at your local The Home Depot Garden Center. For added ambiance in your fall decor, don't forget lanterns with LED candles.
No matter where you place your hypertufa pumpkins, whether on your porch, balcony, by your entryway or fireplace, these decorative pumpkins for Halloween can be reused year after year.
Explore More on homedepot.com