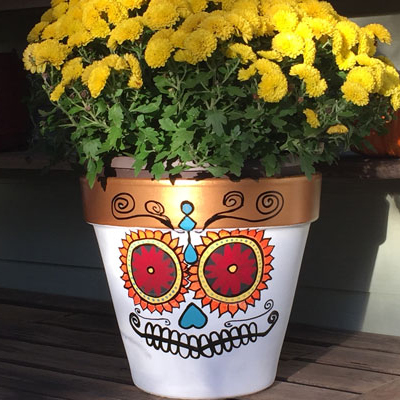 When it comes to celebrating Halloween, extend the celebration with Latin style and DIY skull flowerpots, known also as calavera or "sugar skulls."
Day of the Dead, or Dia de los Muertos, is a popular celebration of food and festivals that originated in Mexico. It honors the lives of those who have passed on. Colorful calavera skulls, known also as sugar skulls, are the most recognizable symbol. Find out how to create your own skull flower pots or simply use our downloadable PDF.
1
Spray Paint Your Flower Pot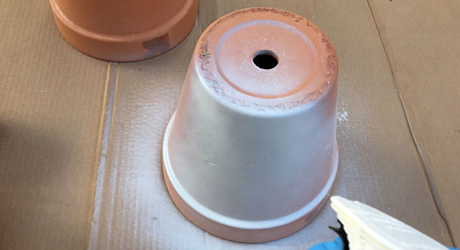 To get started, remove any stickers from your flower pot and spray paint the pot white.
For full coverage, spray paint twice. Be sure to spray the rims and inside the pot about 2 inches. You won't have to wait long to spray paint between coats.
2
Begin Drawing Your Skull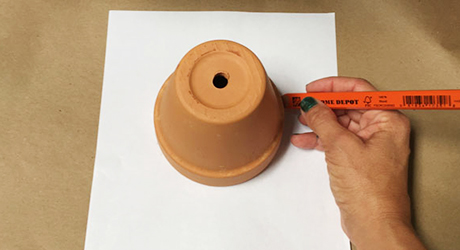 While you wait for your flower pots to dry, begin drawing your skull or just print out our PDF.
If you're drawing your own skull, start with a 4-inch circle. You can trace around a flowerpot (as seen above) and create the circle that becomes part of the face. For the chin area, trace a smaller round object, such as a drinking glass. Erase the lines you don't need.
Start the mouth with a horizontal line and draw ovals over it for the teeth.
3
Tips for Drawing Your Skull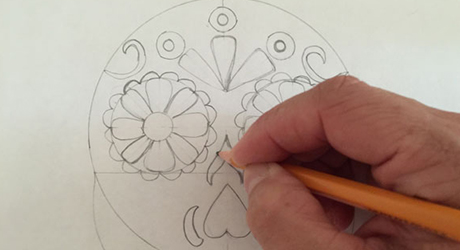 About 3/4 of the way down from the top of your circle, use a straight edge of paper, or a ruler, and draw a horizontal line. 
Draw a vertical line through the middle of your circle. These will help you keep your drawing in proportion. 
You could also skip the circles and just begin with the eyes. Use a bottle cap from a gallon of milk to trace circles for the eyes. Draw an upside down heart for the nose. Add other features, such as flowers and other decorative lines and shapes to fill out the design.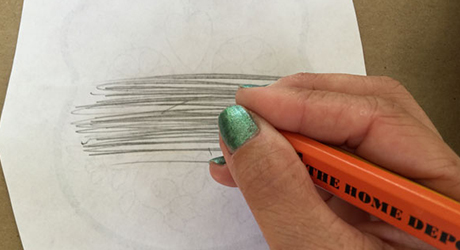 Now that your skull design is ready, flip it over and rub pencil lead across the back of the drawing. This will help you trace the design onto your flower pot.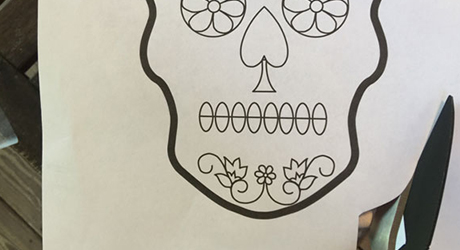 Using your scissors, trim your skull drawing. Be sure to leave about an inch on each side of the drawing.
6
Trace Your Skull Drawing on the Flowerpot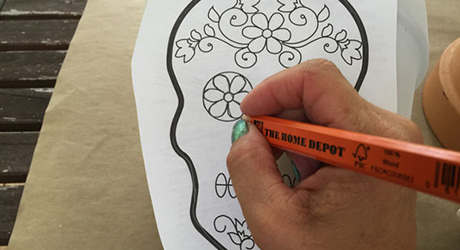 When the spray paint is completely dry, tape your drawing to the flower pot. 
Using a pencil, trace the front of the drawing onto the flowerpot, whether the PDF or your own design.
7
Start Painting Your Color Scheme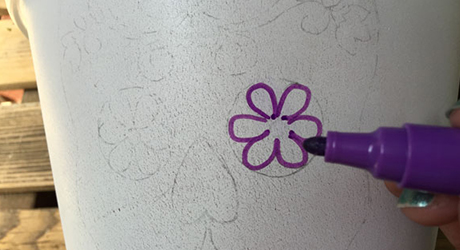 Now, begin painting your color scheme on the flowerpot with your paint markers or brushes.
Day of the Dead calavera skulls typically come decorated with bright colors, including marigold, and of course, outlined in black.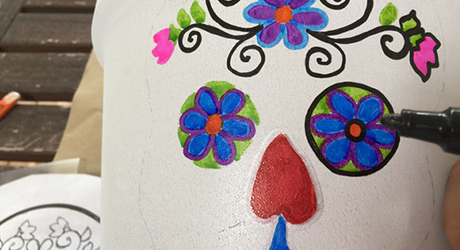 The last step is outlining your design with a black paint marker. This is the easiest way to create the rounded lines.
Start inside the skull and outline the eyes and other features. Save the outline of the entire skull for last to keep from smearing the paint.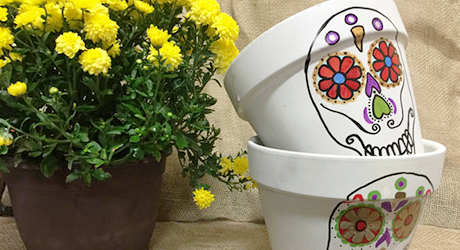 Now you're ready to drop in a mum and display your decorative skull flower pot. If you plan to use your flower pot outside, make sure to use a sealer first.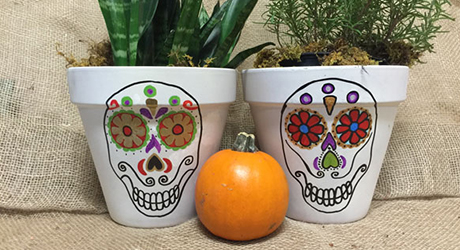 You can also display your skull flower pots with indoor plants or herbs.
No matter what design you create, skull flower pots can be a festive and colorful way to decorate for Halloween.
The Home Depot is your DIY headquarters. Looking for a product to complete your project? We have options to deliver online orders when and where you need them.
Explore More on homedepot.com