Time Required:

Over 1 day

Difficulty:

Beginner
---
Potatoes are one of the most popular tubers. Not only are they delicious, they are also hardy and easy to grow. As long as you follow a few simple rules and gather the right supplies, you should have no trouble growing a potato or three. Keep reading for more information and some helpful tips on how to plant potatoes.
What You Need to Know About Growing Potatoes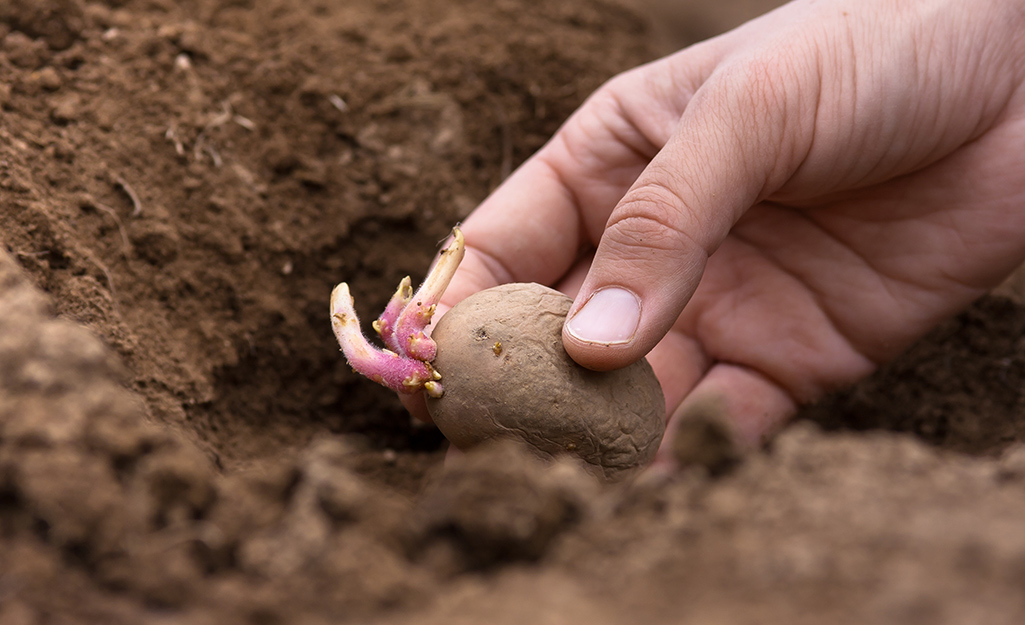 Here's what you need to know about growing potatoes:
The best time to plant potatoes is in the early spring, as long as the soil temperature permits. Potatoes cannot root in frozen soil or soil that is below 45 degrees Fahrenheit.
Make sure the soil is moist, but not soaking wet.
Decide whether to grow white potatoes or red potatoes. These two varieties have different needs and different speeds of growth.

Tip: Rotate your potatoes in the garden so they're not growing in the same spot annually. Allow three or four years to pass between plantings in a given spot. That way, you ensure you're not planting in soil that has been stripped of vital nutrients.
Steps to Keeping Your Potatoes Healthy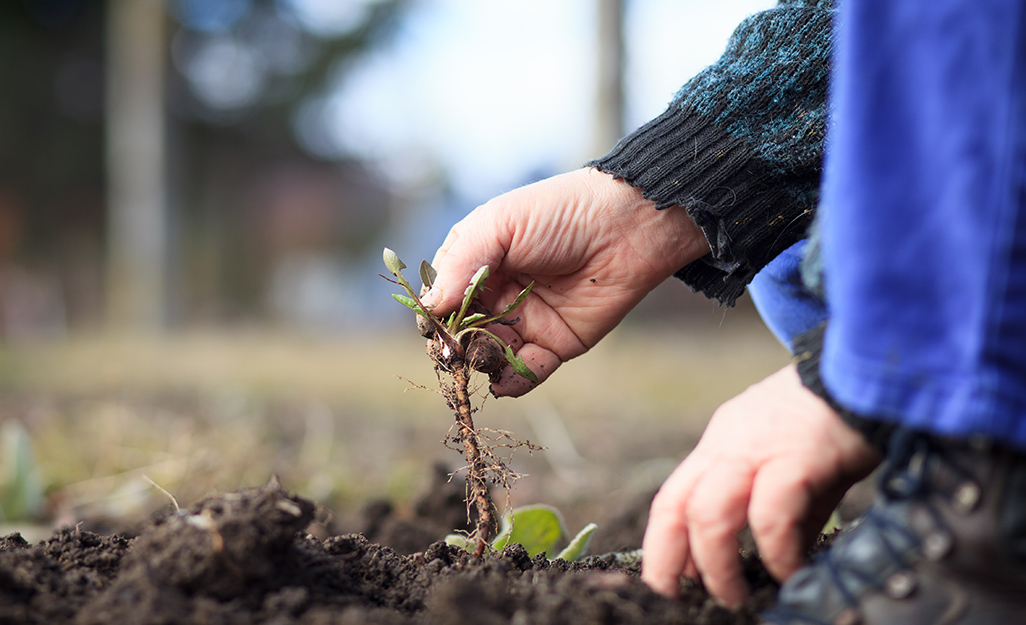 Follow these steps to keep your potatoes healthy:
First, check for weeds often and remove any you find. If not taken care of, weeds can overrun your potatoes and choke their roots.
Keep the plants hydrated by providing them one to two inches of water or rain each week. Stop watering the plants when the leaves yellow and die to help cure the potatoes for harvest.
If the potatoes are growing too slowly for your liking, feel free to fertilize them.
How to Successfully Grow Potatoes in Containers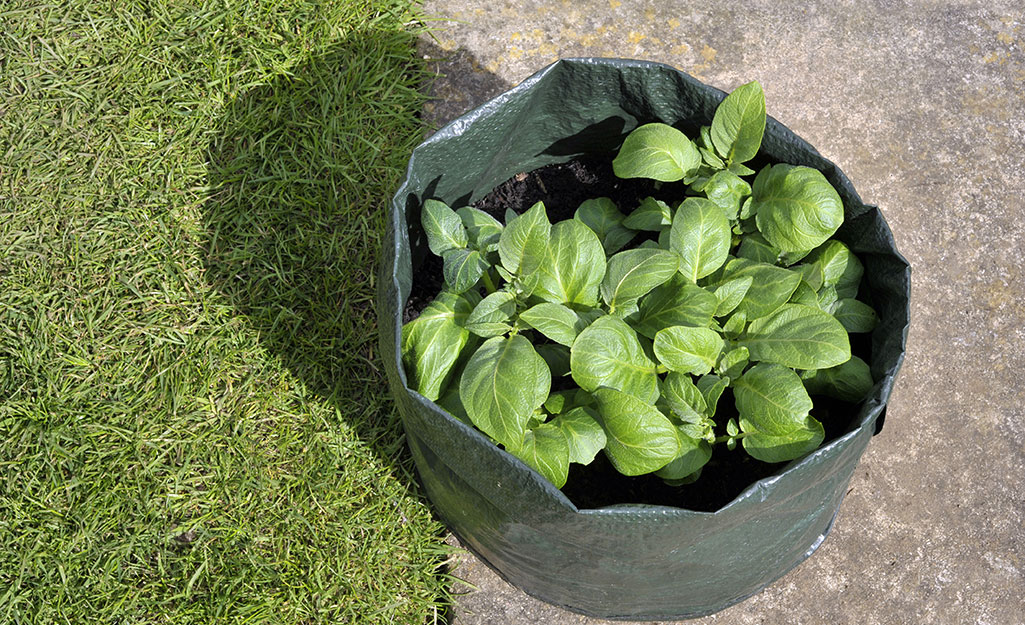 Growing potatoes in a potato barrel, a 50-gallon trash can or a whiskey barrel makes sense. Soil is easily added, potatoes are quickly planted, maintenance is simple and harvesting is a breeze. It just takes some time over several weeks to layer the potatoes in the barrel.
Potatoes take all season to fully mature, so begin this project around your average last frost date. Buy seed potatoes up to a week before planting and keep refrigerated. Seed potatoes will need a few days to sprout before planting. As soon as you plant a layer of sprouts, take out a few more seed potatoes and let them sprout. They will become the next layer that you plant.
Prepare a barrel for planting:
If your barrel does not have drainage holes, drill 1/4-inch to 1/2-inch holes about 6 inches apart in the bottom and sides near the bottom of your container.
Set the barrel in a sunny spot up on blocks or bricks so it sits a few inches above the ground, allowing air to circulate and water to drain.
Fill the bottom of barrels with a 3-inch layer of peat-based potting mix and 3 inches of compost.
Plant the potato barrel:
Buy seed potatoes and refrigerate until you are ready to start the planting process.
Place 5 to 10 seed potatoes in an open paper bag and place in a cool room out of direct sunlight.
When the potatoes have sprouted, lay them in the barrel soil about 6 inches apart, with the eyes pointing up.
Cover the potatoes in the barrel with a 6-inch deep layer of potting soil and compost.
Water and keep soil moist at all times.
Take out a few more seed potatoes and let them sprout in the open paper bag.
When potato foliage in the barrel reaches 6 inches high, add another layer of soil-compost mix, covering 75 percent of the visible stems and foliage. Plant 5 to 10 more sprouted seed potatoes in the new layer.
Repeat layers of seed potatoes and soil-compost mix until the barrel is full.
Harvest the potatoes:
Potatoes are generally harvested and eaten as "new." New potatoes are thin-skinned and small. They can be harvested later when they are mature potatoes. Older potatoes are larger and have slightly thicker skins.
In 6 to 10 weeks, when the topmost layer of plants begin to flower, new potatoes can be harvested. Carefully dig down with your hands to pick new potatoes.
The remaining layers can all be harvested now as new potatoes, or harvested later.
If you choose to wait, harvest when all foliage dies, about 16 weeks after planting. Simply dump the barrel out on a tarp and pluck out your potatoes. Spread the remaining soil over other vegetable beds.
Supplies for Potato Growing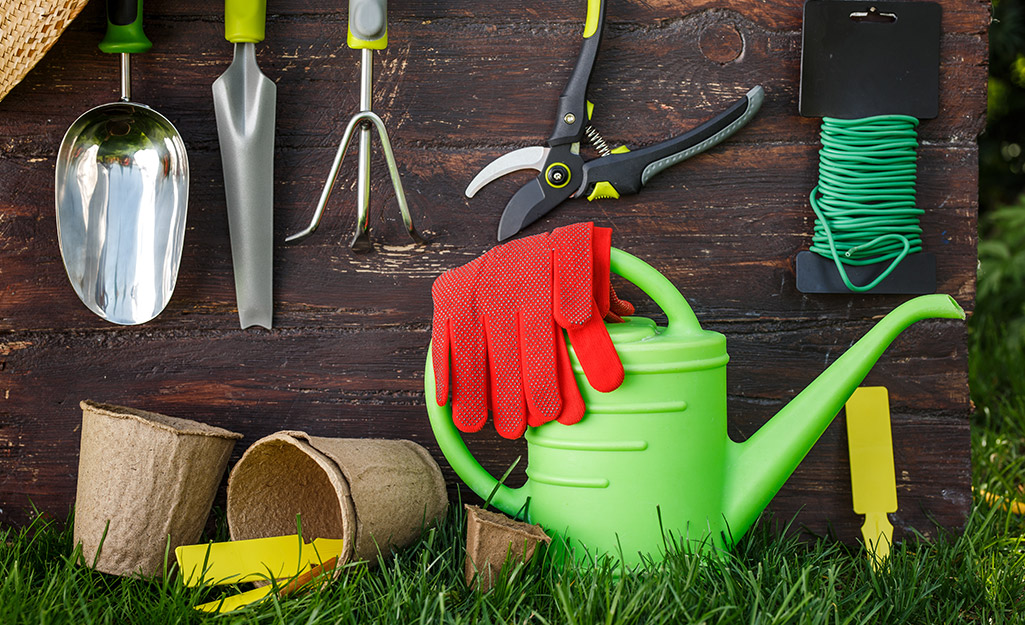 Once you're ready to grow potatoes, you'll need to gather several supplies for potato growing.
If you want to grow potatoes in containers, make sure you have the containers selected before you get started. You will also need nutrient-rich soil, potato seeds, tools for digging, a watering can and fertilizer. Armed with these supplies, you should be ready to start growing your first potato crop.
Recipe for Potatoes with Chives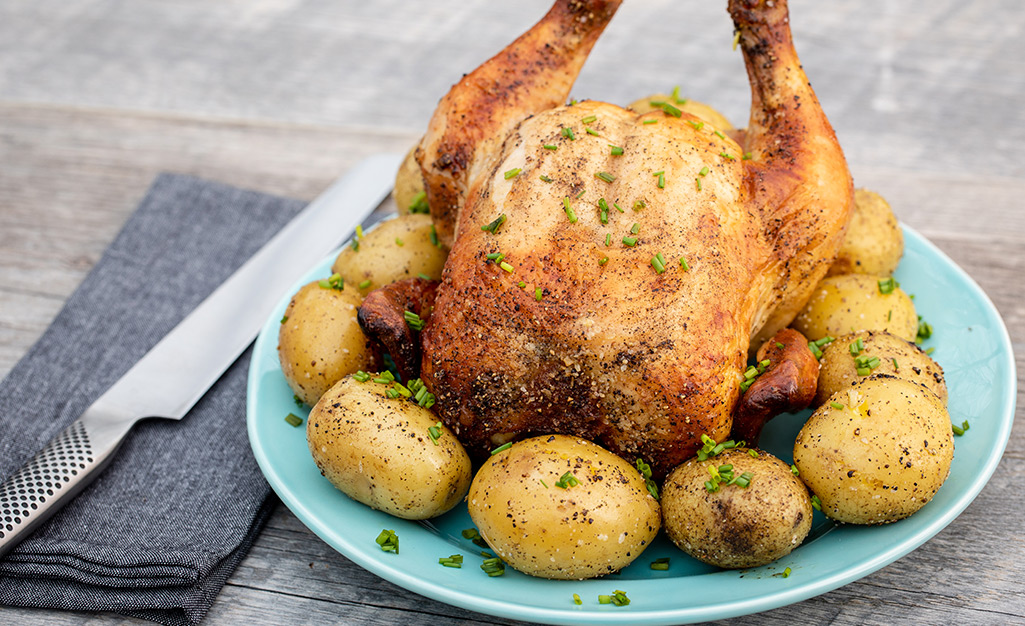 Grill-Roasted Chicken with Chive Potatoes Recipe:
The chicken is brined before grilling and potatoes are added to the pan at the end of the cooking time for a simple side dish.
Recipe provided by Weber.
Serves: 4
Prep time: 25 minutes
Brining time: 4 to 6 hours
Grilling time: about 1 1/4 hours
Ingredients:
Brined chicken:
2 cups water
1/2 cup kosher salt
1/3 cup packed light brown sugar
2 teaspoons dried thyme
4 garlic cloves, smashed
3 bay leaves
1/2 teaspoon crushed red pepper flakes
2 tablespoons Dijon mustard
1 yellow onion, 8 to 9 ounces, thinly sliced
2 bottles (each 12 ounces) chilled dark beer, divided
4 cups iced water
1 whole chicken, about 4 1/2 pounds, giblets and any excess fat removed
Extra-virgin olive oil
Freshly ground black pepper
Chive Potatoes:
1 1/2 pounds new potatoes, each 1 1/2 inches in diameter, scrubbed and unpeeled
3/4 teaspoon kosher salt
2 tablespoons finely chopped fresh chives
Instructions:
1. In a large saucepan over high heat on the stove, bring the water, salt, brown sugar, thyme, garlic, bay leaves and crushed red pepper flakes to a simmer, stirring until the salt is dissolved. Remove from the heat. Add the mustard and whisk until dissolved. Add the onion, 1 1/2 bottles (18 ounces) of the beer, and the iced water; reserve the remaining beer. Stir the brine until the ice cubes are dissolved.
2. Place the chicken, breast side down, in a large non-reactive bowl. Pour in the brine, being sure that the chicken is completely submerged. Cover with plastic wrap and refrigerate for at least 4 hours and up to 6 hours, no longer.
3. Prepare the grill for indirect cooking over medium heat (350 to 450 degrees Fahrenheit) using the Weber Gourmet BBQ System Cooking Grate.
4. Remove the chicken from the brine and discard the brine. Pat the chicken dry with paper towels. Pour 1/2 cup of the remaining beer into the center cup of the Weber Gourmet BBQ System Poultry Roaster. Place the chicken on the center cup so it sits firmly. Tuck the wing tips behind the chicken's back. Brush the chicken skin all over with oil and season evenly with 3/4 teaspoon pepper.
5. Set the poultry roaster in the grate opening and grill the chicken over indirect medium heat, with the lid closed, for 45 minutes. Loosely cover the top third of the chicken with aluminum foil to prevent the top of the chicken from over browning. Continue cooking for another 10 minutes.
6. Meanwhile, bring a medium saucepan of salted water to a boil over high heat on the stove. Add the potatoes and cook until barely tender when pierced with a small, sharp knife, 10 to 12 minutes. Drain and rinse under cold running water to stop the cooking. Pat the potatoes dry with paper towels and transfer to a bowl. Toss the potatoes with 1 tablespoon oil, 3/4 teaspoon salt and 1/2 teaspoon pepper.
7. Add the potatoes to the poultry roaster and stir gently. Continue cooking until an instant-read thermometer inserted into the thickest part of the thigh (not touching the bone), registers 165 degrees Fahrenheit and the potatoes are tender, 20 to 25 minutes, stirring the potatoes once or twice. Wearing barbecue mitts and using two pairs of tongs, transfer the chicken from the grill to a platter and let rest for 10 to 15 minutes (the internal temperature will rise 5 to 10 degrees during this time). Turn off the grill and keep the potatoes in the poultry roaster to keep warm while the chicken rests.
8. Carve the chicken and garnish the potatoes with the chives. Serve warm.
Whether you need the right planters, seeds or potting soil, The Home Depot delivers online orders when and where you need them.