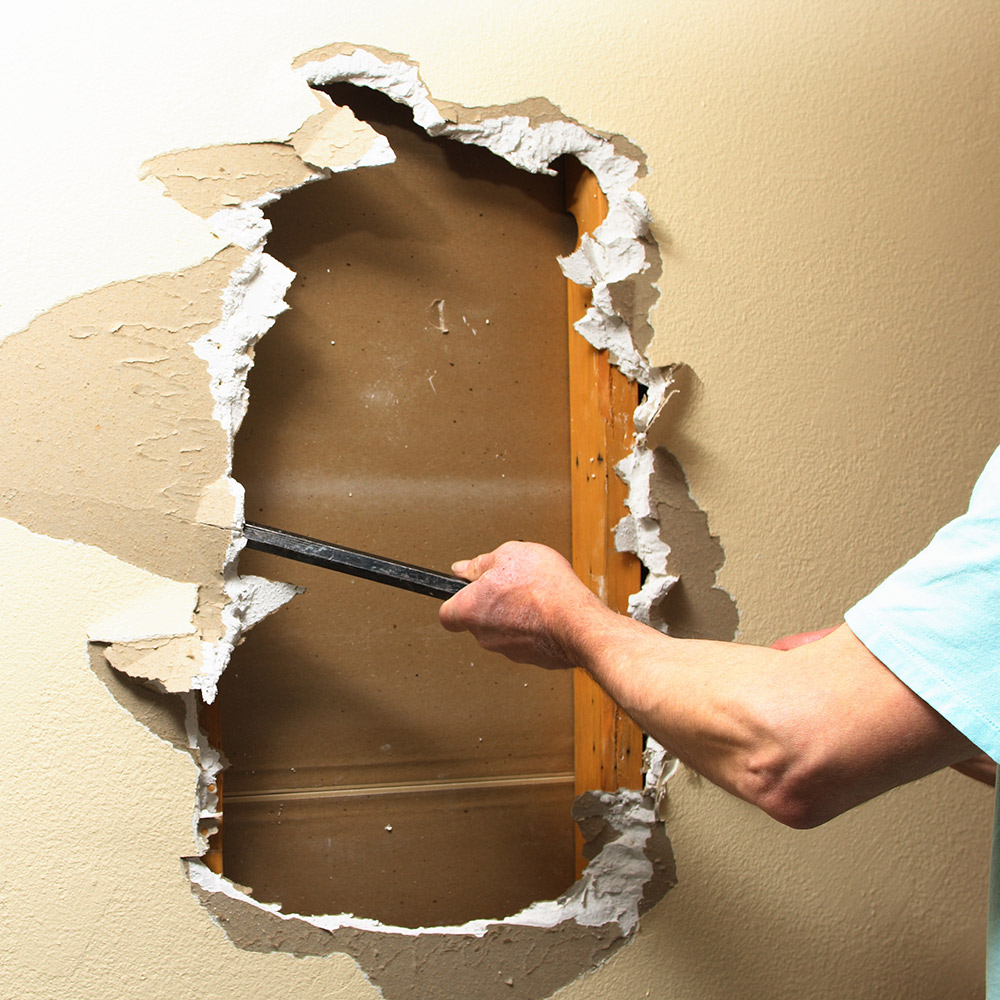 Drywall (also known as sheet rock or wallboard) consists of gypsum panels and is a familiar construction material for interior walls and ceilings. In the event of wall damage, appliance installation or a room renovation project, your drywall may need removal. Safe, efficient drywall removal calls for care and precision. This guide explains how removing drywall, whether in small sections or full rooms, can be done without swinging a sledgehammer. 
Your home is a place you want to look forward coming to after a long day. Sometimes it's necessary to remove drywall to have a fresh start. Although it may seem like a large undertaking, with the right tools and our easy-to-follow tips, you can demo your space with ease. Make sure to follow our instructions to minimize the inhalation of dust particles and debris.       
Safety Tip: Learning how to remove drywall that's aged may be painted with lead paint or contain asbestos. If that's the case, special precautions may be necessary for drywall removal and disposal.
1
Find and Turn Off Utilities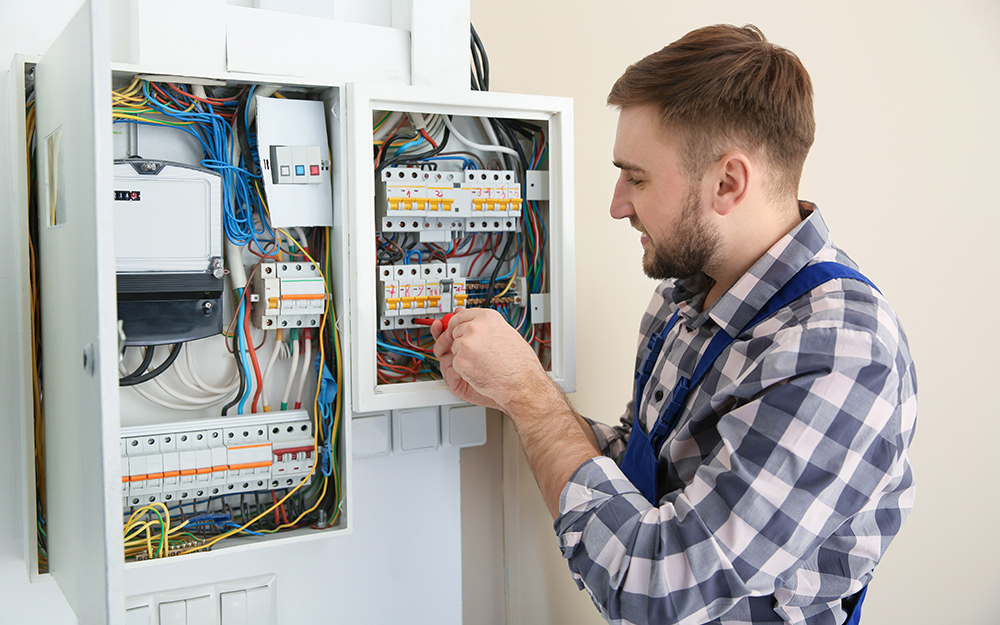 One of the most important things to keep in mind during drywall removal is to avoid cutting into plumbing, HVAC vents and electrical outlets. 
Use a stud finder to locate any obstacles behind the wall, such as pipes and electrical fixtures. Mark the areas with tape and avoid cutting or tearing into them later.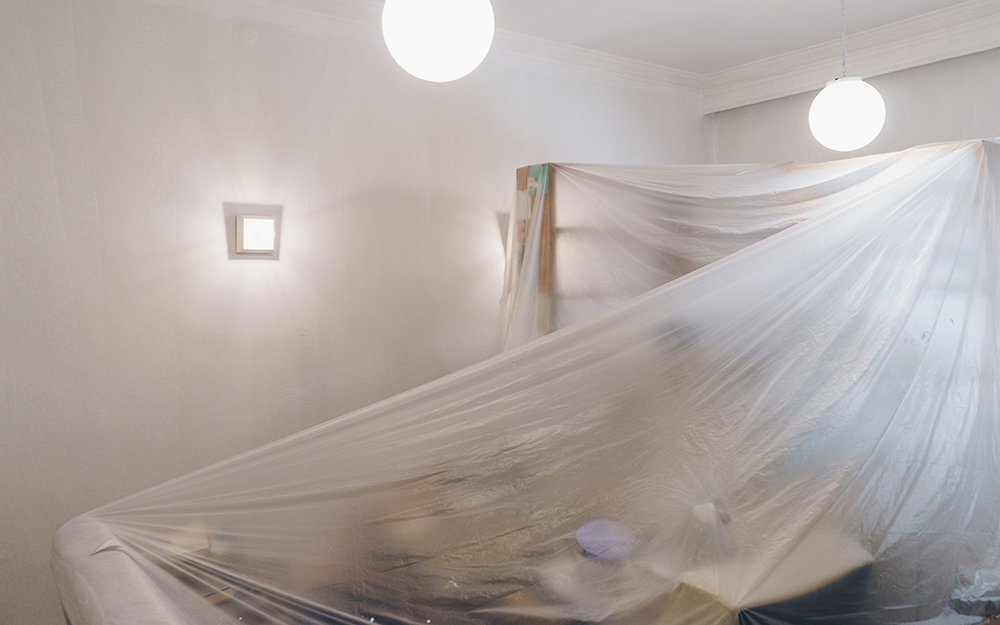 Avoid the spread of drywall dust, especially in a big project that involves removing all of the drywall from a room. 

Tip: Remember that there may be nails and screws imbedded into the drywall that you can successfully remove without damaging the wall. Lay a wide putty knife flush against the wall, touching the nail. Grip the nail near its base with a pair of end cutting pliers and rock back and forth until your nail or screw comes out of the wall.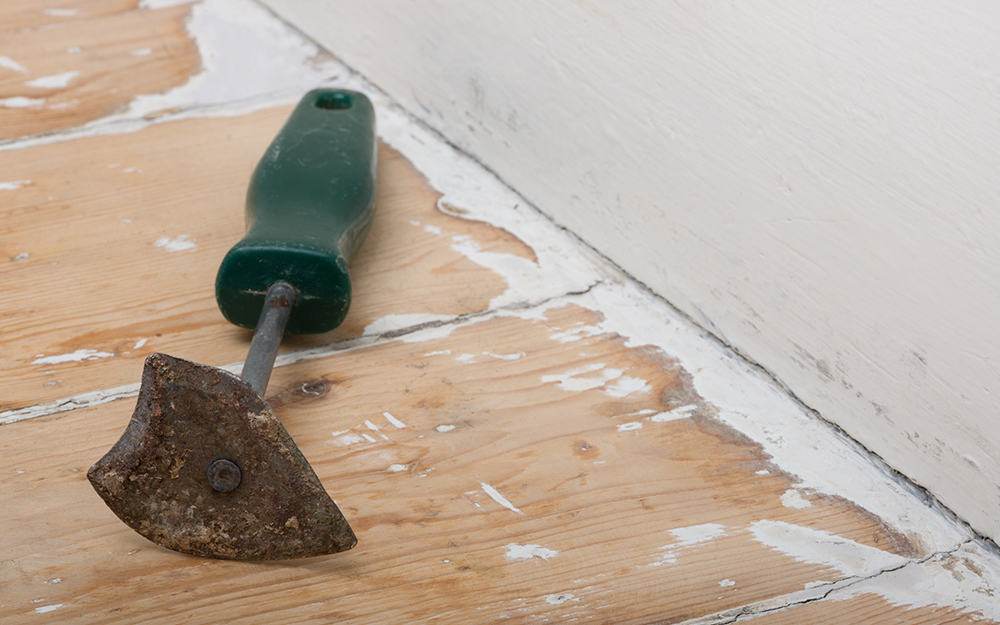 Use a utility knife to cut the top portion of where the moulding meets the drywall.
Then use a pry bar or other prying tool to remove moulding or baseboards that block access to the drywall.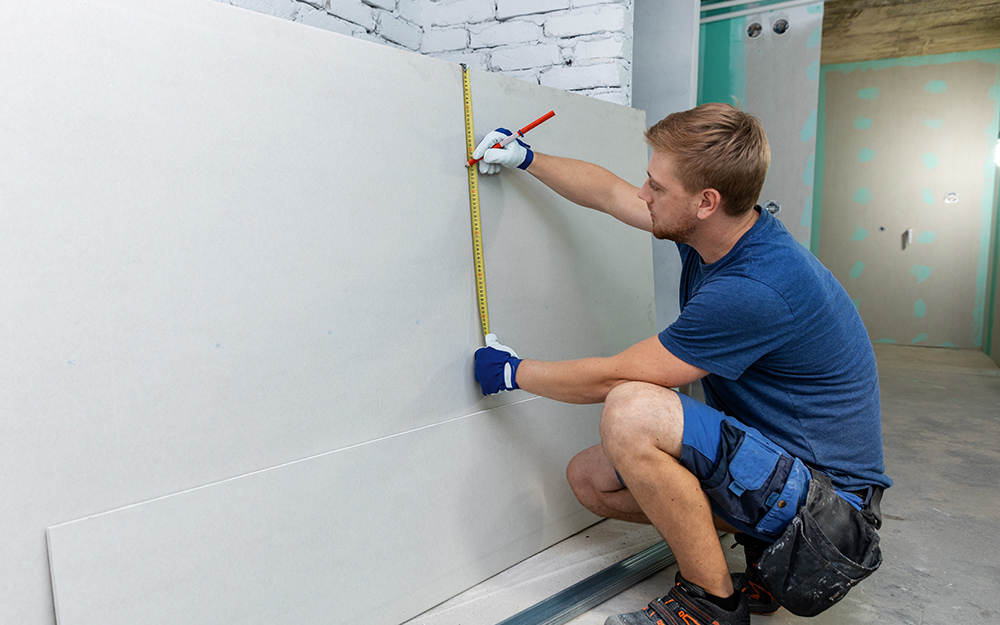 Sometimes you may need to remove a relatively small section of drywall to repair water damage or install a built-in air conditioner or other appliance. 
First, measure the section of drywall you need to remove and mark the dimensions with a pencil. 
Make the initial cut with a reciprocating or oscillating saw with a circular blade. Only cut deep enough to cut through the drywall and paneling. 
Carefully cut the rest of the hole. 
If the severed segment doesn't fall out immediately, pry it loose with a drywall knife or prying tool and throw it away. 
5
Loosen and Make Holes in the Drywall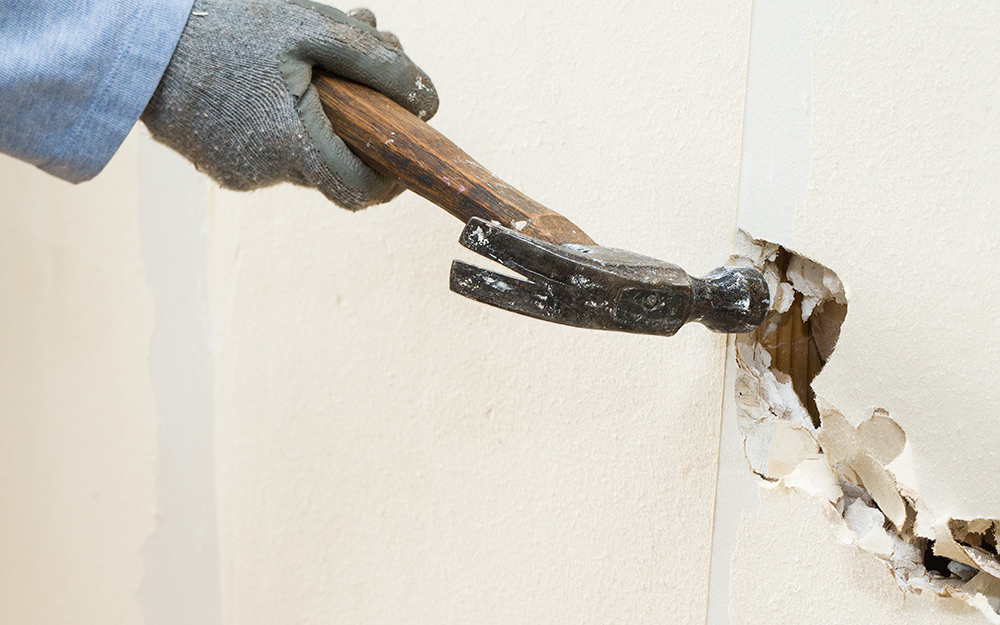 Use a drywall or utility knife to cut through the joint compound at a wall corner or ceiling corner, to make it easier to tear at those places. (For partial removal, mark the removal boundary with a saw cut along a stud.) 
Loosen the drywall along the floor with a pry bar, if possible.
Use either the face or claw of a hammer to punch a series of small holes in the drywall along the stud bays near the ceiling. Then connect the holes to create a hand hold. 
Dry vacuums are helpful for dust accumulation as you navigate your drywall project.
Tip: Safety goggles and gloves will manage the risk of getting dust and debris in your eyes or elsewhere.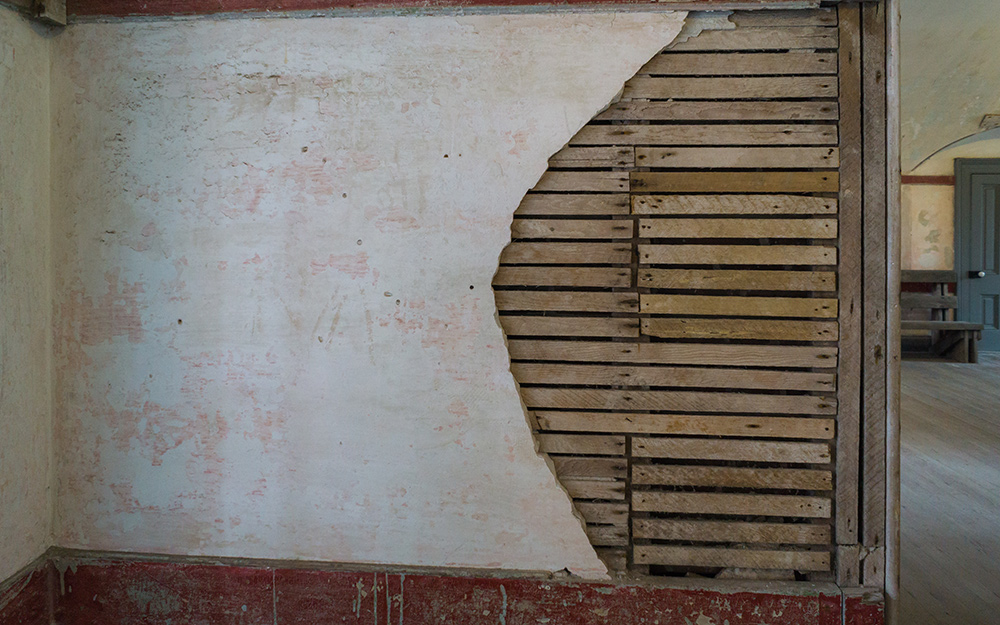 Removing drywall without having to demo the entire wall can be accomplished with the help of a magnetic ball stud finder. Removing the nails and screws will aid in removing the drywall without causing excess dust to disperse everywhere.
If possible, put drywall chunks directly into heavy-duty garbage bags or a disposable container. 
Once all of the drywall is removed, pry loose any drywall nails or screws that remain on the studs. 
Use a wet/dry vacuum to collect any remaining dust or debris from your work area.
Tip: Always wear sturdy work gloves when pulling out drywall by hand.
Learning how to remove drywall to replace it with new drywall has advantages over putting a new layer atop the old. Overlaying drywall can lead to clearance issues in the room, while removal gives you the chance to inspect the interior wall for worn wiring, termite damages and other signs of wear and tear. Removing drywall is the first step to rejuvenating a room. 
Once your drywall project is finished, you can move on to picking out interior paints for your space. The Home Depot offers a wide selection of high quality paint at affordable price points. You can shop for paint on The Home Depot Mobile App to find a color that suits the taste and function of your room.
Shop this Project
Explore More on homedepot.com