Time Required:

Under 2 hours

Difficulty:

Intermediate
---
The age-old problem with glass window panes remains the same today: They can break. Antique leaded-glass panes often loosen and rattle, and modern panes have some problems as well. A double pane may tend to fog if moisture gets between its layers, and a plastic pane will yellow over time. Once you determine that the glass is so damaged that the entire window must be replaced, it is simple enough to perform the replacement yourself. This guide will teach you basic glass repair so that you can replace a window, no matter the issue.
This guide covers glass replacement for all standard windows, including those with wood, metal, aluminum or vinyl frames. Always check with an associate at your local Home Depot if you have any specific removal questions.
The Home Depot offers replacement window installation. Click here to schedule a free in-home consultation.
Safety: When working with glass, always wear work gloves and safety goggles.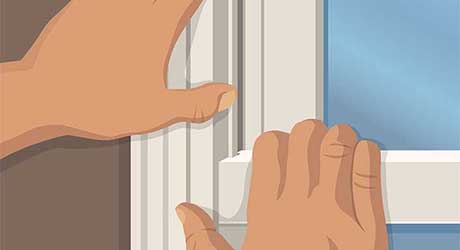 Use painter's tape or duct tape to tape an "X" shape in the middle of the glass to be removed. Make sure to cover any areas that are already shattered or cracked. The more surface you can cover with the tape, the better. This step will help prevent injury and reduce later clean up if the glass breaks during the removal process, as the tape collects the glass pieces and holds them together.
Remove spring-loaded double-hung windows by pushing against the flexible vinyl channels to release the channel pins.
Older double-hung windows can be repaired while the window remains in the frame.
Safety: Wear appropriate safety gear, including gloves and eye protection, when handling glass.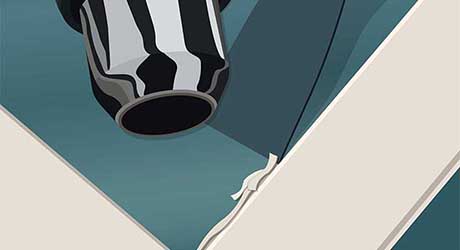 With traditional glazing, soften the old putty with a heat gun or torch, being careful not to scorch the wood.
Scrape away the softened putty with a putty knife.
On newer windows, simply pry out the vinyl glazing strips.
Safety: Wear appropriate safety gear, including gloves and eye protection, when handling a heat gun. Remember that some window frames - depending on the material - may conduct heat.
REMOVE OLD GLASS AND SAND GROOVES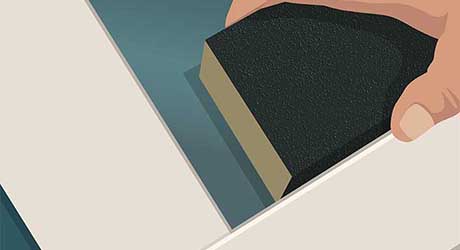 Remove the broken glass and metal glazing points from the frame, then sand the L-shaped grooves to clean away the old paint and putty.
Coat the bare wood with a sealer and let dry.
BED NEW GLASS WITH GLAZING COMPOUND AND POINTS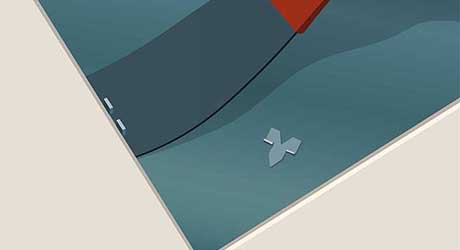 Tip: Do not put any downward pressure on the glazing points when inserting or they could break the glass.
Apply a thin layer of glazing compound in the primed grooves.
Press the glass lightly to bed it.
Press in new glazing points every 10 inches with the tip of a putty knife.
APPLY ADDITIONAL GLAZING COMPOUND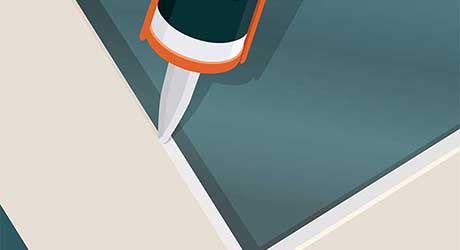 Move the tube tip along the edge of the glass while steadily squeezing the trigger.
Smooth the glazing with a wet finger or cloth. 6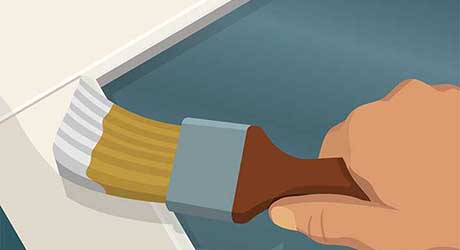 Latex glazing can usually be painted the same day.
Overlap the paint onto the glass by 1/16 inch to improve its weather seal.