Project Guide
How to Turn a Shoebox into a Storage Container
Time Required:

2-4 hours

Difficulty:

Beginner
---
Sturdy enough to hold your latest pair of shoes, shoeboxes also make ideal storage containers. Easy to customize with a few tools and a little creativity, shoeboxes (especially the kind with a separate lid and bottom) are versatile and strong enough to hold mail, office supplies and any other household items you'd ordinarily keep in junk drawers or baskets. This guide will teach you how to turn a shoebox into a storage container with easy tricks and tips.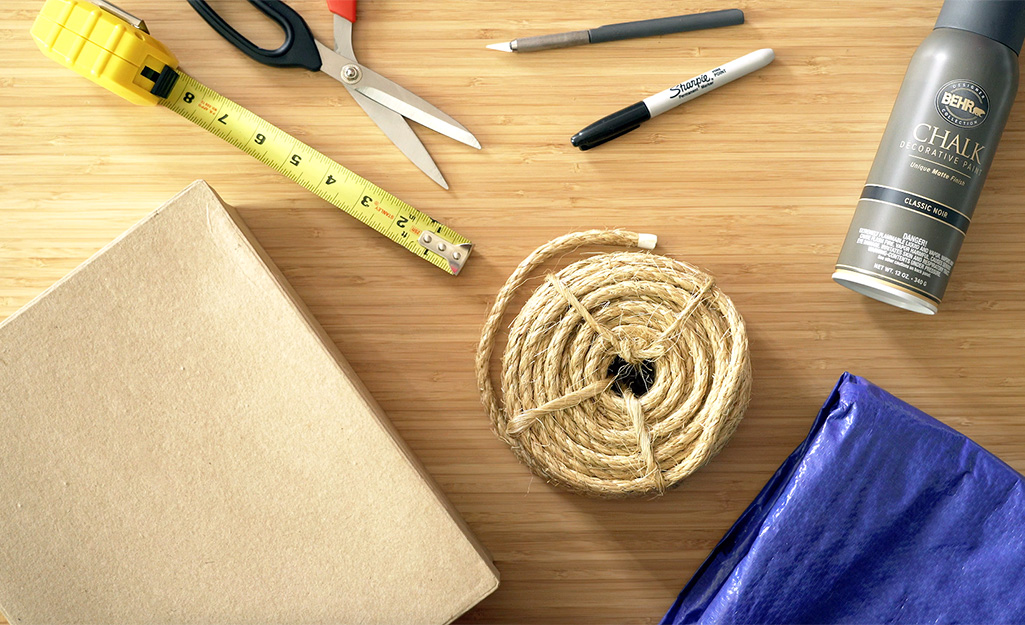 While the decorative elements will vary depending on your style and preference, there are few basics you will need to get started.
Now, let's take a look at two of our favorite shoebox makeover methods.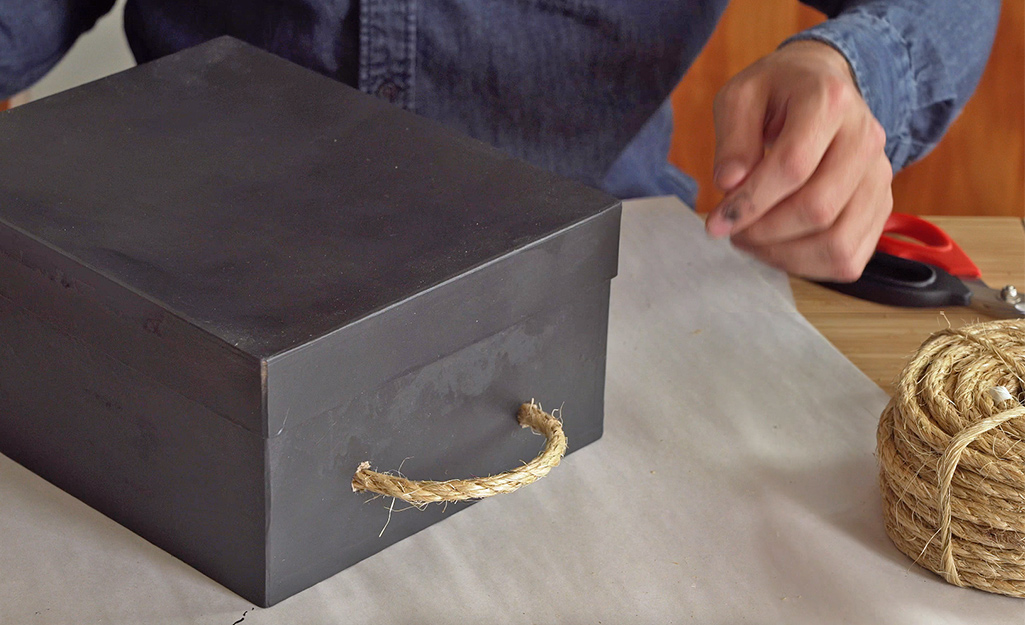 With just a little bit of spray paint and some sisal rope, you can transform leftover shoeboxes into a customized box that fits with most home decor styles. We used a charcoal gray spray paint, but feel free to have fun with other colors to truly make the box your own. In addition to the supplies mentioned above, you will also need chalked spray paint, sisal rope and a craft knife.
Here's how to complete this project:
Lay the tarp down over the area you'll be working in. Be sure the area is well-ventilated.
Spray paint the box with a chalked spray paint, working in thin, event coats. This type of paint leaves an ultra-matte finish and sticks exceedingly well to almost all surfaces.
Let each coat dry between 20 to 60 minutes before adding more if needed. Make sure to shake the can well each time.
Cut approximately 8 inches of sisal rope, as you'll need a bit of slack to tie it off on each end.
Using a pencil, make two marks on the box for where the handle will go. Now, using a craft knife, cut holes in the box for the rope to pass through.
Insert the rope through both holes, and tie off into knots on the inside.
If there is any extra length on the screws, cut off with a bolt cutter. For extra length on the rope, scissors will do the trick.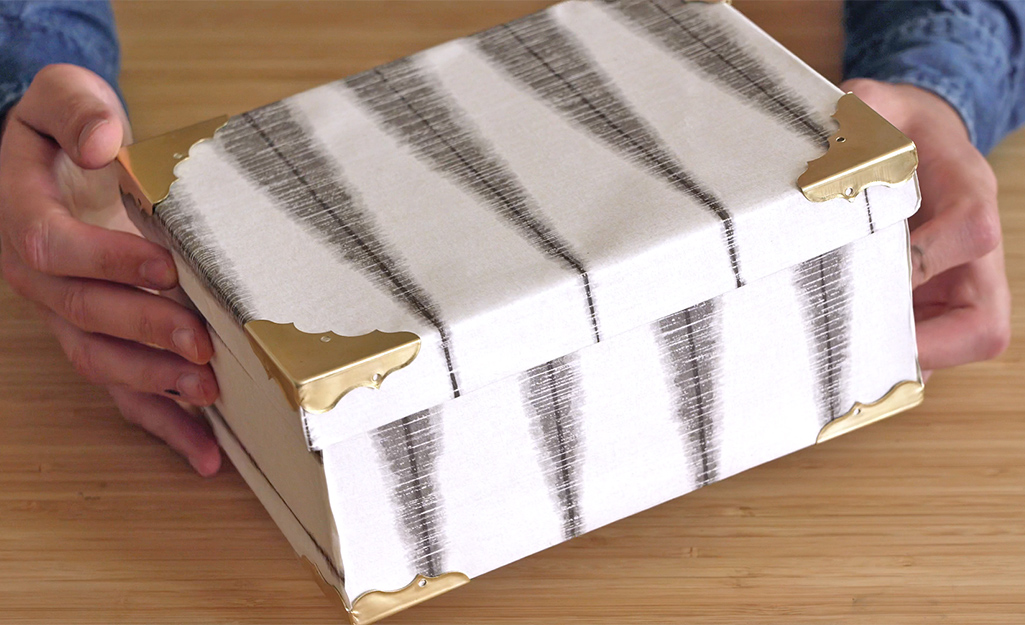 Peel-and-stick wallpaper is an easy way to add a beautiful pattern to just about anything – shoeboxes included. By sticking the wallpaper to the box as you would wrapping paper on a gift, it completely covers up any logos or imperfections, and creates a professional look.
The addition of decorative metal corners takes each completed storage box to the next level. In addition to the supplies list above, you will need peel-and-stick wallpaper, a hot glue gun and decorative metal corners.
Here's how to complete this project:
Roll out the peel-and-stick wallpaper and wrap it around the box and lid separately to see how much you'll need for each, just like wrapping a gift. We'd recommend enough to cover each side, plus an extra inch or two on all sides to fold over the inside of the box.
Once cut to size, position the box in the middle of the piece of wallpaper, making sure the design is face-down.
Using a pencil, draw two straight lines out from each corner of the box so that you have a 90 degree angle – there should be eight lines total (and four 90 degree angles). Repeat this process for the lid.
Cut on each line, discarding the four outside corner pieces of paper that end up being removed by the cuts.
Going one section at a time, remove the backing from the paper and fold the extra inch over the inside of the box, carefully removing the backing and smoothing as you go. Any air bubbles can be popped with a pin and smoothed.
Once the box is completely covered, hot glue the decorative corners to the box.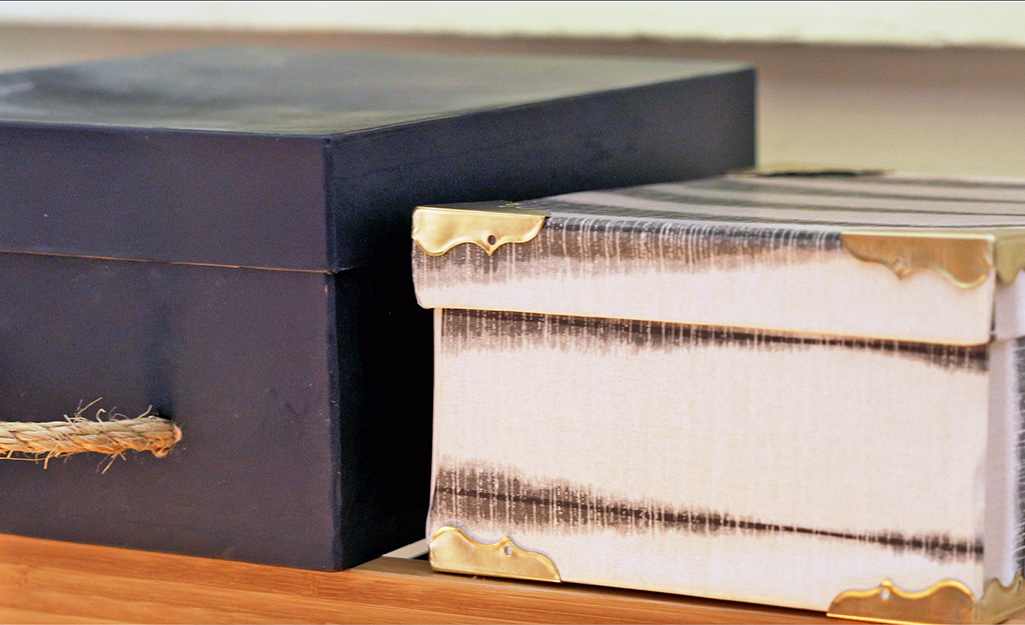 While these are just a couple of creative ideas, there are multiples ways to customize and use your shoebox-turned-storage container. Here are a few tips:
Be sure to remove any labels from the box prior to getting started. You want the box to be as smooth as possible when painting or wallpapering.
For families, utilize various shoebox sizes for storage in different rooms. For example, a child's shoe box may be perfect storage for stamps and office supplies, while a larger, adult box without the lid is perfect for storing paperwork or extra hand towels in a guest bath.
When displaying multiple boxes on the same shelf, have fun with designs, fabrics and patterns. Mix and match and truly make the boxes reflect your room and style.
Give an otherwise recycled shoebox an upcycled life by turning it into a storage container. We have the tools you need to get your project done. The Home Depot is your DIY headquarters. Looking for a product to complete your project? We have options to deliver online orders when and where you need them.