A paint sprayer is convenient for applying paint in less time than with a brush or roller. Painting with a sprayer makes the work easy on big or small jobs. You can stain a bench with a sprayer or use one to paint an entire house exterior.  
This guide explains how to use paint sprayers to get that fresh, updated look a new coat of paint brings to just about any surface.  
1
Choose a Paint Sprayer for Your Project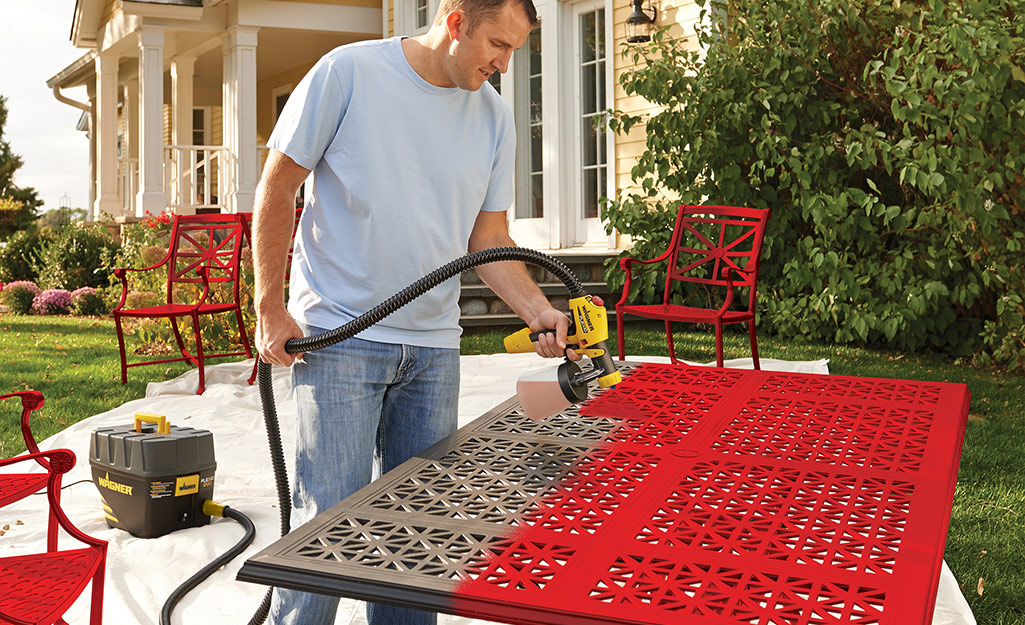 There are three common types of paint sprayers: airless sprayers, High Volume Low Pressure (HVLP) sprayers and pneumatic sprayers.
Airless paint sprayers are used by skilled novices and professionals for large surfaces such as interior walls and house siding. This type of sprayer uses pressurized force to deliver a large volume of paint quickly. An airless sprayer can deliver paint at a rate of a half gallon to 2 gallons a minute. Choose an airless sprayer if using a paint sprayer does not require much precision work to complete a big job.  
The HVLP paint sprayer is suitable for detailed applications that require accuracy and a smooth finish. These types of paint sprayers use air flow and paint volume controls for fast and even paint delivery. The output of paint coming from HVLP paint sprayers can cover large surfaces quickly. It is also effective for touch-up work. Choose a standing or a lightweight, stationary model of an HVLP sprayer to avoid arm fatigue.
Pneumatic paint sprayers use compressed air and can apply a greater volume of paint than airless and HVLP sprayers. They are used for precision application of paint in detailed commercial and industrial work such as motor vehicle body parts.  
2
Prep Before Using a Paint Sprayer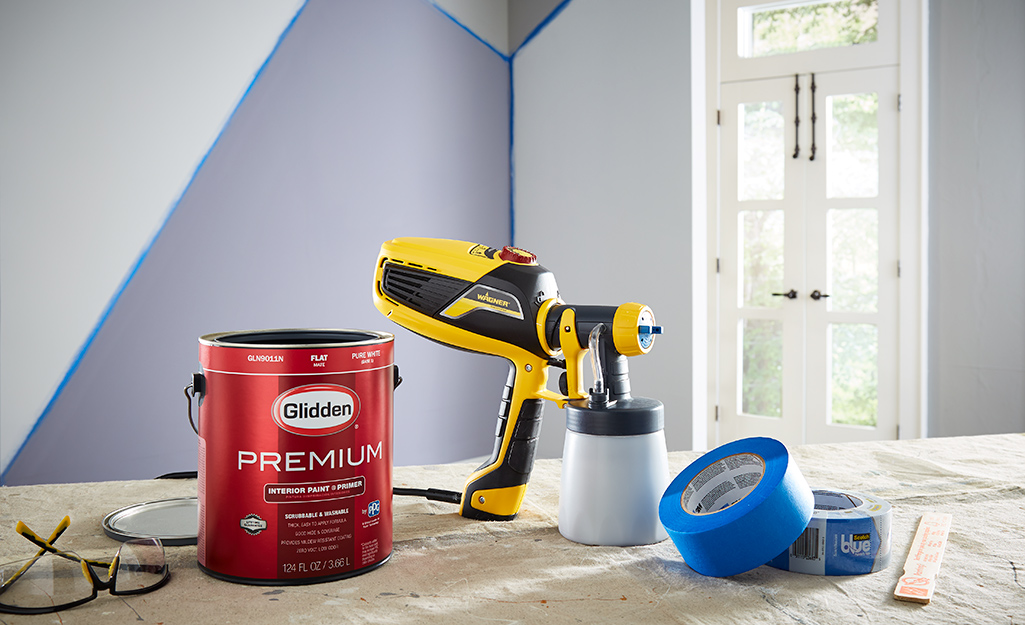 Painting with a sprayer requires some preparation of the work area. 
If the painting job is in a room or in a workshop, make sure it is well ventilated. Open the windows in the work area and use window-mounted fans to exhaust the paint vapors. Use a face mask or respirator mask to prevent breathing in airborne paint particles and gloves to keep hands free of paint spatter. 
Cover the floor, rugs and furniture with drop cloths or tarps to shield from paint spatter.  
Apply painter's tape to baseboards, light outlets and window and door sills to protect them from errant paint. 
Have buckets on hand for mixing paint and to collect rags or paper towels to clean up spilled paint. 
Use large pieces of cardboard or scrap material to practice painting with the sprayer. 
3
Choose the Paint for the Sprayer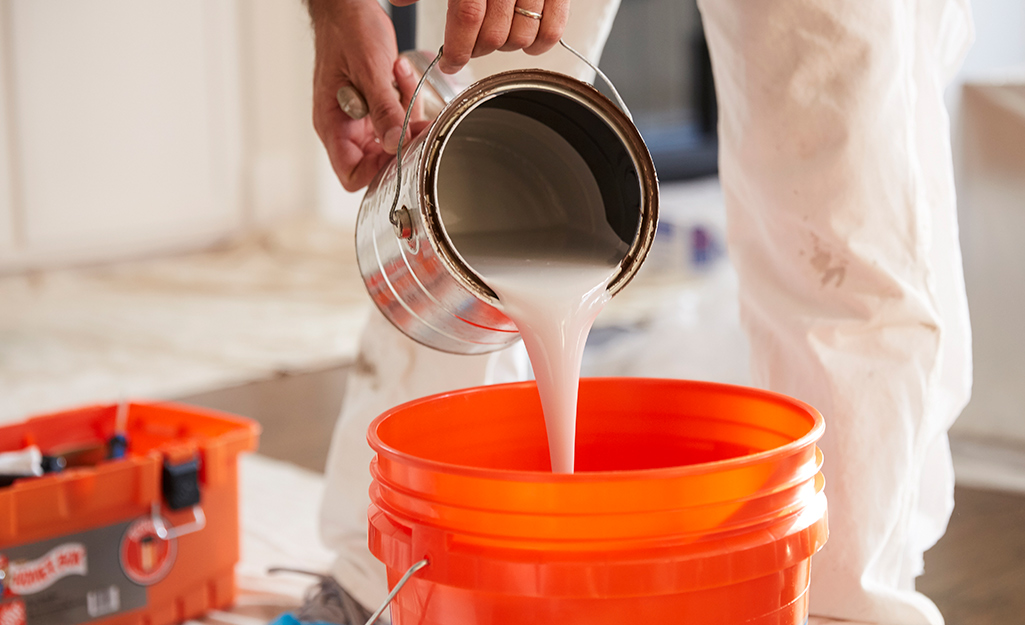 The paint of choice used in sprayers should flow smoothly and evenly through the sprayer's hose and out the nozzle without clogging. The lower the paint viscosity, or consistency, the better to use in a sprayer. 
Airless pain sprayers work with oil-based paint or stain.   
HVLP paint sprayers work with oil-based paint, but thicker paints such as water-based latex can clog the sprayer. Combine a half cup of water for every gallon of latex paint in a bucket and stir thoroughly to thin its consistency before using latex paint an HVLP gun.   
Pneumatic paint sprayers work with oil-based enamel, acrylic and latex paints.  
4
Practice Using a Paint Sprayer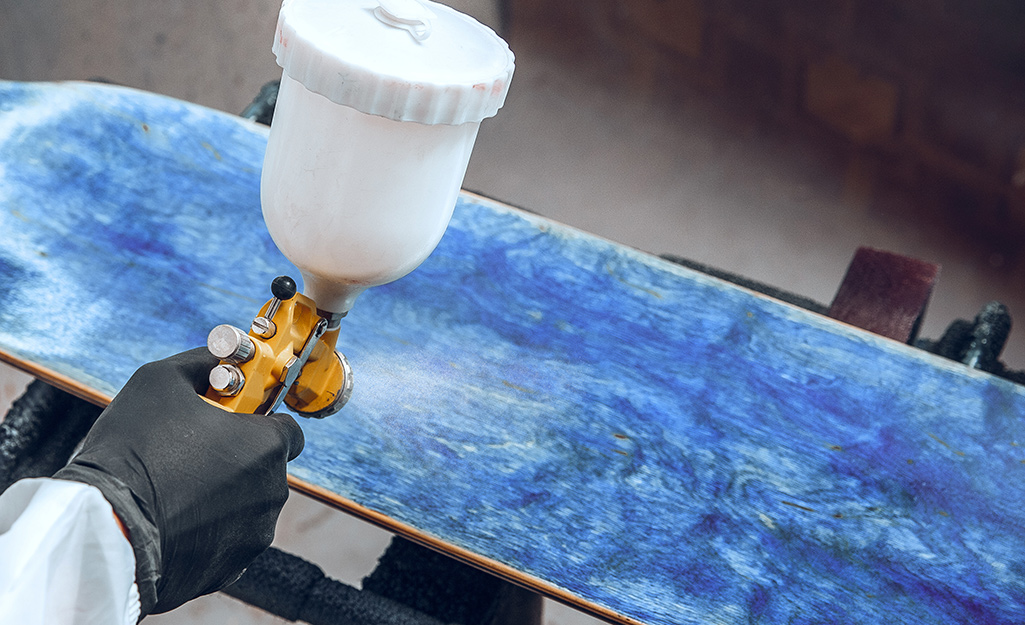 Practice with the paint sprayer before the project to get comfortable with how it works, especially if you're a novice at using one.  
Fill the sprayer's reservoir with paint and spray a large scrap of cardboard propped up on a wall. Scraps of drywall also work fine to practice on. Take your time learning how to use a paint sprayer and have several pieces of scrap material on hand.  
Try various vertical and horizontal spraying movements to get a consistent pattern of paint onto the surface of the scrap material. You want to achieve a uniform look to the surface when using a paint sprayer. 
Holding the spray gun close to a surface applies more paint and creates a narrower spray pattern. Practice holding the spray gun closer to the surface for that result.  
Holding the gun farther away from the surface creates a thinner coat of paint and a wider spray pattern. Work on how to use a paint sprayer to create that result as well.  
If you hold the sprayer too far away, the paint can dry before it reaches the surface. If that happens you might need to respray the surface and take even more time to complete the project, and your paint supply will deplete faster.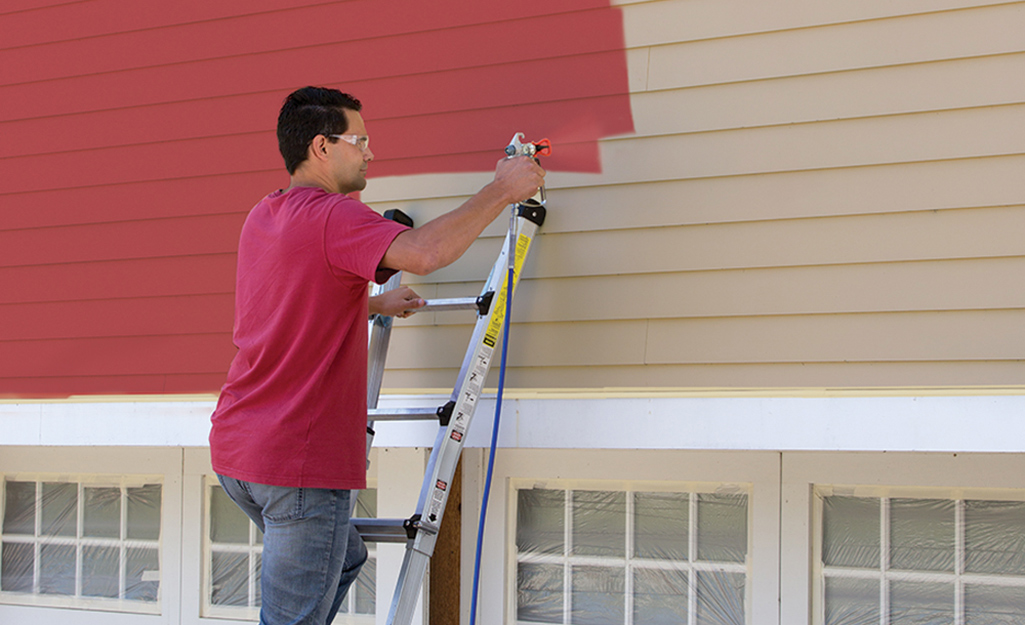 Before painting with a sprayer, start a stroke movement with it before pulling the paint gun trigger. This prevents too much paint from building on the surface where it's being applied. Continue the stroke after releasing the trigger. 
Note how the paint lands on the surface when you start spraying. Speed up or slow down as needed to get the coverage even and consistent. 
Spray straight toward the surface and avoid directing the spray at a steep angle. 
Adjust the tip of the sprayer for a vertical or horizontal application pattern. 
Avoid swinging your arm back and forth, and instead move the arm carefully back and forth to spray. Do not over flex the wrist. Keep the gun positioned to prevent spray arches that can make an uneven coating of paint. 
Regularly wipe the tip of the paint sprayer with a rag to prevent paint from drying and disrupting the spray pattern. 
Do any eaves and corners first. Work from the top down. 
Clean the entire spray painter thoroughly, following the manufacturer's instructions, once your project is finished. 
Do not store paint in the paint sprayer for any extended period. 
Keep safety in mind when operating a paint sprayer. Never aim the sprayer at a person or animal.  
Paint that lands on the skin from a high-pressure sprayer can be hazardous. If that happens, seek immediate medical attention. 
Knowing how to use a paint sprayer can shorten the time it takes to refresh the look of a room or house exterior. Read the operating instructions before starting the work. Visualize the project's space with a new coat of paint and practice with the paint sprayer first. Download The Home Depot Mobile App and check out paint sprayers when you are ready to start your next project. 
Explore More on homedepot.com