Jade plants (Crassula ovata), natives of South Africa and Mozambique, are nearly carefree indoor plants with glossy, rounded, deep green leaves and sturdy, thick trunks. Also known as lucky plants, dollar plants and money trees, jade plants are often given as gifts or housewarming presents. They're fun to grow in your own home, too.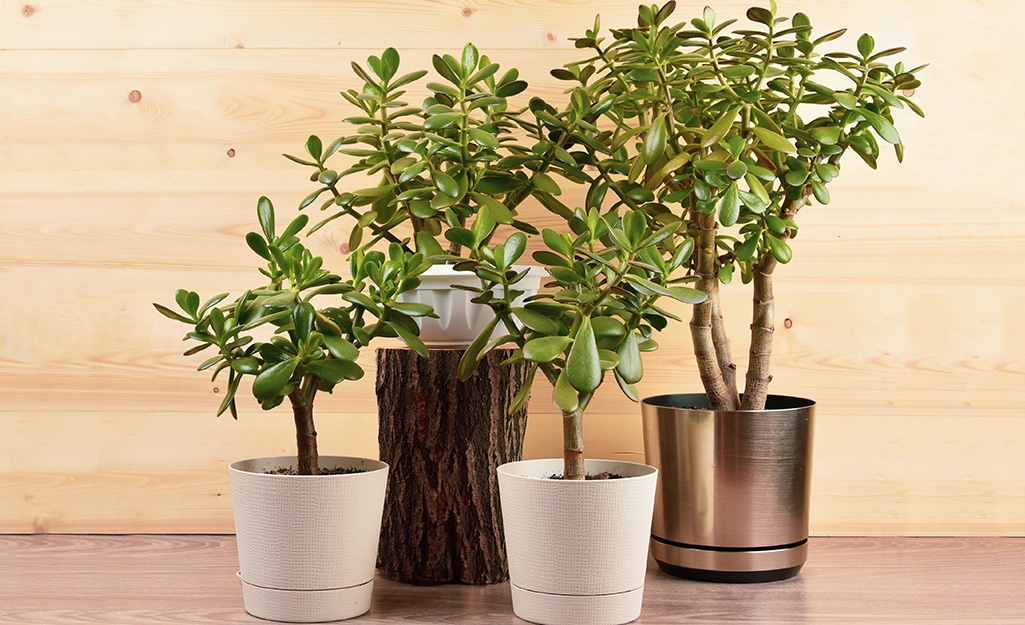 Jade plant care is easy once you know a few basics. Because they're succulents, they can tolerate a little neglect, which makes them great for beginning gardeners. 
To grow them as houseplants, start by choosing a container with drainage holes. If your container doesn't have any, make a few in the bottom. This will allow excess water to drain away after you've watered your plant, so the roots won't rot.
If you want to use a decorative container that doesn't have drainage holes, plant the jade plant in a smaller, plastic pot that does have holes. Then slip the plastic pot into the decorative one.  Take the plastic pot out as needed to water.
Make sure your container is wide enough and deep enough to hold the plant without tipping over. Jade plants can get top-heavy. 
Use a cactus-succulent potting mix that includes sand when you're ready to pot your jade plant. Plant it no deeper than it was in its original pot. After planting, wait a few days before watering so the roots can settle into the potting mix.
Give your jade houseplant at least four hours of sunlight every day. Young jade plants can be started out in bright, indirect light and moved into more direct sunlight as they mature. South- and west-facing windows are good choices. If your plant isn't getting enough light, its stems and branches will become long and leggy. Move it closer to the light source or use a lamp to provide more light.
Rotate your plant weekly so it grows evenly and doesn't lean toward the light source.
2
More Jade Plant Care Instructions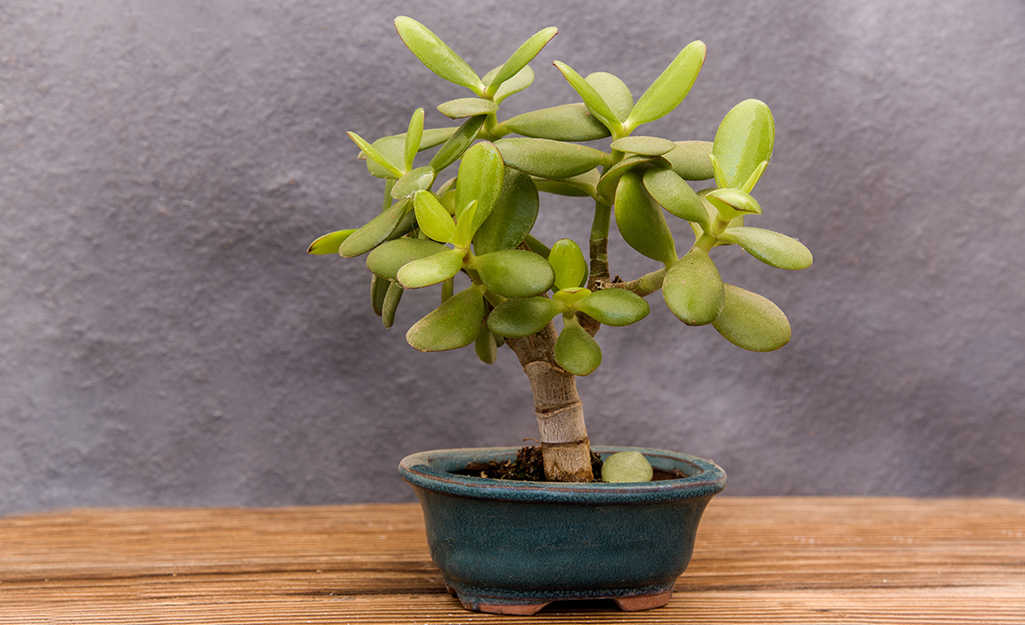 Jade plants are hardy in USDA Zones 10 and 11. They can't tolerate frost and can survive outside only where the temperatures stay above 50 to 55 degrees Fahrenheit. 
Indoors, these tropical beauties like warm temperatures from 60 to 75 degrees, which are common household temperatures. 
Jade plants can be kept small or grown as bonsai. You can also repot them as needed and let them grow much larger, until they look like miniature trees.
3
How to Water a Jade Plant
When a jade plant is actively growing, it will need more water than usual. Water it thoroughly, let the excess drain away, and wait until the soil dries out before you water again. 
If the jade plant's leaves become dusty or dirty, put the plant in your kitchen sink and give it a refreshing shower with your spray attachment. Do this early in the day, so the leaves can dry before dark, when plant diseases are more likely to take hold.
If you're not sure when to water, use a soil moisture meter or stick your pinkie finger an inch or two deep in the potting mix. If the soil feels dry, it's okay to water. If you feel moisture, wait a little longer and check the soil again before watering.
Leaves that drop or shrivel are usually a sign that your plant needs water. Brown spots on leaves can also mean it's too dry. Waterlogged leaves are a sign of overwatering.
While jade plants rarely bloom indoors, you may be able to coax yours to flower by cutting back on watering, letting it become root bound in a small pot and giving it cool temperatures at night and bright light during the day. Even if your jade plant doesn't bloom, it may live for many years as an attractive, low-maintenance houseplant.
4
Fertilizer and Pest Controls for Jade Plants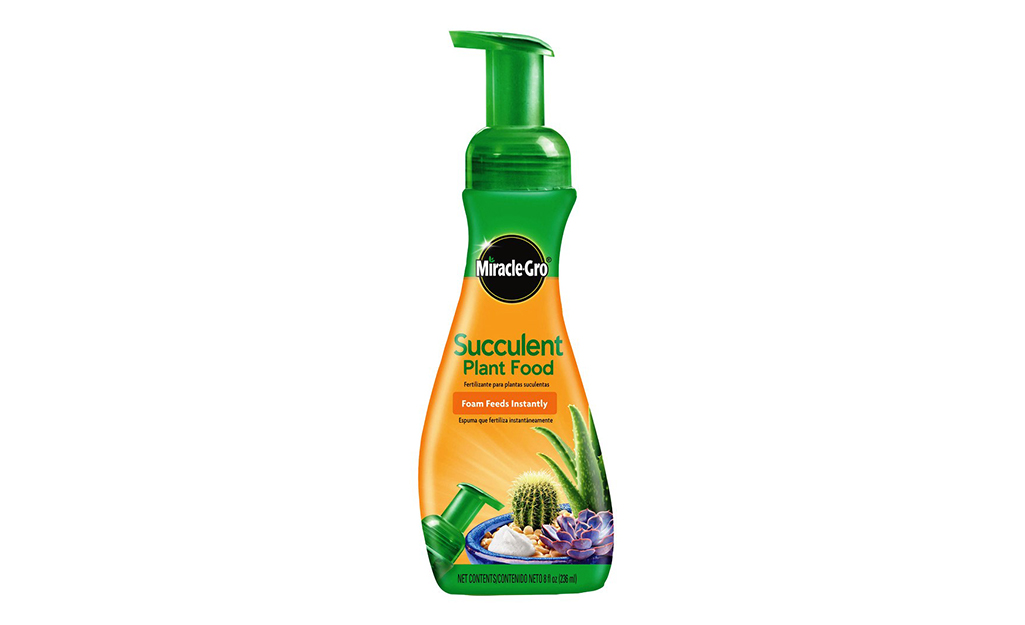 Jade plants don't need much fertilizer. Choose a houseplant fertilizer in the form of fertilizer spikes, slow-release pellets, ready-to-use pumps or water-soluble fertilizers. Apply water-soluble fertilizers at half strength to every other watering. Fertilize your plant only when it's growing during the warm months and stop fertilizing during the winter.
Sometimes even jade plants that get the best care are attacked by pests or diseases. If you spot mealybugs or scale under the stems or leaves, try wiping them off with a cotton ball or cotton swab dipped in a little rubbing alcohol. Then go back over the infested area with a cotton ball or swab dipped in clean water to remove the alcohol. 
You can also purchase pest control products. Choose one labeled for the problem you have and follow the manufacturer's directions for how much to use and when to apply it.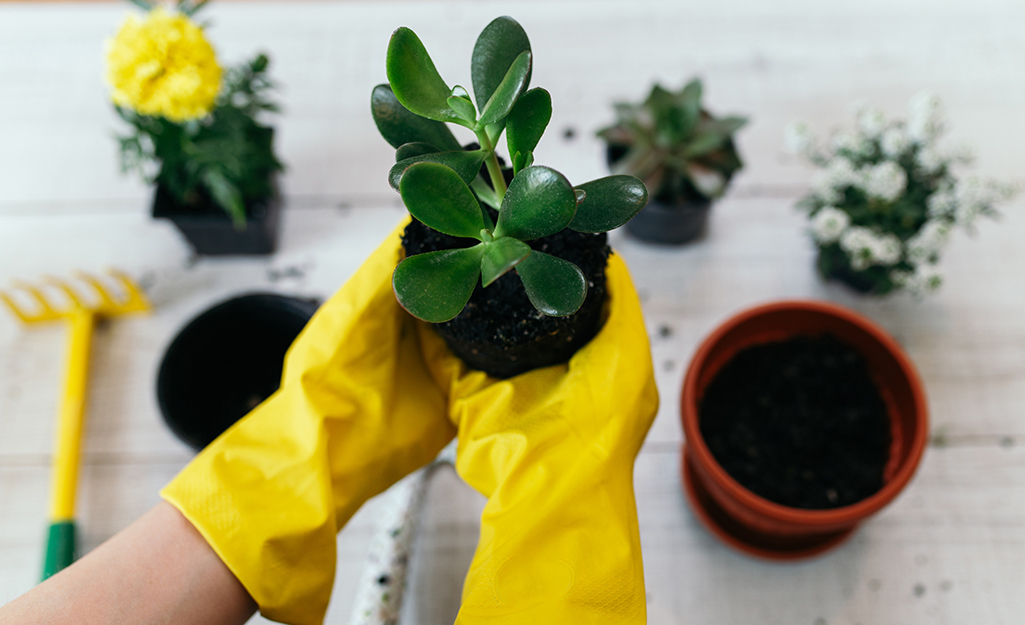 Jade plants don't mind being root bound. If yours is as big as you want, you don't have to repot it. Simply refresh the potting mix every year and keep it in the same container.
Otherwise, repot young plants every two or three years. Wait four or five years to repot older jade plants. The best time to repot is in the early spring, just before the plant begins actively growing. 
Each time you repot, use a container two inches bigger than the previous one. To remove the plant from its current container, hold it by the base, turn the pot upside down and wiggle it gently to loosen the roots. It may also help to tap on the sides or bottom of the container. After the plant is out, cut off any dead or unhealthy roots and other plant parts before repotting. Plant the jade plant no deeper than it was in its previous pot and wait a week or two for the roots to settle before you water.
6
Grow a Jade Plant from Leaves and Stems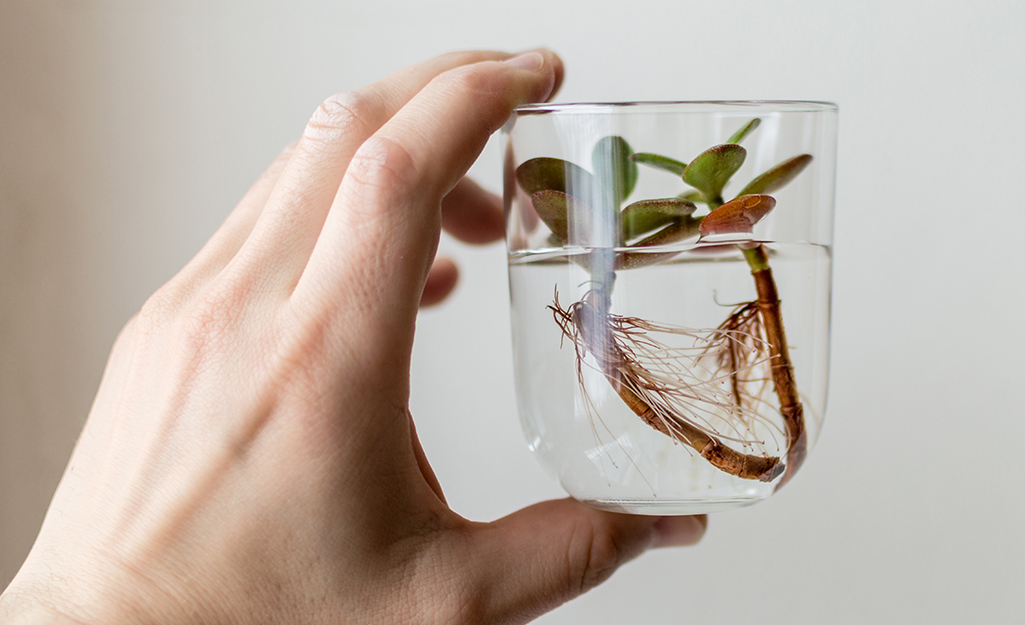 If a leaf comes off your jade plant, let it dry and form a callous on the broken end for about a week. Then lay it on top of a container half-filled with potting mix and half filled with perlite or vermiculite. Water sparingly for about a month. Small roots will eventually appear, and a new plant will grow.
Leggy jade plants can also be propagated from cuttings. Cut off the top of the plant, let the cut end callous over for a week, and plant it, callous-end down, in a cactus-succulent potting mix that includes sand. 
You can also trim off a few stems one to three inches long and remove enough leaves to insert the stems into a container filled with half potting mix and half-vermiculite or perlite. Let the cut end form a callus and then put it, calloused-end down, into the mix. 
Dusting the end of cut stems with rooting hormone can help roots form faster. If you apply rooting hormone to the cut stems, use your finger to make a hole in the potting mix a little larger than the diameter of the stem. The bigger holes will let you insert the cutting without rubbing off the rooting hormone. Put the end coated with the rooting hormone into the hole and fill in around it. 
Some gardeners have had success rooting jade plant stems in water, although succulents usually dislike staying wet and this propogation method doesn't always work. To try it, make short cuttings from jade stems, leaving a few leaves on each cutting. Let the cuttings sit for a few days to form callouses on the ends. Then fill a glass with water and put a piece of plastic wrap over the top. Punch a hole in the plastic and put the cutting on top of the plastic, so calloused end just touches the water. Replenish the water as needed to keep just the end of the jade cutting in it. With luck, the roots will form in water. 
Handle the rooted cutting carefully when you take it out of the water, so you won't break the roots, and plant it in potting mix as described above.
Many plants and plant parts can be toxic or cause allergic reactions in people and pets. Be safe and keep pets and children away from jade plants.
Explore More on homedepot.com