Project Guide
Painting Ceilings
Time Required:

Over 1 day

Difficulty:

Beginner
---
Painting a ceiling? Invest in an extension pole, safety goggles and a painter's cap. And use ceiling — not wall — paint. It comes in a variety of colors, all specially formulated to:
Diffuse light from lamps, windows and other sources of illumination
Have a flat sheen so the ceiling will have an even appearance
Offer better spatter resistance for overhead rolling
Prep the ceiling before painting. Remove any dust or grime, as this can make it virtually impossible for paint to adhere.
Mildew and water stains will bleed through even the best of paint, so it may be necessary to use a stain-blocking primer before painting. Oil-based primers work best for water stains while shellac-based primers are more effective against smoke or nicotine stains.
Finally, be aware of any cracks, marks or dents which may need to be smoothed out to prevent artificial light from being reflected off ceilings.
This guide highlights how to properly prep, take, paint and clean for painting your ceiling.
TURN OFF POWER TO OVERHEAD LIGHTS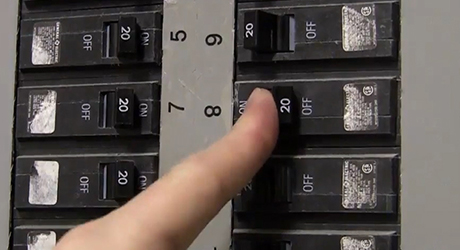 Remove furniture from the room. Shut off overhead fixtures at the breaker or fuse box.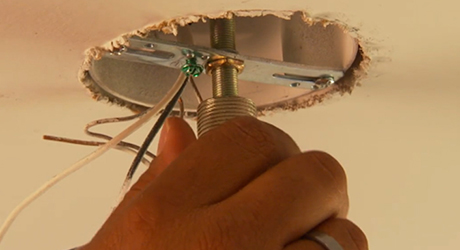 Remove or bag the ceiling fixtures. Removal of the ceiling fixtures will make for a neater job, but you can also drop the cover plates and wrap the fixtures in plastic bags.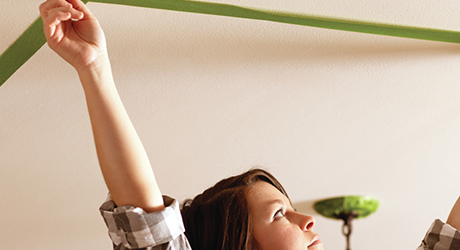 Mask off the tops of the walls with 2-inch blue painter's tape. One-inch tape would allow the roller to strike the wall.
PROTECT AREA WITH DROP CLOTHS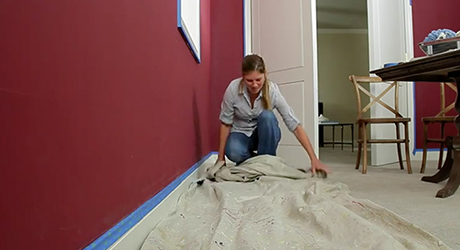 Cover the floor by overlapping drop cloths by at least 12 inches. Protect windows, doors and trim if necessary.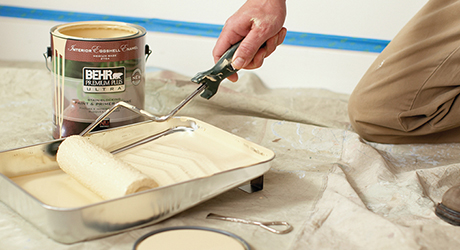 Prime the roller cover by spraying it with a misting bottle until it is just damp. Remove excess water before you begin painting.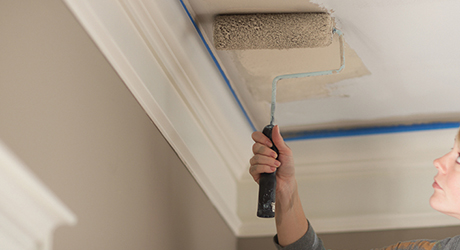 To start, cut in one corner of the ceiling with a paint pad. Cut in only as much as you can roll out before the paint dries.
ROLL ALONG THE WET EDGE TO BLEND AREAS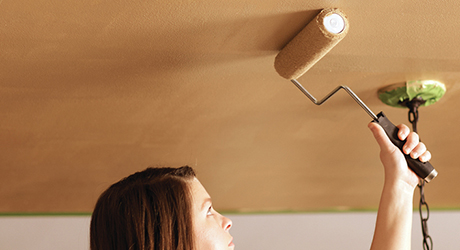 Begin rolling over the still-wet cut-in strip. Keeping a wet edge prevents overlap marks in the finished ceiling. Load the roller regularly and roll slowly. Back-roll to blend the paint.
WORK IN MANAGEABLE SECTIONS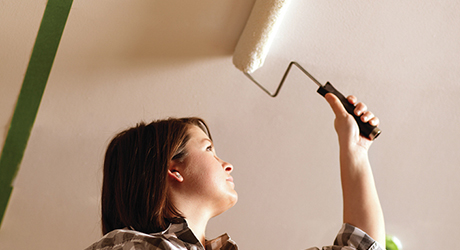 Work in sections to keep wet edges. Cut in with a pad or brush, apply paint with a roller, and then roll out applied paint to blend the two areas.
VARY THE DIRECTION OF THE ROLLER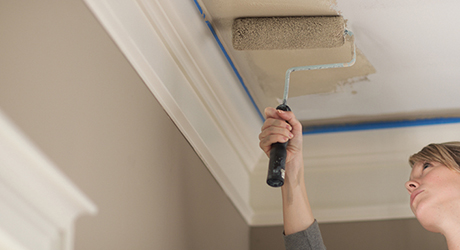 Slightly vary the direction of your rolling. Perfectly straight rolling is more likely to show overlap marks. Continue until the section is done.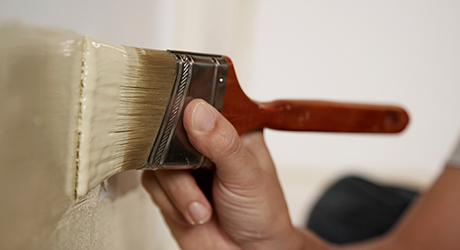 Apply paint, roll out and blend with the cut-in edge and the previous section.