Project Guide
Your No-Fail Guide to A Grime-Free Oven
Time Required:

2-4 hours

Difficulty:

Beginner
---
There are certain spaces in the kitchen—like the sink, counter and stove top—that seem to demand my constant attention. Crumbs, smudges and grime are most visible in these easy-to-see spots. So, I find myself tending to them at least a few times a week, if not more since cleaning stainless steel appliances requires even more attention thanks to fingerprints. The other less visible spots, on the other hand, are far more likely to get overlooked.

Take my oven, for example: I use it year-round, yet rarely take a close peek at the inside, unless of course I make a major spill that requires an immediate cleanup. But getting your oven squeaky clean is actually something you should do at least twice a year, and as often as once a month, according to cleaning pros.
Whether you've been neglecting your oven (I'm guilty!), are in need of some new (read: better and more effective) cleaning methods or need to learn from scratch how to clean an oven, these easy tips, DIY tricks and store-bought oven cleaners are guaranteed to not feel like a chore.
A Quick Primer on Self-Cleaning Ovens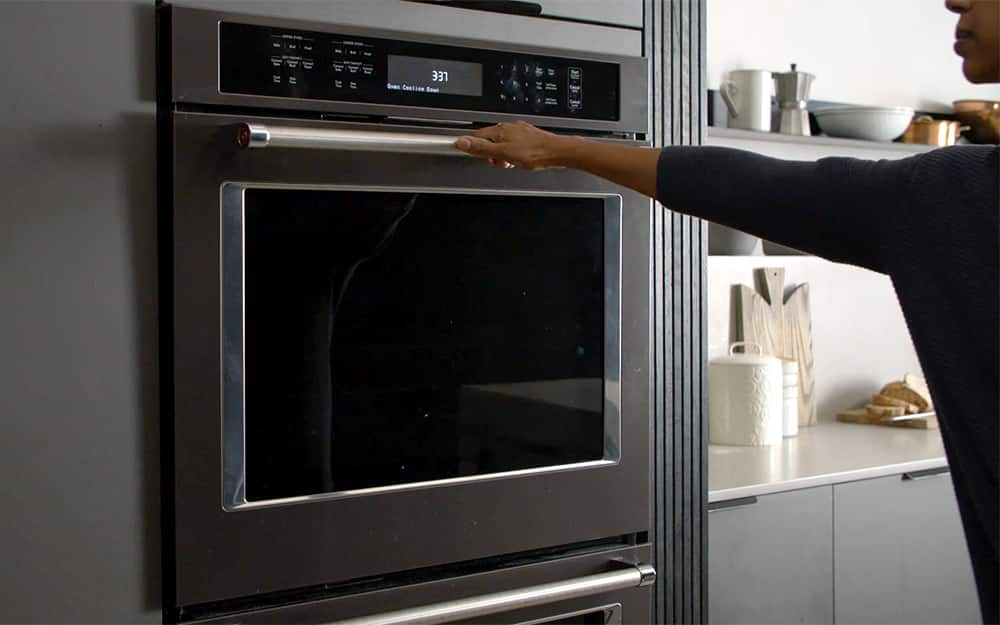 Many ovens come with a self-cleaning feature built in, and while it's incredibly hands-off, it's not without its downsides. Because a self-cleaning oven heats up to an extremely high temperature during this cycle – up to 900 degrees Fahrenheit, and usually over a couple of hours – it can produce a strong odor as the food burns off.
Another thing to be aware of: As the oven self-cleans, the entire appliance will naturally get very hot, so you have to keep kids and pets a safe distance away during the process. Oh, and make sure to check your user's manual, as you'll most likely have to remove the oven racks when using this feature—which also means you'll have to clean them separately, but don't worry, we've got an idea for that. Of course, if you've been self-cleaning your oven for years without issue, carry on!
A Guide for Steam-Cleaning Ovens, Too
Certain ovens also offer a different kind of self-cleaning feature that uses steam instead of high heat. This uses a combination of heat and water to fill your oven with hot steam and loosen up food and gunk. This usually only takes under an hour to complete and only heats up to a temperature of around 250 degrees Fahrenheit. However, if your oven doesn't have a snazzy steam-cleaning feature, fear not! There's a simple workaround...
Your oven doesn't need a steam-cleaning feature in order to give it a steam clean; in fact, it's one of the easiest methods to DIY. All you need to do is take an oven-safe pot or pan (even an aluminum pan with a tall rim could work) and fill it with water. Then, crank your oven up to 250 to 300 degrees Fahrenheit, pop in the water-filled tray and let it work its steamy magic for 30 minutes to an hour. This method is the best way to clean ovens that have lots of spilled, burnt-to-a-crisp food hanging around the sides and bottom. Afterward, wipe away any grime or gunk with a non-abrasive sponge or towel.
Make a DIY Natural Oven Cleaner
If you're willing to put in a little bit of extra elbow grease, making your own DIY natural oven cleaner is an easy and more eco-friendly option. It's especially handy if your oven is covered in grime and grease. The only materials you'll need: one cup of baking soda; and two cups of vinegar in a spray bottle. Simply sprinkle the base of the oven with the baking soda, then spray the vinegar over the baking soda—it should make a light foam. Let the foam sit for as long as possible (you can keep spraying the baking soda to keep it moist) before wiping down with a damp cloth.
For the oft-dirty sides of the oven, there's an easy remedy: Apply a paste of water and baking soda; spray with vinegar and let it sit for as long as possible; and then wipe off the excess paste and rinse with hot water. As easy as this method is, it's important to note that you shouldn't use either treatment if you plan on using your oven's self-cleaning feature—it could potentially damage the oven's special coating.
If you've got a stainless steel oven, there are a few natural cleaning mixtures you can use to keep the front shiny and streak-free, too: Add a splash of vinegar or olive oil to a microfiber cloth and wipe down the appliance using an "S" pattern. Rinse out the cloth with water and wipe down one more time before drying with a clean towel. A combination of dish soap and warm water will also do the trick just fine.
Try One of These Store-Bought Cleaners
If you'd prefer to pick up a commercial oven cleaner from the store, which is a great option if you're looking for something quick, effective and super-duper easy, there are a few that shoppers swear by—and continue to purchase. Two of the best-reviewed products at The Home Depot® come from brands like Easy Off (their Oven and Grill Cleaner, in particular) and Zep's.
If you do choose to stick to commercial products, though, remember these two things: Check the manual to see if the manufacturer warns against using certain types of products which might void your warranty. These products use tough chemicals, which is why they work so well! Make sure that you keep the kitchen ventilated when using them.
Don't Forget About the Oven Racks
When giving your oven a proper cleaning, you shouldn't neglect the oven racks—they get dirty too! They might seem difficult to clean, but this clever method makes cleaning them easier than scrubbing for hours in the sink—though it does require a bit of planning.
Lay down an old towel in your bathtub to avoid scratches, set the oven racks inside and fill the tub with hot water and a half-cup of dishwasher detergent. Soak them for at least four hours, but preferably overnight (hence the planning!), and then use a non-abrasive sponge to scrub off any grime.