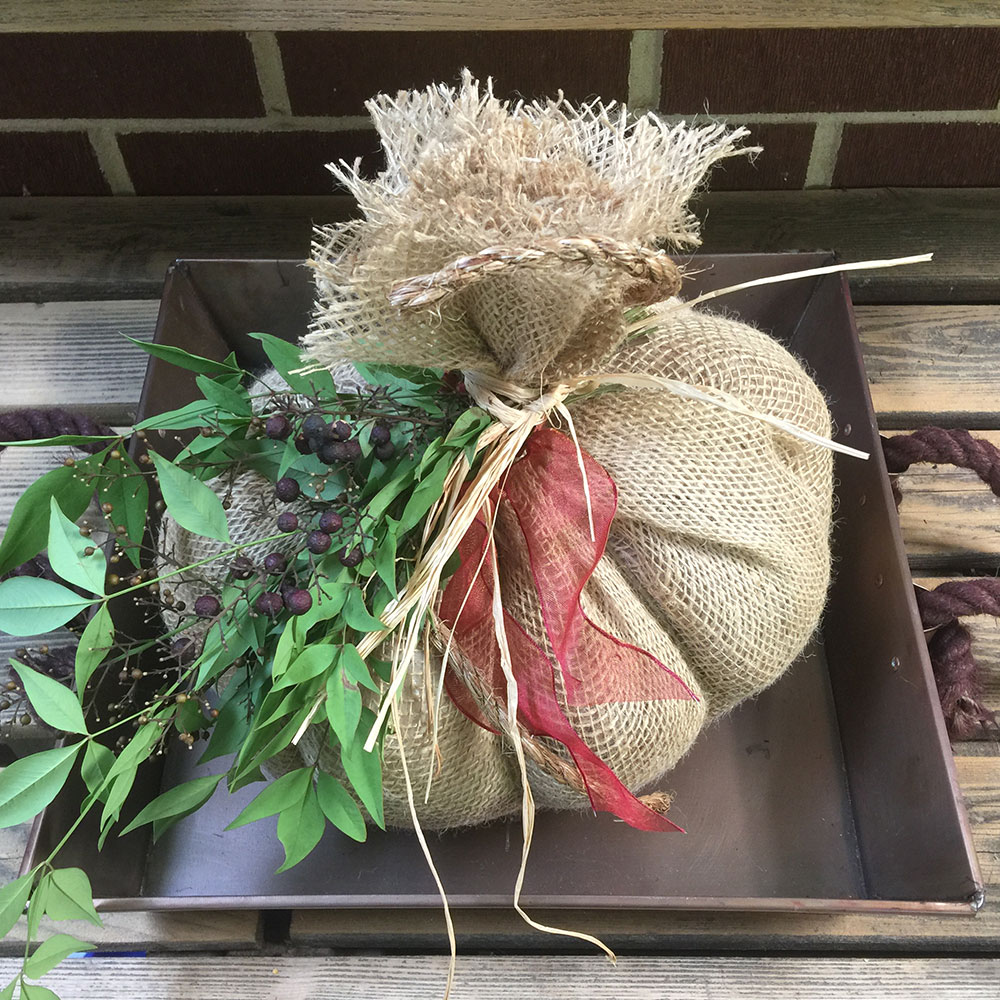 Carving jack-o'-lanterns isn't the only way to decorate with pumpkins. Using a few simple tricks and DIY crafting supplies, you can easily turn a pumpkin into striking and unique fall decor. Try these fun pumpkin decorating ideas to usher in the Halloween and harvest season. 

SHOP FALL DECORATIONS NOW
DIY Burlap Pumpkin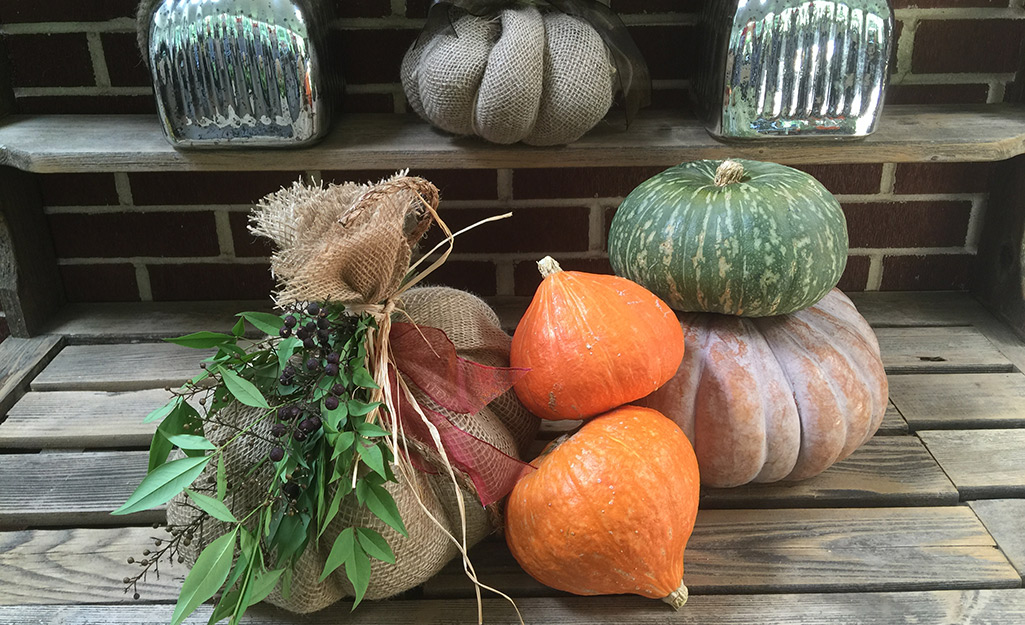 Make a rustic burlap pumpkin using extra plastic shopping bags as stuffing and a piece of burlap. Add bows and greenery, then place it with live pumpkins and gourds to create this charming harvest centerpiece.
Stack 'em High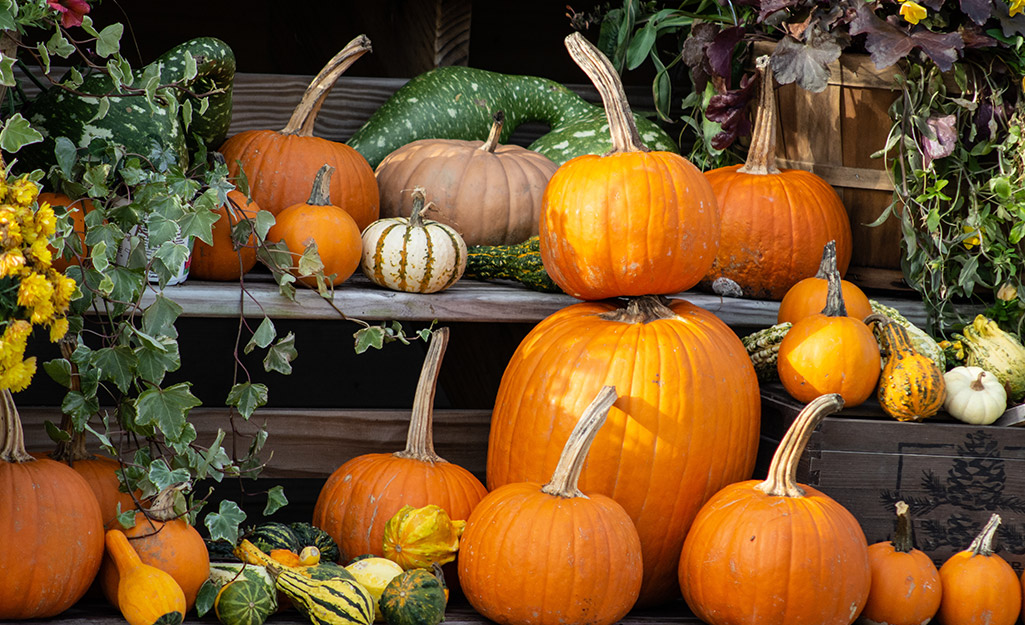 Refresh your front porch with a variety of pumpkins to welcome your guests. Faux options work just as well. Don't forget colorful mums and a bale of hay to really embrace the season. 
Pumpkin Candy Bowl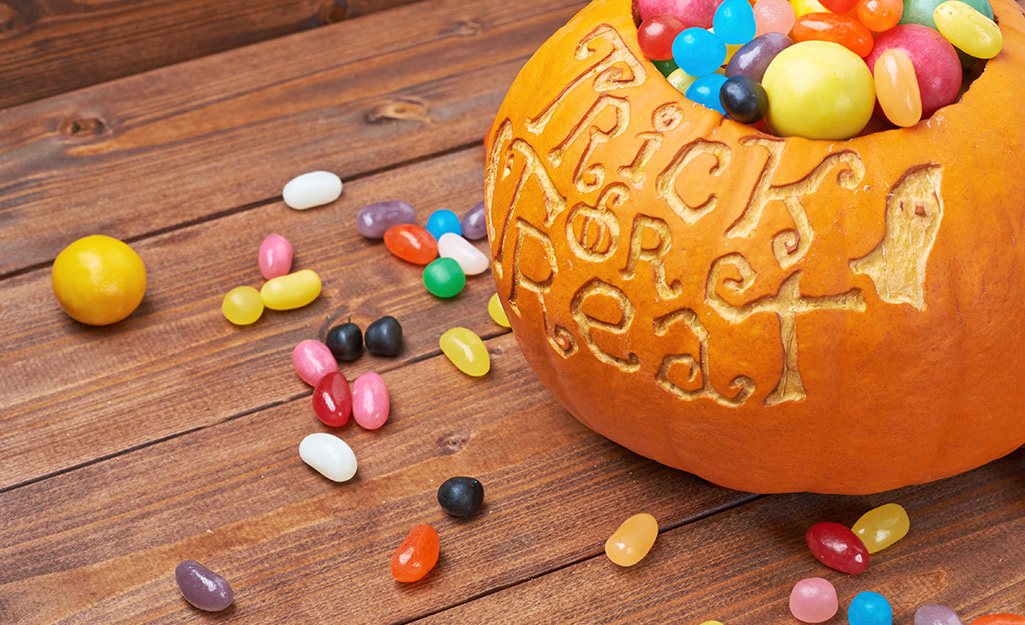 Dig out your pumpkin and carve a fun message using a rotary tool. Insert a plastic container or line your jack-o'-lantern with foil and fill with assorted candies. Keep this pumpkin candy bowl on display in your home or place it on an outdoor table on your front porch for trick-or-treaters while you're away. 
Crayon Drip Pumpkins
Make these artsy, colorful pumpkins using just some crayons and a hairdryer.
Unwrap an assortment of crayons and break them into small pieces.  
Place the crayon pieces around the stem. 
Melt the crayons with a hairdryer on low heat. 
As the crayons melt, move the pumpkin around to direct the drips as desired. 
Repeat this process as needed until your pumpkin looks how you want. Then allow it to dry completely before putting it on display. 
Pumpkin Messages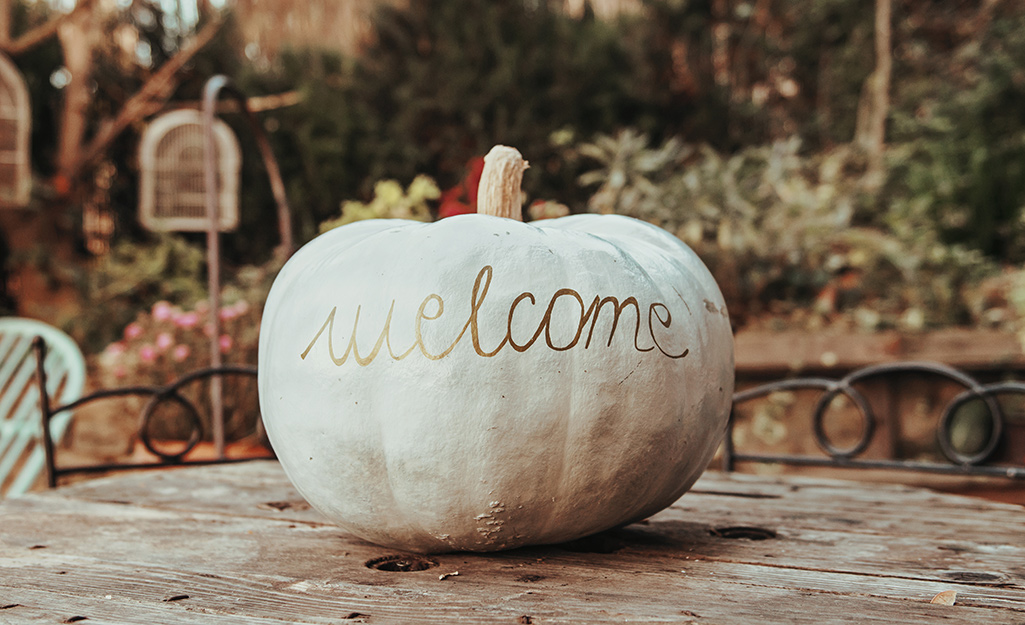 Let your pumpkins greet guests and passersby with painted messages. Paint the pumpkin a solid color and then write a message of your choice in a contrasting color. Consider using metallic or glitter paint pens for an extra pop.  

Alternatively, turn your pumpkin into a chalkboard using chalkboard paint. Thoroughly cover the pumpkin in at least two layers of chalkboard paint. Then use chalk to write daily messages or countdown the days until Halloween.  
Pumpkin Flower Planters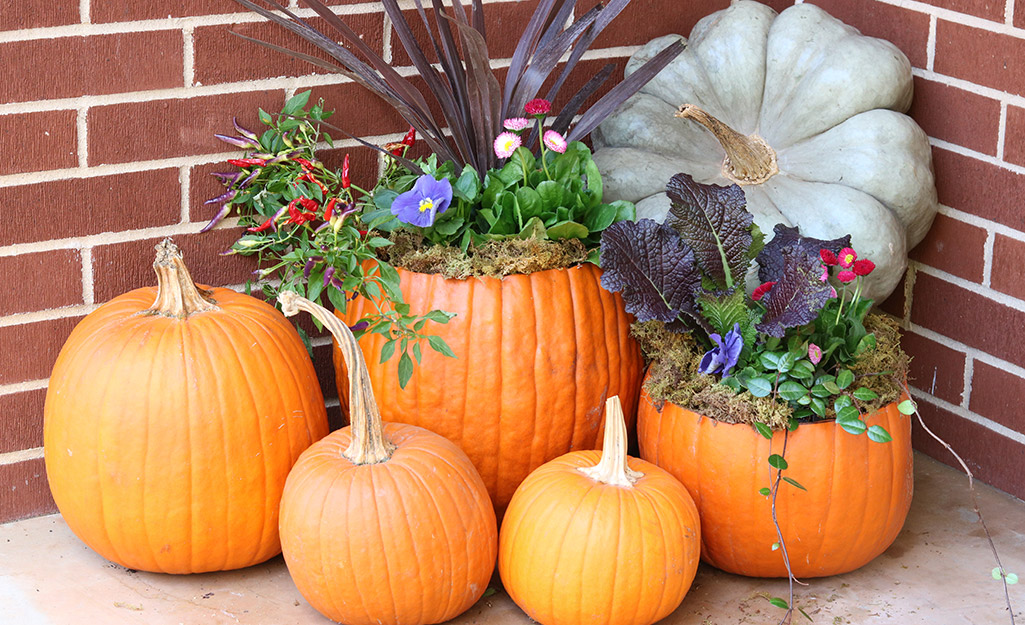 Carve out your pumpkin and turn them into planters for a simple way to decorate for fall. These pumpkins look beautiful filled with seasonal arrangements of flowers, edibles and other plants, such as vines. Or use your pumpkin planter for succulents.  

Pumpkin planters look amazing in your outdoor space or as a festive centerpiece for a console or dining table. Try decorating for fall with pumpkin planters and a cluster of other types of pumpkins and gourds in a corner nook of your porch or by the hearth of your fireplace. 
Hypertufa Metallic Dipped Pumpkins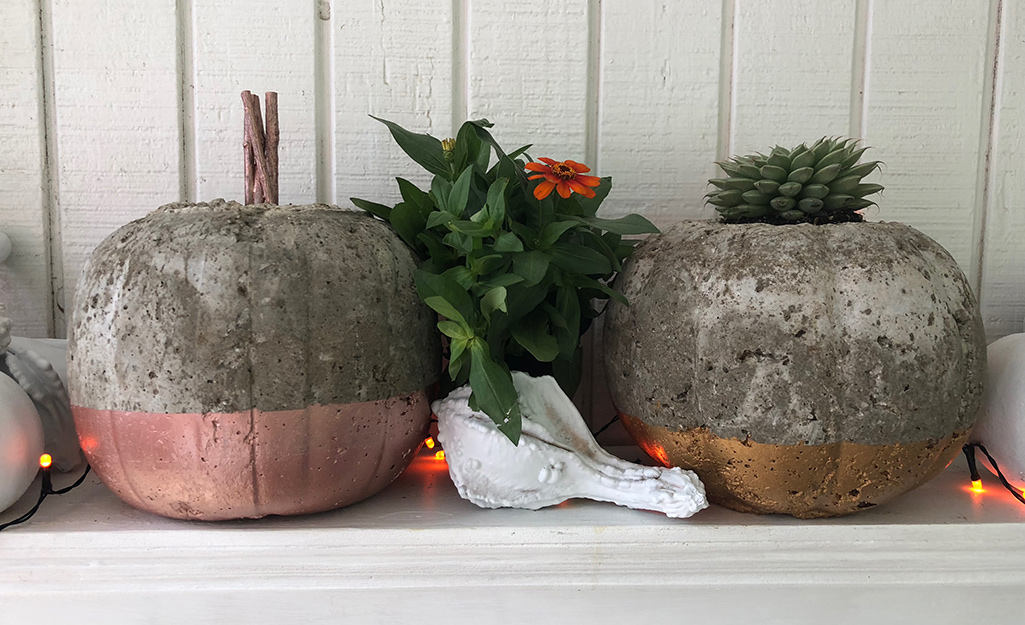 Learn how to make hypertufa pumpkins using a mix of ingredients that create a lightweight cement. Hypertufa pumpkins look beautiful and, once created, you can use these decorations year after year.
After the pumpkin cures, use painter's tape to mask off the top portion of the pumpkin and spray the bottom with metallic spray paint. 
Decorate the top of the pumpkin with a faux-stem, succulents or a bow. 
Hypertufa Jack-O'-Lantern Pumpkin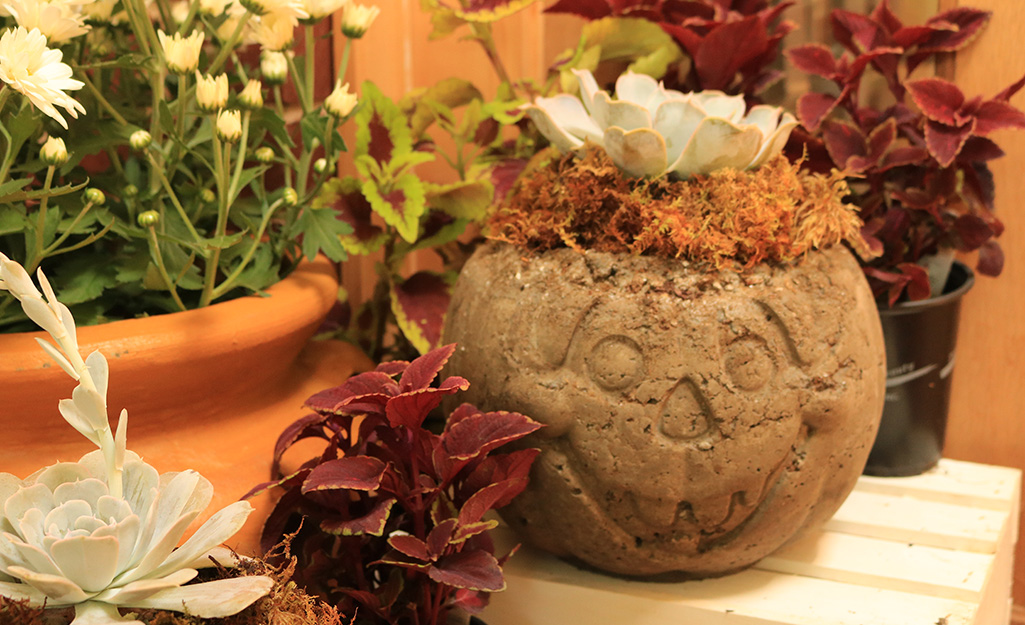 For a different take on the hypertufa pumpkin, use a jack-o'-lantern style plastic pail as your mold. Fill the finished pot with succulents and surround with mums, coleus and other fall favorites. 
Table Centerpiece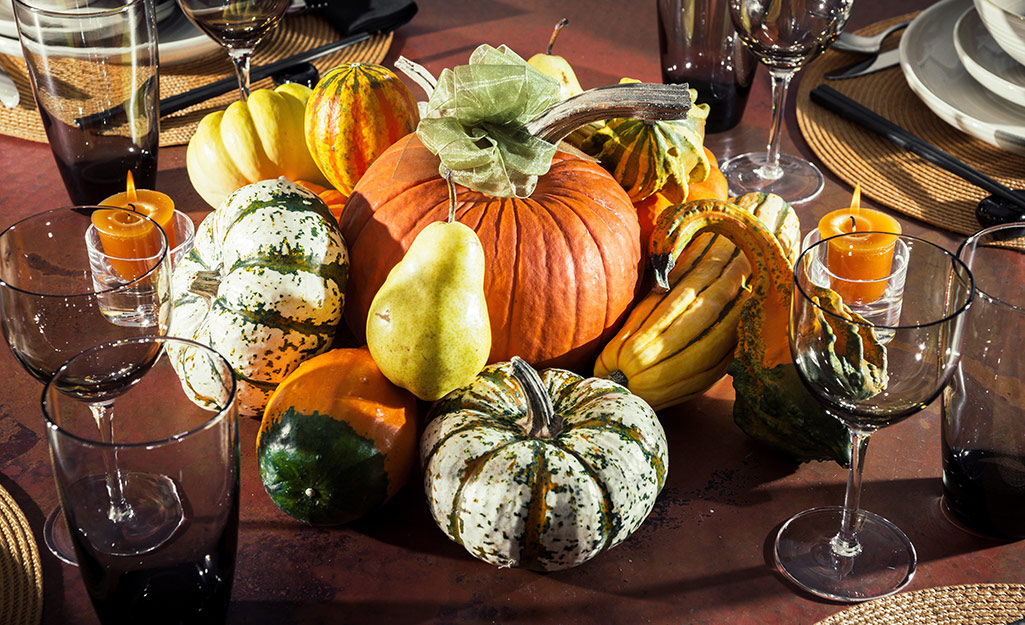 A cluster of small pumpkins and gourds creates a quick and easy centerpiece for a console table, dining table, coffee table or mantle. Add variety with painted pumpkins, ribbons, evergreen swag, pinecones and succulents. Try filling large glass vases with stacks of tiny pumpkins for an elegant centerpiece.  
Scarecrow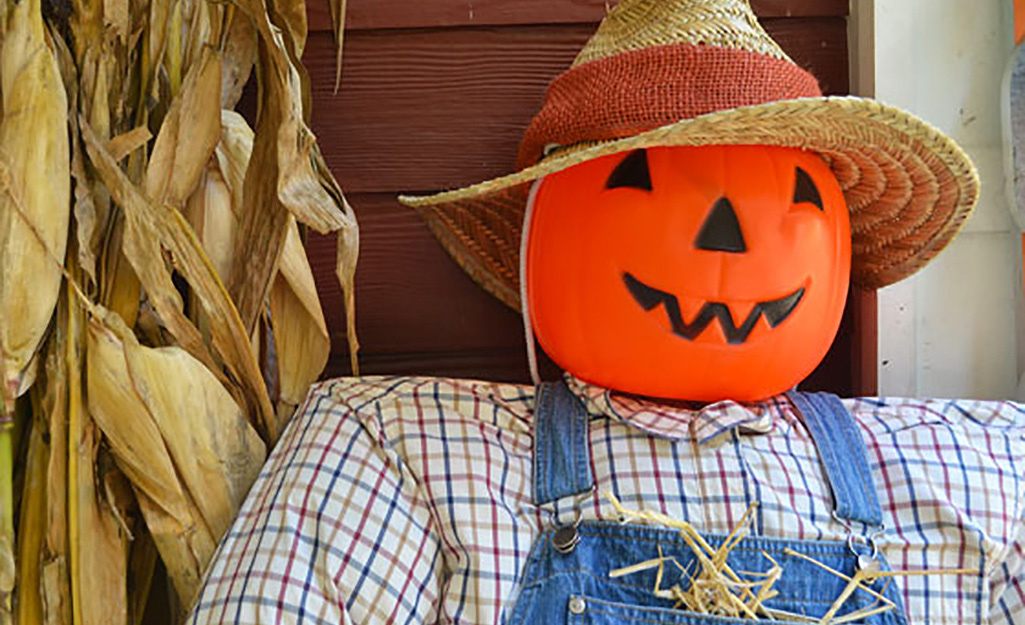 Welcome Halloween guests to your front porch with a rustic scarecrow surrounded by pumpkins and pots of mums. In the true scarecrow tradition, he's created with upcycled and repurposed materials like a skeleton made of yard sticks, a wardrobe from the thrift store and a head from a plastic candy bucket. Be creative with your own unique scarecrow. 
Pumpkins are the foundation of harvest decor and can be used in a myriad of ways. Whether you carve them, paint them or just use them as inspiration, you can create unique pumpkin-themed decorations to celebrate autumn your way. Ready to get the tools and materials you need? Order online and have them delivered directly to your home.
Explore More on homedepot.com