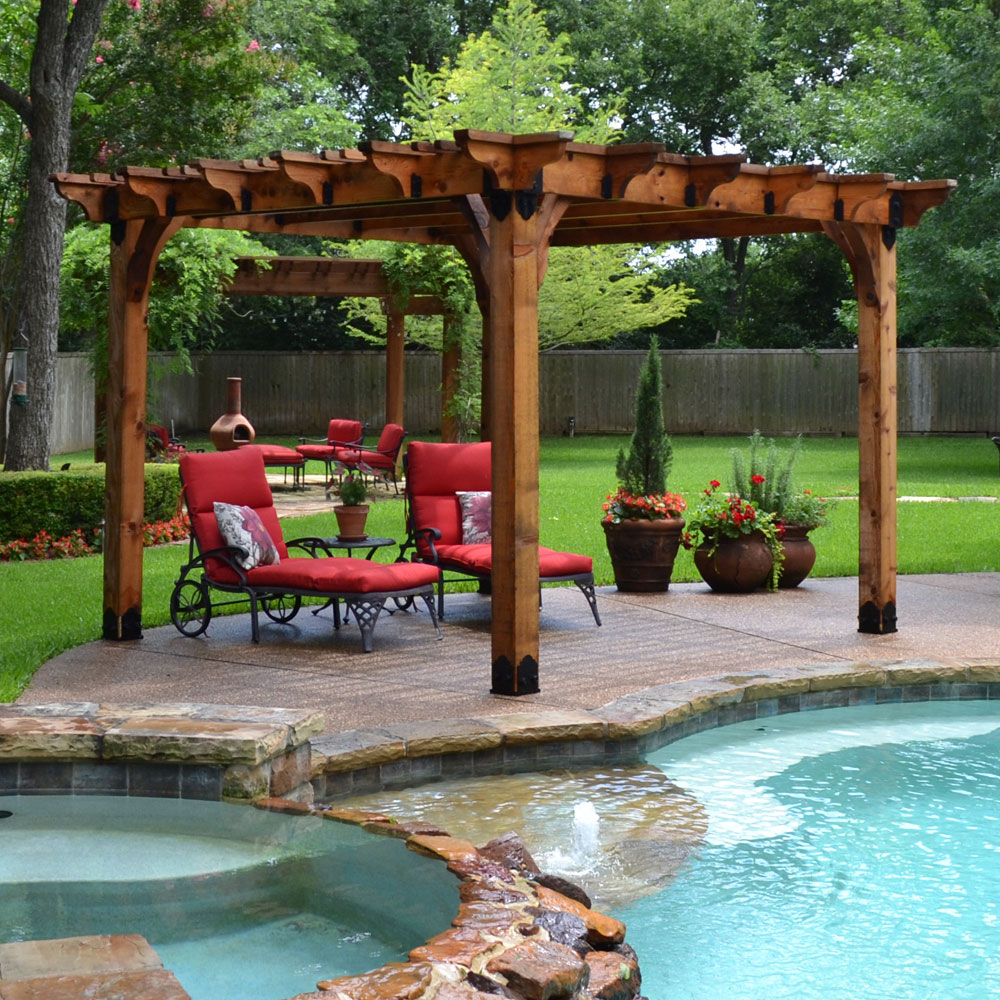 Build in relief from hot summer sun and add stylish entertaining space when you install a pergola. A pergola is an outdoor structure with columns supporting a roofing grid that provides shade and partial protection for an outdoor living space. It's often added as an extension to the home.

The difference between a pergola and a gazebo is the latter has a roof, while a pergola has an open beam structure.

In addition to offering a place to relax, pergolas frame your outdoor space with architectural style. Pergolas anchor the entertaining space in your backyard from sunup to sundown and beyond.

You can build your own pergola with materials from The Home Depot. Look over the selection of ready-made pergolas and handle the installation yourself or contact installation services for a consultation. 
Poolside Pergola Idea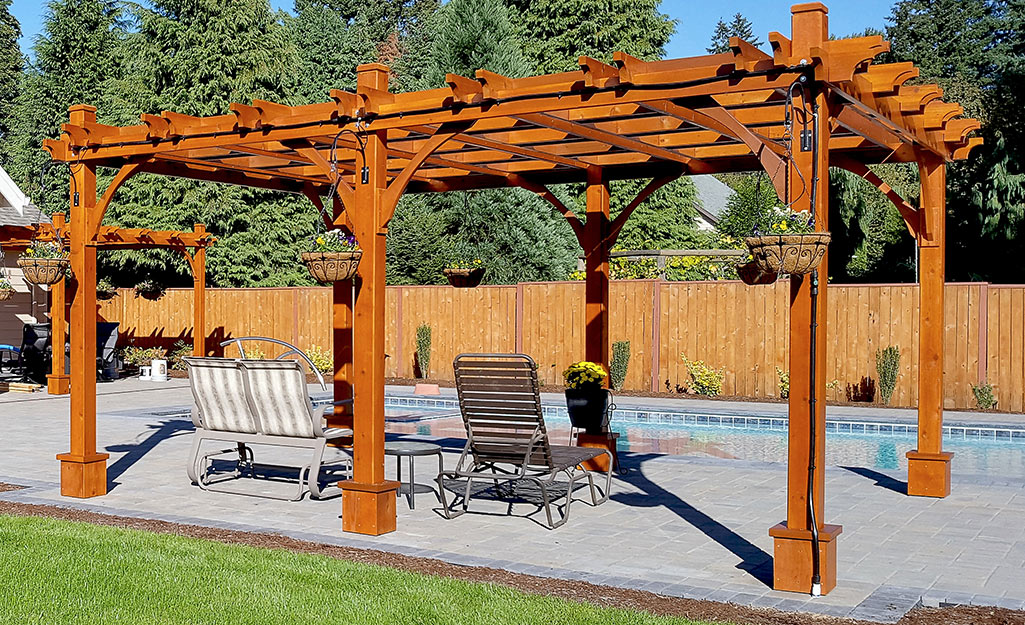 A poolside pergola offers shade within steps of the pool. For shady relief, it's larger and more effective than a patio umbrella, and doesn't need to be folded in the rain. Anchor the corners with hanging baskets, bringing plants to eye level and off the hot pool deck.
Green Idea for a Pergola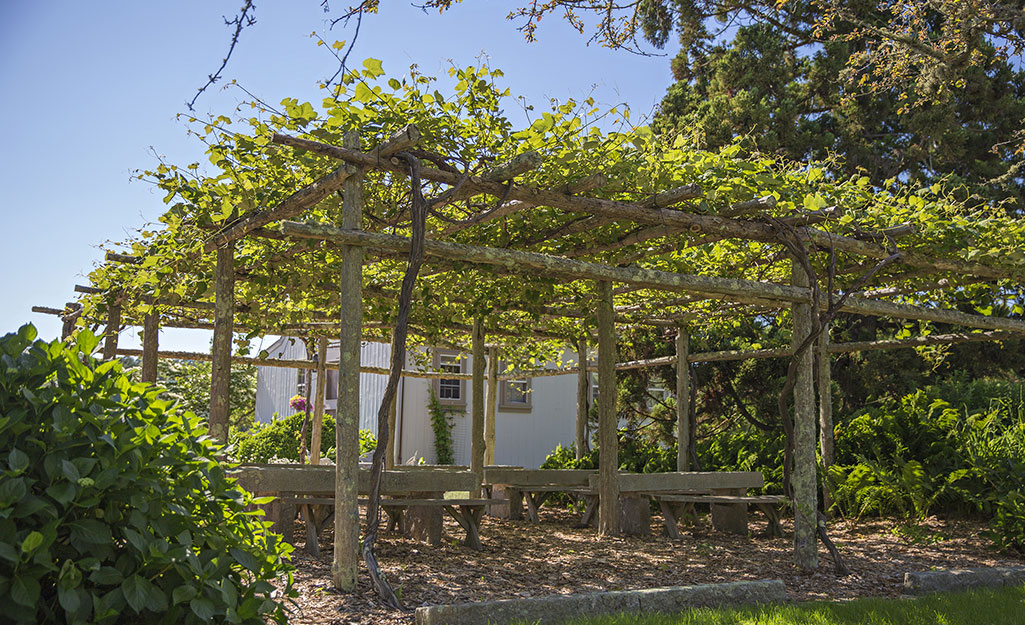 Gardeners, take note: use a pergola for its natural purpose, and give climbing vines a place to ramble. Some classic choices: New Dawn Rose, jasmine, mandevilla or climbing hydrangeas. 
Minimalist Style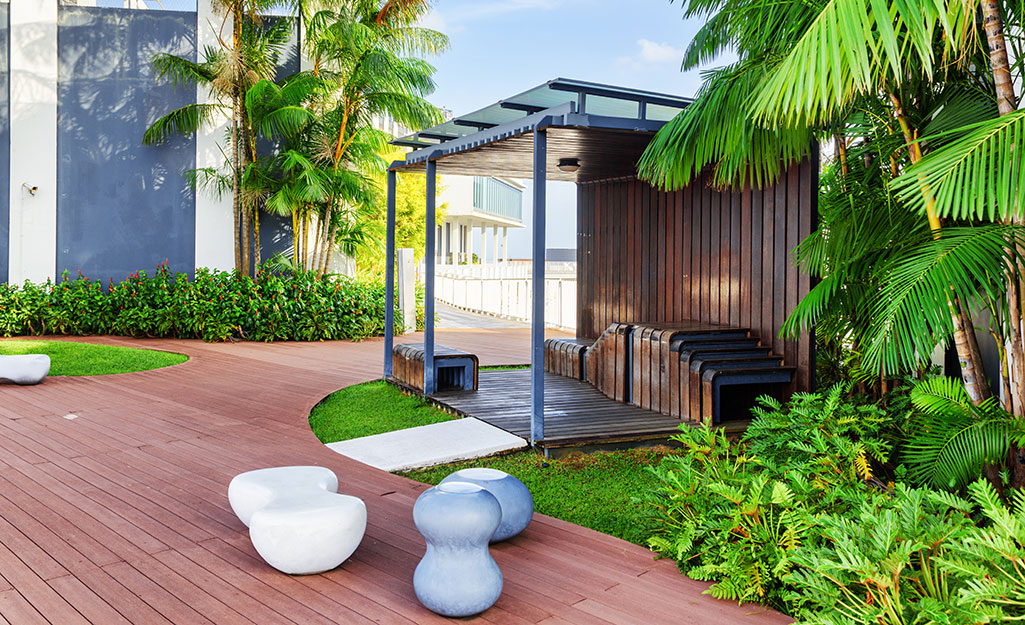 Understated materials, just metal and wood, without architectural embellishment, offer comfort, simplicity and minimalist style.
Pergola Design for Hot Tubs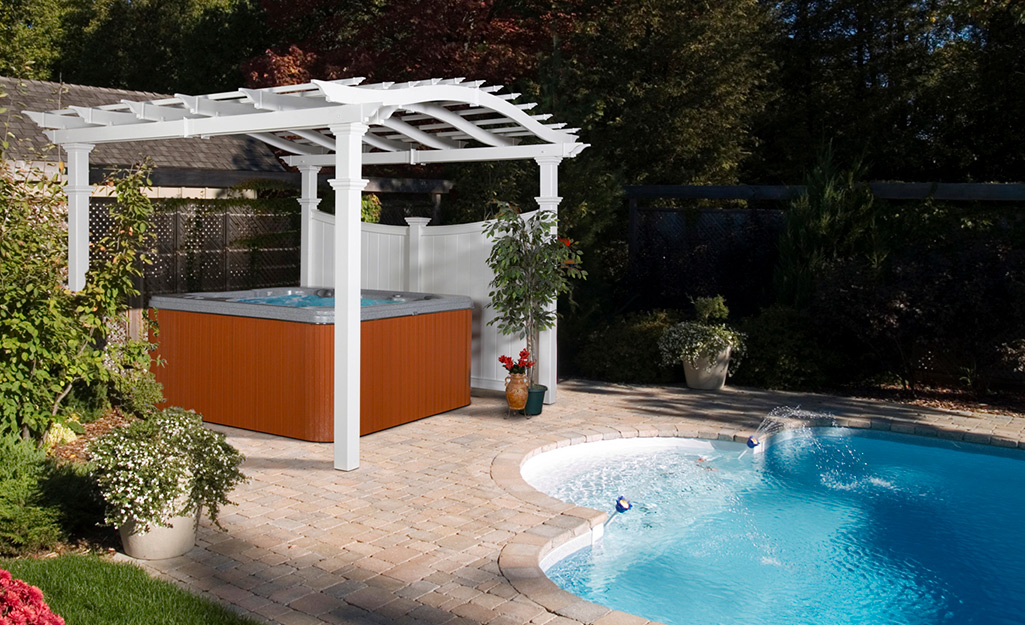 Shelter the hot tub with a pergola. Give the grownups their own space beside the pool, and set it apart with a pergola that features a privacy wall.
Outdoor Fireplace with Pergola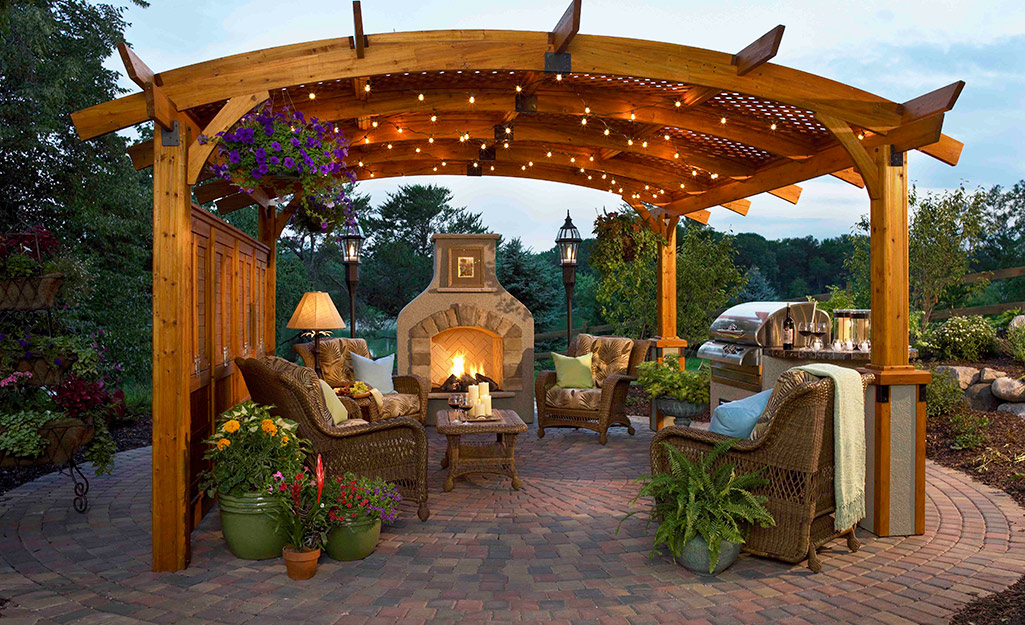 A spacious pergola frames the heart of the home when the home is moved outside. An outdoor fireplace anchors one side with the grill just steps away. Keep the party at hand and comfortable with cushy seating. Fill in the space with lush container plants and hanging baskets completes the look.
Deck Extension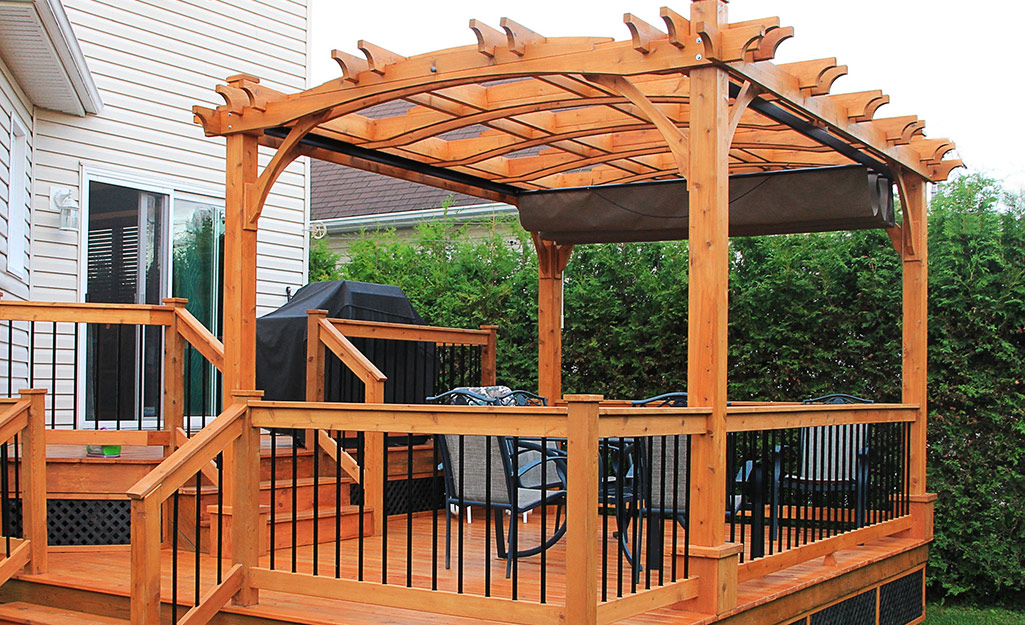 Give your open deck some shade when you add a pergola to cover the patio table and chairs. Cedar is a top choice for outdoor construction because it naturally resists rot and pests. 
Control shade with a canopy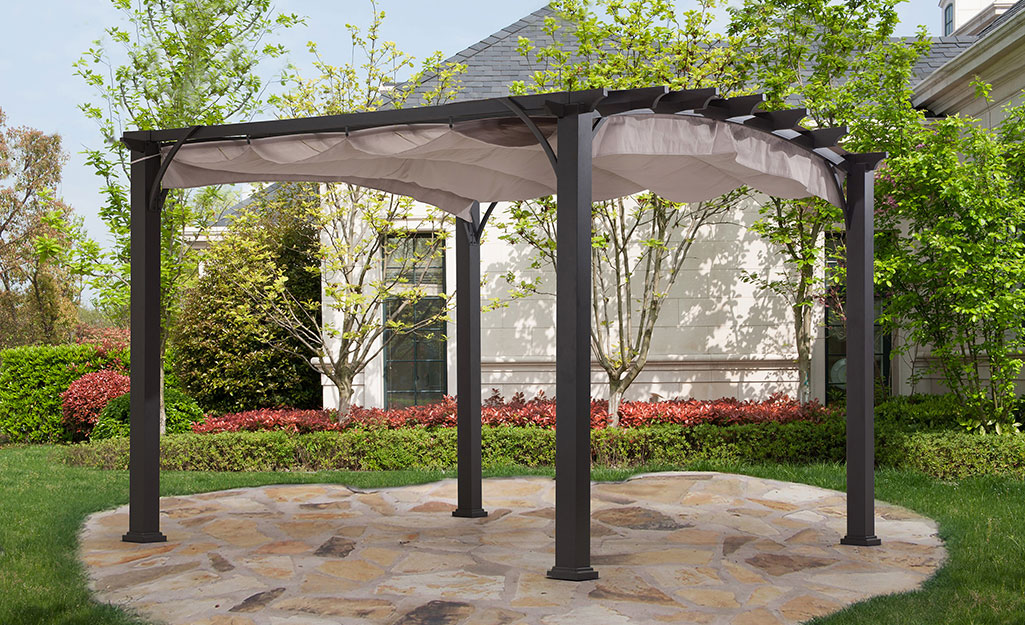 You can control the amount of shade under the pergola with an adjustable slide canopy. The fabric canopy is washable with mild soap and water.
Swinging Pergola Style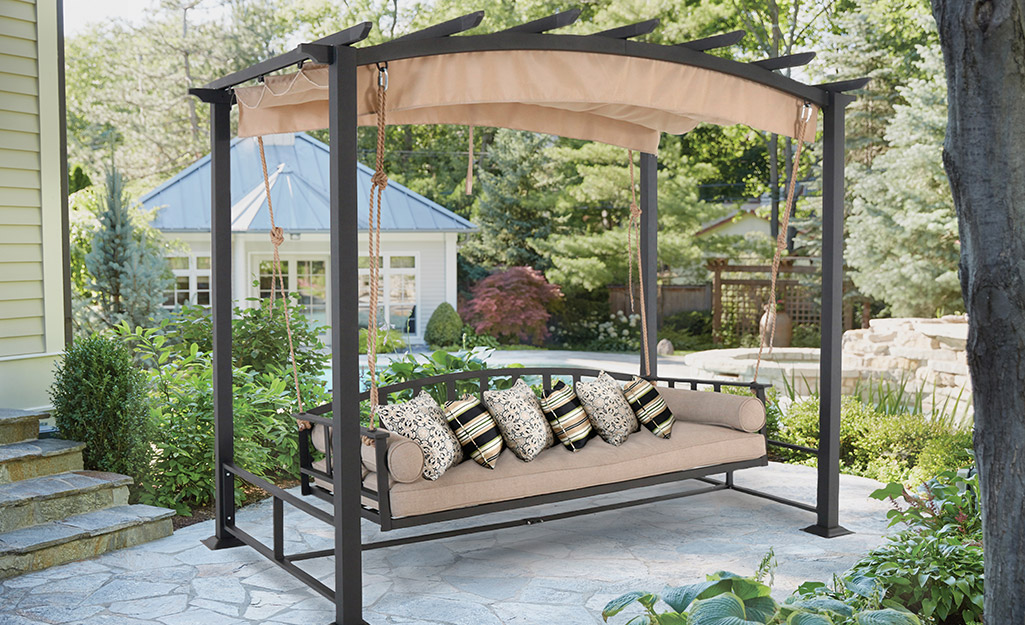 Add extra seating when you hang a swing under your pergola and create a breeze on sultry summer nights.
Patio Protection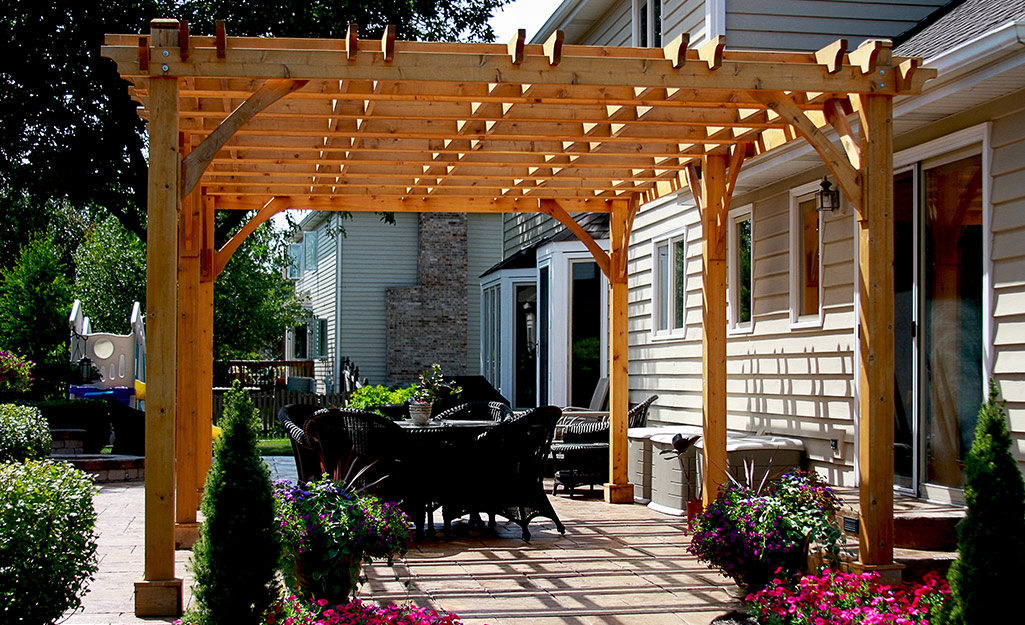 If your patio gets harsh afternoon sun, consider a pergola to soften the light outside the house and inside. In temperate weather, just step outside to bring the party to the pergola.
Pergola Idea for Seasonal Enjoyment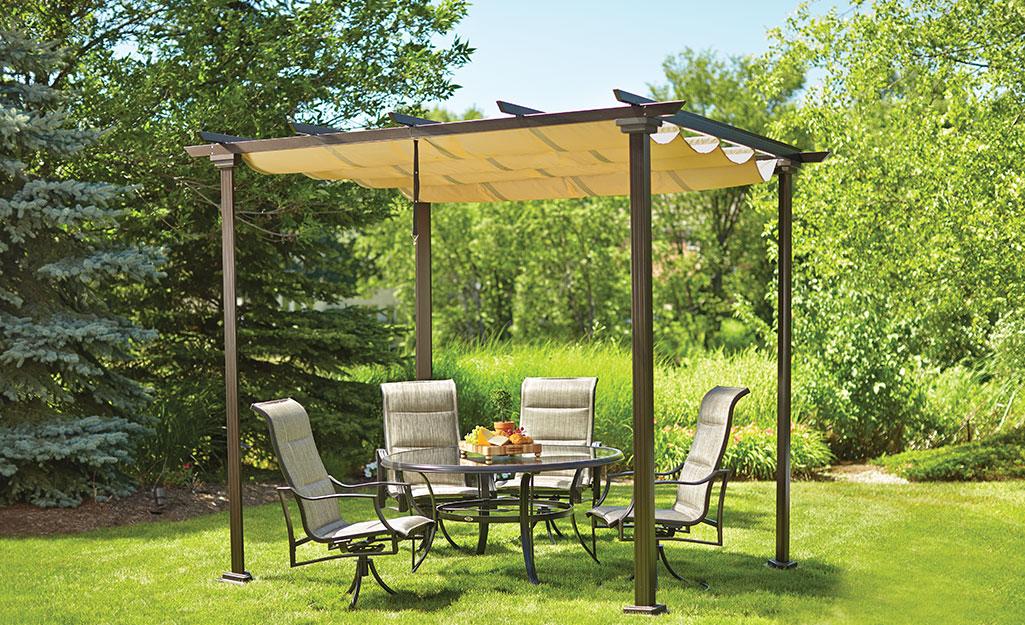 Let the pergola be an island oasis in your landscape. Adjustable shade canopies conveniently control the amount of sun under the pergola, giving you a place to relax three seasons of the year.
Outdoor Dining Room
Define the outdoor dining area under the pergola with a spacious table, seating and string lights overhead. The privacy screen minimizes distractions in close quarters.
Privacy Screen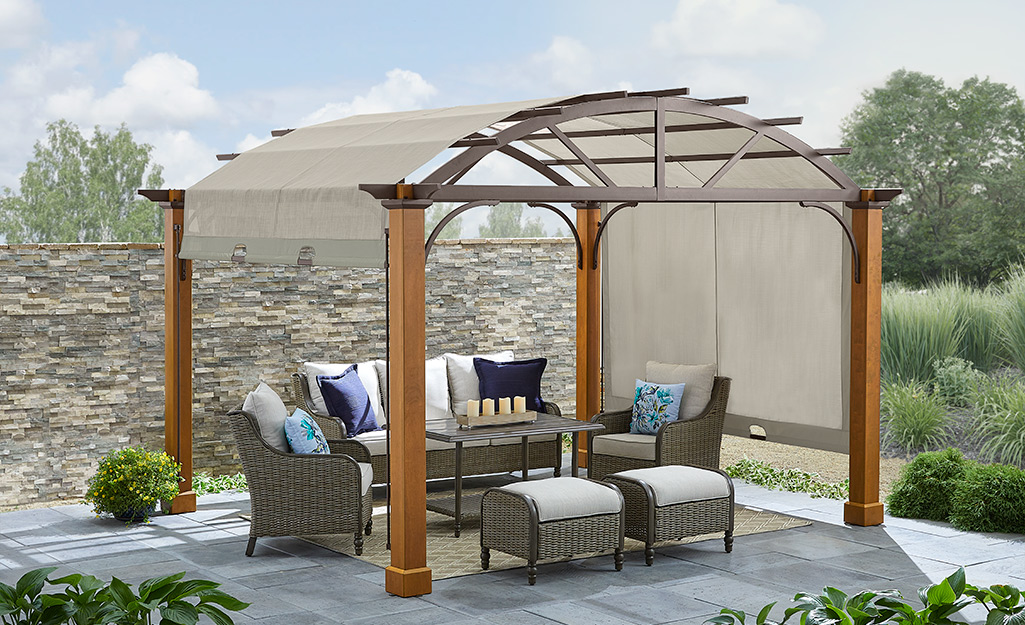 Use the adjustable canopy shade when you want to enjoy the great outdoors but still want to keep some privacy if your neighbors are nearby.
Frame the View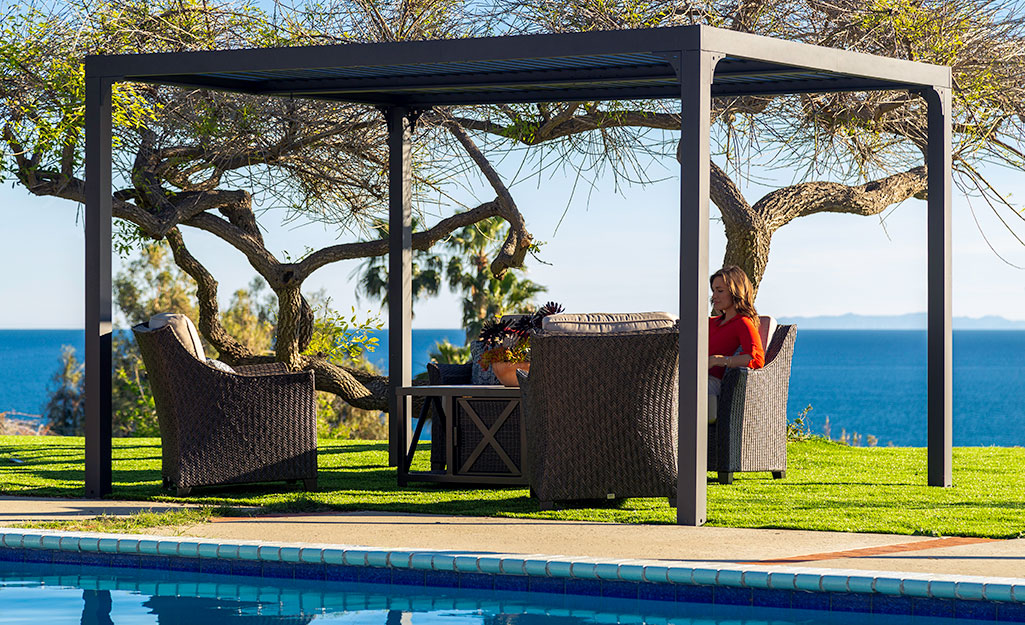 The pergola's open structure embraces multiple views, like poolside and ocean view. Or perhaps, lake and mountain views. Consider your landcape's views when you select a pergola.
Light It Up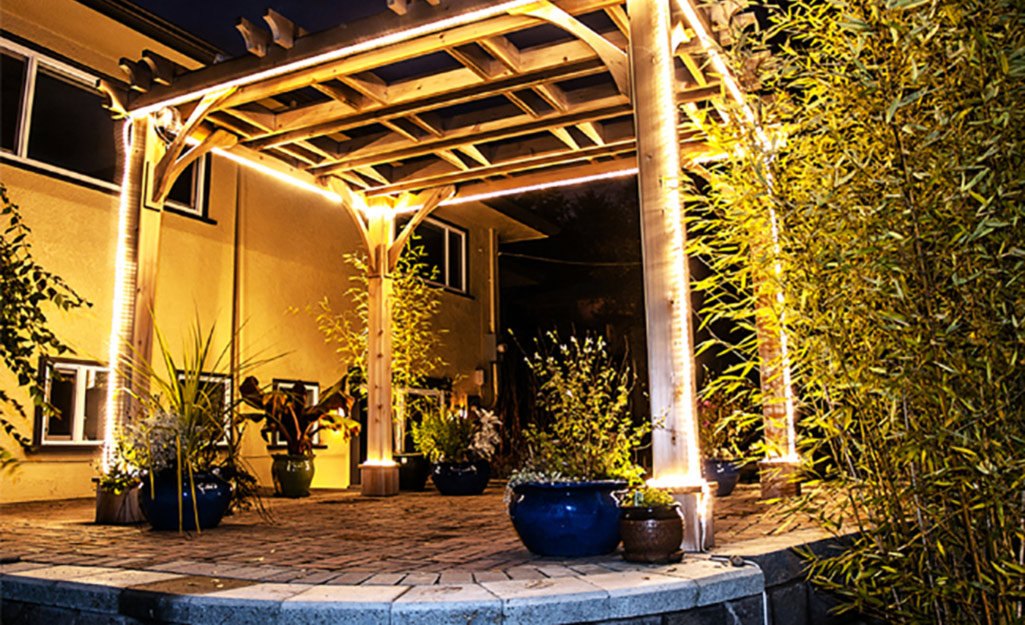 Make your pergola glow with lighting from the ground up. A pergola is the perfectly defined space for entertaining into the evening.
Small Space Drama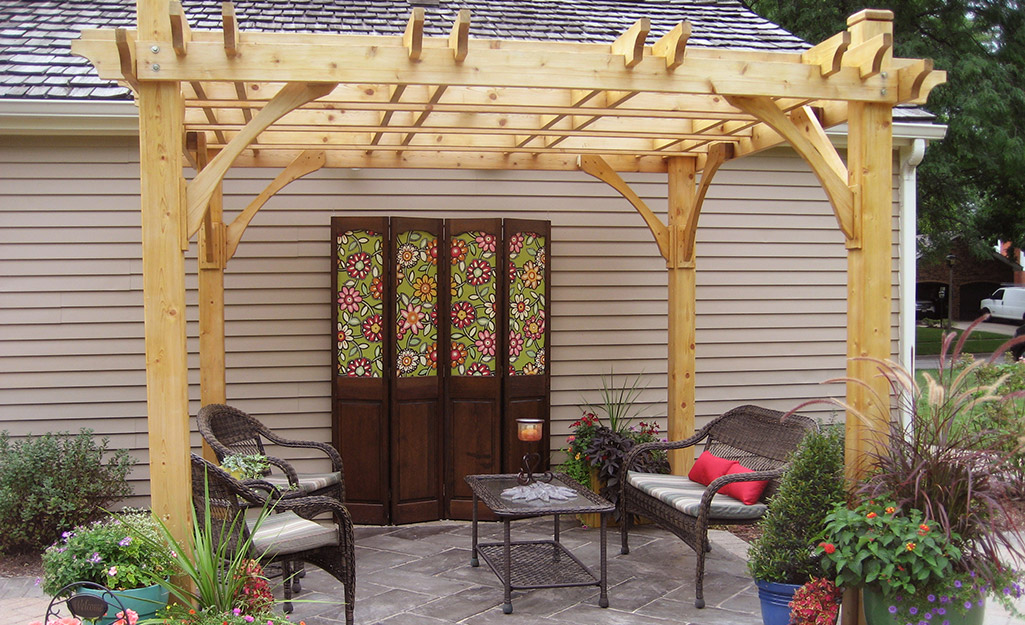 Make the most of a bare bones patio with the architectural heft of a pergola. A repurposed screen adds a focal point and abundant containers of annuals complete the look.
Ultimate Outdoor Entertaining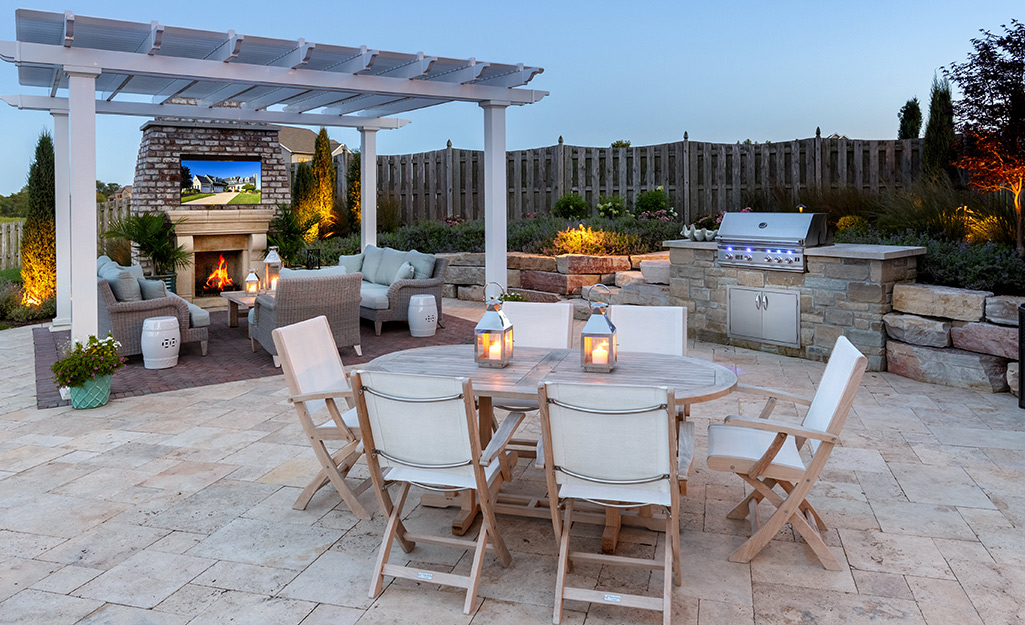 Let the pergola shelter the living room part of the outdoor entertaining space, creating an al fresco version of indoor spaces. Make this the ultimate outdoor entertaining experience with a grilling station and dining area.
Compact and Cool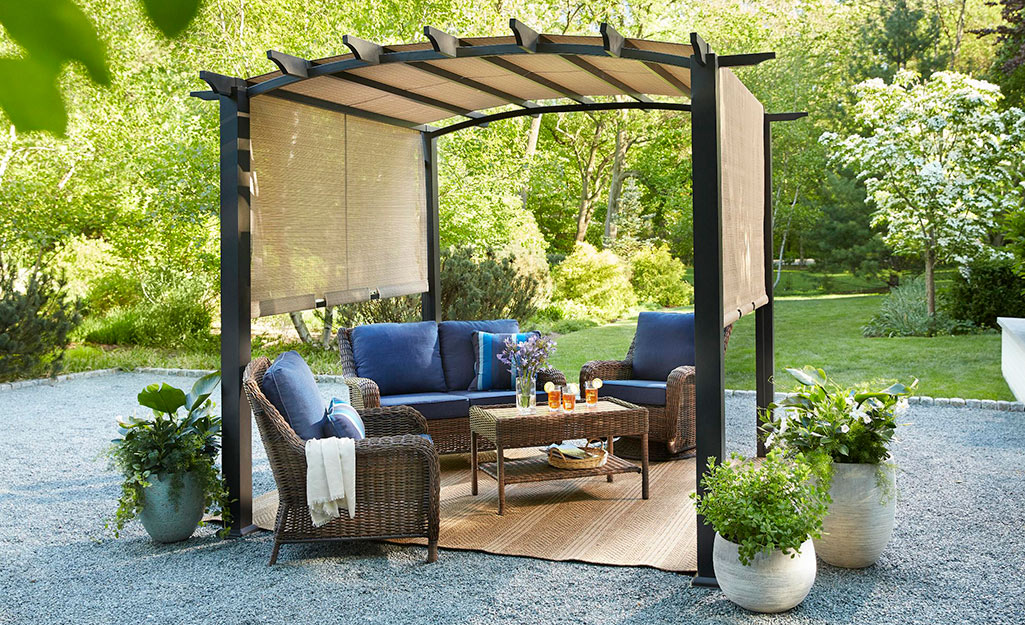 Cool off in style in a 10' x 10' arched pergola with slide canopy. It's all the space you need - enough for a patio set and a few planters.
Up in the Air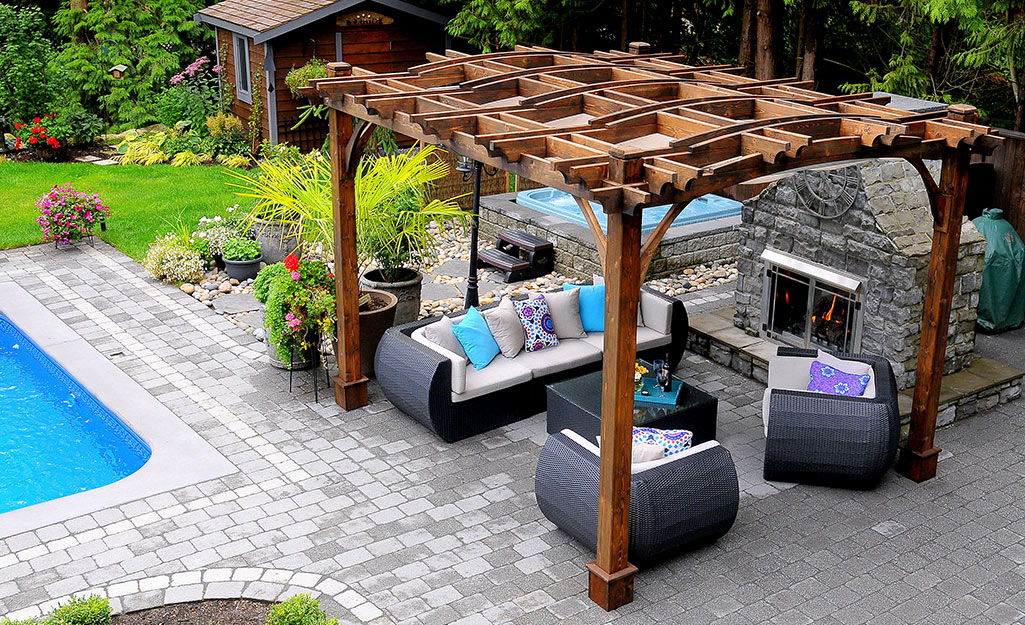 Consider the view of the pergola from inside your home, or from a deck. If you're looking down from a second floor, or higher, look for an architecturally interesting pergola to frame the view from the house.
Coastal Pergola Design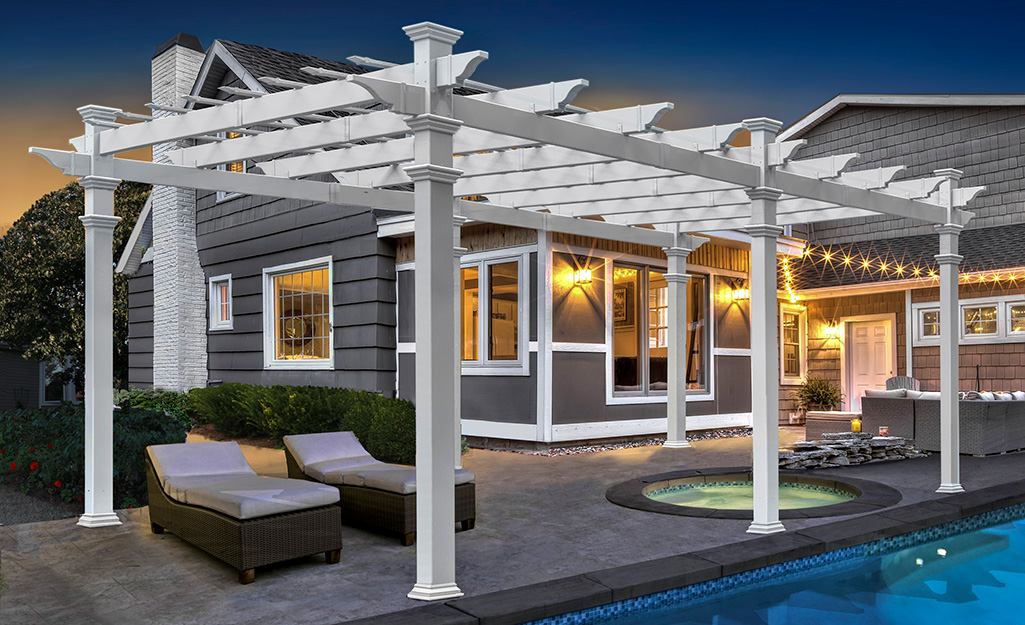 Keep the beach vibe going when the pergola frames lounge chairs and an in-ground, poolside sauna. The versatile vinyl structure needs only to be rinsed off with a garden hose.
Make Plants Pop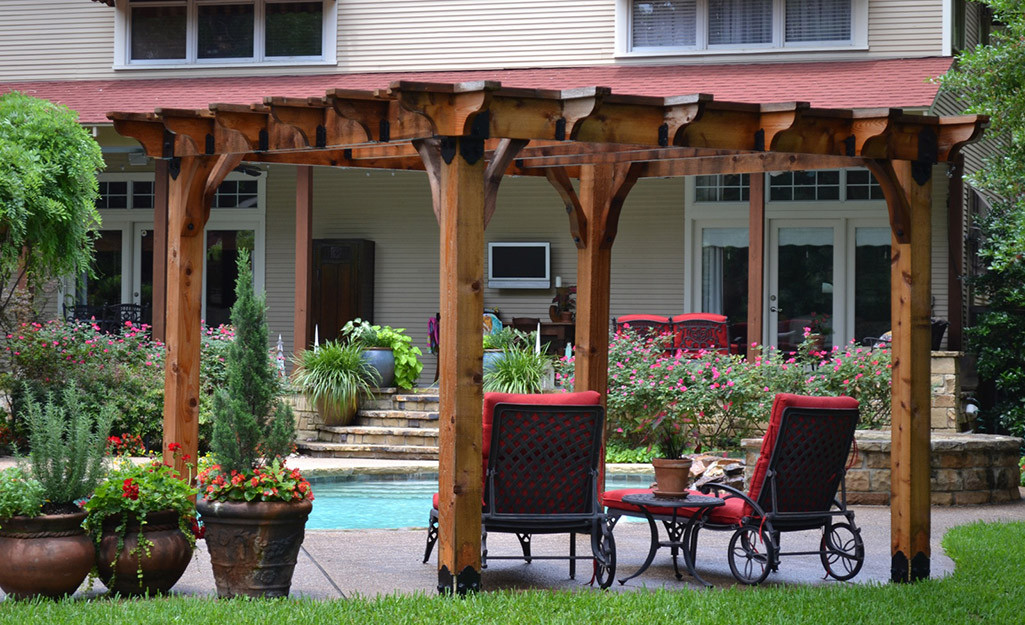 Extend your gardening space with a pergola. Gardeners use pergolas to group containers of annuals and display hanging baskets.
Pergolas range in size from 7' x 7' to 26' x 14'. The most typical sizes are 8', 10', 11' and 12' square. Materials include aluminum, steel, vinyl and wood, often cedar.
Shade comes in many forms with these pergola ideas. You can train climbing vines up posts and across beams with strategically placed cross-beams that block out the sun as it dips in the sky, or choose a pergola with a shade cloth to block the sun.
Find the perfect pergola for your backyard when you know your site and how you will use your new outdoor space. 
Explore More on homedepot.com