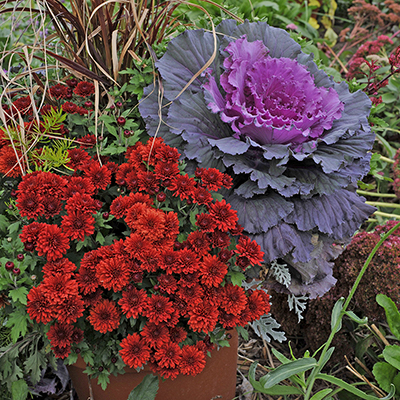 It's hard to beat flowering cabbage and kale for drama in the fall garden. Sometimes called ornamental cabbage and kale, these bold rosettes nearly, but not quite, steal the autumn show from brightly colored chrysanthemums and pansies. 
If grown from seed, flowering cabbages and kales can take from 75 to 90 days to mature. They should be planted 12 to 15 inches apart and grow 12 to 18 inches tall. In fall, you can find mature cabbages and kales in the Garden Center. Plant them in full sun or in part shade with protection from harsh afternoon sun. When planting, amend soil with organic compost. Cabbage and kale like a slightly acidic to neutral soil.
Use this guide to learn about flowering kale and cabbage and bring them into your garden individually or to make a statement with mass plantings.
What is the Difference Between Flowering Cabbage and Kale?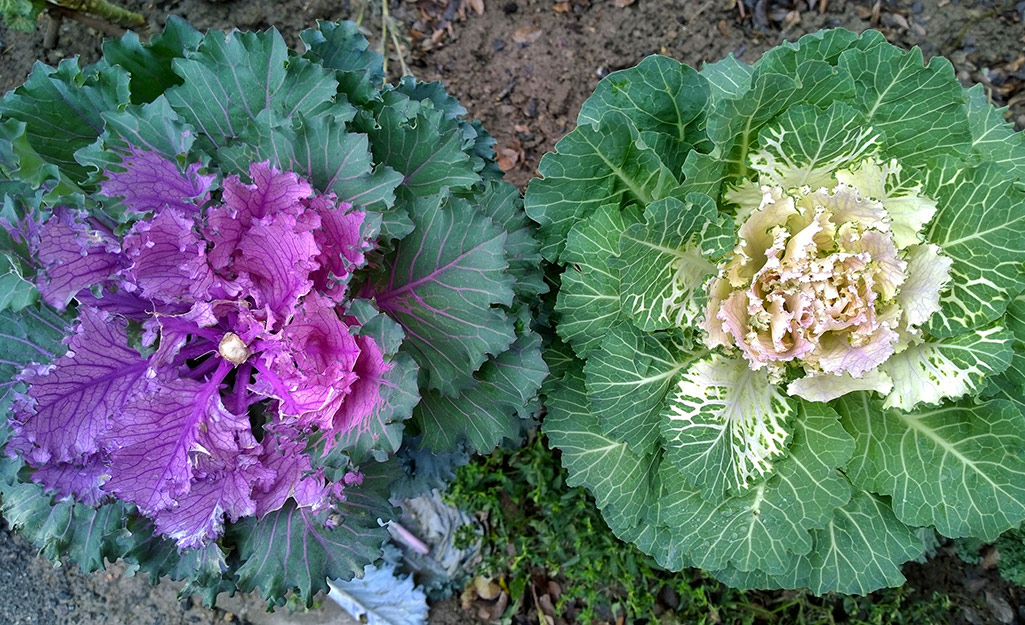 Flowering cabbage and kale are similar in color, appearance and size. The main difference is that cabbage leaves have smooth edges and kale leaves are frilly or crinkled. Above, flowering kale is on the left and cabbage is on the right.
These showy veggies are cool-season biennials, although they're usually grown as annuals. Both are related to edible kales and cabbages and are hardy in USDA hardiness zones 2 to 11. You can eat these vegetables, but they're not tasty, because they're bred for good looks not flavor.
More differences:
Flowering cabbages form heads. The leaves are wide and flat, with smooth edges.
Flowering kales form rosettes. Their leaves are frilly or crinkled or serrated along the edges. 
Both actually look like large flowers in the garden.
They Create Instant Borders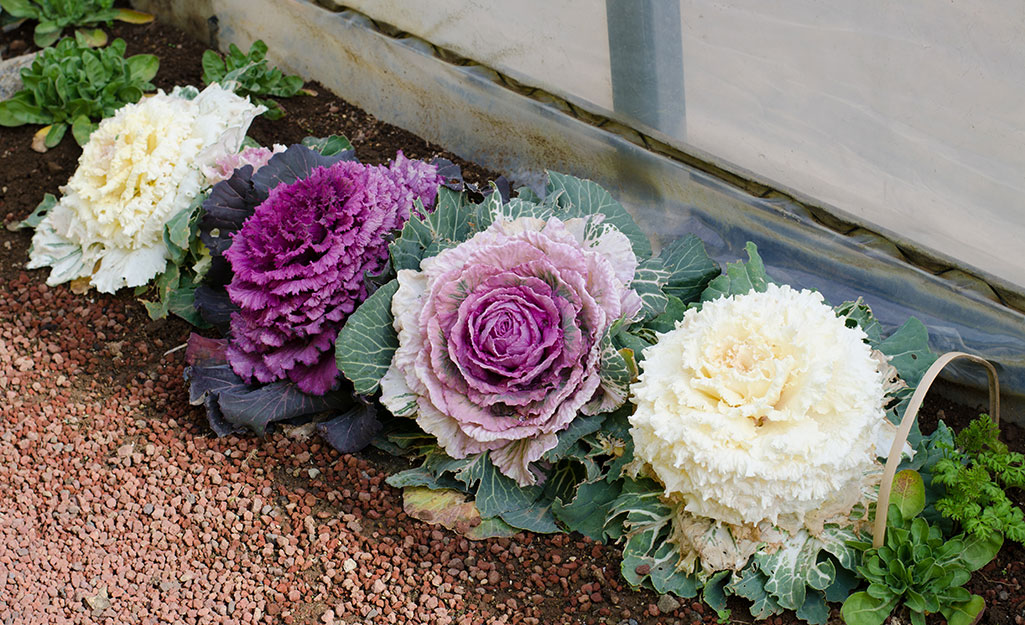 For instant color in your beds and borders, buy mature plants in the fall. Potted flowering kale and cabbages tend to grow slowly, so choose big plants for a big impact.   
Flowering kales and cabbages come in shades of purple, cream, green and rose. Their colors become richer as the temperatures drop, so they're a great choice for fall gardens. Most grow about 18 inches tall and wide, so use them in the front of beds or as borders around other ornamentals or edibles. 
Give them full sun to part shade in hotter climates. They need moist, well-drained, slightly acidic soil where the pH measures from 5.8 to 6.5. After planting, water them thoroughly and wait until the top inch of soil feels dry before you water again.  
They're Container-Ready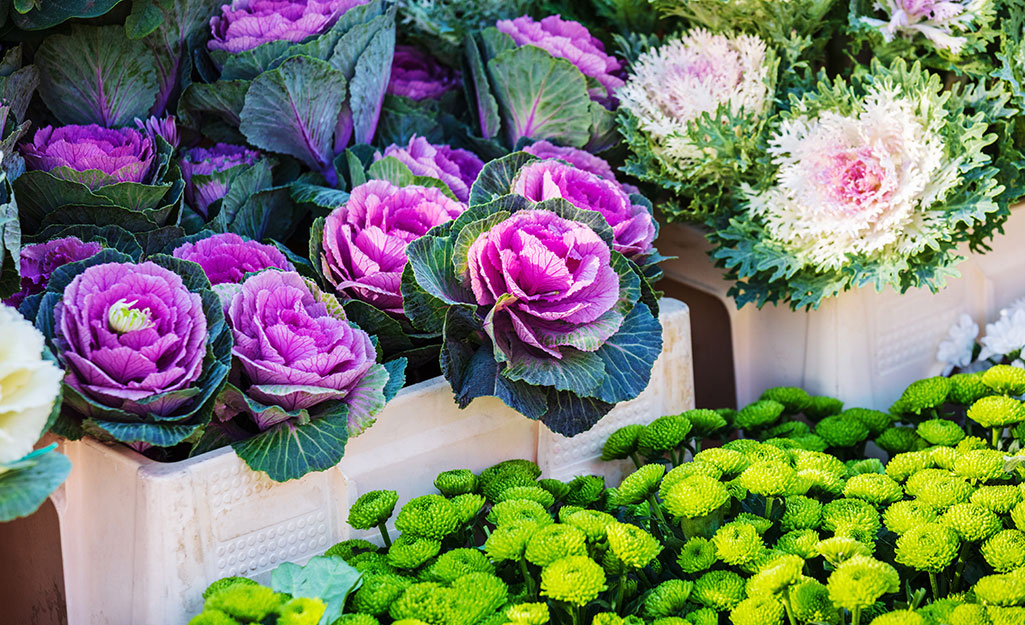 Flowering cabbage and kale are made for containers. Plant alongside fall favorites like heuchera, pansies, cordyline and fiery ornamental peppers.
Both cabbages and kales look better either planted in masses or in containers, rather than as individuals in a garden. They're ideal for replacing summer flowers in containers.
Tips for great containers:
Most already-potted flowering cabbages and kales will be root-bound, which means they won't grow much bigger. Fro the best show, buy the biggest plant you can find.
For maximum visual impact, group several containers together.
Brightest colors are in the center of these plants, so arrange them to be easily seen.
One container of flowering kale or cabbage makes a pretty display when placed in a bed of pansies or other colorful fall flowers, such as snapdragons, mums or petunias. Or try perennials like sedums and asters. 
Keep containers watered as they dry out faster than plants in the ground.
They Love Chilly Weather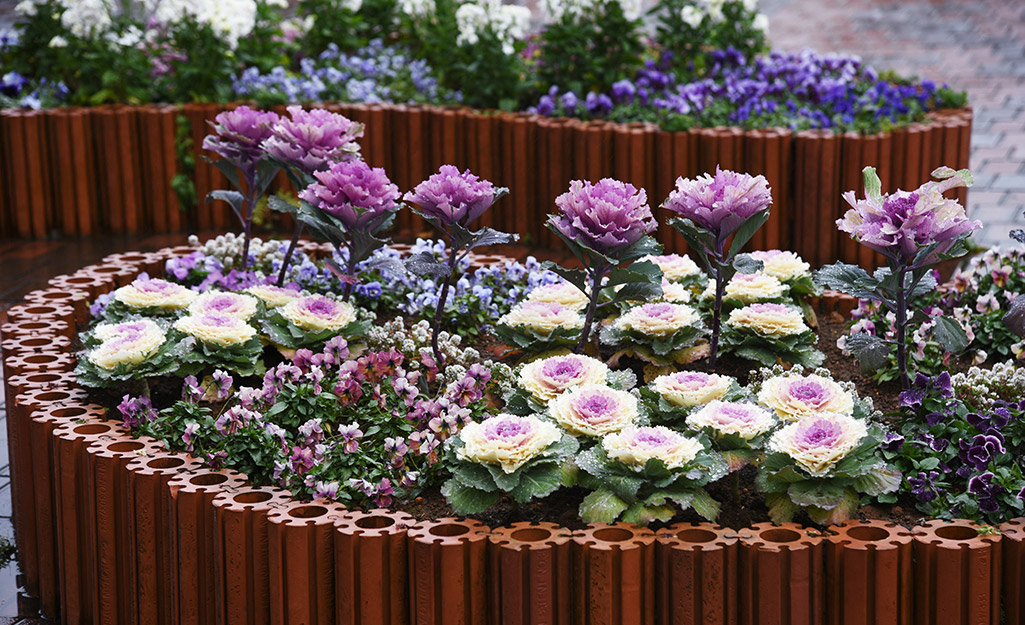 The beautiful blues, purples, greens and whites of flowering kale and cabbage will anchor your garden once nighttime etemperatures dip into the 50s. In milder climates, expect them look good into the winter. 
This is because colors become richer when temps drop below 50 to 60 degrees Fahrenheit. When the weather warms up in spring, the colors fade. This is when the plants get leggy and most gardeners replace them with warm-season annuals. Most ornamental cabbages and kales will last through winter in most parts of the country, but they will not survive at temperatures colder than -5 degrees Fahrenheit. 
Fortunately, cold weather discourages many pests, so you probably won't have many insect problems. Powdery mildew can occur if weather stays damp. Leafrollers and cabbage loopers may be an issue in mild climates. Need help identifying the insects on your plants? Check out the Weed, Plant and Pest Problem Solver tool.
They're Edible, But Not Tasty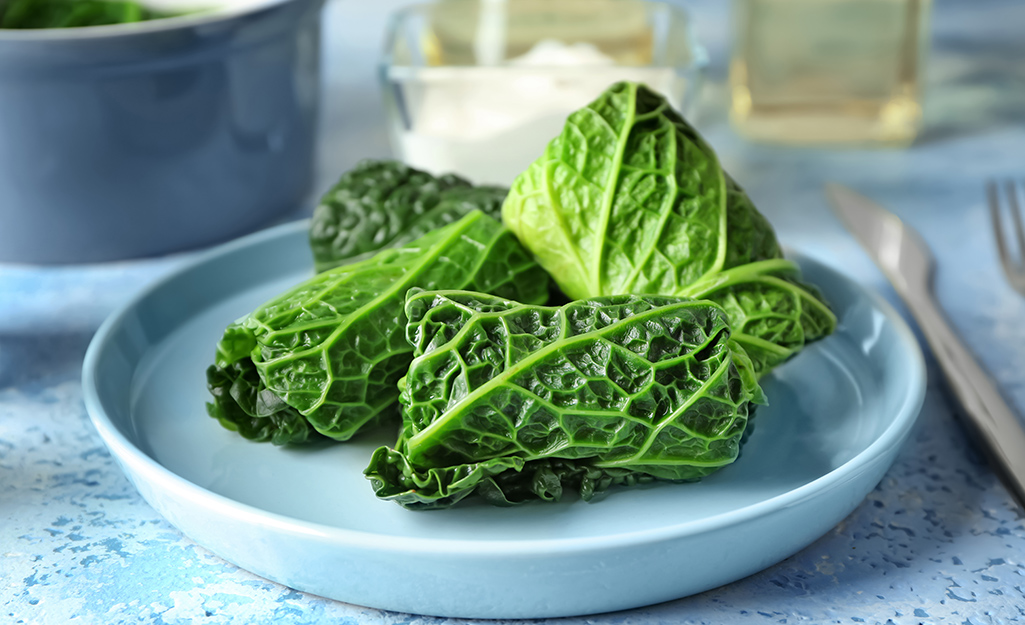 It's frequently asked and the answer is yes, flowering kale and cabbage are edible. If they're organically grown and not treated with chemicals, you can eat them. However, these varieties are bred for good looks, not good taste. The leaves are tough, chewy and more bitter than edible kales, so keep their leaves intact and enjoy the show in the garden. 
You can use clean, organically raised leaves on a plate to hold other foods as a garnish. And if you want edible kales and cabbages, try growing the edible varieties from seed or seedling.
Edible kales include:
Lacinato (also called Dinosaur or Nero di Toscana)
Red Russian
Edible cabbages include:
Cool-season flowering kales and cabbages are easy to grow and add a burst of instant color to garden borders and beds. Plant them in containers or use them in masses. They're ideal for growing alongside pansies, mums, snapdragons and other autumn flowers.
Looking for a product? Use our mobile app to search by voice or image. 
Explore More on homedepot.com