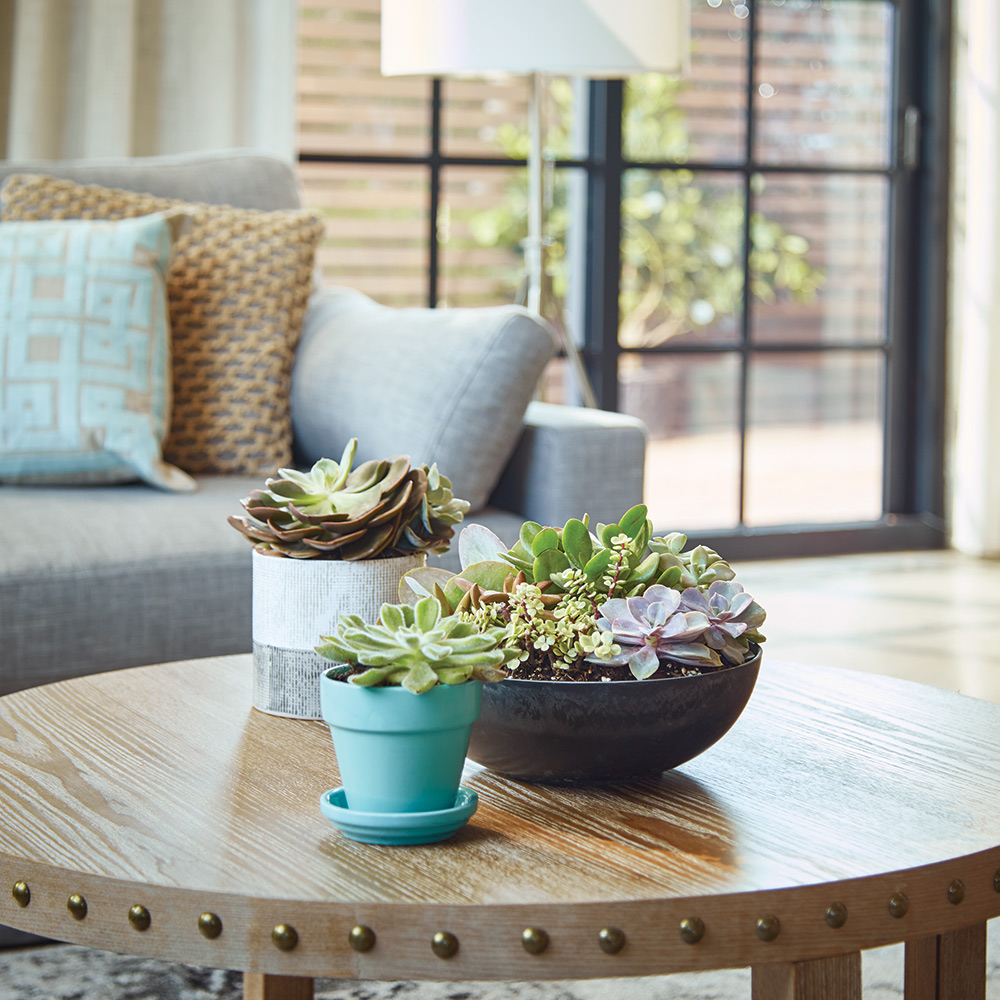 Houseplants put us in touch with nature inside our homes. Having houseplants and other greenery around us helps us feel more relaxed and offers a respite from the busyness of everyday life.
Studies show some houseplants also release oxygen in the air. When you decorate your space with houseplants, the plants can purify the air and breathe life into your space.
When you decorate your space with houseplants, try using them like you would other decorative accessories. Make your greenery part of your color scheme, while letting your houseplants add height and texture anywhere in your home. 
Among the most popular houseplants, succulents and cacti add drama and texture to your decor. Cluster your favorite shapes and colors of succulents together in coordinating planters. These low maintenance indoor plants just need a sunny spot and occasional care. 
Dress Up Empty Shelf Space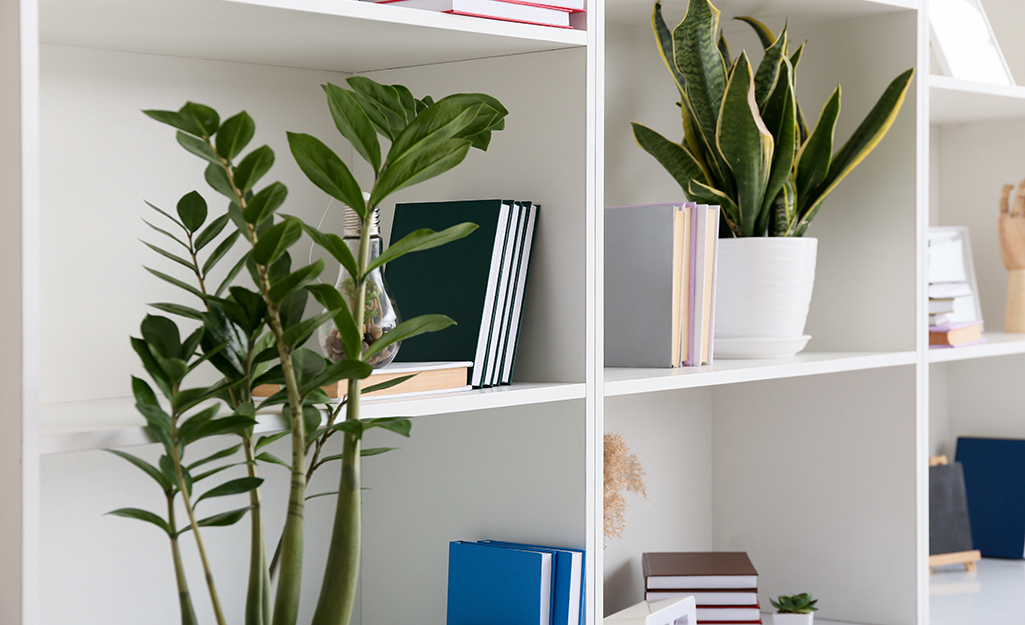 Break up the rows of book spines on shelves with a few well-placed houseplants. Your collections will look more relaxed with the added natural elements. Any shelf with a mix of books, plants, picture frames, and decor has more depth and appeal than a solid wall of books. Try adding vining houseplants, such as a spider plant, to your higher shelves and watch them gracefully cascade down the length of your bookcase over time.
Make a Long-Lasting Centerpiece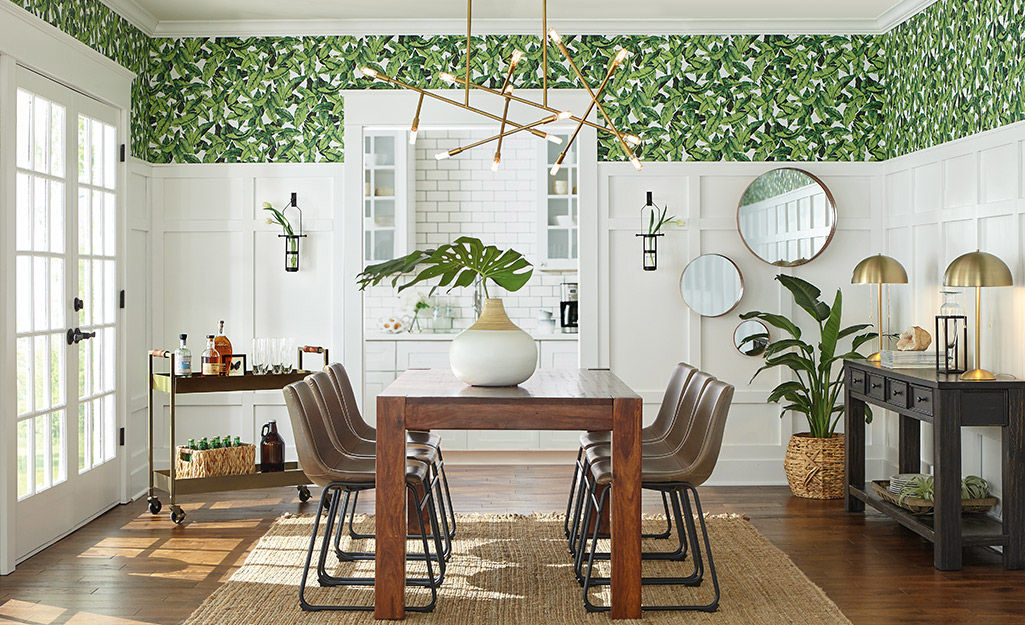 Make just as much of a design splash with a single houseplant as with multiple plants. A large-leafed tropical plant makes the ideal long-lasting centerpiece you won't need to change out each week. Your centerpiece plant will still need a good dose of sunlight, so pick a room with a lot of natural light.
Tip: Pair your centerpiece houseplant with a planter and matching planter plate to prevent any water damage to the surface below.
Use Wall and Ceiling Hangers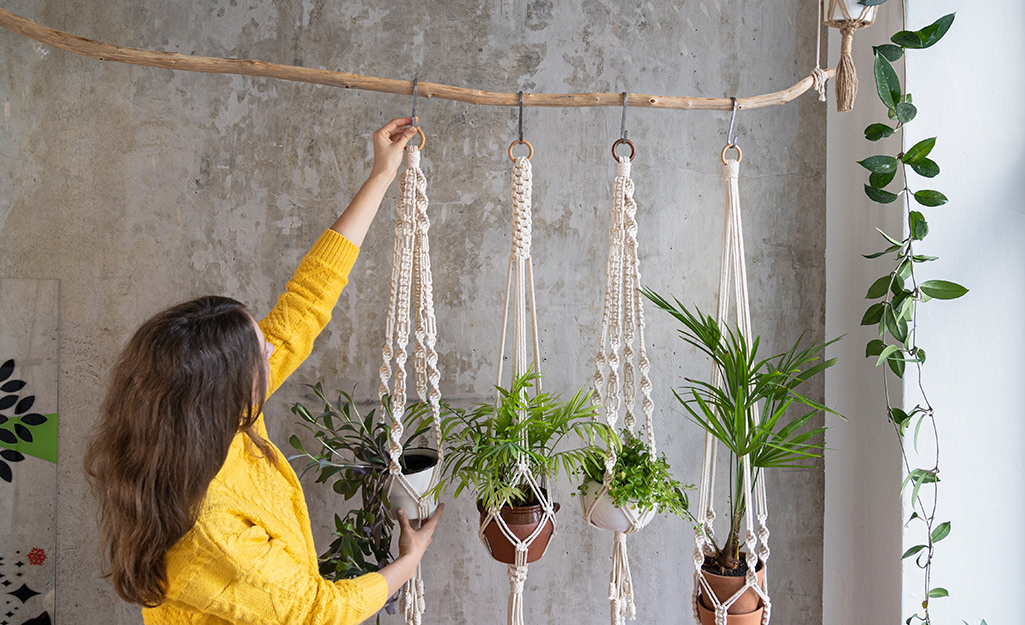 Hanging indoor plants from the wall or ceiling lifts the focus of a room. It fills the space with natural art that pairs well with any style. Macrame hangers are timeless and relaxed, becoming an amazing backdrop for any house plant. Modern hanging sills, glass bulbs and geometric shapes are a contemporary way to make great use of vertical space.
Tip: Get a watering can with a curved tube attached to make water plants above you quick and simple.
Create a Collection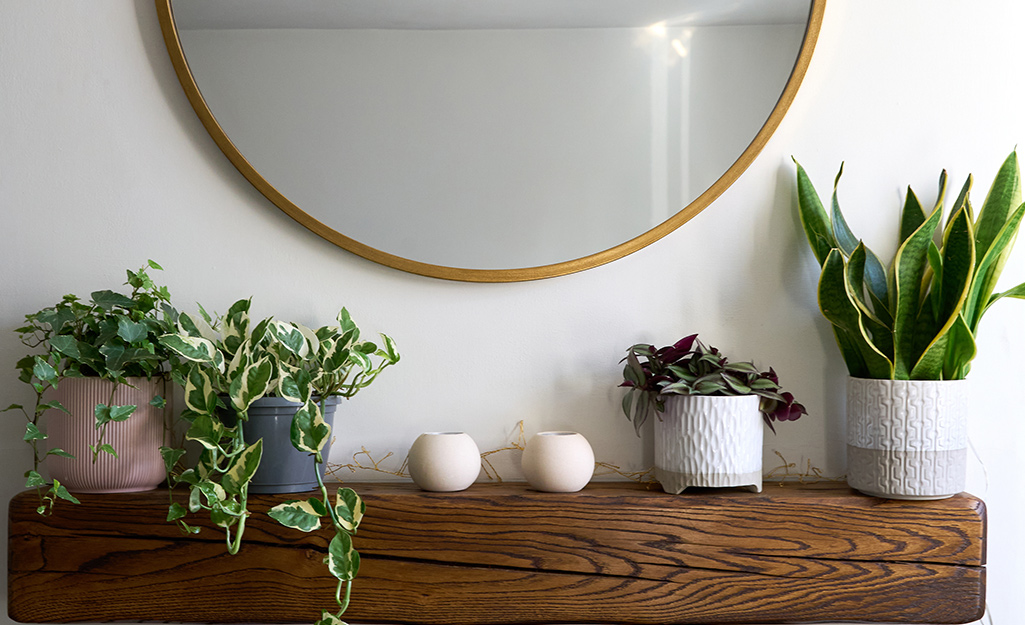 There's no better way to showcase a collection of knick-knacks, decor, and personal items than incorporating houseplants. Create a  theme for each grouping you make. Cluster your favorite shapes and colors of succulents together in coordinating planters. Pair items and plants using a similar color, shape, size, or feel. 
Place a variety of succulents in a mix of various blue planters with the shells you collect every trip to the beach. Keep the design of your plant pots identical, but choose a different plant for each pot. Use frames and personal pictures to add a one-of-a-kind finish.
Use Carts and Stands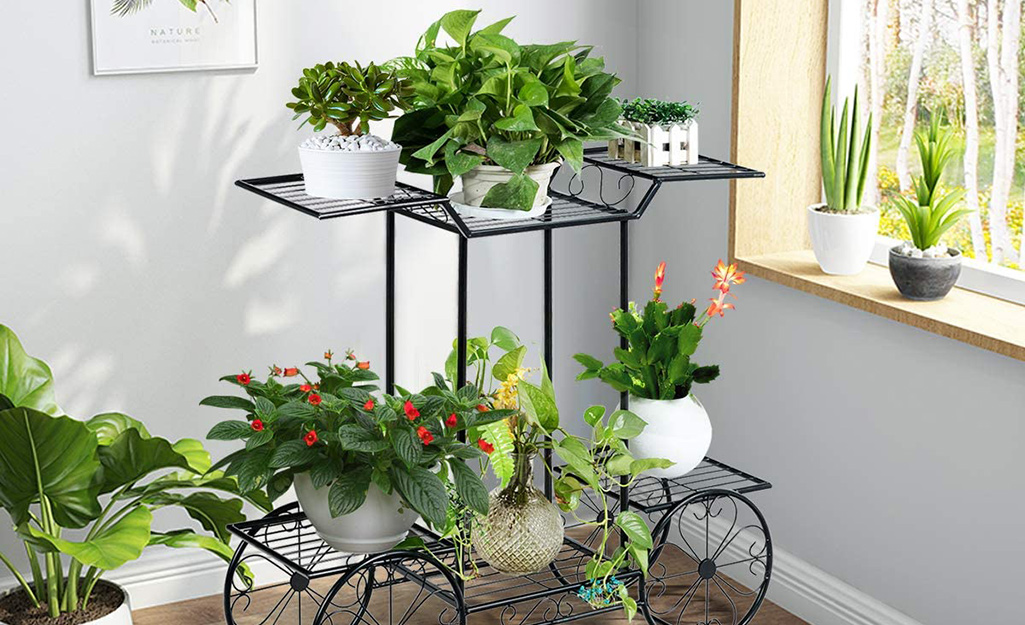 If you have a lot of house plants and your shelves are full, use a plant cart or stand. Plant carts have multiple tiers for placing several plants in one location. They sometimes even come with storage for things like extra potting soil, keeping your necessary materials close at hand. Some plant stands are minimal, meant to disappear behind the beauty of the plants. Others are bold and intricately decorated for an eclectic effect.
Tip: Group plants that require similar care on the same carts to keep plant maintenance effortless.
Put Window Sills to Work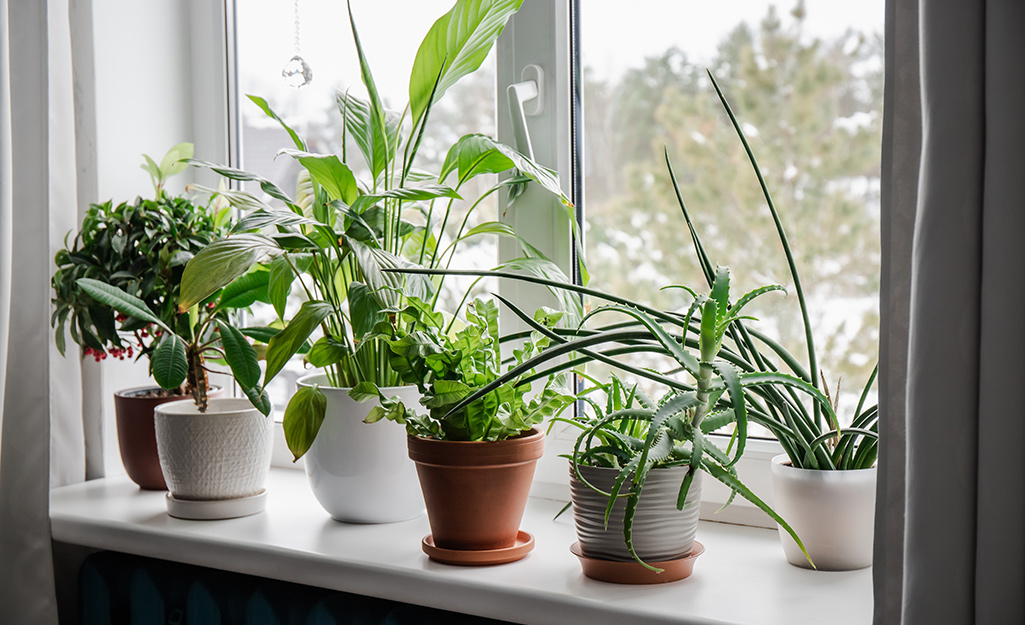 Place rows of planters in window sills around your house to give your houseplants the sun they need, and line your favorite indoor spaces with a pop of lively color. Succulents and other cacti just need a sunny spot and occasional care. A few flowering varieties like geraniums, hyacinths and daffodils love a sunny window sill and add color to your space. Keep your blinds open during sunlight hours to keep your window sill plants healthy and happy.
Make Herbs Dual Purpose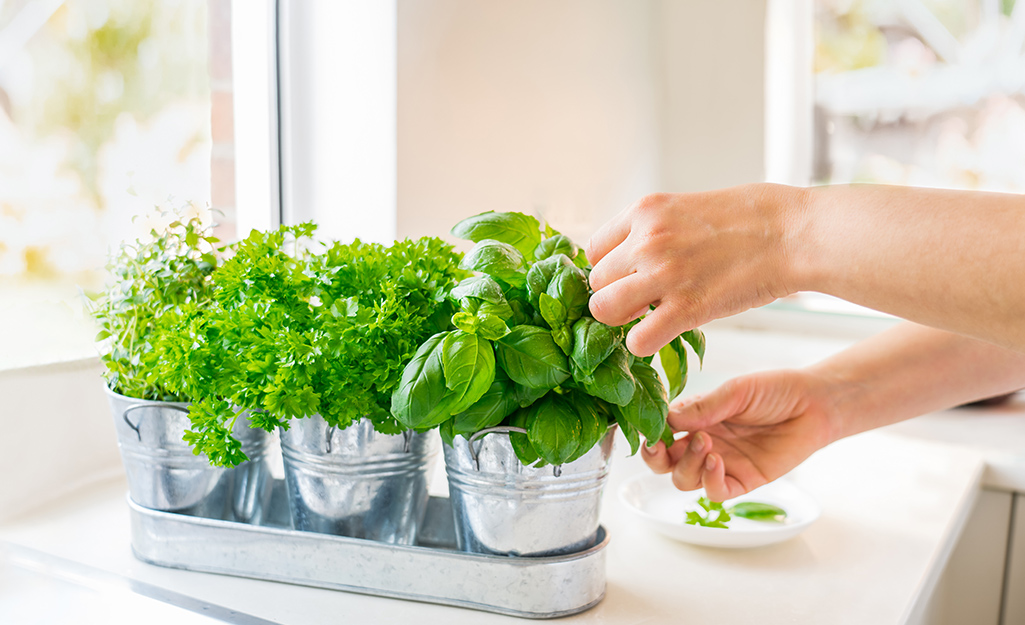 Many commonly used herbs double as beautiful kitchen displays. The fragrant aromas of herbs will keep your kitchen smelling great. Line your kitchen counter with your favorite cooking herbs, like rosemary, parsley, basil, oregano, and cilantro. Use pruning snips to trim off the exact amount you need for a steady supply of fresh flavor.
Tip: In the spring and summer, transfer your fresh herbs outside to boost their growth. 
Create a Terrarium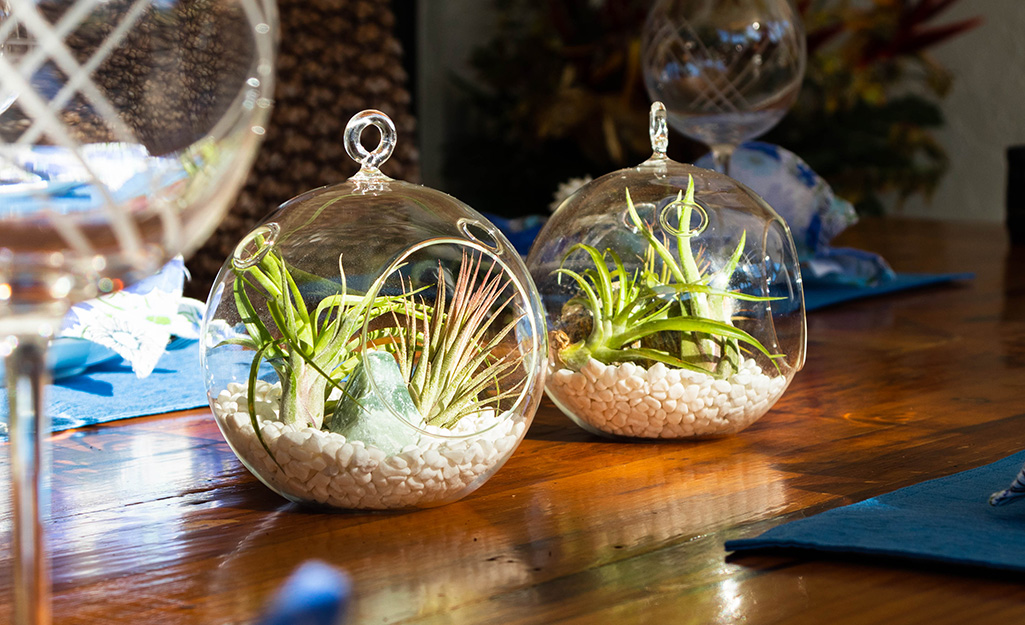 Terrariums are gorgeous statement pieces for any room in your home. They combine plants with other decorative elements in beautiful glass containers. Terrariums are unique creations that can be anything from minimalistic to whimsical. 
Make your terrarium from scratch, or buy a terrarium kit with everything you need to get started. Terrariums become very low-maintenance decorations that can thrive in many different conditions. 
Whether you need the right planters, plants or potting soil, The Home Depot delivers online orders when and where you need them.
Explore More on homedepot.com