Ideas & Inspiration
Affordable Home Decor Ideas
With a little creativity, decorating your home can be both easy and budget-friendly. You can create your own affordable home decor with paint, wallpaper, repurposed furniture and other common household items. This guide will give you ideas and a starting point for planning your home decor, whether you need to redecorate an entire room or just want a few new accent pieces.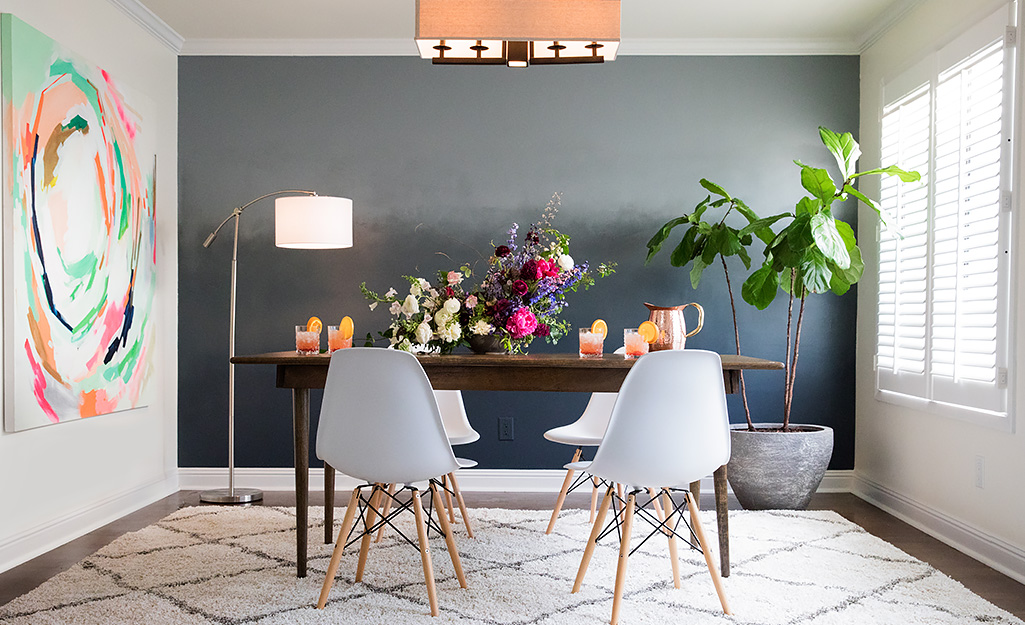 A small amount of paint can go a long way in transforming a room. One gallon of interior paint is fairly inexpensive and can cover up to 400-square feet. With just two to three gallons, you can refresh an entire room with a new coat of paint, and with a single gallon, you can create a striking accent wall for a dramatic new look. 
Stripes: Use painter's tape to section off vertical or horizontal stripes on your chosen wall. Paint between the lines of tape with an accent color. Once the paint has dried, you can peel away the tape to reveal bold, clean accent stripes.
Stencils: Create the look of a patterned wall by painting around a homemade or ready-made stencil. To create your own stencil, trace the pattern or shape you want onto cardboard, then cut along the traced lines. Either paint around the edges of the cut-out with the accent color and fill in the rest of the wall, or paint the accent color within the space the cut-out left behind in the cardboard. Use the stencil as often as desired to create a unique wall pattern.
Ombre: Choose three hues of the same color, ranging from light to dark. Apply the lightest color of paint to the entirety of the wall. Once dry, paint a darker shade on the bottom two-thirds of the wall. Finally, after the second shade has dried, paint the darkest shade on the bottom third of the wall.
Texture: You can try combing, sponging, rag-rolling or several other wall texture techniques to add depth and distinction to your walls.

PAINT WOOD FURNITURE:
In addition to accent walls, you can create accent furniture with leftover wall paint. You can instantly modernize old wooden furniture, such as dressers, coffee tables, end tables and dining chairs by painting them a fresh color. You can also try painting the legs of a sofa or living room chair to add a subtle pop of color to your room. 
PAINT OLD APPLIANCES:
You can paint kitchen appliances such as stand mixers, toasters and even refrigerators with inexpensive appliance paint. If your appliance is scratched or an outdated color, repaint it rather than replace it.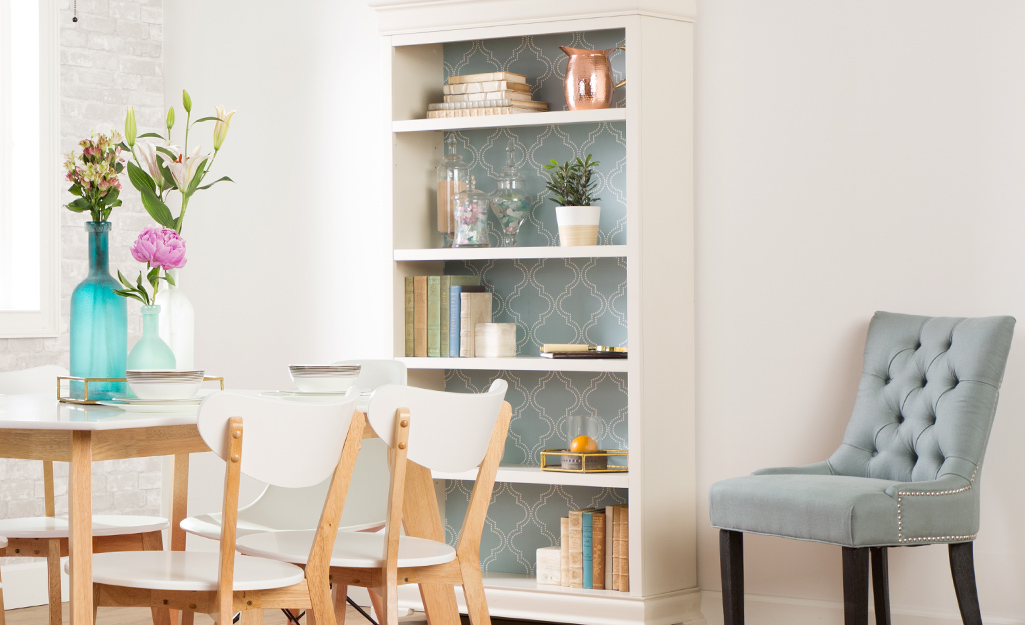 Wallpaper is often more expensive than paint, but when used in small quantities, it can still help you create inexpensive home decor.  
HIGHLIGHT NOOKS, CABINETS AND ODD WALL SPACES:
You can use wallpaper to decorate any small space of wall—such as behind built-in shelves or as a backsplash below kitchen cabinets—without committing to wallpapering an entire room.
DECORATE FURNITURE:
Cover the surface of an end table with wallpaper or apply wallpaper to the panels and drawers of a wardrobe.
CREATE A FAUX HEADBOARD:
Headboards can be a costly investment, but you can save money by mimicking a headboard with a square of patterned wallpaper behind your bed.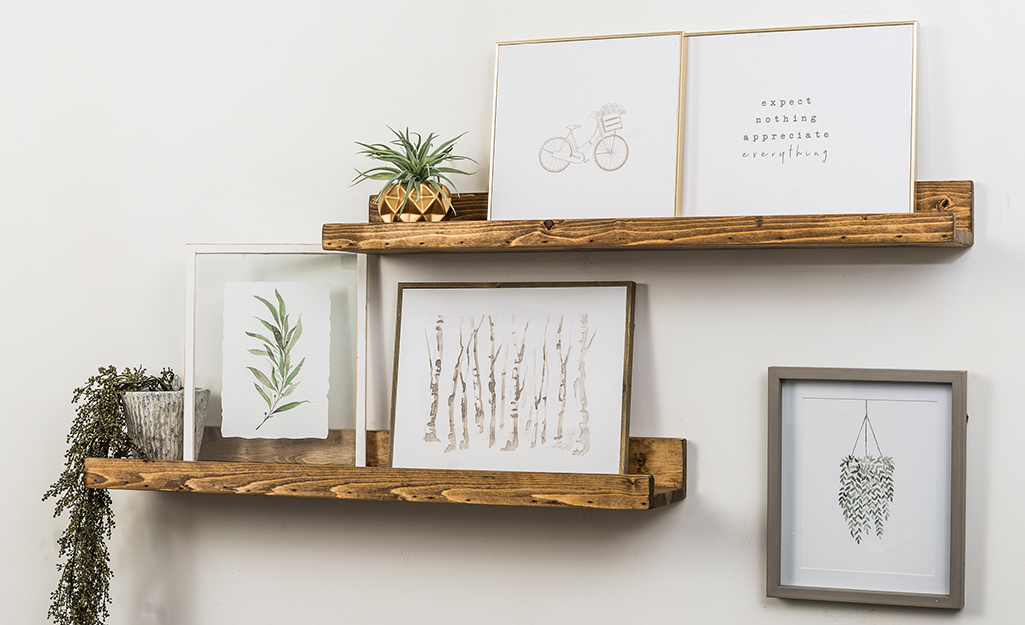 Wall decor can be as minimalist or as eclectic as you prefer, making it a great place to start when adding personality to your home. Try decorating your walls with these easy DIY projects:
CREATE A GALLERY WALL:
You can display all of your favorite photos in one place by framing and hanging them in a cluster. Print photos of all different sizes and orientations, frame them in matching or coordinating frames, and hang them in a free-form arrangement all over a wall of your choice. Experiment with frame colors, shapes and materials.
Tip: Cut scrap paper to the size of your framed photos and tape the paper to the wall before hanging to test and find the most eye-pleasing arrangement.
DISPLAY KEEPSAKES IN SHADOW BOXES:
You can display and protect sentimental items by putting them in a shadow box and hanging them on the wall. Purchase a ready-made shadow box or make your own using a picture frame and balsa wood.
USE MIRRORS:
Mirrors instantly add visual interest to a room. Plus, a large mirror on the wall will make a small room seem more spacious. Try arranging an assortment of small mirrors on the wall in place of photos or use paint pens to write your favorite saying or quote on a mirror's surface. You can also paint the frames of old mirrors to easily restyle them to fit any room.
FRAME PATTERNED FABRICS:
Instead of framing photos or an art print, try framing swatches of fabric as an inexpensive alternative. You can even repurpose worn-out clothing items this way, such as favorite graphic T-shirts that no longer fit or mittens that have lost their mates.
INSTALL FLOATING SHELVES:
In addition to giving you extra storage space, floating shelves can serve as home decor. Get creative by using materials such as reclaimed wood, boxes, crates or glass. Think of the shelves as an art installation rather than just as storage space; try installing them on the wall in unique arrangements so they look beautiful even when empty.
MOUNT PLATES:
Whether ceramic, porcelain or fine china, unused decorative plates can be mounted and displayed just like photographs. All you need are picture hooks and plate hangers.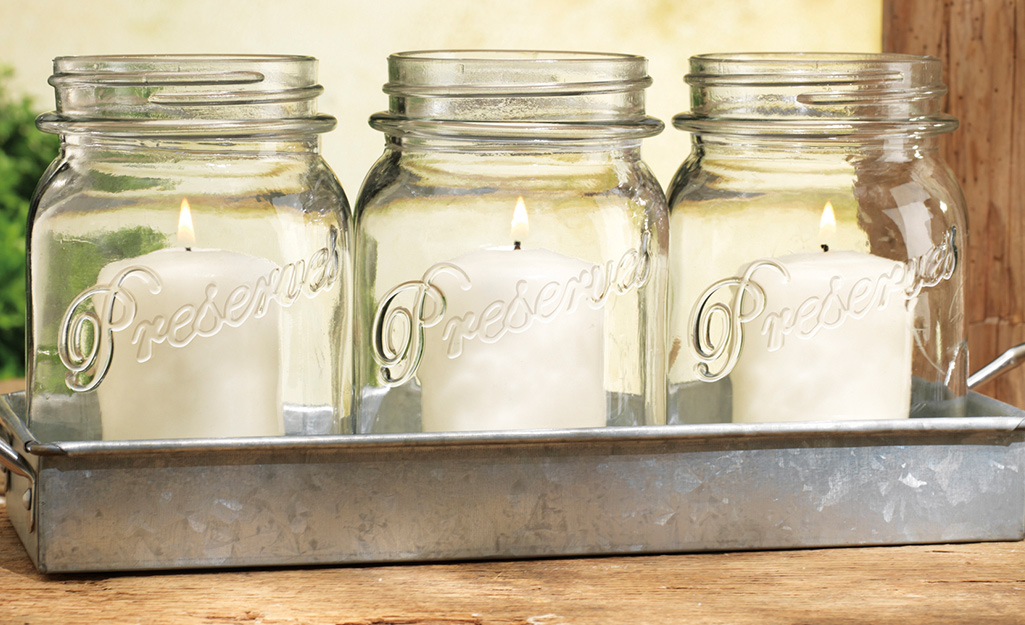 Many common items in your home can be easily repurposed into stylish home decor.
MASON JARS:
Mason jars are extremely versatile, making them the perfect crafting material for beginner and seasoned DIY-ers alike. For a quick and simple project, wrap sisal rope around the lower half of the jar and glue the rope down with a glue gun. This turns the mason jar into a rustic-inspired vase. Alternatively, you can partially fill the vase with sand or decorative stones and add a candle to use it as a candle holder. Mason jars can also be used in more complex projects like creating your own pendant lights.
PARTS OF OLD FURNITURE:
Old or damaged furniture that you no longer want can still have useful components. Here are some examples: a cabinet door can be painted and reused as a serving tray, dresser drawers can be mounted on the wall as bookshelves and door or cabinet knobs can be transformed into jewelry hangers.
DINING CHAIRS:
If you have a lone dining chair that no longer matches the rest of your dining set, repurpose it as a bedroom side table.
COLLECTIONS:
Organize personal collections by theme, color or size to create an intentional, eye-pleasing display.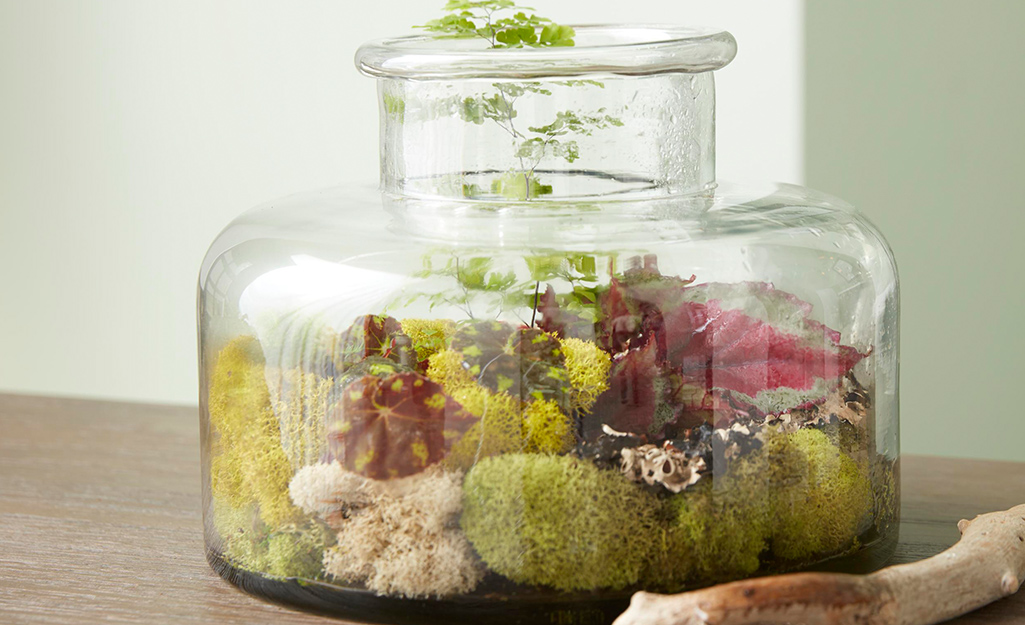 When decorating your home, paying attention to little details can make a big impact.
UPGRADE LAMP SHADES:
Switching out current lamp shades for lamp shades in an accent color or of a different shape can instantly change the look and feel of a room.
CHANGE CABINET HARDWARE:
Change the knobs and pulls on your cabinets. Even a simple change like this can improve the look of your home.
ADD VASE FILLERS:
In place of flowers, try filling clear vases or tall candle holders with an assortment of other decorative items that can last year-round. Consider using wine bottle corks, colorful glass beads, river stones, candy or spices.
INCORPORATE SEASONAL THROW PILLOWS:
Have a few throw pillows on hand for each season. Swap them out periodically to make seasonal and holiday decorating a breeze.
Give these affordable home decor ideas a chance when you style your home. If you need more inspiration, explore the rest of The Home Depot's DIY Projects and Ideas guides.