Ideas & Inspiration
Affordable Kitchen Cabinet Ideas
Updating your kitchen doesn't have to cost a lot. If your kitchen has great storage and a great layout but not a great look, there are affordable and easy kitchen cabinet upgrades that will improve your space without the expense, time or effort of a major renovation.
This guide gives you affordable ideas like professional cabinet refacing or refinishing as well as relatively easy DIY kitchen cabinet updates like a fresh coat of paint, under-cabinet lighting or different drawer hardware.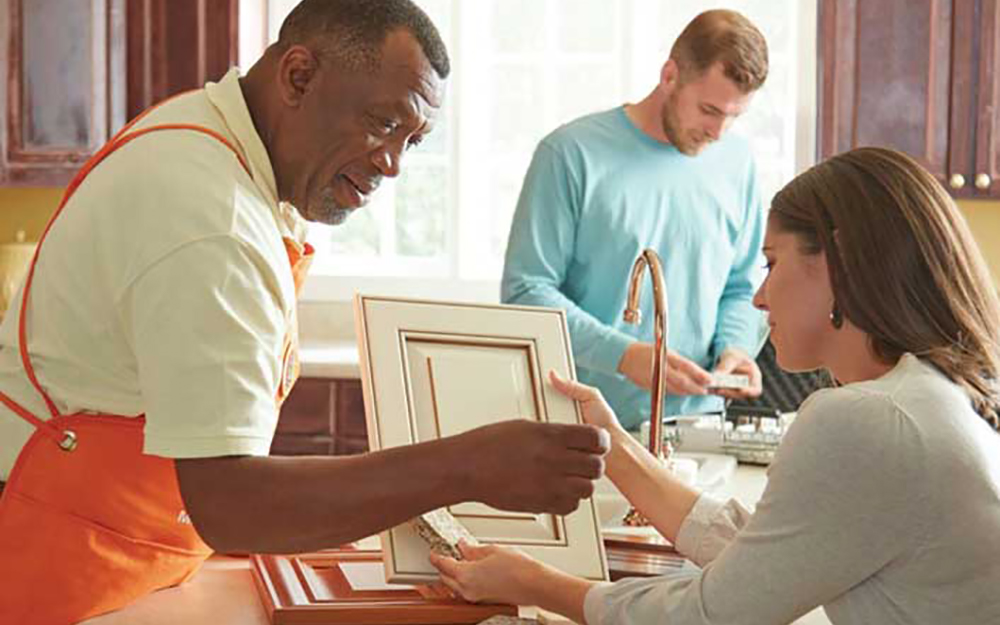 Create semi-custom cabinets in less time than a remodel with a cabinet makeover, also called cabinet refacing. With cabinet refacing, your cabinet frames remain in place but you can change out your cabinet doors, drawer fronts, boxes and slides.
Choose from a variety of styles, colors, finishes, hardware and more.
All exposed doors and drawer fronts are covered to match your replaced doors and drawers.
Refresh your room in just a few days.
Tip: Check your cabinets for safety hazards such as sagging shelves or hanging rails. These are signs that you may need to replace your kitchen cabinets instead of refacing them. If so, The Home Depot has everything you need, including free kitchen design services.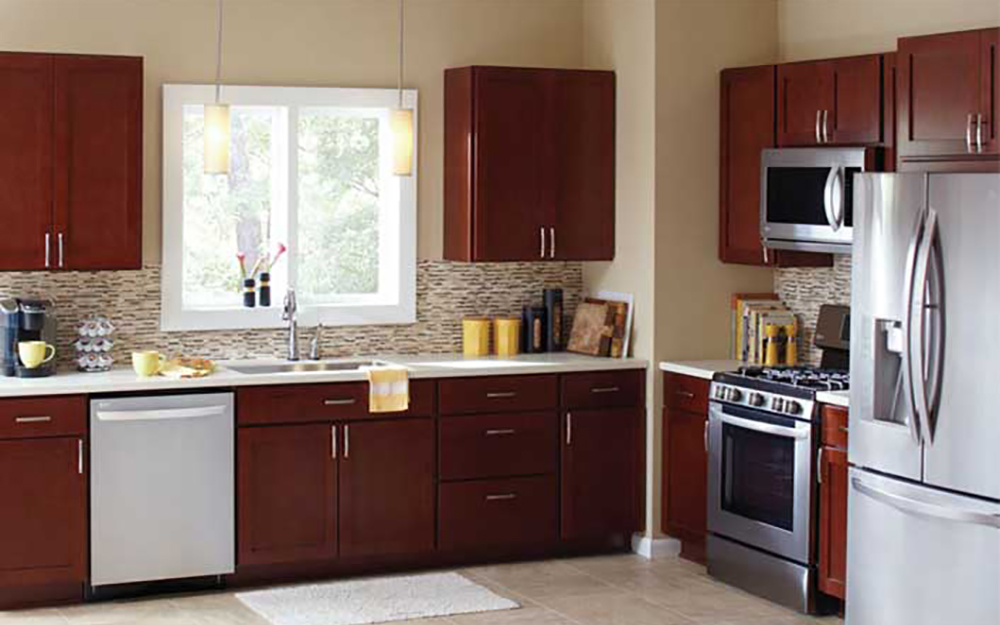 Bring back the beauty of oak cabinets or other wood finishes by refinishing your kitchen cabinets yourself. Start by cleaning all surfaces with a cleaner that removes heavy grease buildup and rinsing well. Depending on how much work your cabinets need, you may have to lightly sand them before you reapply varnish.
Or you can save yourself time and effort with professional N-Hance Cabinet Refinishing services from The Home Depot. Most projects are done in one to three days and are a fraction of the cost of a full kitchen remodel.
You won't have the dust, mess or noxious fumes normally associated with traditional refinishing.
Refinishing removes grime and old coatings from wood cabinetry to restore the natural luster.
The service uses a U.V. Lightspeed™ process that leaves surfaces instantly cured to a factory-like finish.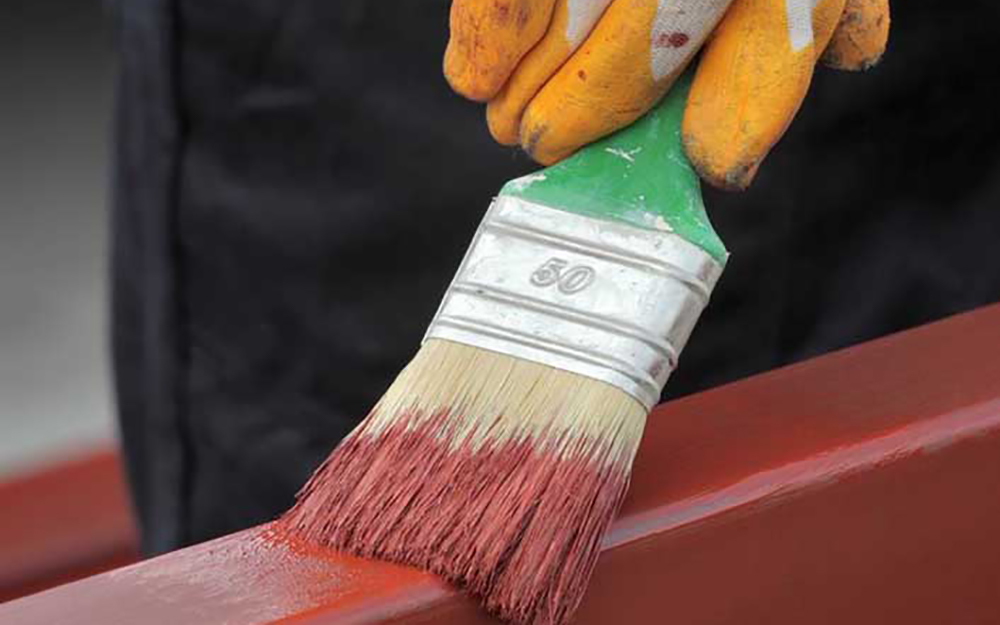 A fresh coat of paint or stain can instantly transform your kitchen and extend the life of wood or laminate cabinetry.
Latex paints are extremely durable and work best on high-traffic surfaces like kitchen cabinets. Choose a 100% acrylic formulation in a semi-gloss finish for best results. Oil paint is harder to clean up, but many professionals like its super-smooth finish.
For a bold look and new functionality, paint cabinet doors with chalk paint.
Bring out a wood's natural grain with stain. For step-by-step instructions on staining, see our How to Apply Stain guide.
Tip: Before you paint your kitchen cabinets, unscrew the hinges and remove the doors to prevent a runny-looking finish.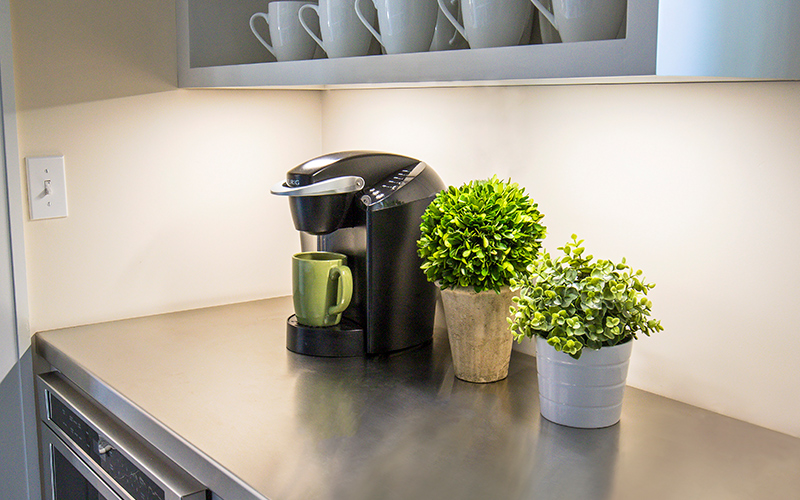 Installing lighting over your countertops will instantly improve your kitchen's look and provide more illumination for everyday tasks.
There are several types of under cabinet lighting to choose from like light bars, puck lights, rope lights and more. They're easy to install and most plug into your exisiting outlets. If you'd rather not have cords, battery-operated lighting is a good solution. Consider lighting with a dimmer switch that lets you adjust just how much light you need.
Tip: Dark or black countertops absorb light, so try bulbs with higher lumens to get the right level of lighting.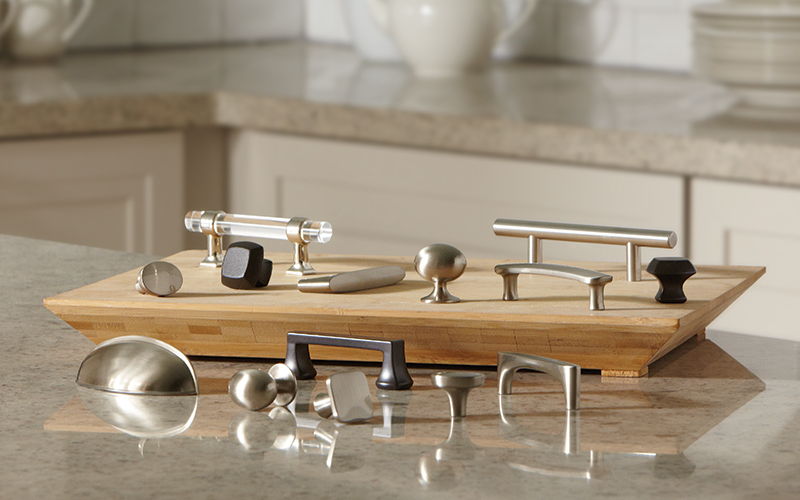 Installing new cabinet knobs, handles or pulls is an easy and inexpensive DIY kitchen cabinet update. Choose a style or finish that complements your current cabinetry.
Avoid drilling new holes and save time by measuring your exisiting pieces and choosing your new cabinet hardware in the same size and configuration.
Tip: Changing old hardware to brushed nickel or bronze options will give your cabinetry a modern look.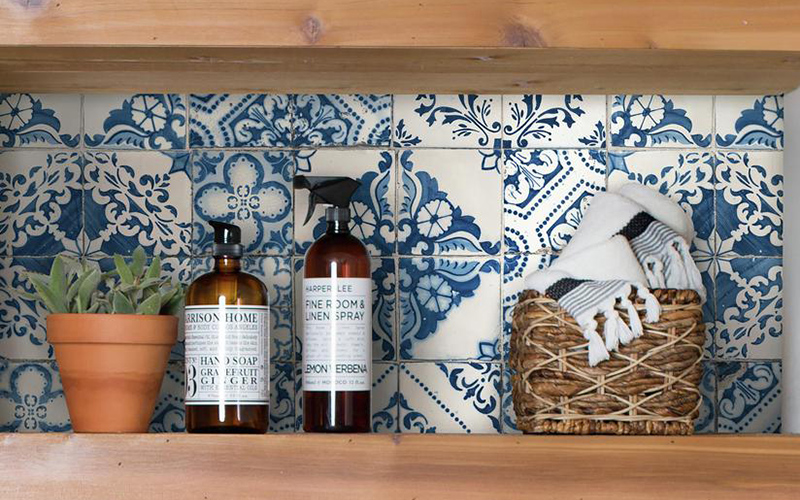 Remove your cabinet doors and dress up your kitchen cabinet interiors with peel and stick wallpaper in an eye-catching pattern. Peel and stick wallpaper goes up as easily as it comes down so it can be used to update your cabinety every season.
Apply wallpaper to the inside of kitchen wall cabinets to make a beautiful designer statement.
Line drawers in wallpaper or liners to add protection while elevating the style factor.
When transportation of kitchen cabinets is a challenge, The Home Depot truck rental can help. From pickups and vans to moving trucks, we've got you covered.