Ideas & Inspiration
Begin Your Day the Right Way With a Blueberry Breakfast Bowl
Start your day with the goodness of berries and whole grains in a breakfast bowl loaded with steel cut oats, granola and blueberries. More than just a pretty pop of color on the plate, blueberries are one of the easiest to grow fruits, and they are a superfood, packed with fiber and nutrition.
Blueberries grow on shrubs, and are remarkably disease and pest-resistant, making them easy to grow organically. Depending upon available light, you can grow blueberries in a small space like a patio, or live the dream and start an orchard in your back yard. You can grow them for good looks (the fall colors add interest to containers), for the birds (they appreciate a tasty and nutritious treat, too) or your family (children and grownups alike love to pick ripe berries off the branches). Learn all about growing blueberries.
In season, gather fresh blueberries and strawberries and make a berry delicious breakfast bowl with steel cut oats, Greek yogurt and homemade granola. Strawberries are fun to grow, too. Read how to grow strawberries in your garden.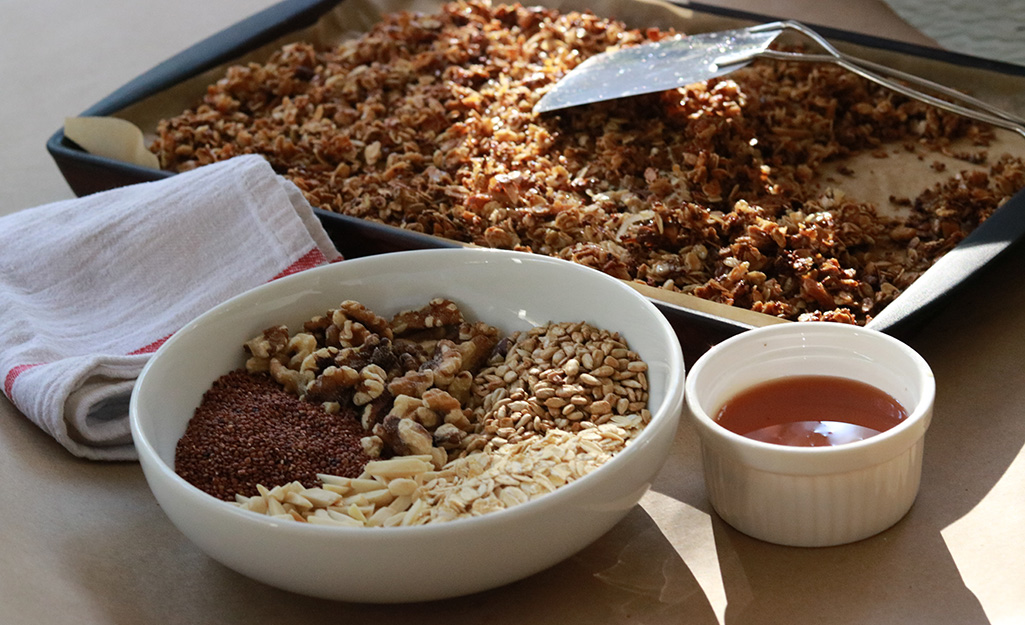 Make this homemade granola to top your customized breakfast bowl.
This granola comes together very easily in a batter bowl with marks on the side – no dry measuring cups needed.
INGREDIENTS:
1/4 cup vegetable oil
1/4 cup maple syrup
1/4 cup honey
3 cups old-fashioned oats
1/2 cup chopped walnuts
1/4 cup unsweetened shredded coconut
1/4 cup sliced almonds
1/4 cup roasted sunflower seeds
1/4 cup quinoa
INSTRUCTIONS:
Heat oven to 325 degrees Fahrenheit. Measure oil, syrup and honey into a small saucepan and heat to a low boil; remove from heat and let cool.
In a mixing bowl, combine dry ingredients. Add oil and syrup mixture and stir in to the dry ingredients. Spread granola mixture onto a sheet pan lined with parchment paper or foil. Bake at 325 degrees Fahrenheit for 25 minutes, stirring once halfway through.
Remove from oven and let cool. If you like chunky granola, do not stir during the cooling. If you like a crumbly texture, stir several times as it cools. Keeps well in an airtight container at room temperature.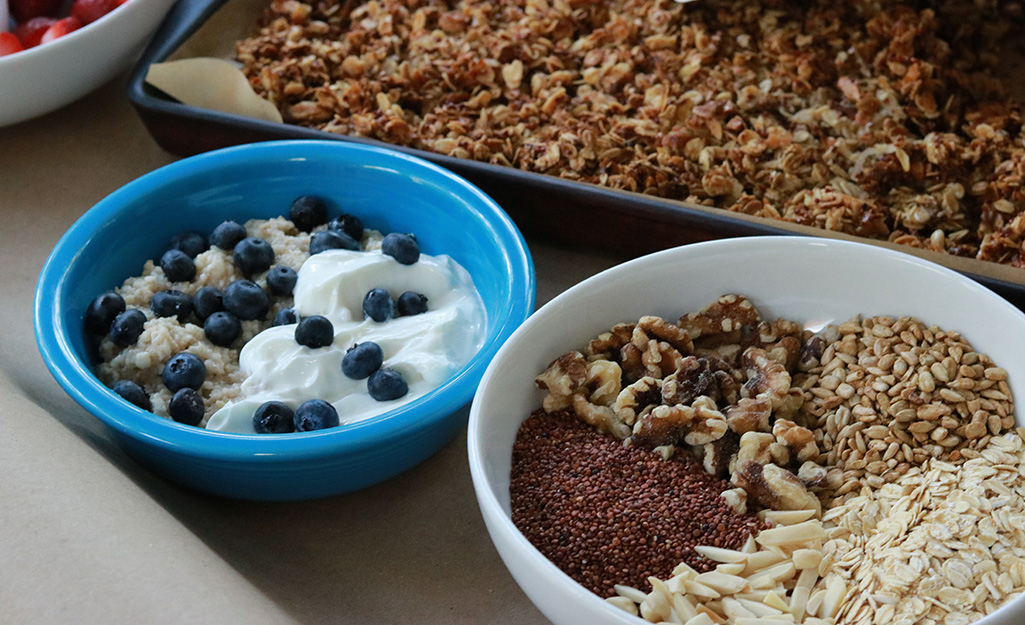 Begin each bowl with a base of cooked steel cut oats, and top with granola made with quinoa and walnuts, Greek yogurt and fresh blueberries.
INGREDIENTS:
Steel cut oats (see recipe below)
Greek yogurt
Granola (see recipe above)
Blueberries
Honey
INSTRUCTIONS:
For each portion, scoop warm steel cut oats into a bowl. Add Greek yogurt and blueberries. Garnish with granola and a drizzle of honey, if desired. Serve immediately.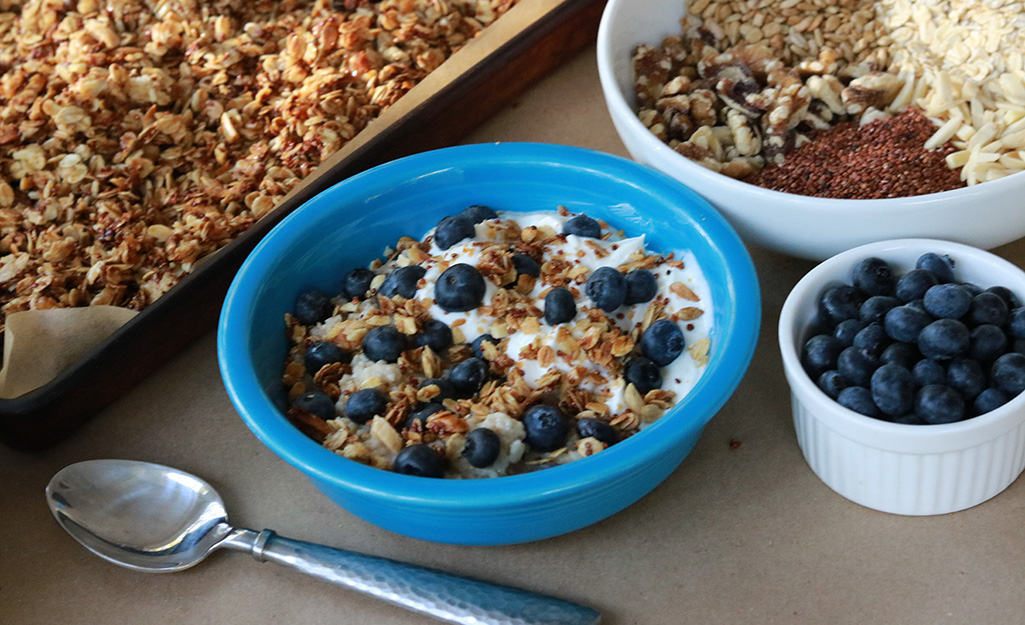 Yield: 4 servings
Steel cut oats can be prepared ahead of time, say on the weekend, when you have extra time to cook. Scoop cooked oatmeal into containers, label and heat in the microwave as needed during the week. Prepare steel cut oats according to package directions for stovetop. They're a natural for preparing in an electric pressure cooker, no stirring, no threats of over-boiling. It's hands-off cooking.
One cup of oats will yield four servings. The recipe can be doubled, just be sure to check the capacity for your pressure cooker. For depth of flavor, and a little extra non-stickiness, toast the oats first with butter.
INGREDIENTS:
1 tablespoon butter
1 cup steel cut oats
3 1/4 cups water
1/4 teaspoon salt
1 tablespoon brown sugar
INSTRUCTIONS:
Use the saute function to melt the butter. Pour in the oats and stir for a couple of minutes, until the oats have deepened in color and smell toasty.
Pour in the water and stir in salt and brown sugar. Seal pressure cooker and cook on High pressure for 10 minutes. Use natural release, or manual release after a 10 minute wait. Serve with the blueberry breakfast bowl ingredients above. Store all leftovers in a sealed container in the refrigerator for up to a week.