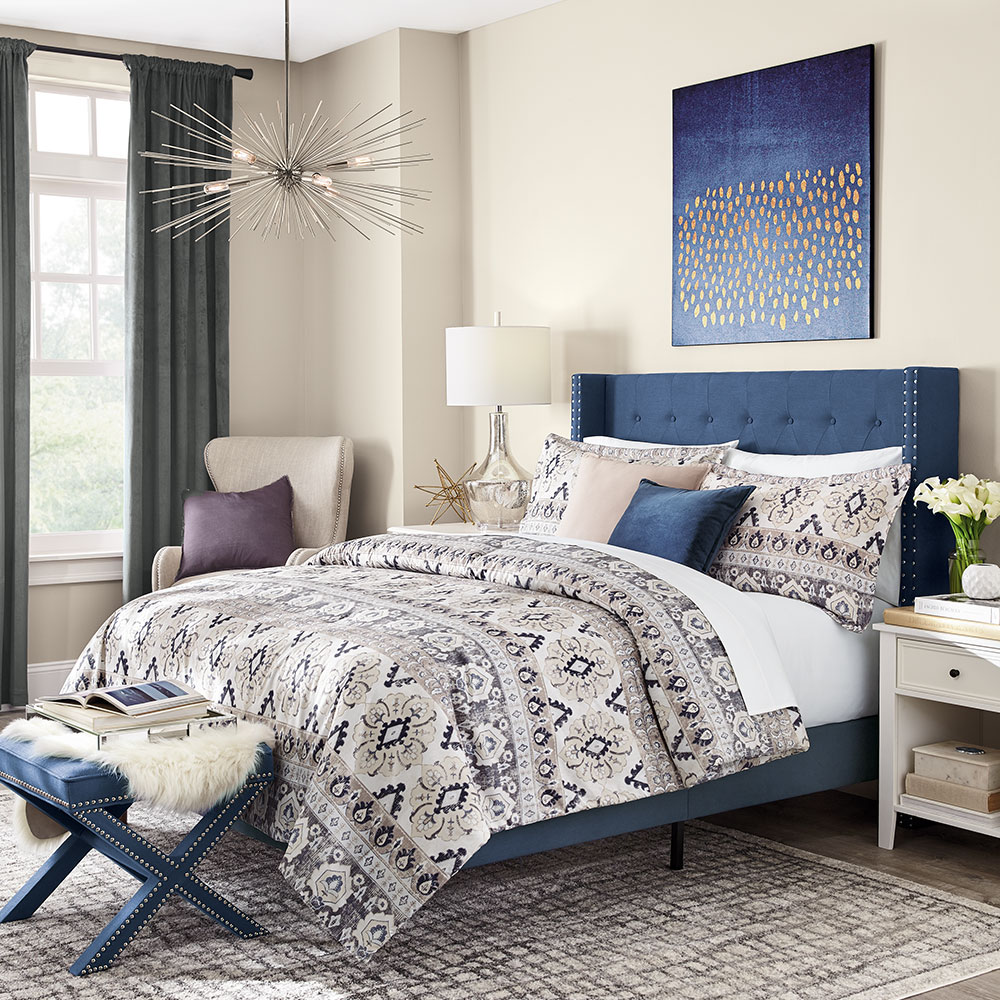 One of the most popular colors for home decor, blue is extremely versatile, making it perfect for bedrooms. Serene and calming. Bright and bold. Blue has the ability to completely transform your room into a sleepy sanctuary or an inspiring escape. This guide will highlight a few blue bedroom ideas to help you update your space. 
Start with the Walls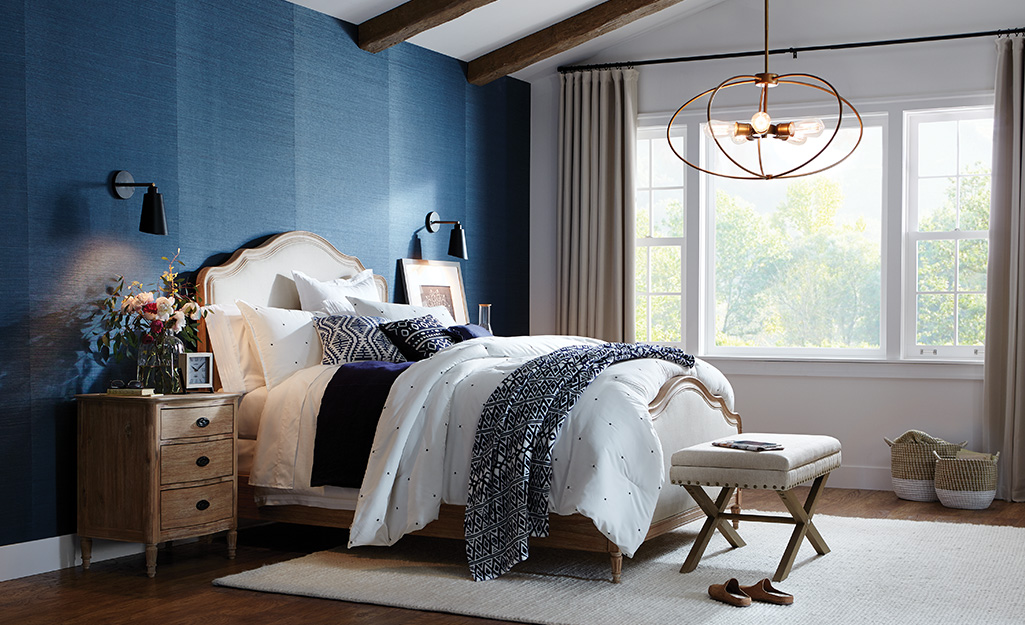 When it comes to blue bedroom ideas, working from the walls out is a great starting point because bedrooms with blue walls tend to give off a calming vibe. 
With so many shades of blue paint available, it's important to decide if you want a truly zen feel in your room or if you're more of a trendsetting type who would love a pop of teal or cobalt. 
When decorating with blue walls, a fresh coat of deeper hued paint can transform a stark white space into a navy blue bedroom that is perfect for relaxing at the end of the day. 
Whether patterned or solid, blue wallpaper can dress up a bedroom. A floral print will bring traditional class while a busy pattern can update the space with more of a bold, modern look. 
Choose wall decor that breathes all the calmness of blue into your room. Mirrors are also a great way to make a space look larger, and to reflect all the blue bedroom decor you've chosen, for a true blue look. 
Surround yourself with this soothing shade by painting the ceiling. 
Incorporate Complementary Colors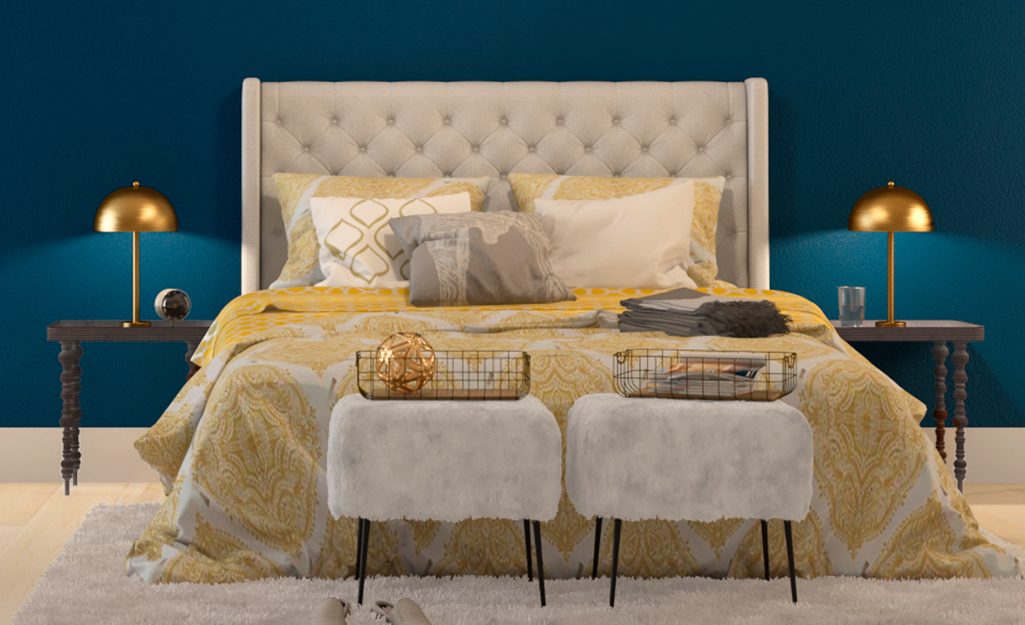 Because blue is so agreeable, there are many colors that pair perfectly with it. 
Once you've chosen the base shade for your blue bedroom, it's time to decide what your accent colors will be. 
Create an ombre effect by mixing various shades of blue bedroom decor together or add in a true accent color like gold, yellow or red. 
Update the Headboard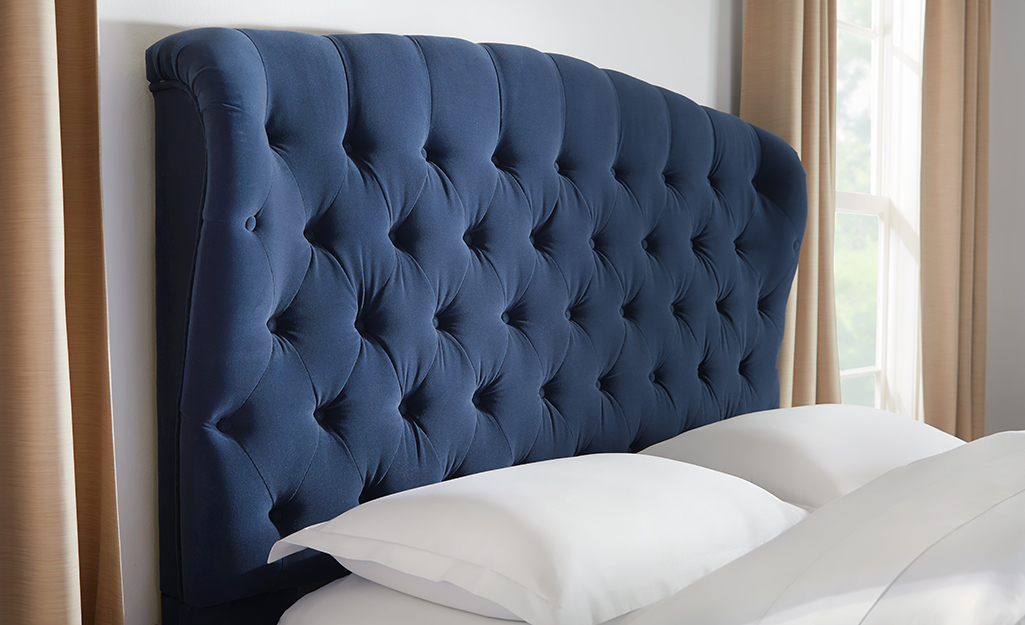 Even if the rest of your room is a crisp shade of white, or a variety of calming neutrals, a blue headboard can add a stylish focal point. Not only will it add a stately silhouette to your basic bedframe, but it will add an instant pop of color. 
For a more traditional look, try a tufted style. In a kid's room, a metal headboard in a bright shade of blue will add a touch of fun. 
Be Bold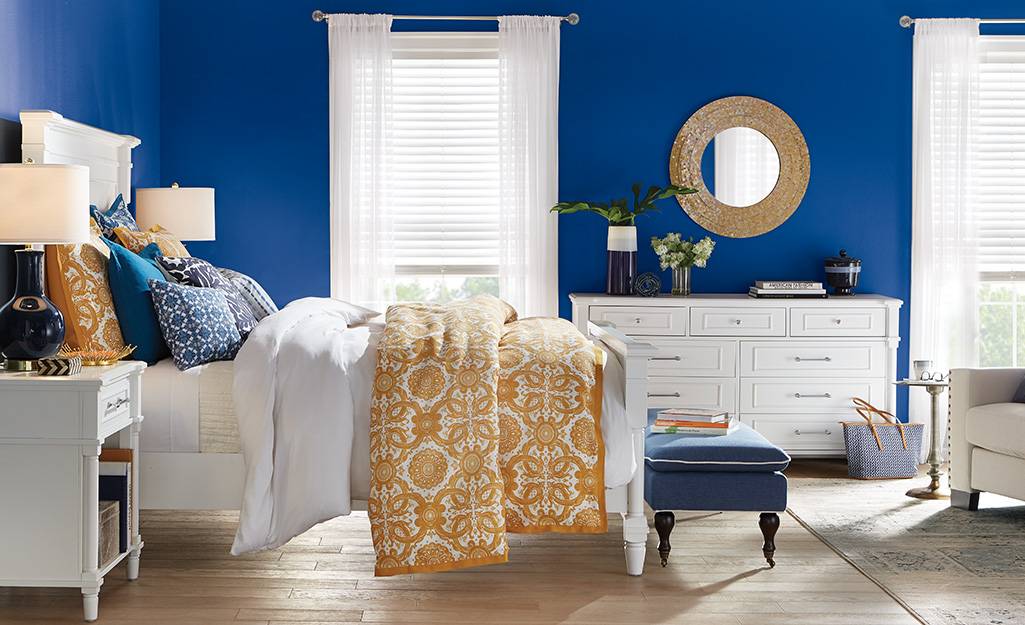 For every person that loves a softer shade of blue, there is one more home owner that can't get enough of all things bold. 
Why not try out teal? Even on a small scale, painting a wall in a kid's room or mixing in tropical shades like coral and yellow are some easy teal bedroom ideas you can pull off. 
For a true burst of blue, choose a contemporary shade of cobalt that lends itself to French Country style. When paired with the right wallpaper and home accents, a bold blue bedroom is a luxe decor choice. 
Go Zen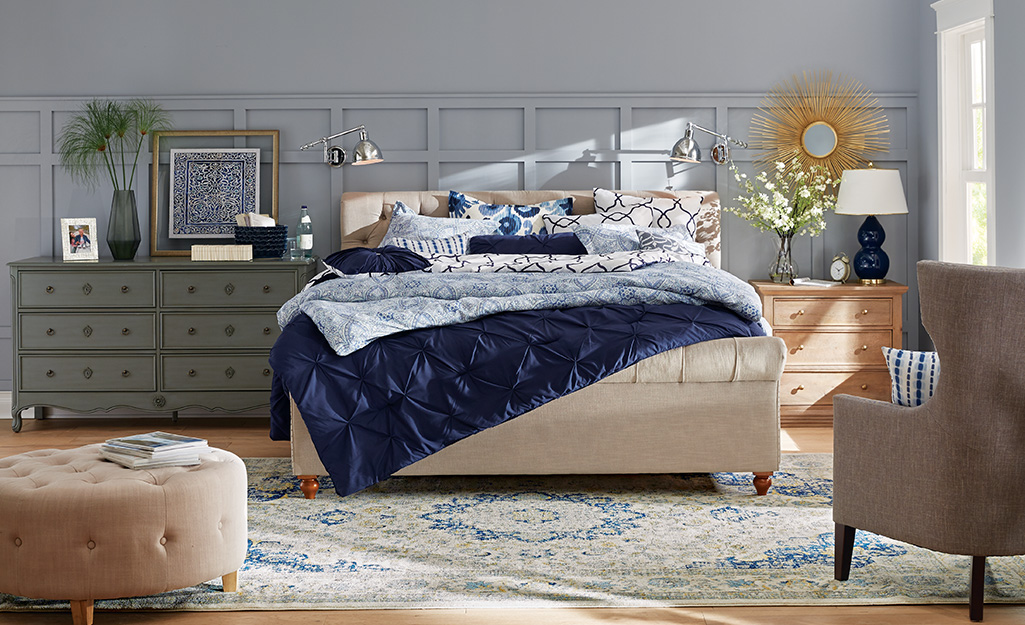 Looking to turn your bedroom into a spa-like getaway? Certain shades of blue can do the trick in just a few ways. 
Blue and grey bedrooms set a zen-like scene because of their quiet, unassuming color palette. Try painting the walls a shade of grey-toned blue and include fixtures in chrome to finish off the look. 
A dark blue bedroom with grey accents, throws and black and white art provides a more modern take while still maintaining a relaxed style. 
Pairing green with lighter shades of blue is also a great way to create calmness in your bedroom. 
Pile on the Blue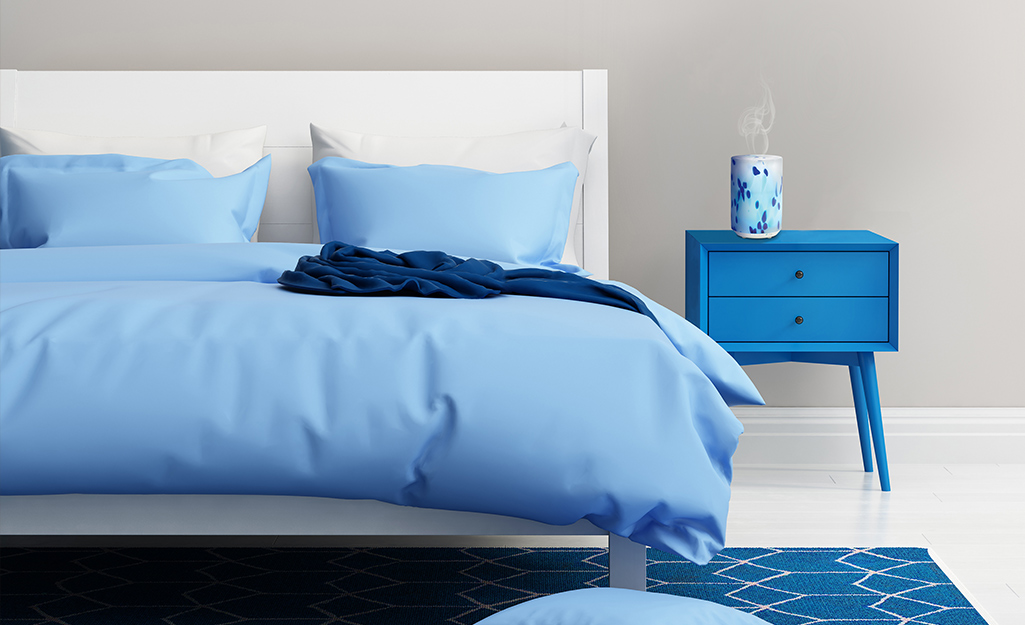 From the bedding to the area rugs, a room saturated in a monochromatic theme of blue is the epitome of welcoming, especially at the end of a long day. While deep shades of navy will add drama, shades of sky blue balance out the space with lightness. 
Pair a  richly colored blue headboard with pale blue bedding for a restful place to rest your head. 
Go all out with walls, bedding and area rugs that incorporate shades of sea blue or embrace the romantic moodiness of an all grey-blue room. 
Keep It Classic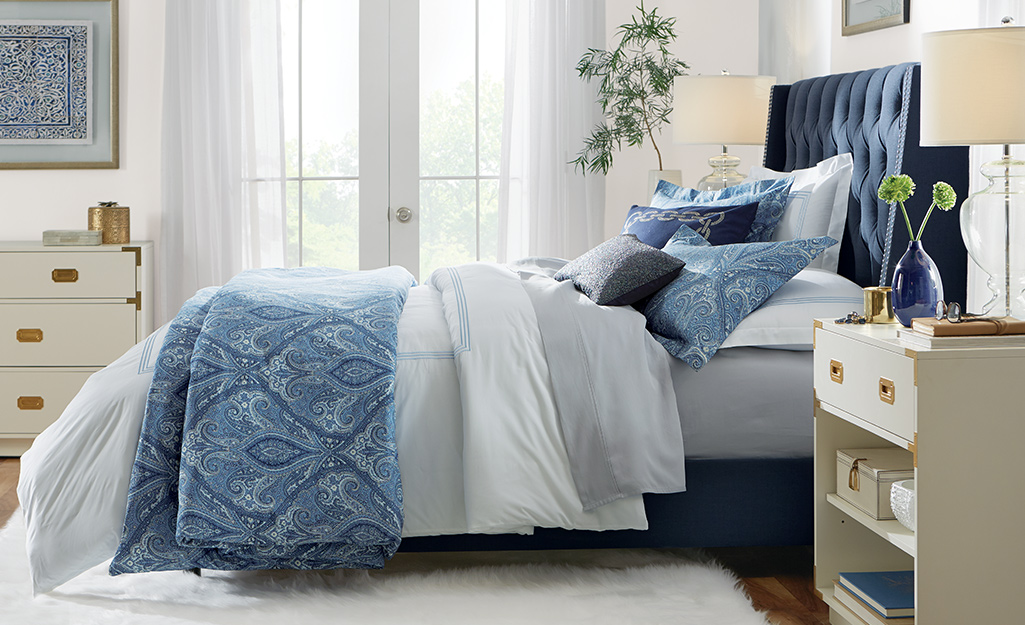 The chosen color combination for a lot of beach houses, blue and white bedrooms are a classic choice. 
While a brighter shade of blue, such as cobalt or royal blue, will bring more of a tropical style to your room, softer shades of blue will evoke the feeling of sleeping in a seaside town. 
Whether you go full nautical with home accents and other decor, or you want to keep it simple with crisp white bedding and walls painted in blue, this color combination is a timeless one. 
Explore More on homedepot.com