Boho decor ideas often start with creative paint colors. This decorating style is informal, welcoming and eclectic. Choose any colors, like browns and greens, and layer textiles or add accessories in rich purples, reds and blues. 
Boho decor uses furnishings and collectibles from around the world. Because it doesn't follow traditional rules, Bohemian decorating is easy and fun.
Boho Decor Ideas for Lighting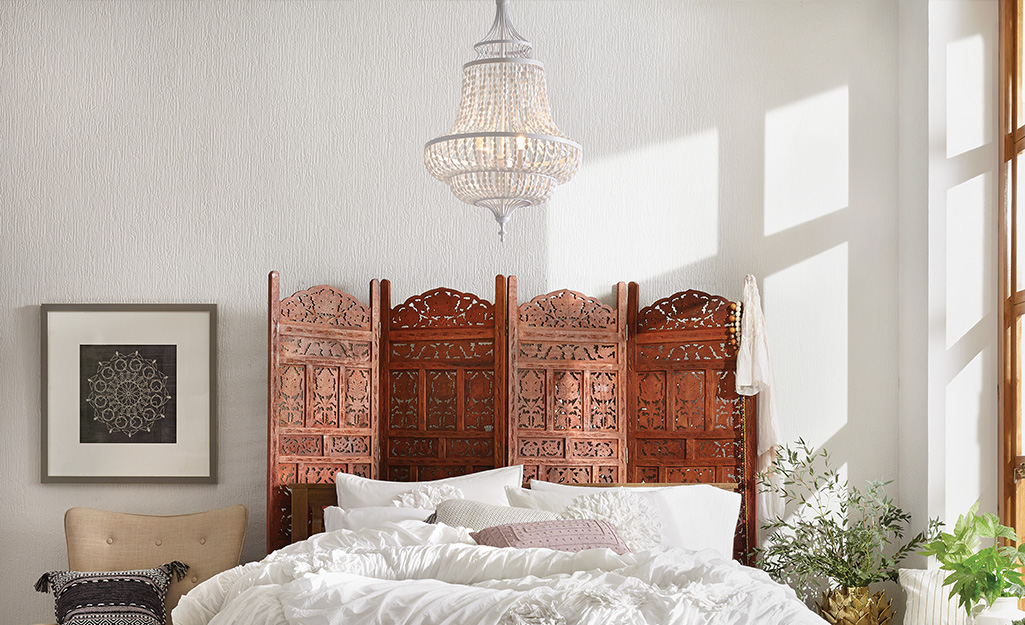 Instead of only overhead lighting, Boho style uses floor and table lamps, candles and lanterns for ambience. Try bead-draped chandeliers, filagreed lamps, metallic shades, lampshades with tassels or fringe, stained glass lamps in bright colors or Moroccan-style lamps. String small white lights over a bed, in the corner of a room or in the trees around an outdoor Boho space.
Plants in Bohemian Decor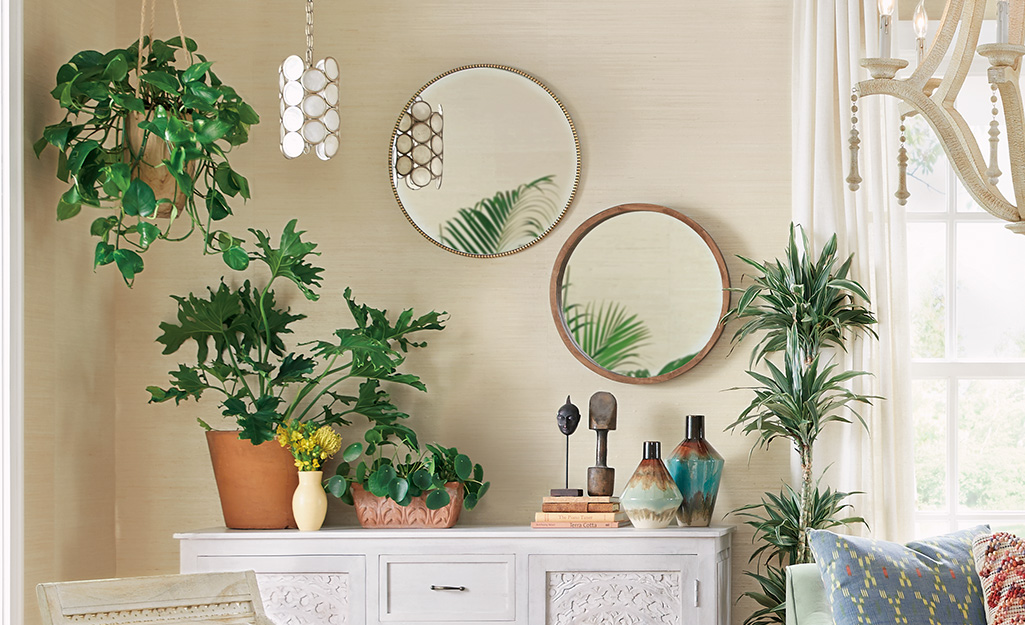 When you're looking for Boho decor ideas, don't forget houseplants. Ferns, pothos, spider plants and ivies are a good choice, along with assorted succulents like aloes and burro's tail. Use macramé hangers for trailing plants or place them on top of bookcases or armoires. Peace lilies, snake plants and dracaenas work well in corners that don't get a lot of light.
Boho Decor with Textiles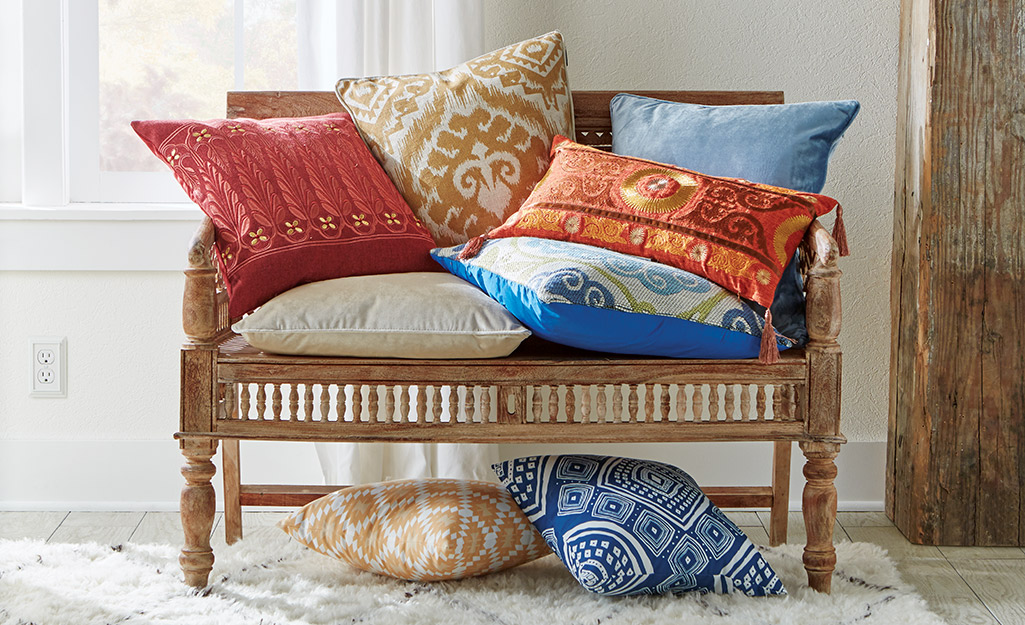 For Boho-chic style, layer a bed, chair or sofas with blankets, throws, scarves or shawls in different colors and textures, and add a variety of colorful patterned or textured throw pillows. Use a fringed throw with a ruffled bedspread or top it with a vintage blanket. Go Boho in a kitchen with a print tablecloth and napkins in exotic or ethnic patterns. 
Boho Furniture Ideas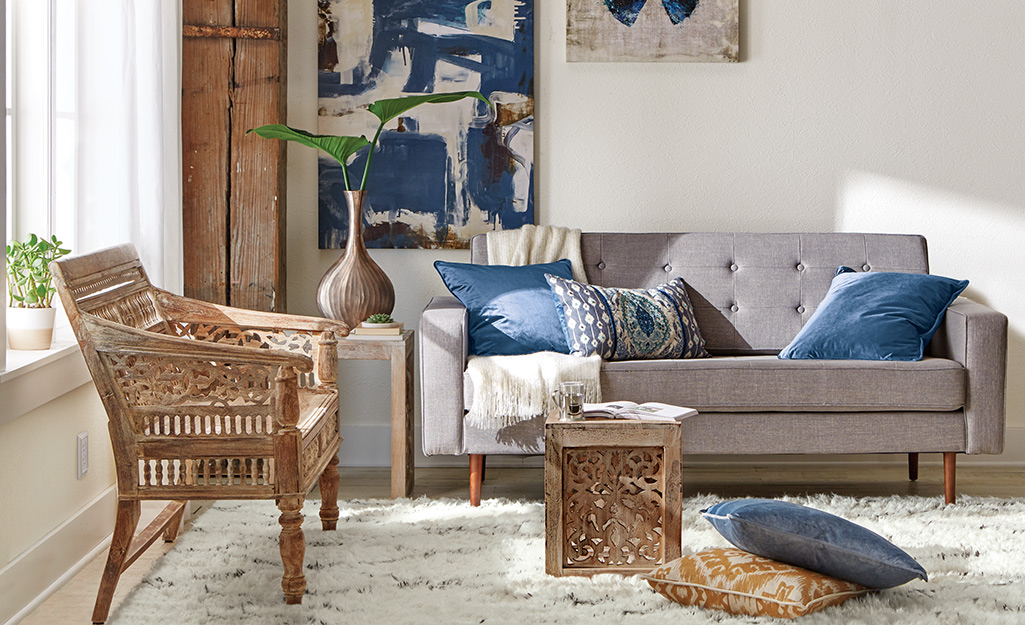 Vintage furniture adds casual style to Bohemian home decor. If you're buying new furniture, look for pieces made from rattan, bamboo, wood or reclaimed materials. Try a ceramic garden stool in an outdoor space or bring it inside for a side table. Opt for a round end table with an antique gold finish, a room divider with paper panels or a wicker chair. Distress a dresser or chest and paint it electric blue or bright yellow. Add a multi-colored pouf, an ottoman covered in a bulky knit weave or a trunk made with exotic inlays. 
Wall Art as Boho Decor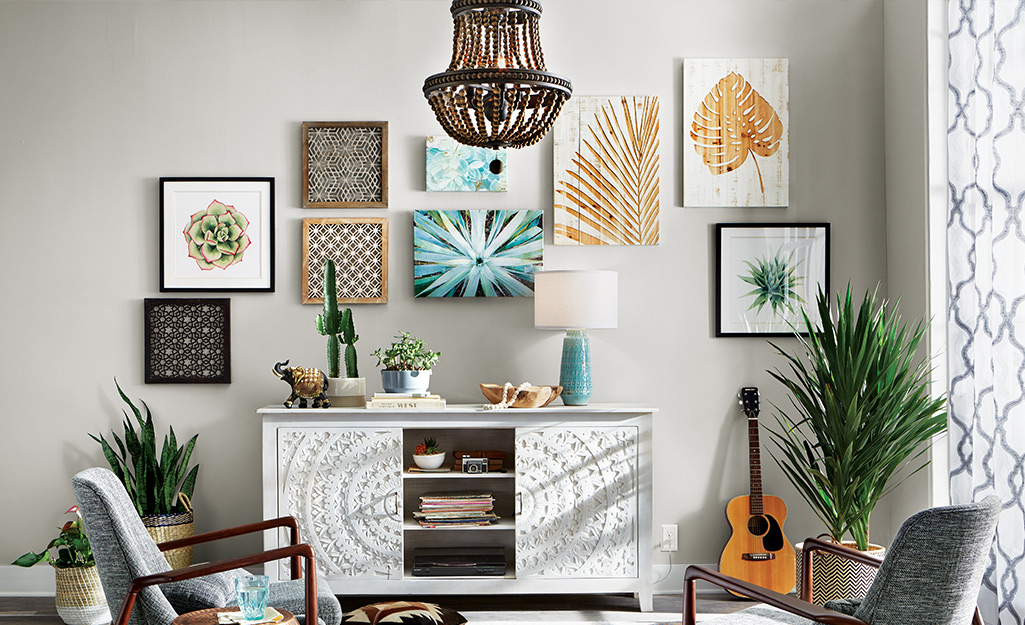 Choose wall art like prints and canvases or hang rugs in bright colors. Look for framed florals, geometric designs and Moroccan-inspired art. You can also hang garlands of oversized tassels or mount a tapestry. Consider sculptural art designed to look like a big palm leaf or wood or ceramic decorative tiles. Hang faux antlers, Boho jewelry, weavings or even interesting branches from your yard.
Decorating with Bohemian Accessories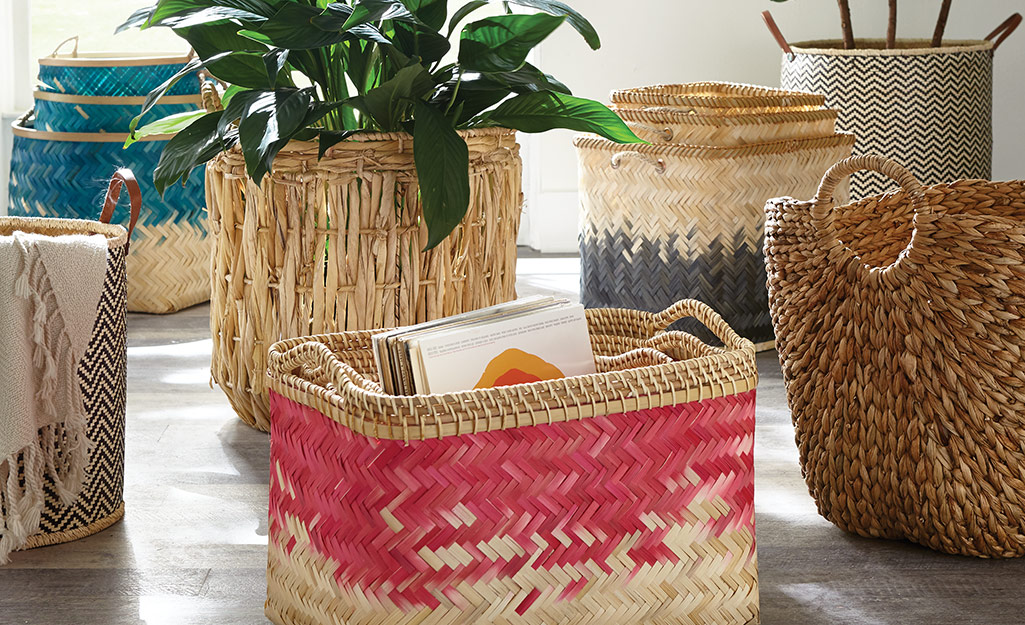 There's no wrong way to decorate with Bohemian accessories. Put a swinging chair on your boho style patio or a decorative basket in the corner of your boho living room. Look for Moroccan-style stools, tasseled pillows and earthenware planters. Place collectibles from other cultures and favorite yard sale finds around a room. Go for ethnic touches and a look that feels authentic and collected, rather than out-of-the-box. 
Minimalistic Boho Decor Ideas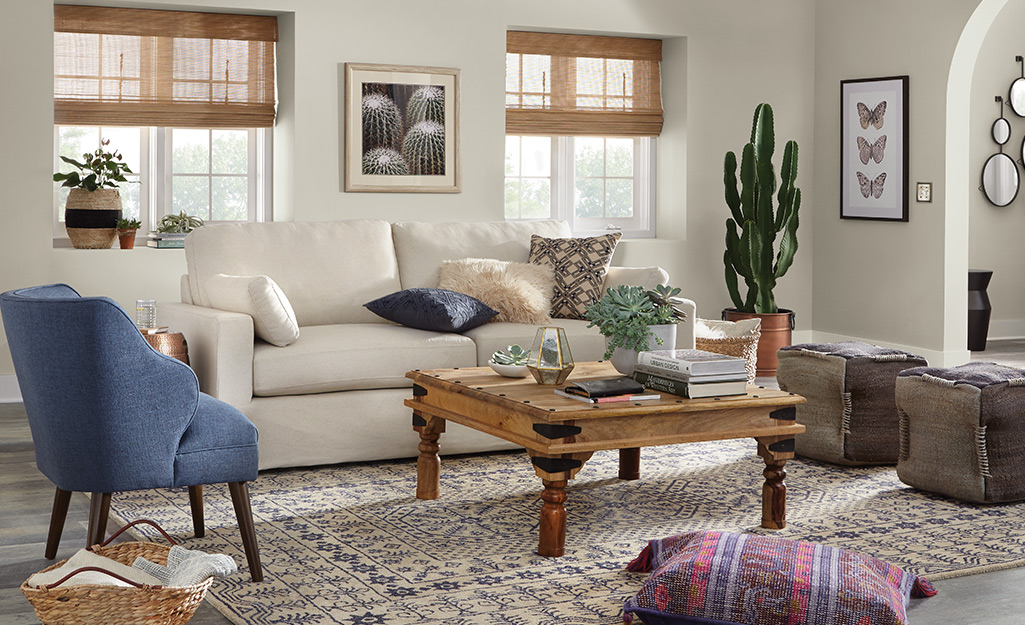 Not all Boho decor ideas are about bright colors and accessories. Go minimalistic with neutral shades of ivory, pale gray, cream and white, adding a few pops of color with sparkling geode bookends, green plants or ceramic table lamps. Keep wall art to a minimum, so the space feels open and calming. Materials and textures can still be layered, but in basic, versatile colors. Choose modern or contemporary-style wood furniture and natural accessories. Try an essential oil aroma diffuser or some gold-toned figurines on bookshelves, end tables and dressers.
Rugs for Bohemian Decor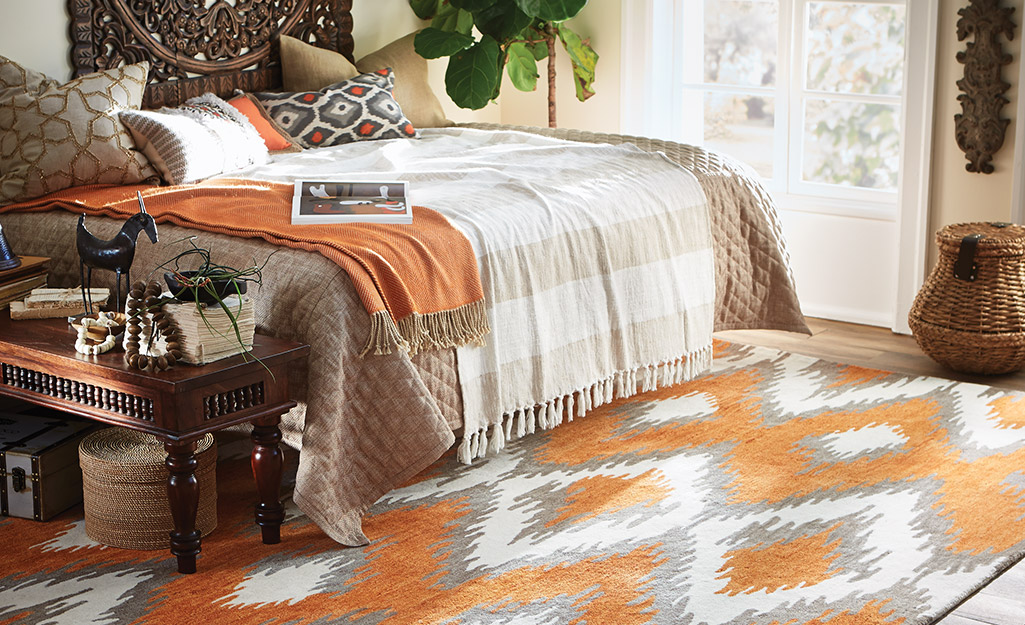 Vintage rugs, faux animal skin rugs and even outdoor rugs can work beautifully as Bohemian home decor. Boho style area rugs come in neutrals and bright colors in many styles, including abstract, geometric and multi-cultural designs. Light colors will make a space feel bigger, while darker ones create a more intimate feel. 
Choose a medallion-style rug to make it the focal point in your Boho decor or use one with subtle patterns and colors if the room already has a focal point. Chic Boho style often uses medium or long-pile rugs for a thick, plush feel.
Ceiling Boho Decor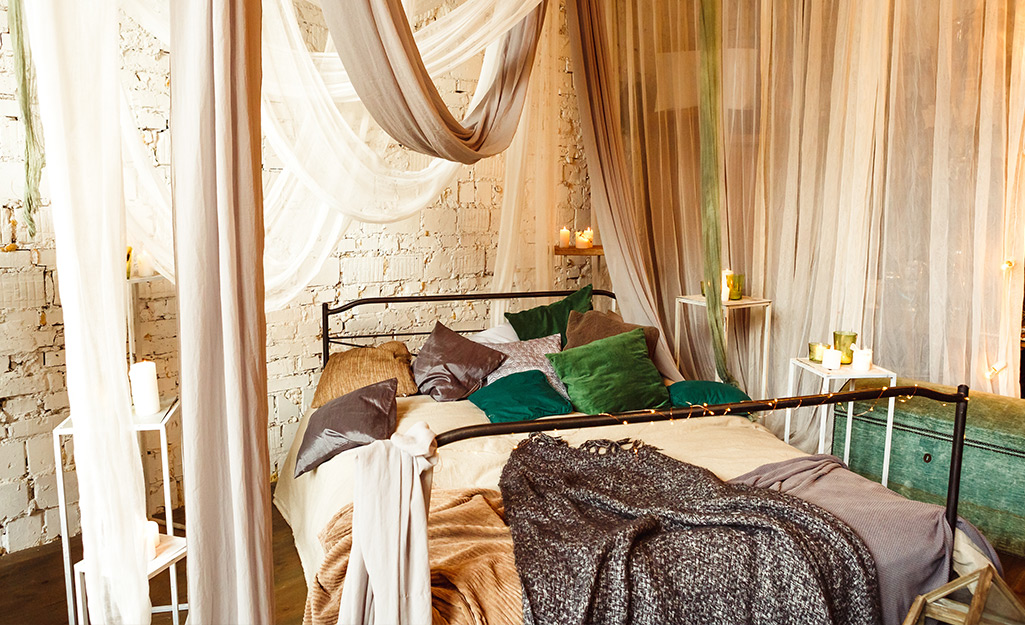 Boho decor ideas can go all the way up to the ceiling. Paint stripes overhead, install decorative, tin-style ceiling tiles or let a lantern with cut-outs on a metallic shade cast an ornate pattern on the ceiling. If you have a high ceiling or windows, hang lightweight, Boho-inspired textiles and let them drape gracefully. Outdoors, hang lengths of Boho-style outdoor fabric over an arbor to filter the sunlight. 
Boho Decor Ideas for Bedrooms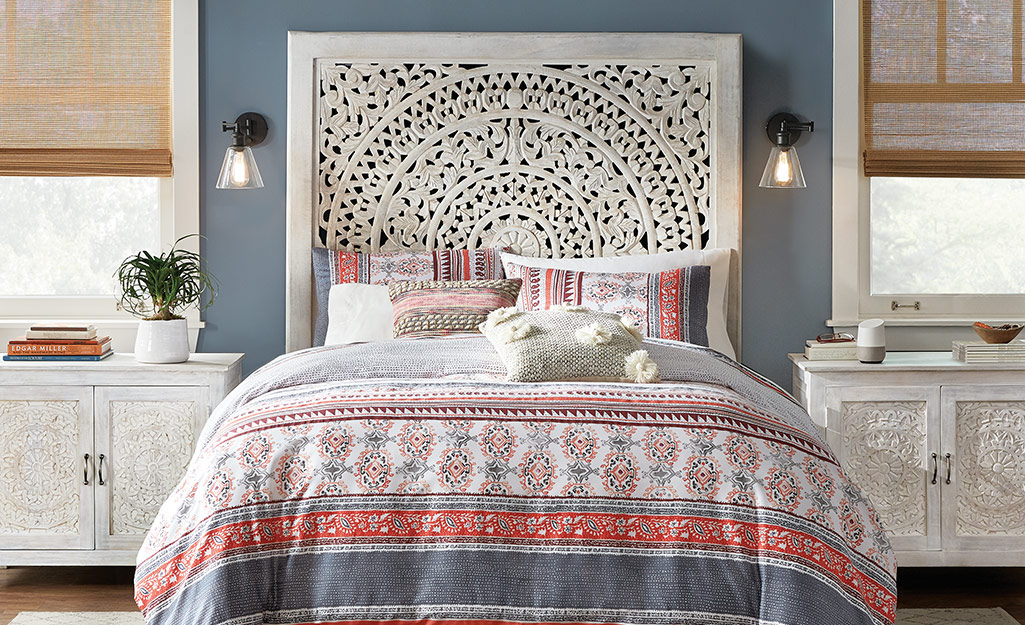 No headboard? Use a Boho-type blanket, weaving or other textile piece behind the bed, or try adding a handcarved headboard. Install a ceiling fan with blades shaped like large, tropical leaves, paint an accent wall or style a gallery wall with framed photos and prints in different sizes. Add a mirror in a gold-finish or bamboo frame to match other gold or bamboo accents and accessories in the room.
Explore More on homedepot.com