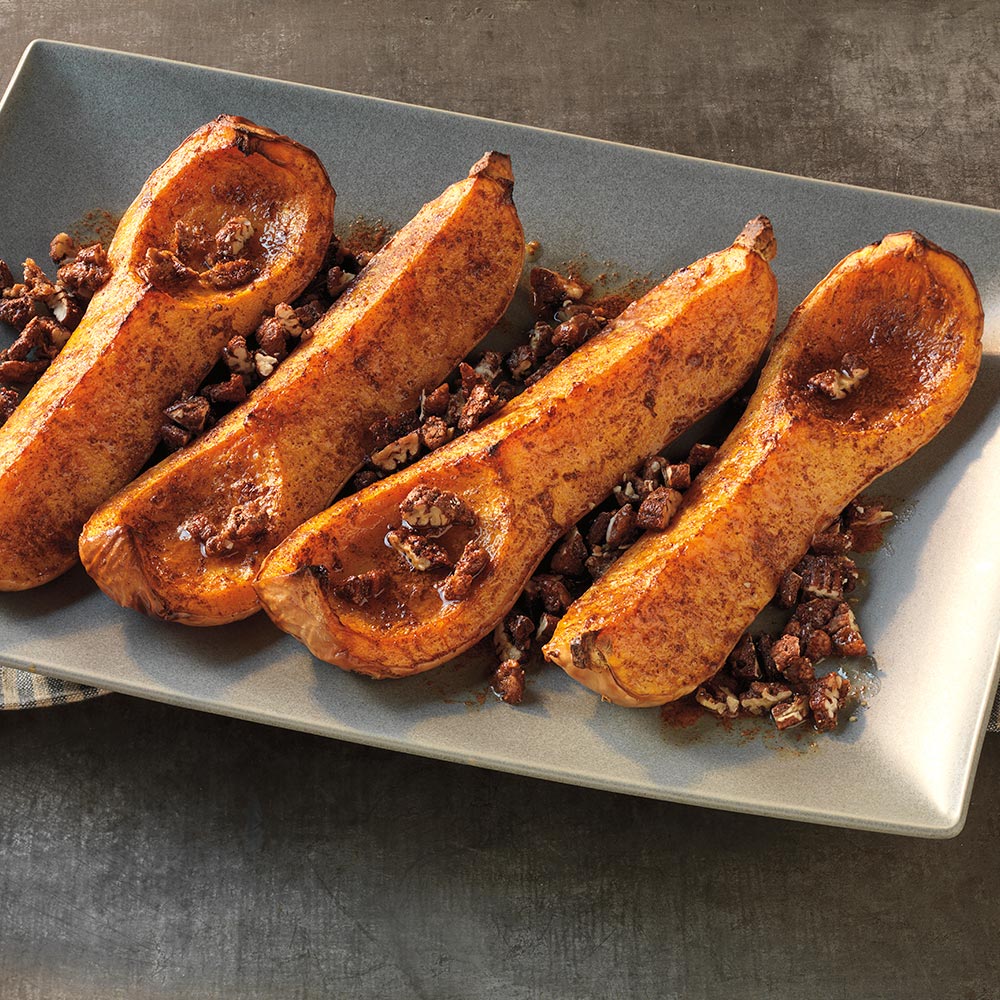 Grill butternut squash for a tasty twist on a fall favorite. Topping the caramelized grilled squash with candied pecans (walnuts can be used, too) makes this a dish worthy of your Thanksgiving table.
Butternut Squash With Candied Pecans Recipe
Yield: 4-6 servings
Cook time: 1 hour
Prep time: 45 minutes, includes heating the grill
INGREDIENTS:
1 large egg white
¾ cup pecan halves
2 tablespoons packed light brown sugar
¾ teaspoon ground cinnamon, divided
Kosher salt
⅛ teaspoon ground cloves
¼ cup (½ stick) plus 2 tablespoons unsalted butter, melted
¼ teaspoon ground cayenne pepper
1 butternut squash, about 2 pounds, cut lengthwise into quarters, seeds removed
INSTRUCTIONS:
Preheat the oven to 325 degrees Fahrenheit. Line a sheet pan with parchment paper.
In a large bowl, whisk the egg white until frothy. Add the pecans and stir to coat. Add the brown sugar, ¼ teaspoon of the cinnamon, ¼ teaspoon salt and the cloves. Stir until evenly distributed among the nuts. Spread the nuts in a single layer on the prepared pan and bake until toasted and caramelized, for 18 to 20 minutes, stirring several times. Once cool enough to handle, coarsely chop the pecans and set aside.
Prepare the grill for indirect cooking over medium heat (350 to 450 degrees Fahrenheit).
In a small bowl, combine the butter, the remaining ½ teaspoon of cinnamon, ¼ teaspoon salt and the cayenne pepper. Place the squash, cut side up, on the grill and brush generously with the butter mixture, reserving the rest for basting and serving. Grill over indirect medium heat, with the lid closed, until very tender, for 50 minutes to 1 hour, basting occasionally. Remove from the grill and drizzle with the remaining butter mixture. Top with candied pecans and a final sprinkling of salt, if desired. Serve warm.
  Recipe and photograph presented by Weber Grills.