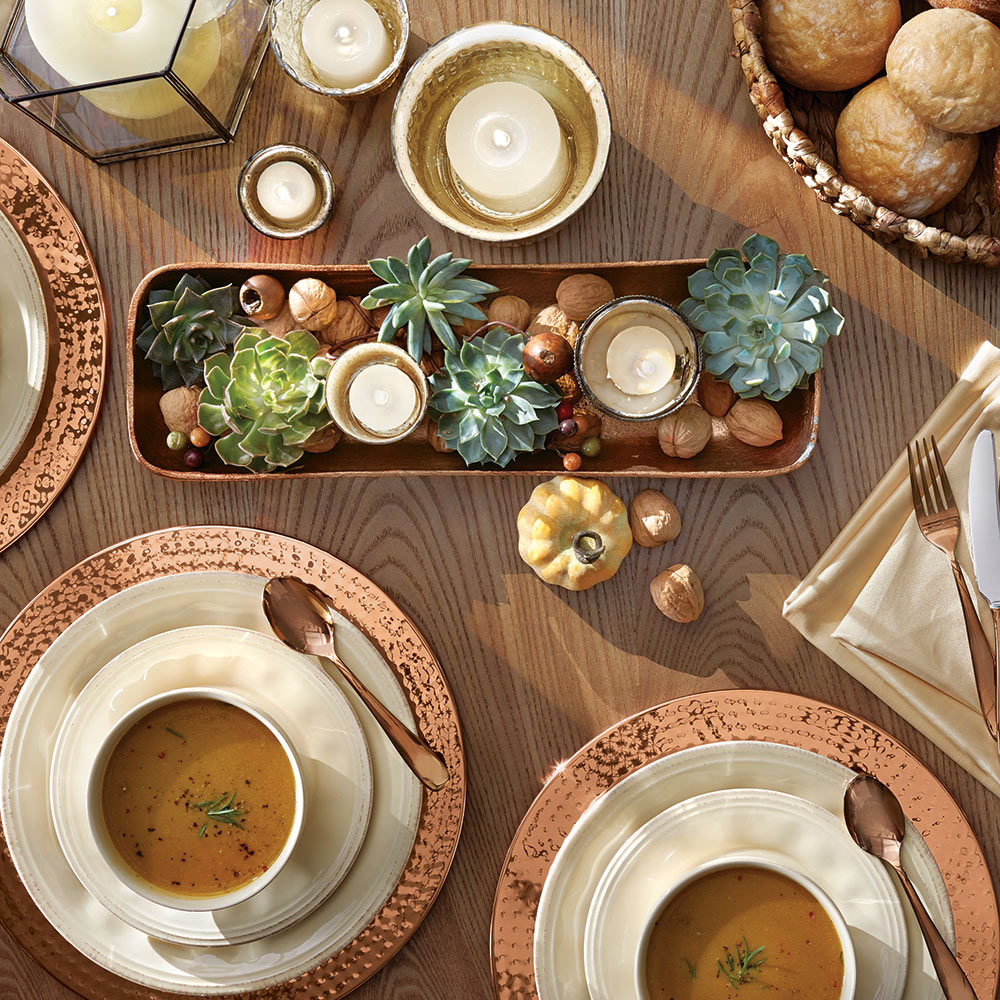 A centerpiece adds depth and interest to the entire tablescape. Gather some inspiration from these centerpiece ideas for any occasion or season.
Centerpieces for Parties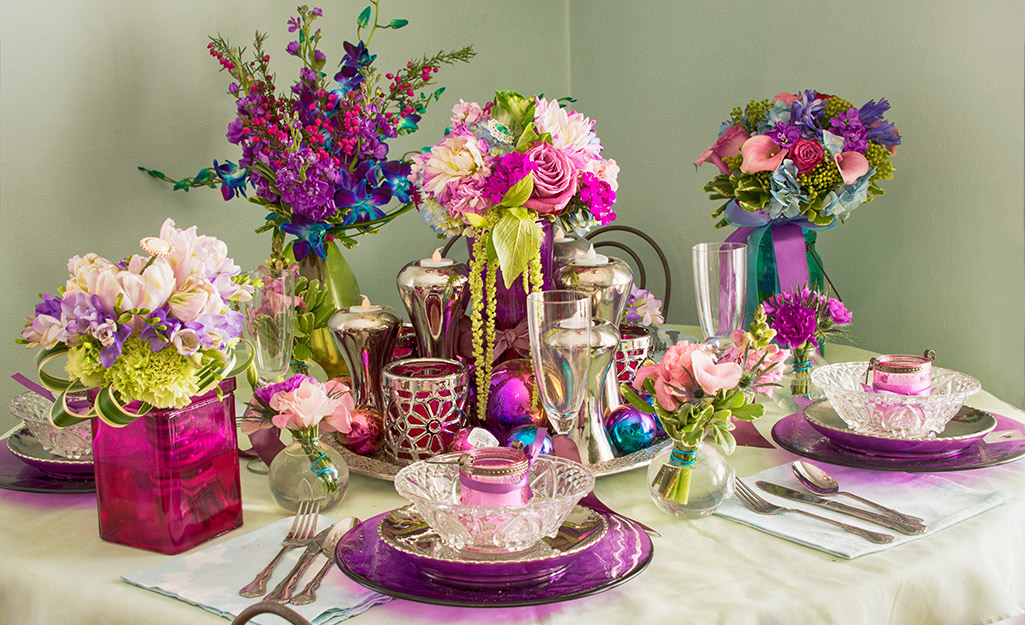 A centerpiece is perfect for any party – birthday, graduation, anniversary or dinner. To keep your prep time and stress levels minimal, skip the complicated floral arrangement. Instead, keep the centerpieces simple. Here are some centerpieces for parties to dress up your table.
Rustic and Charming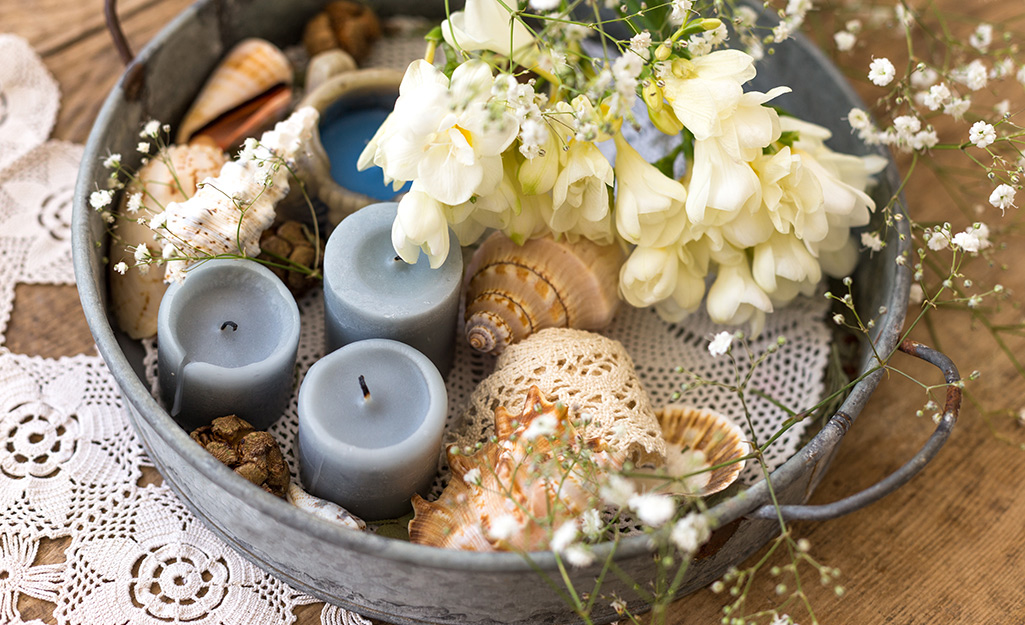 Create a beautiful centerpiece by using what you already have. Arrange a shallow pan with votives, shells from your last beach vacation and top it off with fresh cut flowers from the garden. This centerpiece is easy, inexpensive and full of charm. You can use a similar arrangement for family reunion centerpieces.
Potted Succulents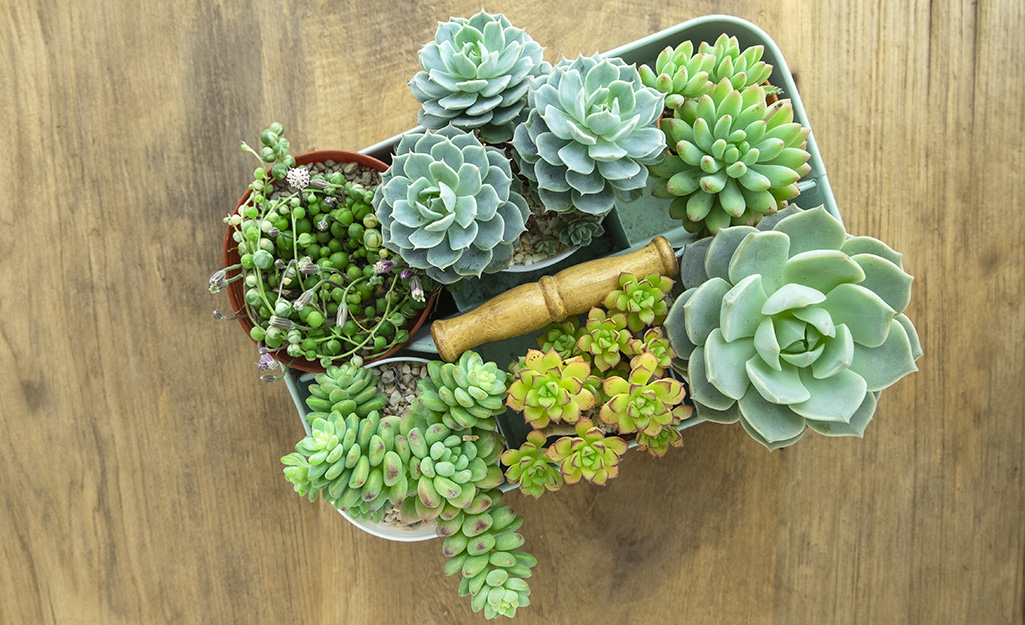 Succulents always look great front and center. Place potted succulents in a galvanized tray. Use various shades and textures of succulents to create a strong visual impact. 
Upcycled Wine Bottles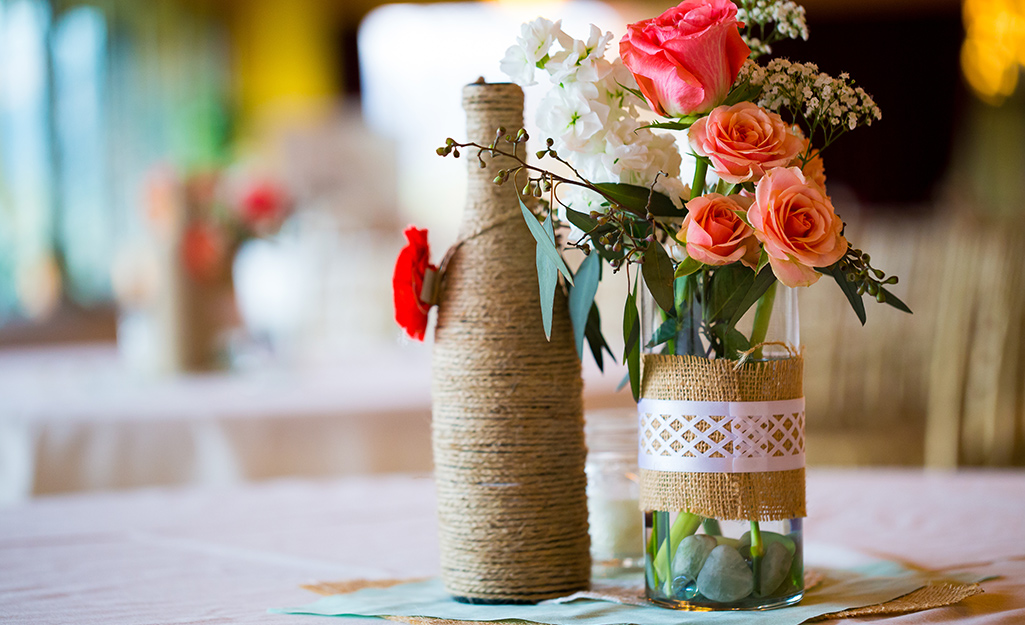 Go with tall centerpieces when you want to create a focal point on your table. A quick and easy centerpiece idea is to reuse empty wine bottles as vases. Wrap the bottles with rope or burlap for added texture. Pop fragrant garden roses into each bottle.
Leafy Elegance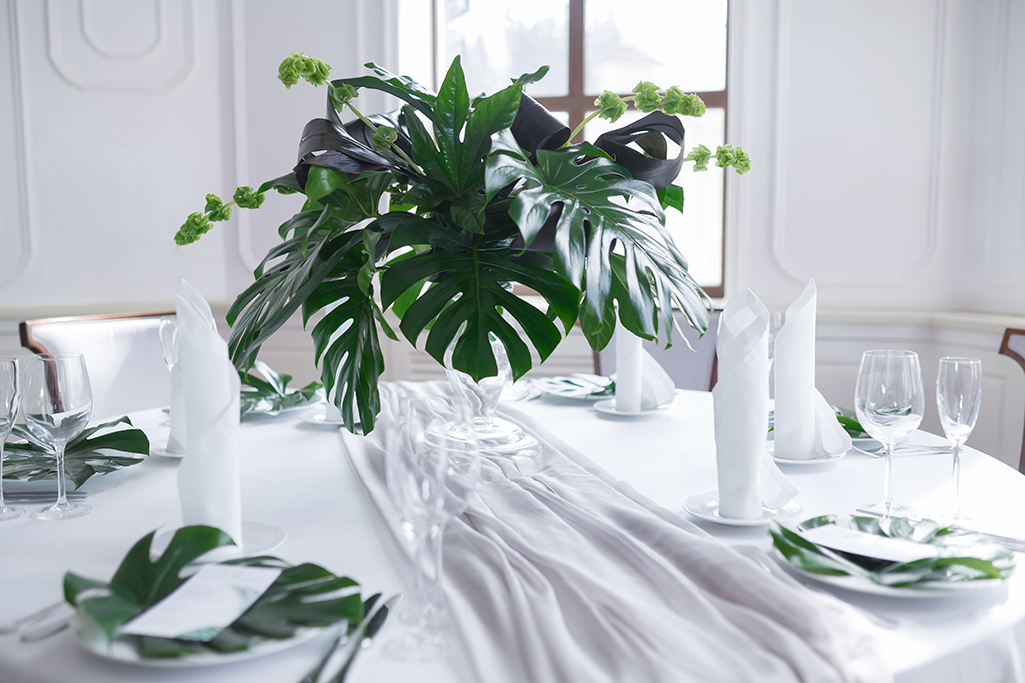 Who says that only flowers go into arrangements? For a modern, airy centerpiece, use large leaves. Palms are inexpensive and elegant, and you don't need many to create a stunning arrangement.
Feathers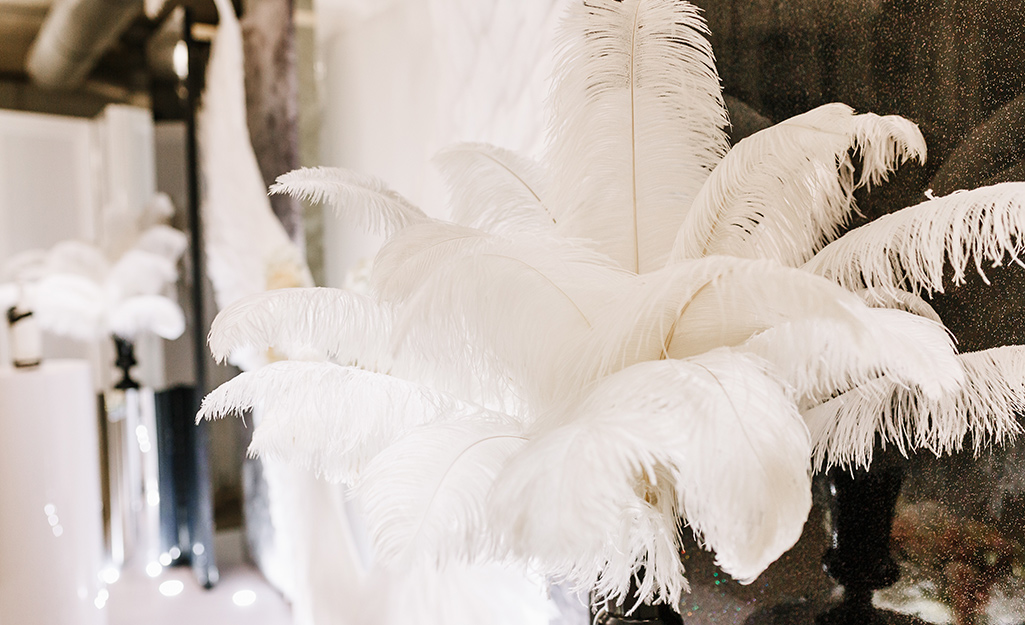 If you are looking for an unusual centerpiece, trade the flowers and foliage for feathers. Large faux ostrich feathers add bold style to your table. 
Edible Centerpieces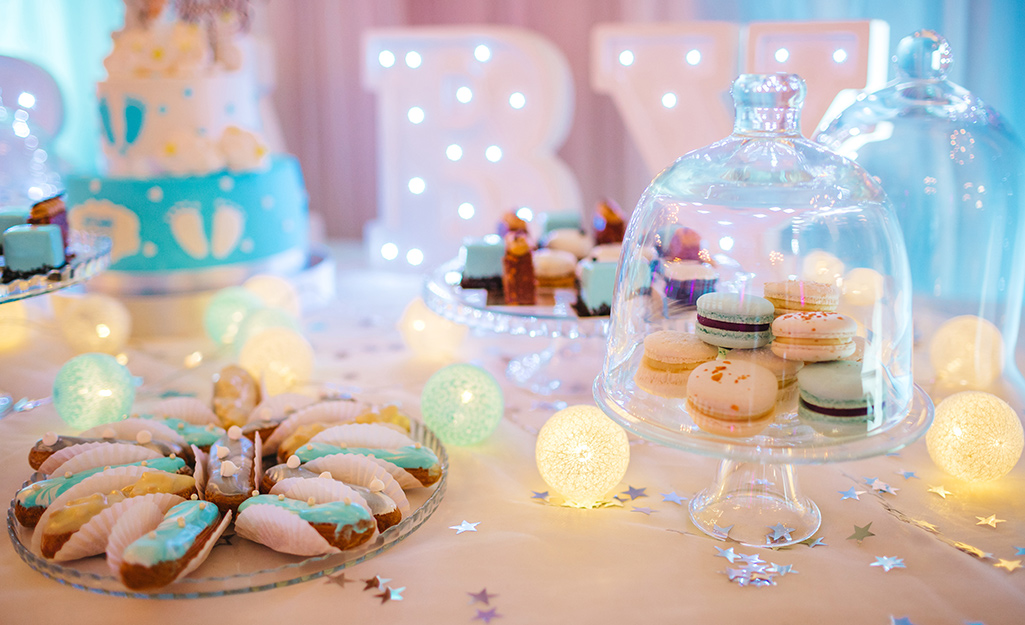 Using food to decorate your tablescape is practical and fun, especially for birthday parties and baby showers. The best centerpiece ideas for a baby shower should include colorful cookies, cakes or pastries and tableware. Displaying treats on diferent levels using cake stands and plates creates a table of interest.
Winter Centerpiece Ideas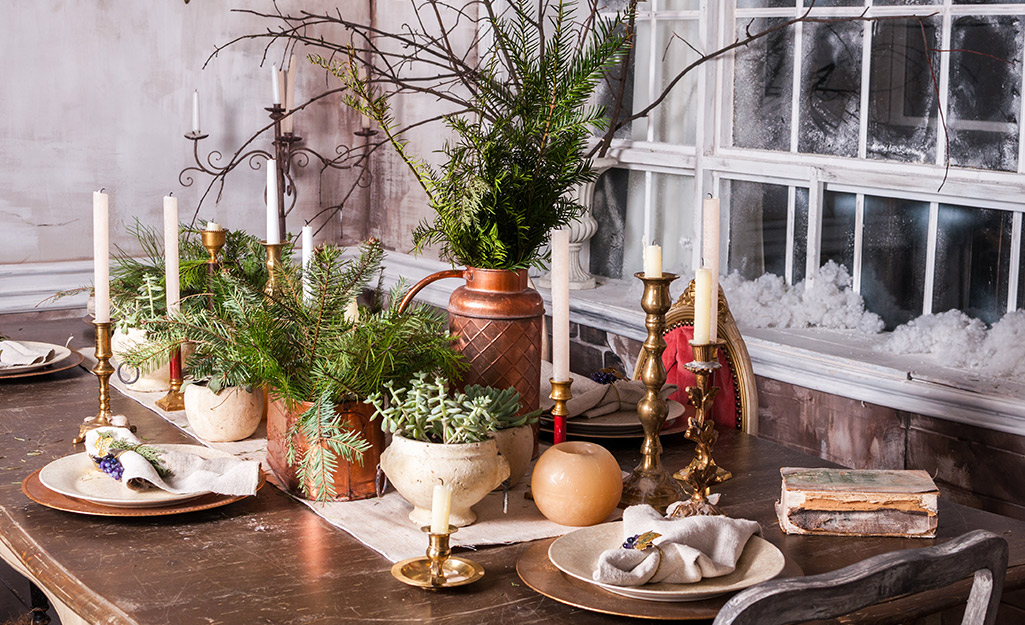 With the arrival of winter, most decor themes are geared towards the holidays. Fresh evergreen boughs, branches and pinecones are all lovely winter centerpiece ideas. Need some inspiration for Christmas centerpiece ideas? One Christmas centerpiece idea is to transform your everyday winter arrangements into holiday centerpieces. Pop in ornaments, holiday artificial flowers and candles, then once the holidays are over, take out the Christmas ornaments to reuse your centerpiece for the rest of the winter.
Glass and Branches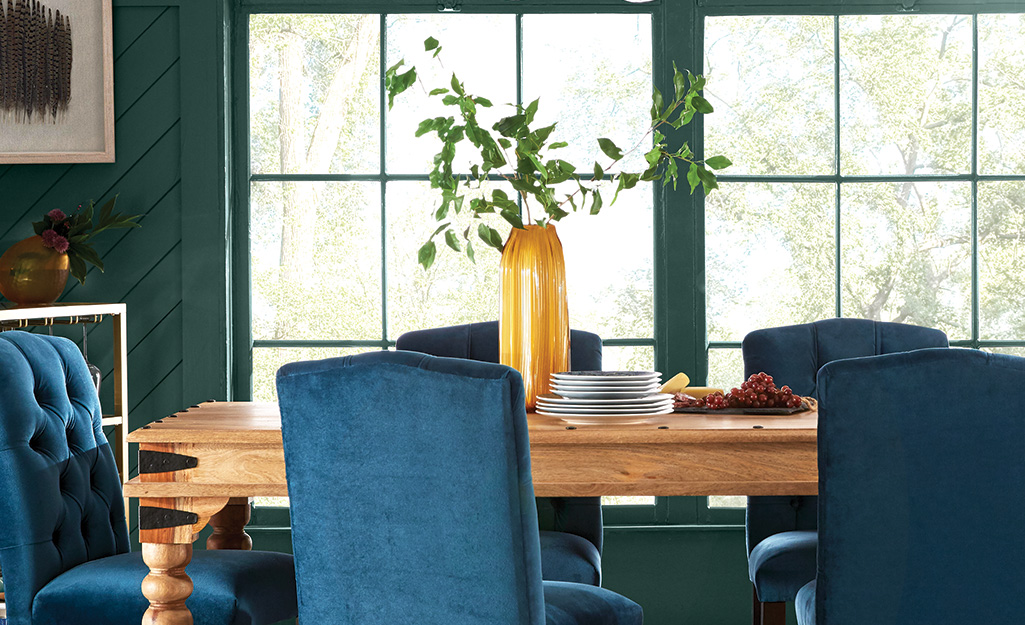 A glass copper vase filled with branches is perfect for chic style, especially if you are not into tradtional holiday decor. Any type of evergreen branch will work, or simply use bare branches. This simple arrangement looks stunning on a console or dining table. 
Cool Blue and Silver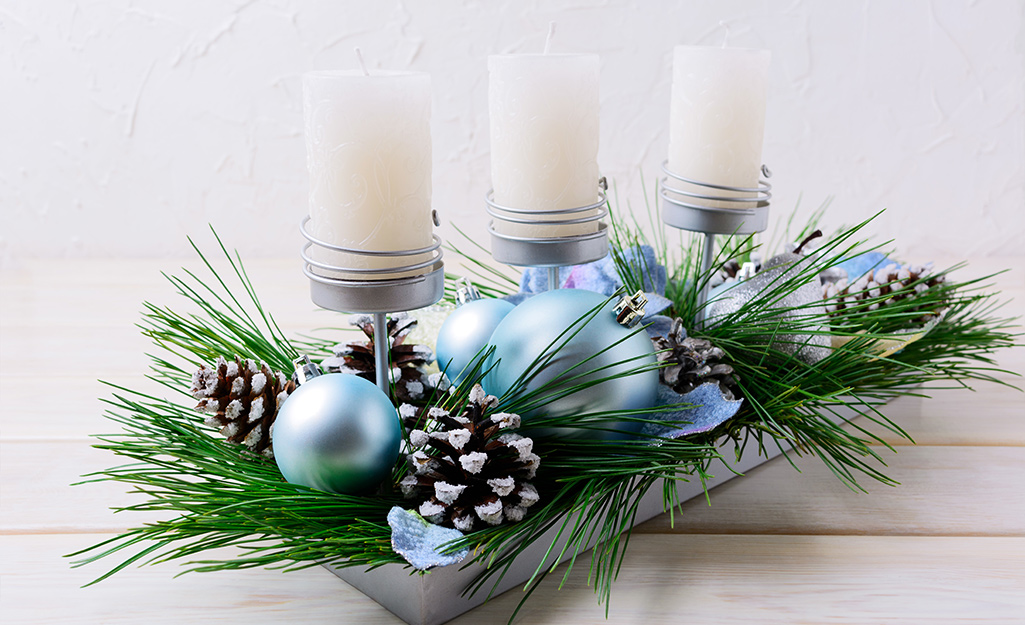 Although not traditionally Christmas colors, ice blue and silver paired with fresh greenery, frosted pinecones and white candles is reminiscent of freshly fallen snow on Christmas morning.
Decorative Boxes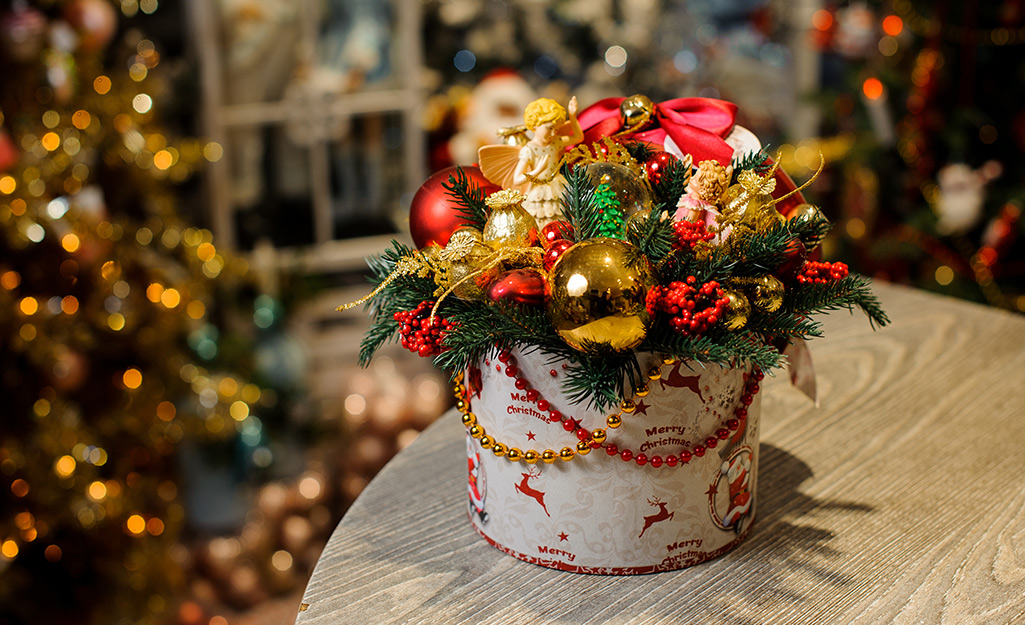 Transform a used gift box into a festive centerpiece full of holiday cheer. Featuring traditional red, gold and green, this centerpiece is sure to warm up any holiday dinner table.
Spring Centerpiece Ideas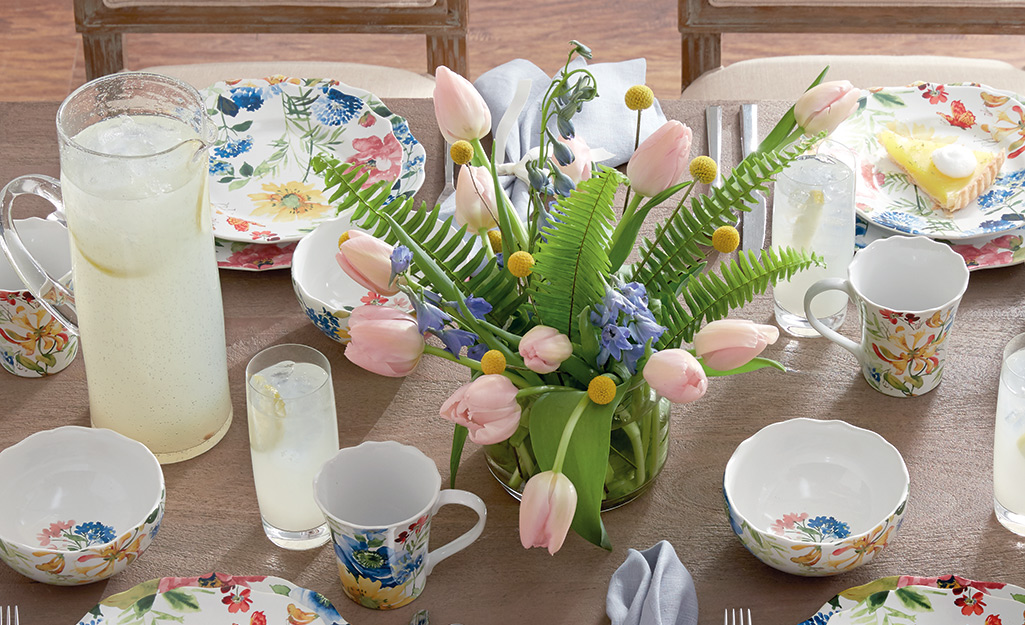 Decorating for spring is all about keeping things light and airy. The best spring centerpiece ideas include fresh spring flowers like daffodils, tulips and hyacinths, white wire baskets and grassy green colors. Don't forget the quintessential spring holiday – Easter! To transition your spring centerpieces for Easter, consider adding some of these Easter centerpiece ideas to your tablescape: colorful faux eggs, Easter-themed figures (bunnies, baby chicks and birds) and white lilies. 
Pastel Colors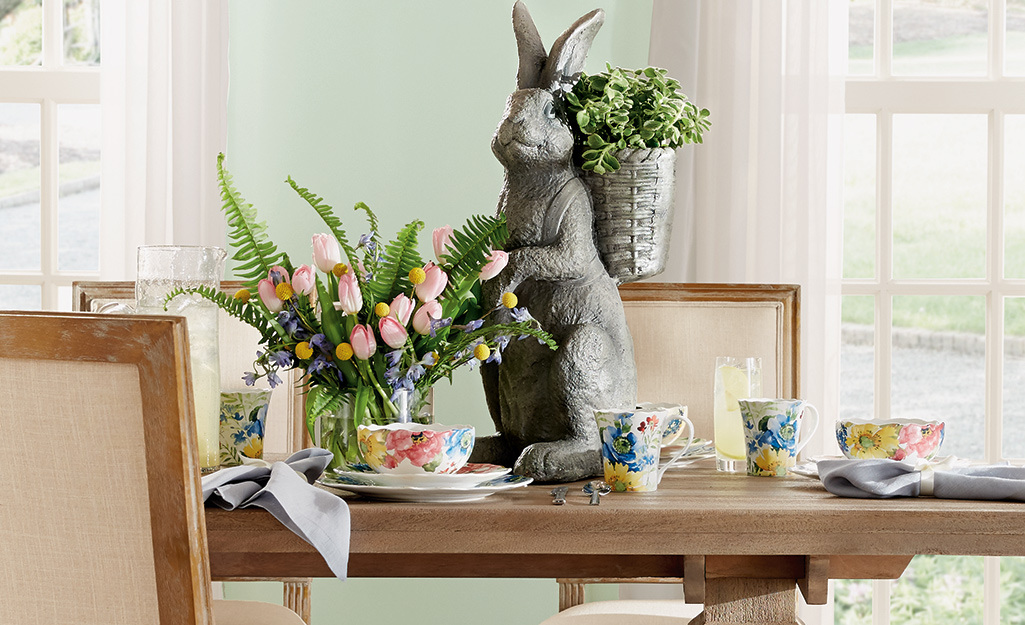 An Easter table isn't complete without cute bunnies and soft pastel colors. Mix and match soft greens, blues, yellow and pinks to create the perfect spring color palette. Complete the centerpiece with adorable little bunny figures. Pastel colors are also great centerpiece ideas for spring baby showers.
Bold Pinks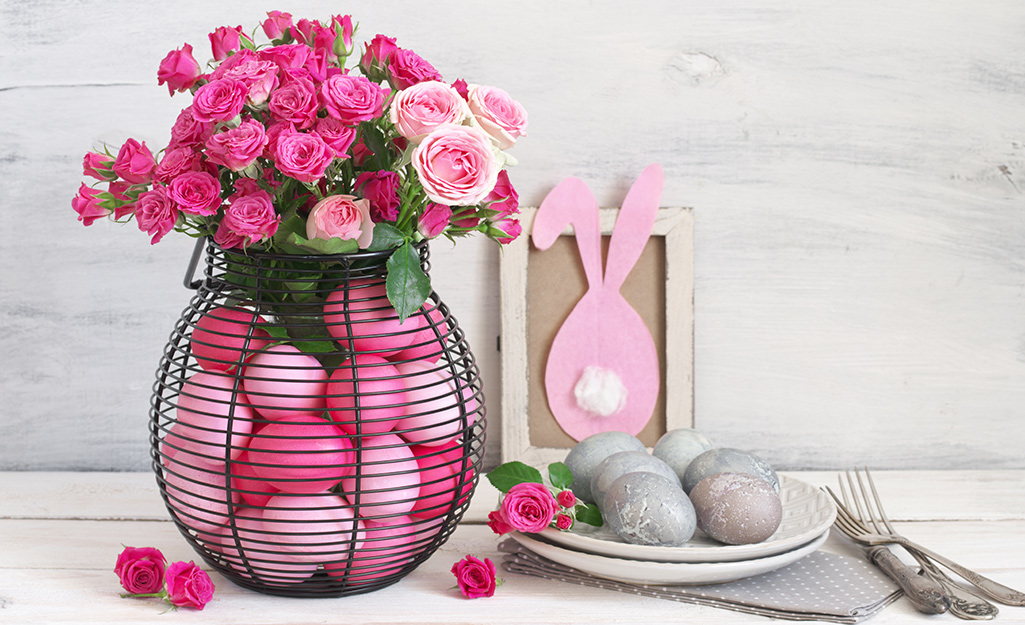 If you prefer bolder Easter centerpiece ideas, go pink! Mix various shades of pink to create this simple arrangement. The dark wire vase adds contrast to accent the mixed pink eggs and roses.
Bark Vase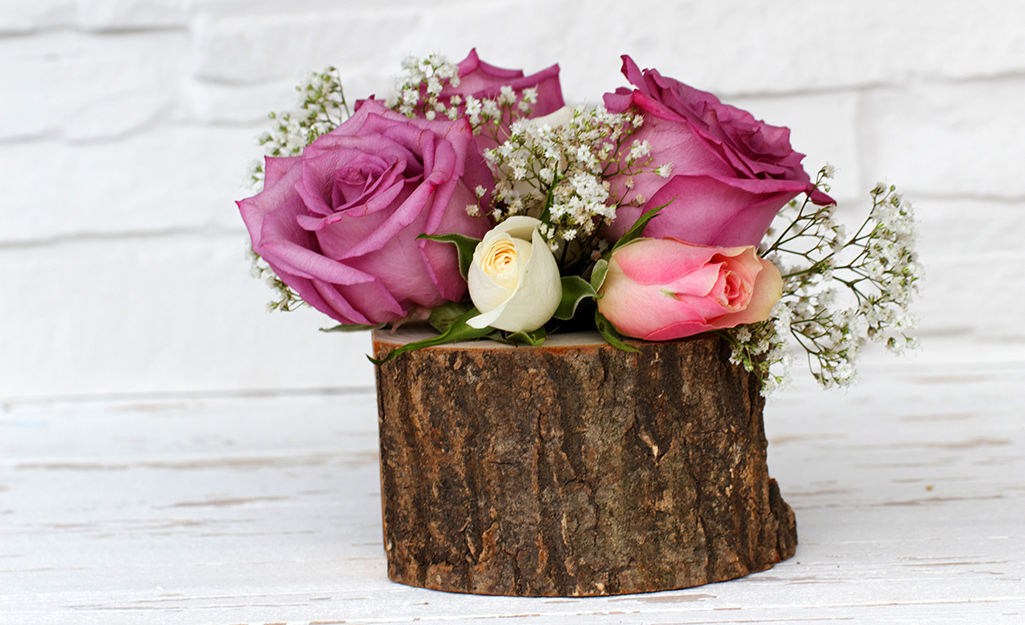 Decorating for spring can be as simple as using a wood stump as a rustic centerpiece. Fill the wood vase with soft pink or purple flowers and delicate baby's breath. 
Fall Centerpiece Ideas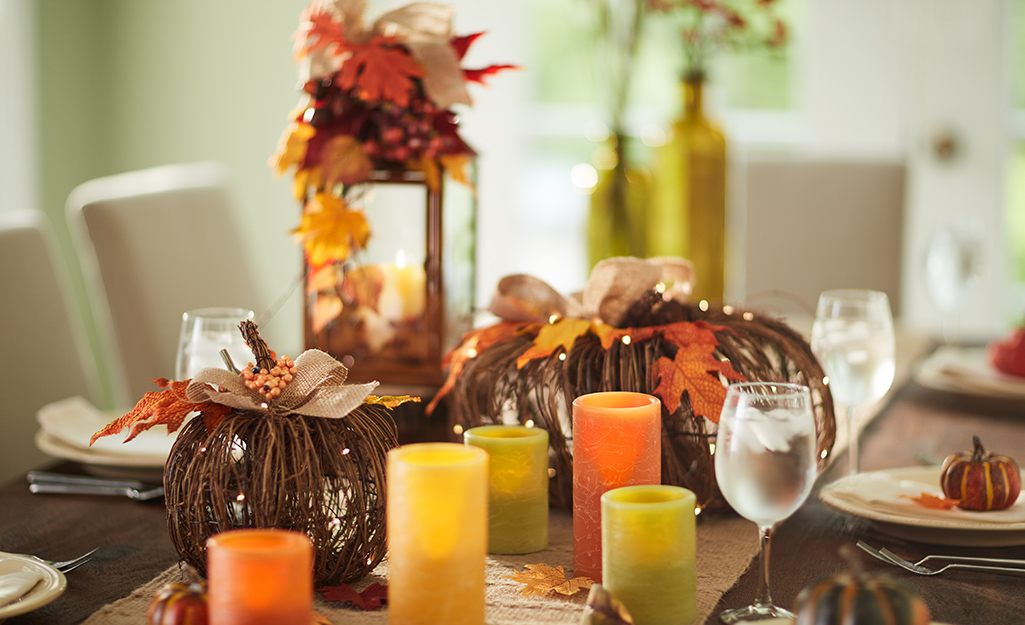 When it comes to fall centerpiece ideas, look no further than outdoors. Autumn tablescapes are all about showcasing the natural beauty of bountiful harvests. For quick Thanksgiving centerpiece ideas, gather up bright leaves, seasonal squash, warm-colored candles and pinecones for simple rustic displays.
Seasonal Bounty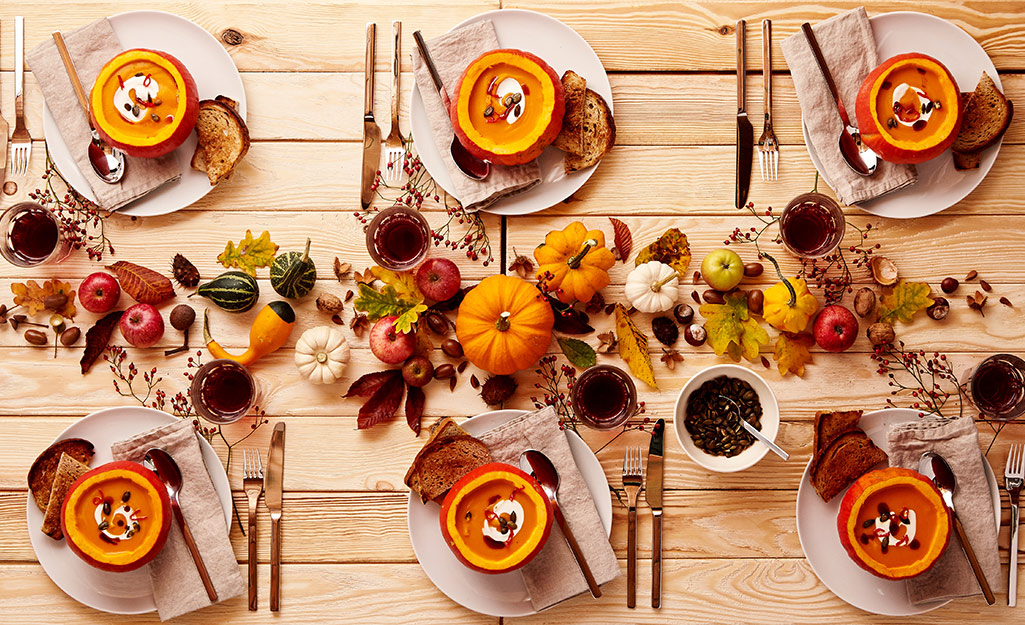 The best Thanksgiving centerpiece ideas utilize seasonal foliage and produce. Create a natural runner using apples, winter squash and colorful fall leaves. It's simple, yet gives the table a strong fall theme.
Seasonal Fruit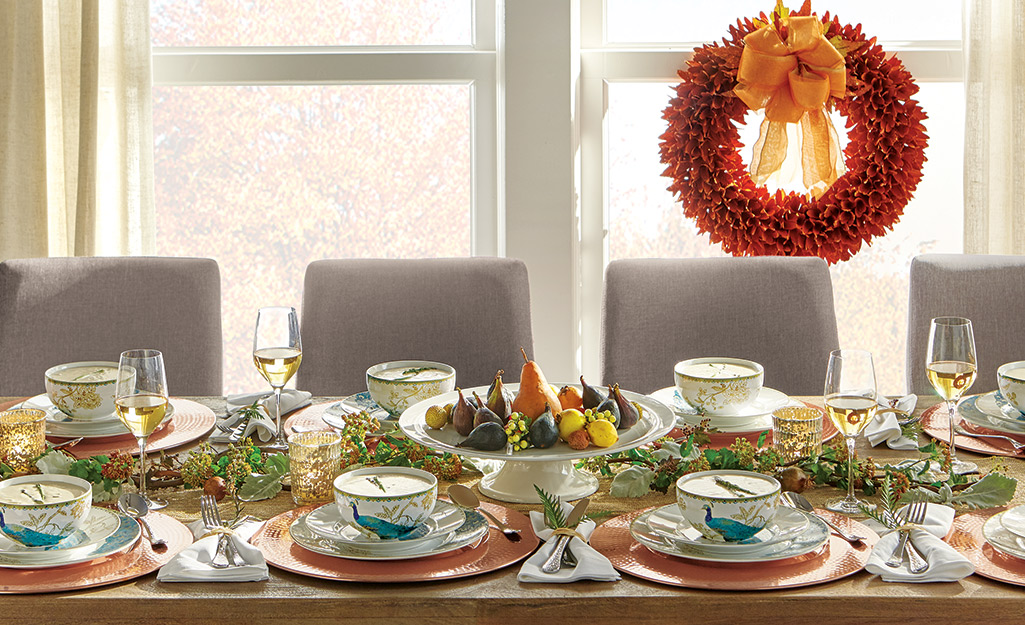 Seasonal fruit make wonderful centerpieces. Simply place the fruit in a bowl or on a cake stand in the middle of the table. Add greenery down the middle of the table for added texture and color. This simple centerpiece is perfect for a fall wedding or Thanksgiving dinner.
White Pumpkins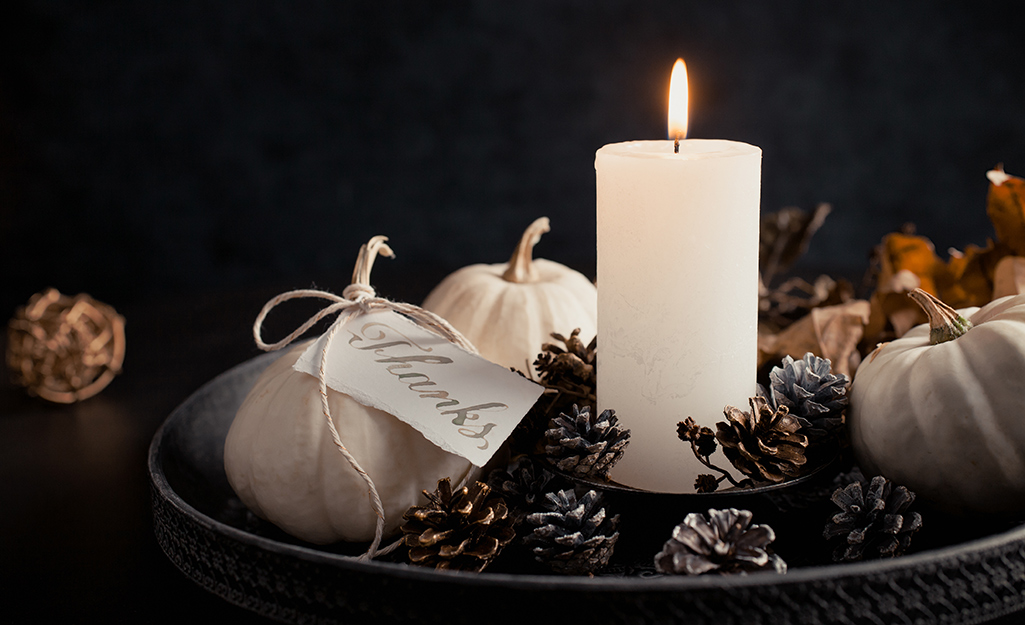 Sometimes a simple color combo such as white and dark brown make the most striking centerpiece. Place white pumpkins and pinecones around a white candle in a galvanized tray to create this rustic and elegant centerpiece. 
Wedding Centerpiece Ideas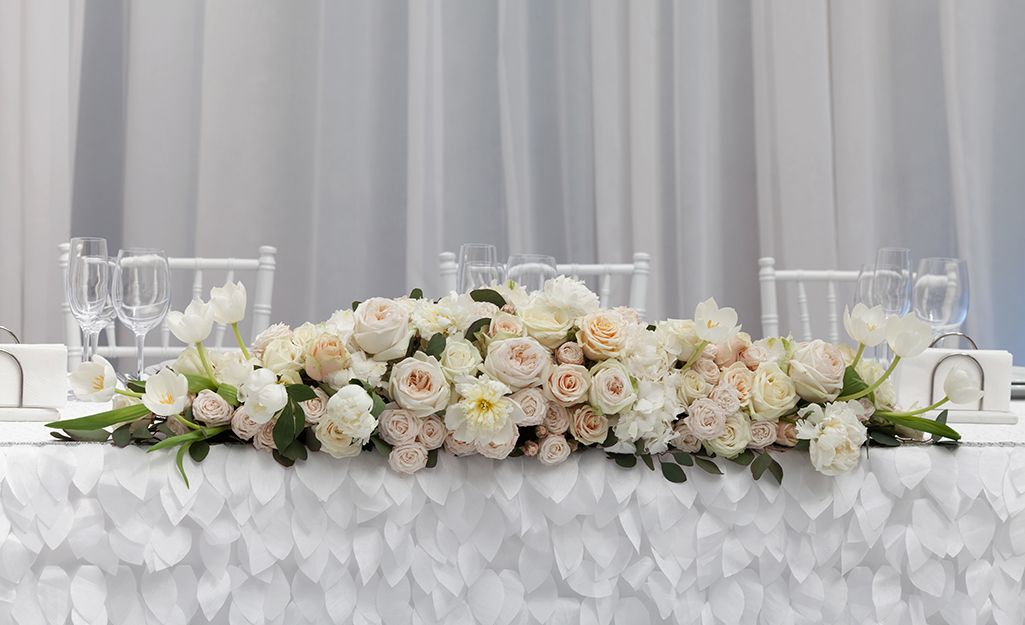 Wedding tablescapes are all about the centerpieces! Tablescapes are the way to welcome guests to the reception and tie together the room. Forgo the traditional bridal floral centerpieces and try something different. Here are wedding centerpiece ideas for all styles, from modern to romantic.
Origami and Branches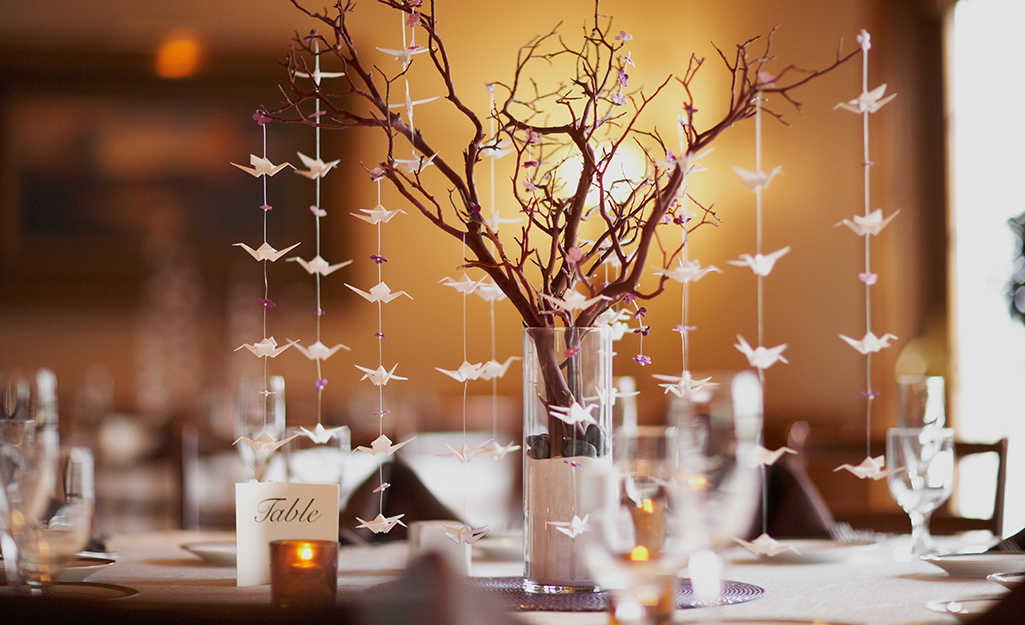 On your big day, trade expensive floral wedding centerpieces for simple foraged branches in a vase with origami birds to create this stunning, economical and one-of-a-kind centerpiece.
Antiques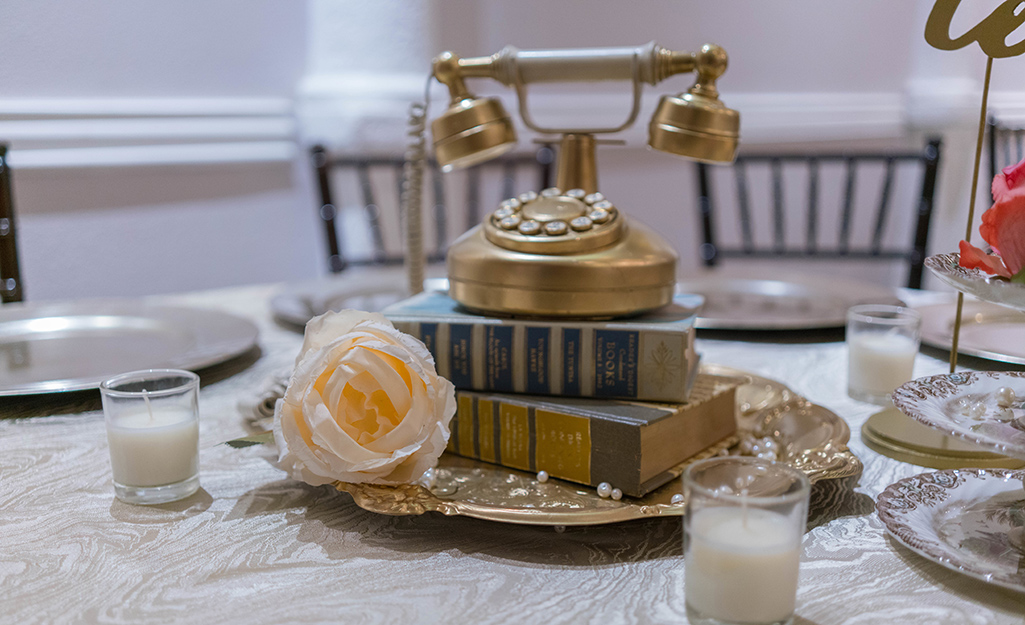 Visit local antique stores to find unique pieces to create centerpieces. A coat of spray paint can easily transform old pieces into stunning artwork for your big day. 
Driftwood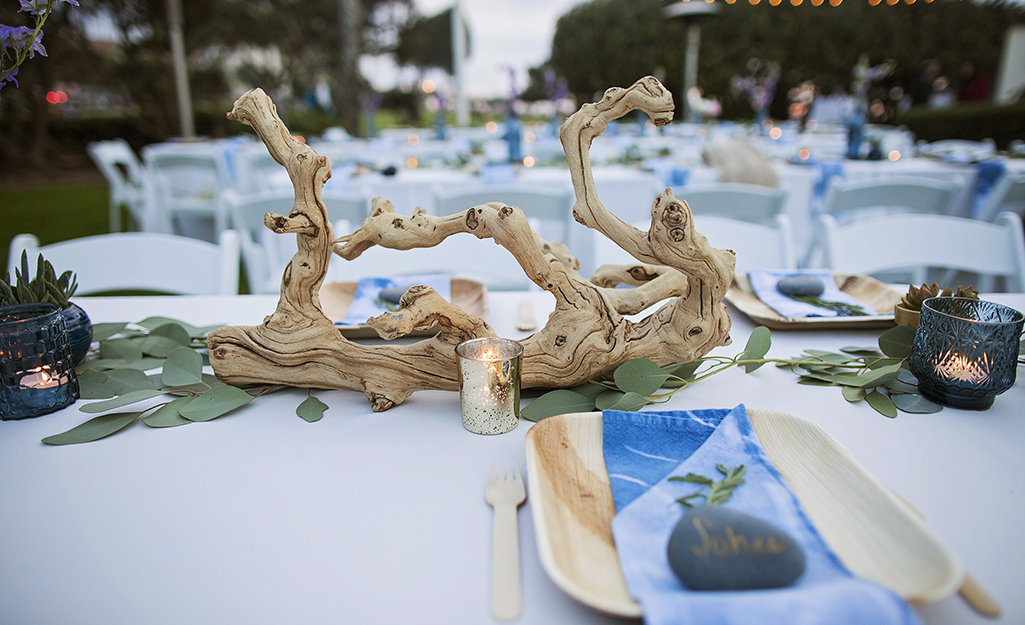 For an outdoor or beach-themed wedding, decorate the center of the table with a sculptural piece of driftwood. To add more color and texture, tuck greenery around the base. 
Travel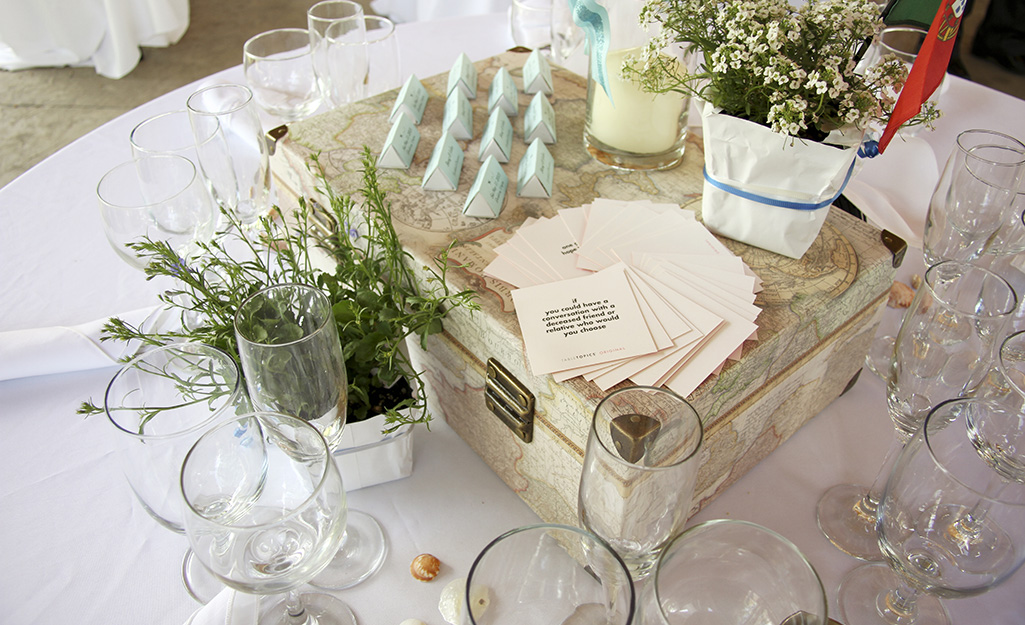 An antique suitcase takes center stage on this reception table. Using an old suitcase as a base for a simple display makes this centerpiece truly unique and interesting. This same setup would make a great family reunion centerpiece with old photos of the family displayed on top.
Mixed Jars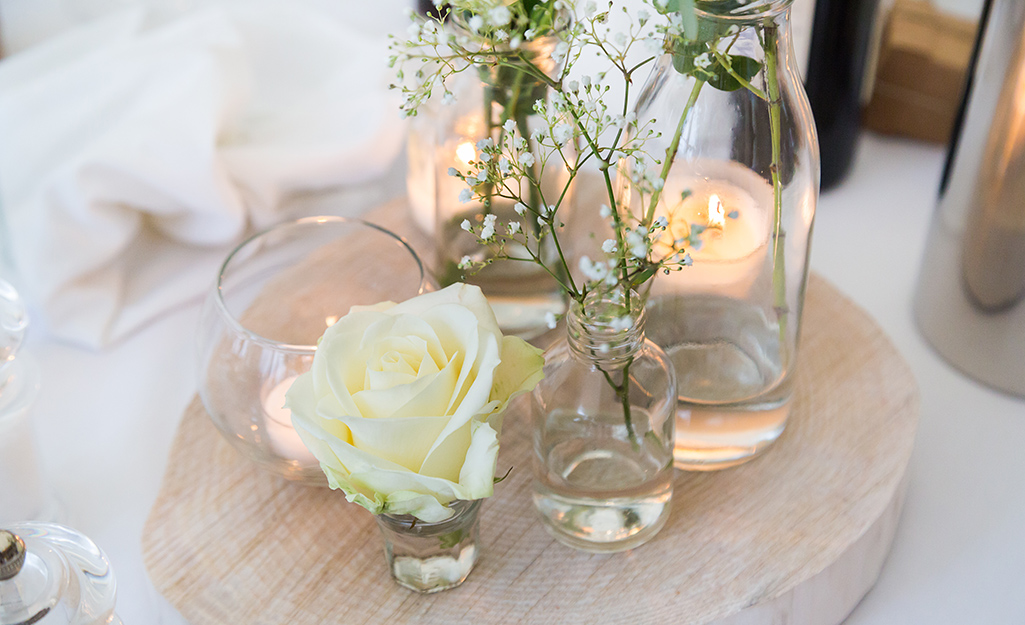 No need to blow the wedding budget on grand floral arrangements. Recycle various styles of glass jars to use as vases. Single stemmed flowers will look elegant in the jars. Stick with a single color to create a modern look.
Kokedama for Christmas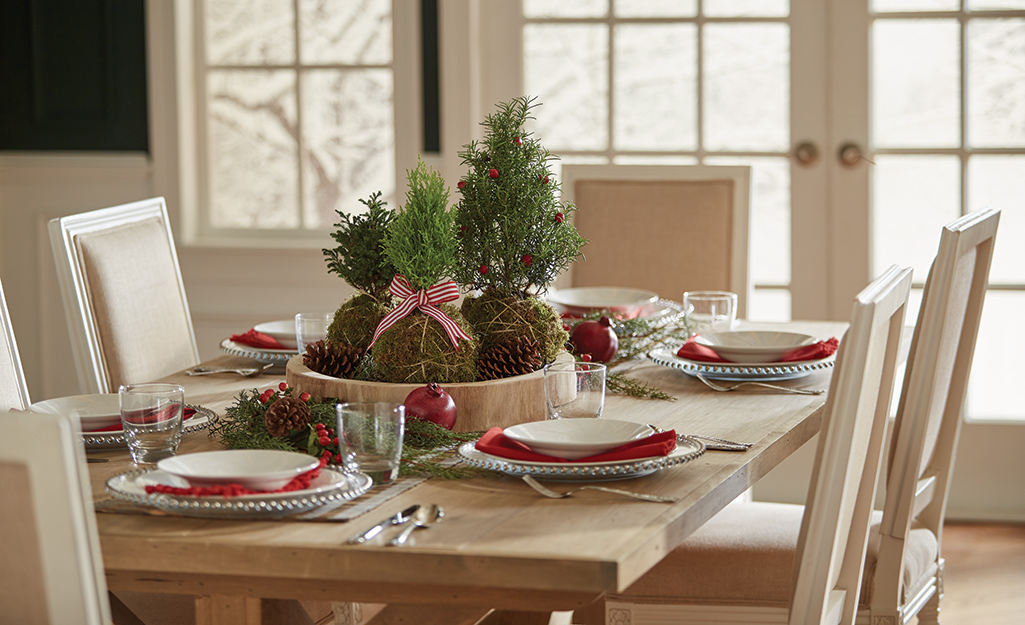 From a hanging garden to a moss ball centerpiece on your holiday table, elegant Japanese-style kokedama is versatile and also easy to create. 
Try using houseplants such as bromeliads, pothos, philodendron, anthurium or fern for your moss ball centerpiece. During the holidays, use dwarf evergreens such as those pictured: lemon cypress, juniper and rosemary herbs.
Because kokedama is so easy to make, why not make a trio of moss balls for a beautiful holiday centerpiece, and give the rest away as gifts.
How to Make a Kokedama Moss Ball:
Materials:
Instructions:
Wearing your gardening gloves, blend together a mixture of 2/3 potting soil and 1/3 garden soil and mix with a handful of sphagnum moss in a large bowl or container.
To make the moss balls, pour just enough water into the soil mixture so it sticks together. Thoroughly mix it in.
Now, form grapefruit-sized soil balls. Squeeze out excess water and let them dry.
Using more water and a bowl, soak the moss and then squeeze out the excess. Place moss aside.
When the soil balls dry in 20 minutes, use your thumbs to gently work open the middle of the balls. Shake off the excess dirt around the roots of each plant and place them inside the soil balls. Reshape the soil around the plant. Add extra soil if needed.
Take your plants and wrap the water-soaked sheet moss around the root balls of the plants.
Wrap floral wire or twine around the balls of the moss and secure. Floral wire is less visible, if you prefer a cleaner look.
For a moss ball centerpiece on your holiday table, place a tray underneath (such as the wood-carved serving tray pictured) and pull together fresh-cut greenery, ornaments and other decorative touches to display.
How to Care for Kokedama:
Take care of your kokedama by following the watering guidelines for each type of plant. When watering is needed, soak the moss balls in water for five to 10 minutes, then set out to dry on a cookie sheet in a warm place. For bromeliads, place water in the leaf cups.
Make your table unforgettable for any occasion or party with one of these centerpiece ideas. Shop The Home Depot for home decor and home accents to create one of a kind centerpieces. 
Explore More on homedepot.com