A well-organized closet makes it easier to find and access clothing and accessories. It only takes a few clever closet organization ideas to significantly reduce clutter and increase storage space. This guide offers closet storage ideas and highlights closet organizers that make the best use of your space.  
Start by Clearing the Clutter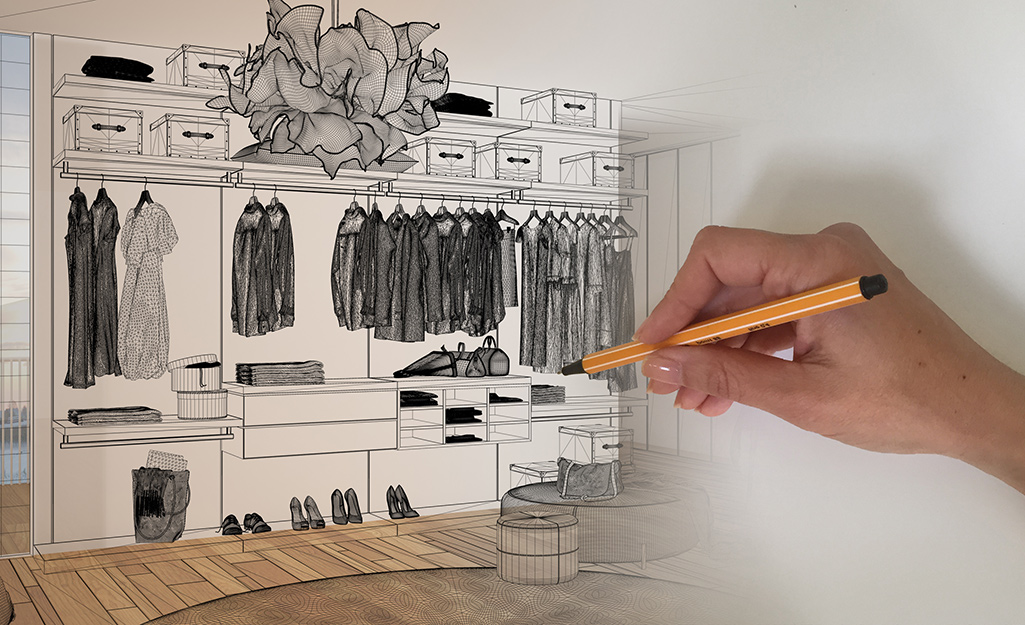 The best way to start your closet organization project is to completely clear everything out of your closet. If you're planning to install a new closet system, remove all shelves and hardware and patch holes in the wall. It's also a good idea to clean the space from top to bottom. This is a good time to consider painting your closet if needed. Next, assess lighting. Well-lit closets make it easier to find items stored in bins and actually see the clothing you have.
Once you can see the space you have, take time to consider how you use your closet. For example, if you have more shirts and blouses, a double hanging rack will give you more storage space. Be sure to take measurements, then shop closet systems and storage to find the best fit for your closet. If you're unsure of what systems might actually work, The Home Depot offers free virtual and in-person consultations for closet installation.  
Closet Shelves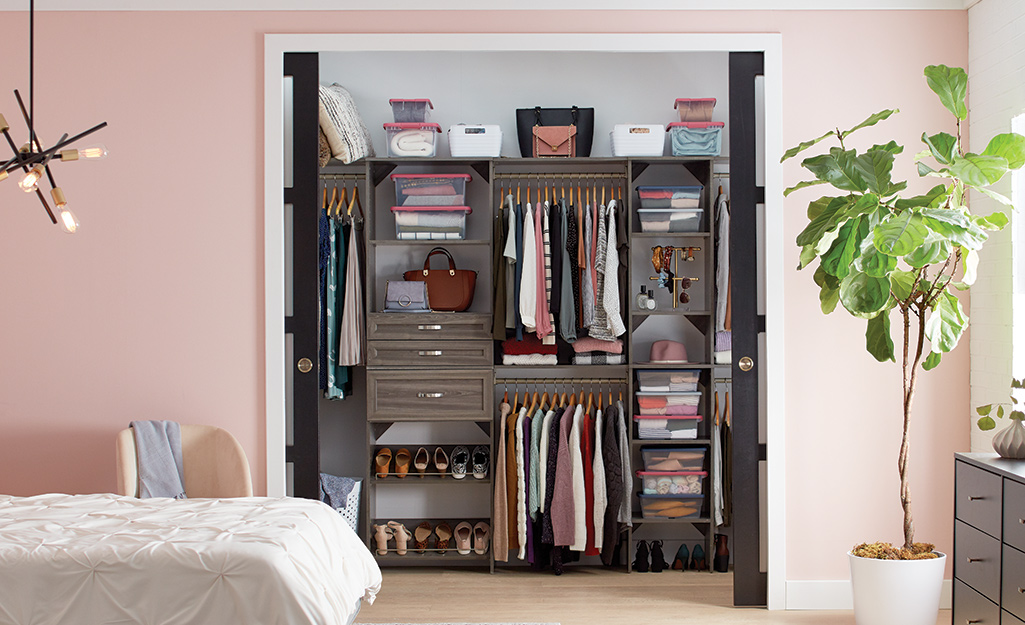 Closet shelves are a natural way to increase your vertical storage space. Shelves are available in wood and ventilated wire and are often adjustable, so you can customize your closet's storage to fit your needs. Try these closet shelving ideas and tips:
Wood shelves provide sturdy, flat surfaces for storing small or oddly shaped items. They also offer a more customized look, even when you choose a modular closet system.
Ventilated wire shelves allow air to pass through so clothes and linens can breathe. Wire closet systems are usually a cost-effective option.
Adding shelf dividers keeps closet shelves looking neat, especially when stacking folded clothes on them.
Labeled bins and baskets store small and miscellaneous items while keeping your shelves tidy and organized.
When storing items on shelves, store frequently used items at eye-level. Store infrequently used and out-of-season items on top and bottom shelves.
Closet shelving systems often include custom features like drawers, built-in hampers, jewelry organizers and built-in vanities. Buying pre-configured shelves doesn't mean you have to give up on your other closet shelving ideas.
Closet Shoe Storage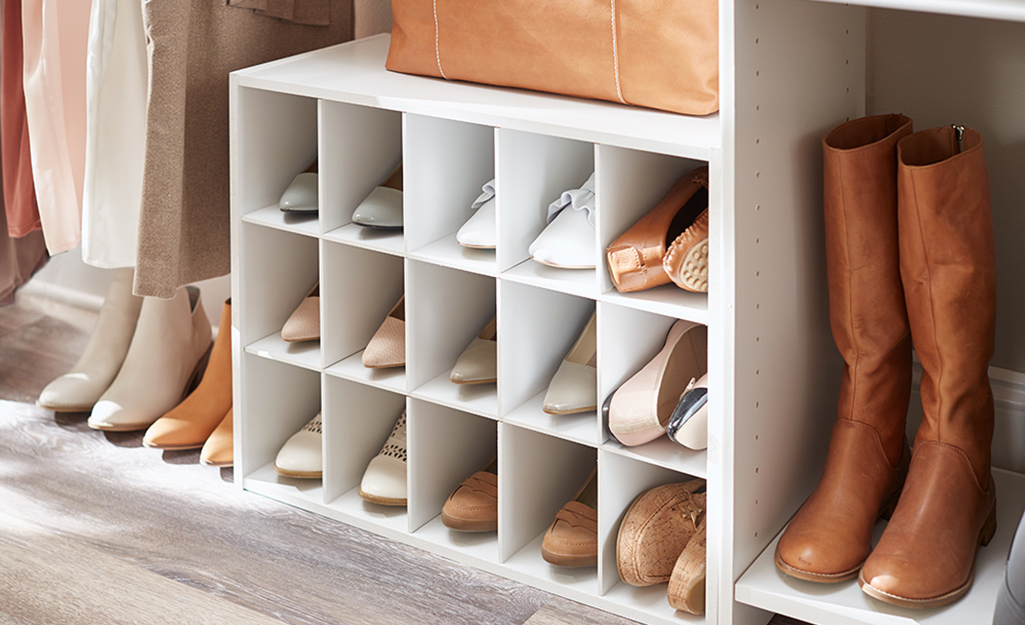 Keep shoes from piling up on the floor with closet storage ideas that maximize shoe storage.
Shelves are a great way to display and organize shoes, but keep in mind that heeled shoes are often best stored on wood shelves. High heels slip through the gaps in wire shelves.
Hang shoe storage bags on the back of your closet door. Shoe bags make the most of space, especially in small closets, since they can hold a dozen or more pairs of shoes.
If you prefer shoe racks, look for a slanted platform that displays shoes at the same level for easy access.
Store expensive dress shoes and those worn infrequently in plastic shoe boxes to keep them clean. Clear plastic boxes also allow you to easily see and find the shoes you need.
When tall boots are in-season, store them upright on the floor on a boot mat. To keep them upright and maintain their shape, stuff boots with curled magazines, rolled towels, paper towel rolls or empty wine bottles.
Alternatively, hang boots with pant hangers or hangers specially designed for boots. To prevent indent marks from the hanger's clips, pinch a washcloth between the boot and hanger clip.
Bins and Baskets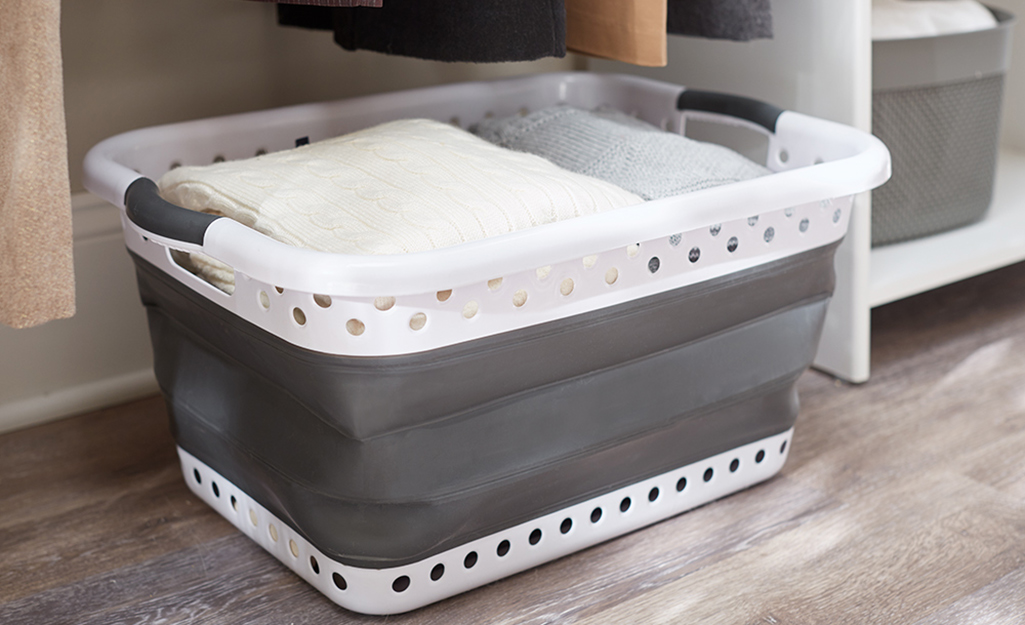 Bins and baskets are available in a variety of sizes and designs. Some containers are even collapsible for easy storage when not in use.
Collapsible canvas boxes look stylish and are great for corralling small items such as scarves and gloves.
Stackable boxes maximize space all the way to the ceiling.
Mesh hampers and laundry bags allow clothes to breathe.
Vacuum-sealable bags compress clothing to capitalize on space in smaller closets.
Clear bins make it easy to quickly locate items. Choose opaque bins or fabric bins for miscellaneous items so you can hide clutter. Label bins so you can remember what's in them.
Line baskets with fabric to prevent snagging clothing and linen.
Hanging Storage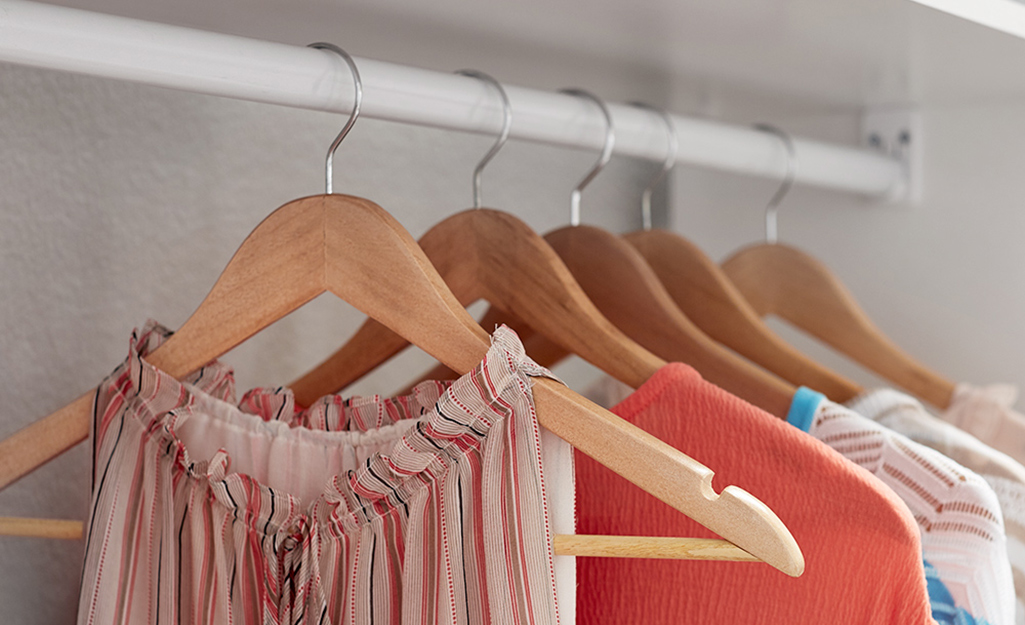 Closet rods create space for hanging items. Install one rod toward the top of the closet and another in the middle to provide two levels of hanging space for shirts, sweaters and other short garments.
Add tie and belt racks to avoid a tangled mess. These racks can also be used for storing scarves and jewelry.
Panels with multiple hooks are ideal for use in coat closets.
Expandable rods and shelves allow you to reconfigure your closet as storage needs change.
Use wood or padded hangers to help garments retain their shape.
Flocked hangers work well for lighter items that need help staying on the hanger.
Hanging closet organizers allow you to store shoes, accessories and other miscellaneous items like you would a shirt or a dress. This is a great option if you have plenty of hanging space but fewer shelves.
Attach shower rings to a hanger to hang small items like scarves and camisoles together.
Install hooks in available vertical space, such as on the walls, door or sides of a closet system. Use these hooks to hang purses, belts, jewelry or other accessories.
Tip: Use coordinated and uniform hangers to keep your closet looking orderly and to prevent separate pieces of clothing from disappearing behind one another. 
Storage Options to Consider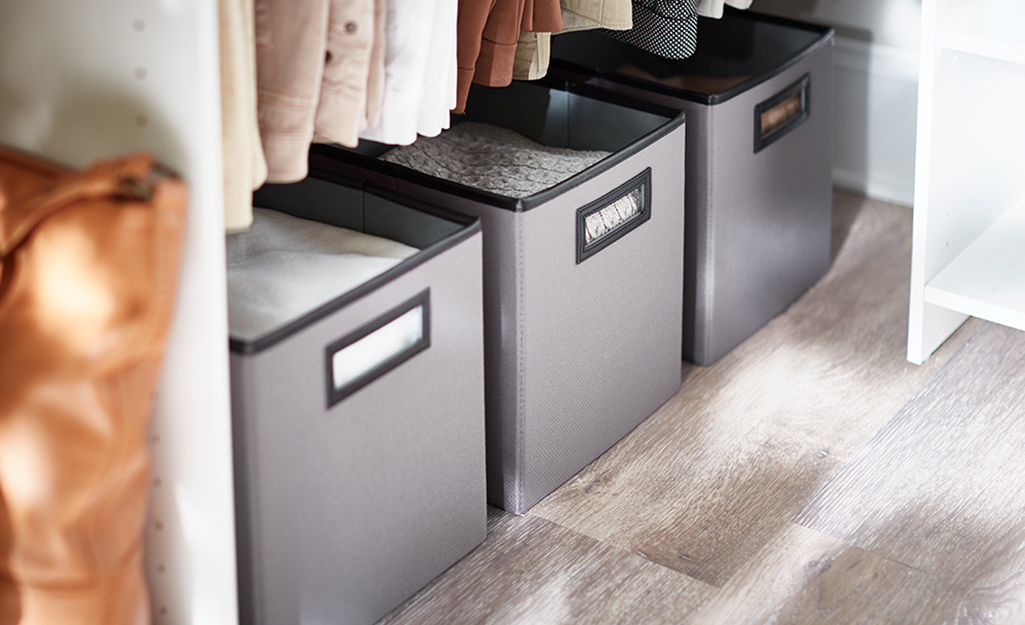 When it comes to how to organize a closet, there's no one right storage system. Usually, a mix of storage systems is the best option for maximizing closet space.  Below are the best closet organization ideas for each type of item you need to store.
Clothes and Linens: 
Bags
Hampers
Hangers
Hooks
Shelves
Shoes: 
Door bags
Platforms
Shoe racks
Wood shelves
Miscellaneous Items: 
Closet Organization Tips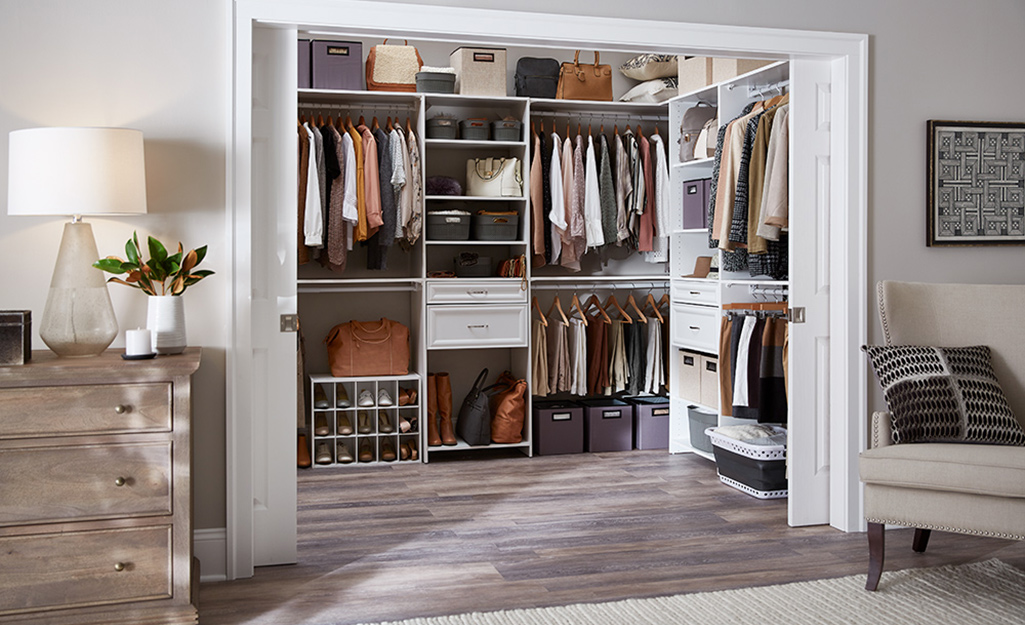 Keep these closet organization tips in mind as you complete your dream closet:
Sort clothing by type and season. For example, keep heavy coats together and hang short sleeved tops separately from long sleeved tops.
Label bins so that you know exactly what type of item is in each without having to take them down from shelves to look through them. Use reusable labels so you can update your storage as needed.
Maximize use of drawers with drawer organizers to ensure that small accessories don't get lost.
Increase space with double-door storage cabinets. These fit perfectly atop modular cabinets and shelves in the same collection. Install each element as needed for hanging and display pieces.
Get creative with your closet design style by using magazine holders for storing small clutches and coin purses. Paper towel holders can be used to keep watches on display.
In walk-in closets, use hooks or rods for hanging accessories like handbags, hats and scarves to make the most of wall space and top shelves.
Store out-of-season clothing in unused luggage.
Use a rolling cart to store accessories or miscellaneous objects, so you can roll them in and out of the closet as needed.
If you have a small space, consider using curtains instead of doors on your closet. This saves floor space since you won't have to account for the door clearance.
Install good lighting in your closet so you can see everything you store.
Declutter your closet and donate clothes you no longer wear. An effective way to figure out what you no longer wear is to turn your clothes inside-out before putting them away. Once you wear the clothes once, return them to the closet right-side-out. After six months to a year, see which items are still inside-out and donate or sell them.
Closet Storage Installation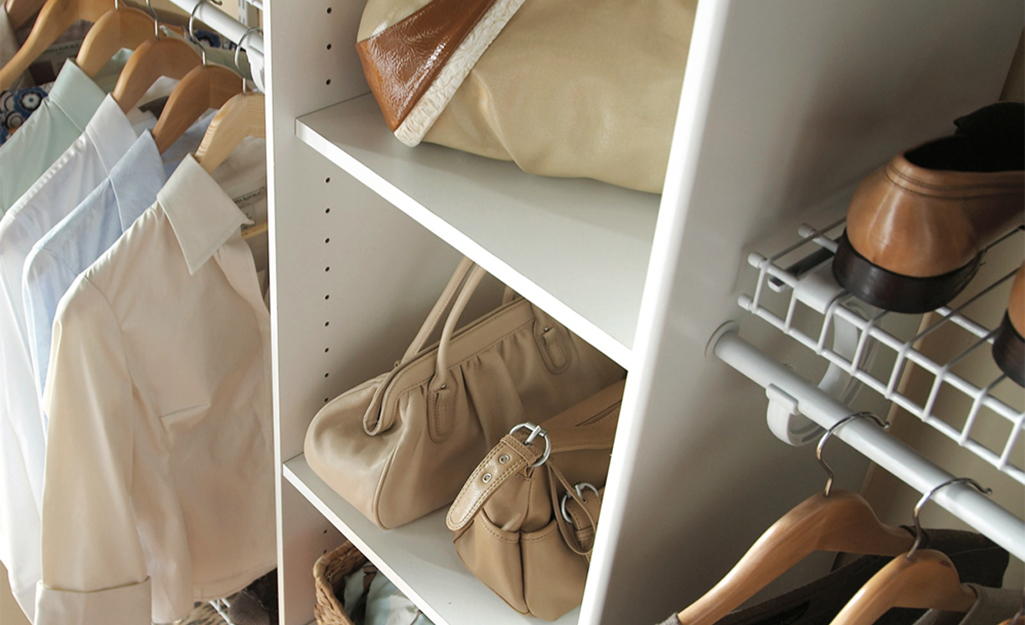 To make your closet storage ideas a reality, select a closet system base piece and add accessories and components from there.
Be cautious when placing hooks and avoid putting them in any areas where they can easily snag clothing when you reach into the closet.
Split the closet in half with a series of narrow shelves and install two rods on one side for hanging shorter items and one rod on the other side for longer items.
Use pre-built shelves and railings to minimize the need for precise measurements.
Use cedar panels or blocks to repel bugs and keep your closet smelling fresh.
Make use of your closet door for extra space.
Combine shelving systems, bins, hanging rods and hooks and more of the above closet organization ideas to create a neat and decluttered closet.
Combine shelving systems, bins, hanging rods and hooks and more of the above closet organization ideas to create a neat and decluttered closet. Need help finding closet organization systems? Find products fast with image search in The Home Depot Mobile App. Snap a picture of an item you like and we'll show you similar products.
Explore More on homedepot.com