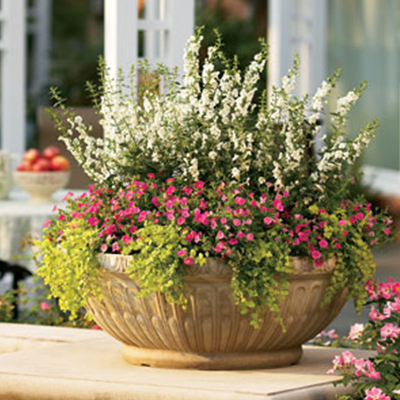 Whether your gardening space is a condo balcony, a half-acre plot or anything in between, container gardening will bring the beauty of plants up close and eye level. This makes them easy to enjoy and even easier to work with, once you know the essential rules for successful container gardening.
And when you master the basics, let creativity guide you to plant gorgeous Pinterest-worthy containers.
Here Are Our Top Tips for Creating Container Gardens: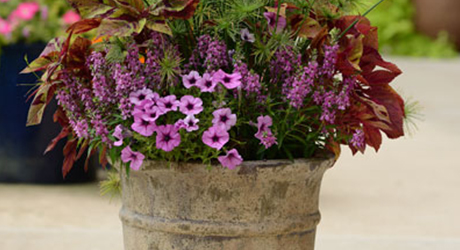 Look to the Thriller-Filler-Spiller formula to get dynamite plant combinations every time. Thrillers give height, fillers bring body to the center, and spillers cascade over the rim of the planter, softening the edges. Put them all together and you have a colorful display with texture and movement.
Mix different types of plants. If it grows in the ground, it can grow in a container. Besides the usual bedding plants like impatiens and pansies, small shrubs and trees make lovely container plantings. And hold on to your trowel, you'll see more and more ornamental edibles like small eggplants, herbs and greens tucked in planters now that foodscaping is a trend.
Choose your container wisely. When selecting your container, keep in mind that it must have adequate drainage. Without a hole for water to flow through, the plants will get soggy and the roots will rot. You will find many different types of planters in the Garden Center — made from cement, lightweight composite materials, pottery and classic terra cotta. Check out our video on selecting the right container or talk with a Garden Center associate.
Bigger is almost always better when it comes to containers. Look for containers wider than 16 inches. You can fit more soil and more plants in bigger planters, and increase the visual impact of the display. Larger containers won't dry out as quickly, either. A container that's too small will force the plants to become root-bound (or potbound), with roots circling the pot seeking out soil and nutrients. It's important, however, to remember the one drawback to larger containers: portability. Urns and heavy containers need to be placed before you plant them, or you can use planter caddies to move filled containers.
Tip: Fill large containers 2/3 full with packing peanuts or empty plastic bottles. Spread a layer of newspaper and cover with potting mix.
Group Containers Together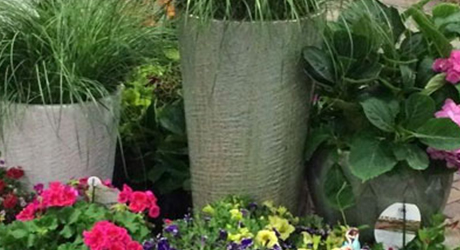 Group small or medium-size containers for maximum impact. A corner filled with terra cotta containers of many sizes will seem luxurious. Use the Thriller-Filler-Spiller idea here too, with the tallest in the center or back, groups of fillers in the middle, and cascading elements to the perimeter.
Choose Your Potting Mix, Fertilize and Water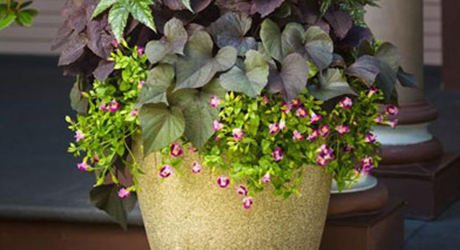 Choose soilless potting mix. Lightweight, well-draining, moisture-retaining potting soil like Miracle-Gro Potting Mix is the key to providing adequate drainage while nourishing plants' roots. An exception is if you're planting succulents. In that case, choose the soilless potting mix designed especially for desert and cactus plants.
Regularly feed with an organic fertilizer. All that watering and blooming means nutrients get washed out. Fertilize once a month to keep the show going.
Consistently water. Roots are more compact in a container, so frequent watering is necessary to keep plants happy. If you have a lot of containers, consider drip irrigation to help out with the watering. In the heat of summer, most containers will need to be watered at least every other day, and sometimes twice in one day. On the other hand, some plants like it dry. Ornamental grasses, succulents, sedums, geraniums, zinnias and marigolds can take hot and dry conditions. Herbs like rosemary, oregano, sage and thyme can take the heat, too.
TIP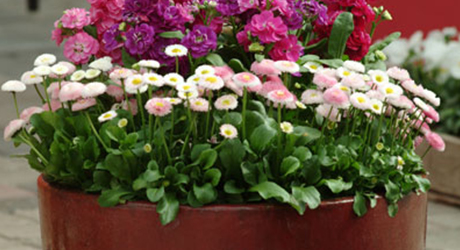 TIPAs you get ready for the season, here's how to clean last year's planters: Discard all plant material and soil and use a scrub brush to remove any stubborn dirt and salt deposits. Fill a big container such as a wheelbarrow, or large galvanized tub with 10 parts water to 1 part bleach (a 10 percent bleach solution). Submerge the pots and let soak for 10 minutes. Scrub the pots, rinse, and leave in the sun to dry.
Explore More on homedepot.com