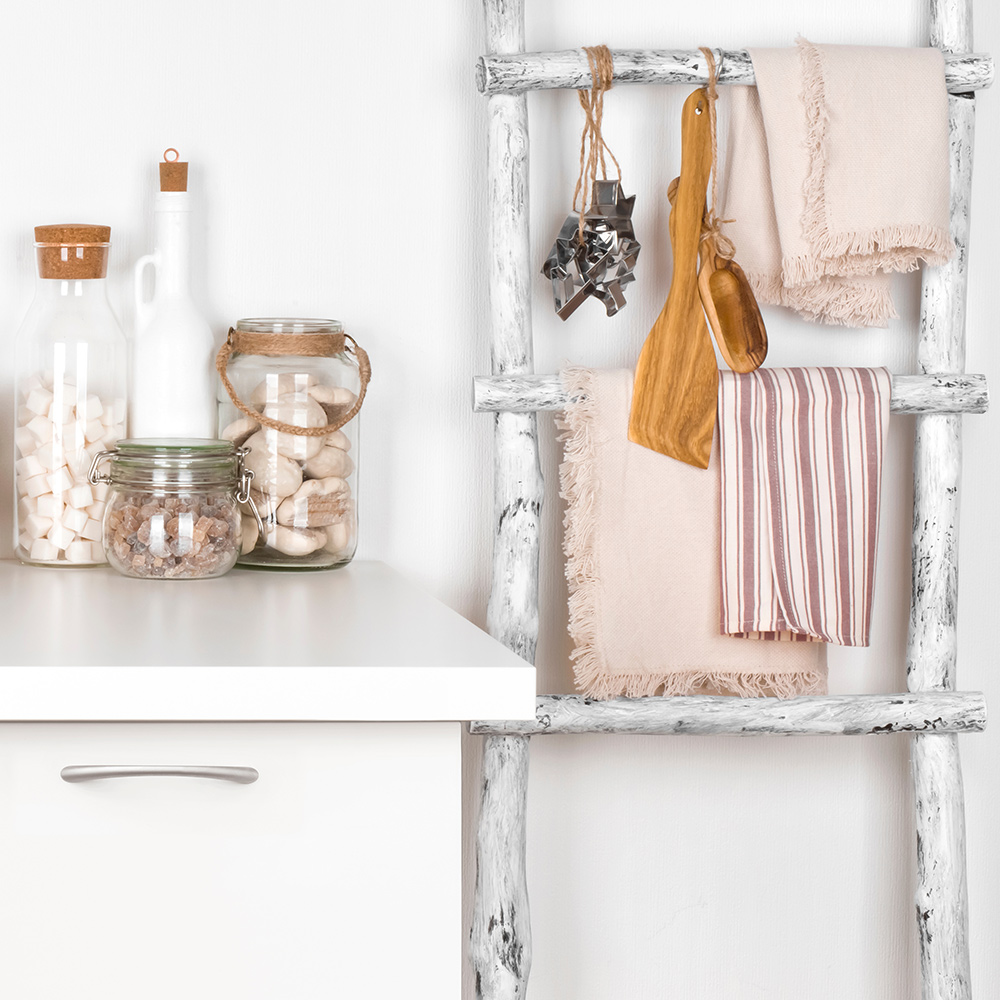 Vintage and decorative ladders add character and charm to a space. Whether they're filled with your favorite decor such as pretty glass vases, or used to display extra blankets and quilts, decorating with ladders is an easy way to add unexpected style to every room in the house. Use this guide to get many ideas on how to take advantage of this fun home decor project.
Up the Style Factor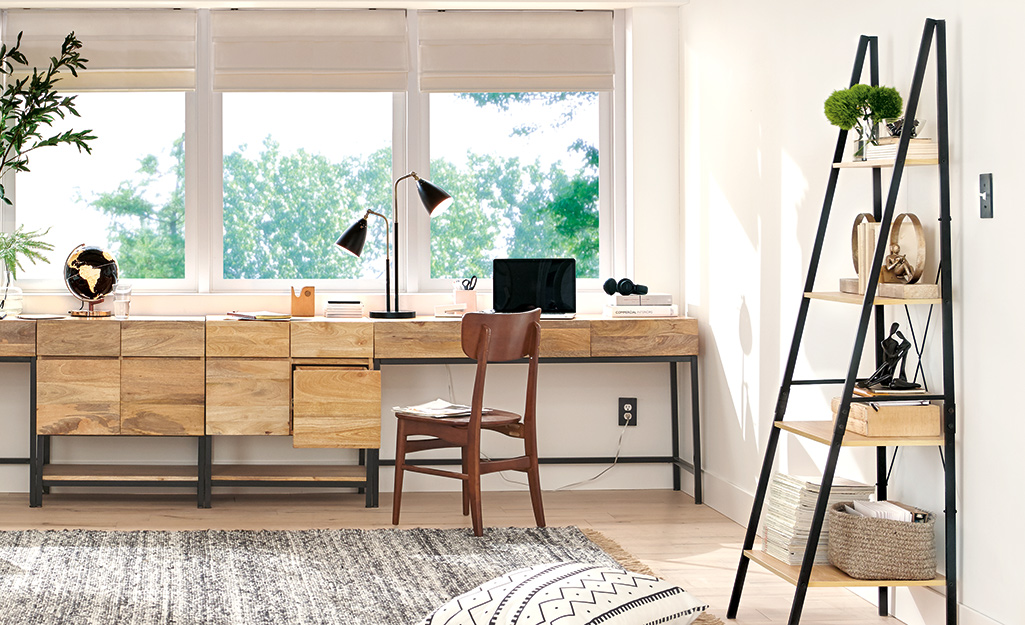 Give an industrial-style office space a decorative ladder that's as practical as it is stylish. Baskets and decorative boxes work to hold office supplies while sculptural art pieces and artificial flowers and greenery add tranquility.
High and Dry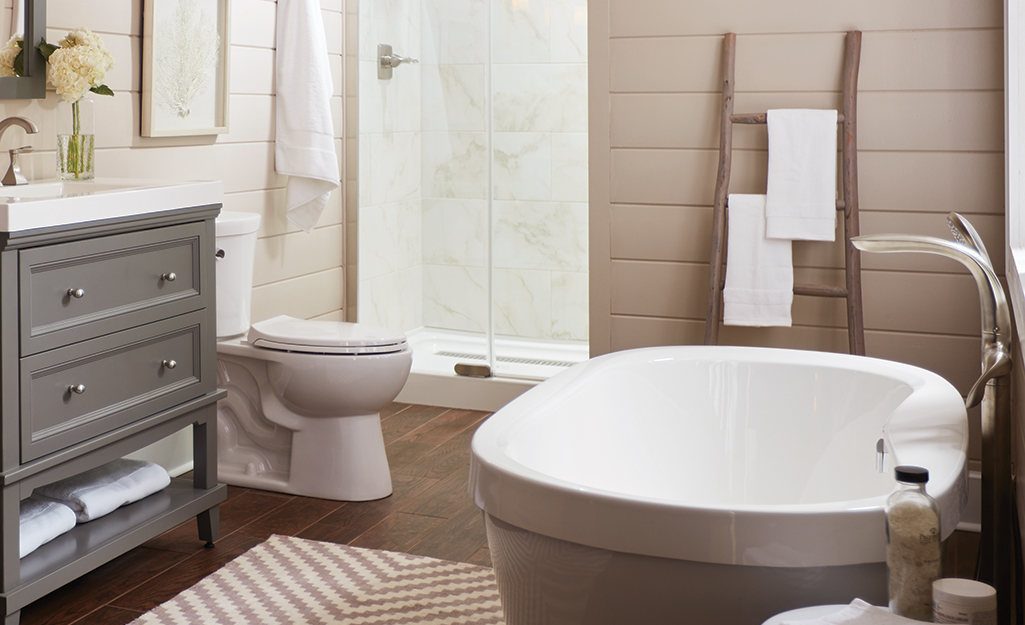 Serve your old towel rack notice with a classic wooden ladder. Leaning against the wall next to a freestanding bathtub, a ladder puts towels right within reach while providing the perfect drying spot.
Step Smart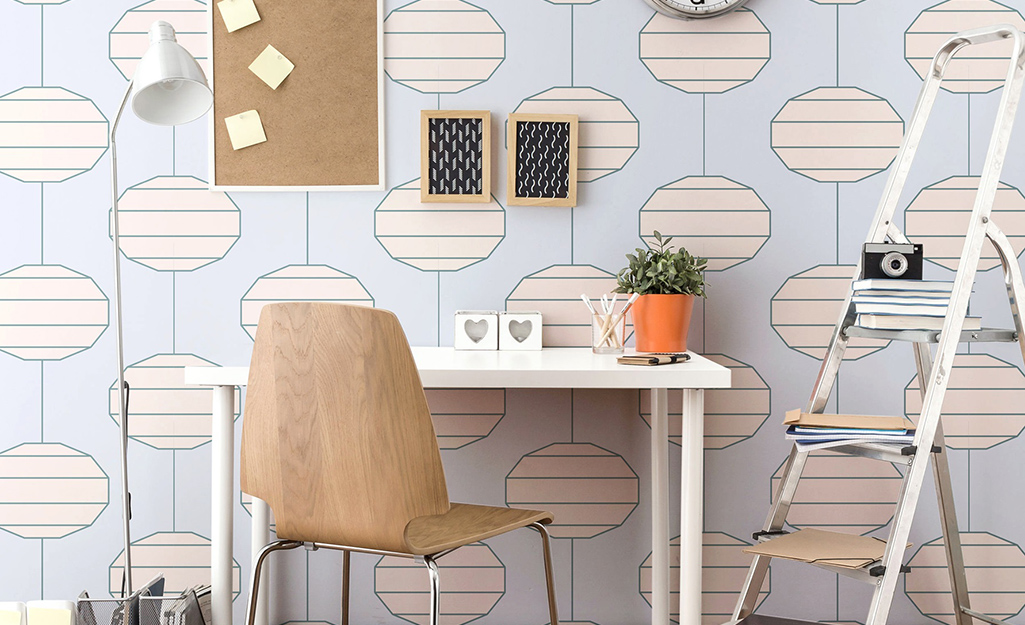 Decorating with ladders doesn't just work with farmhouse looks. Create a whimsical small office by pairing a dramatic retro wallpaper print with a vintage aluminum ladder painted white. Fill the rungs with books, papers and some playful decor. 
Light Fantastic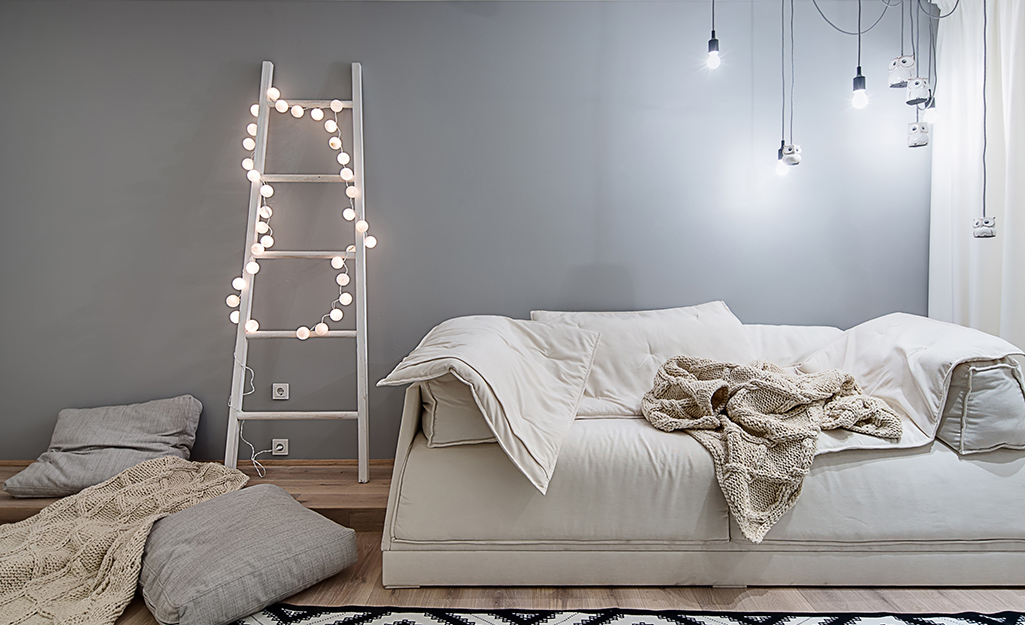 One of the best ideas for old ladders is tranforming it into something completely unexpected. Drape white string lights with oversized bulbs around an old ladder. Balance your new light fixture with a cluster of pendant lights to complete the look.
Rustic Plant Stand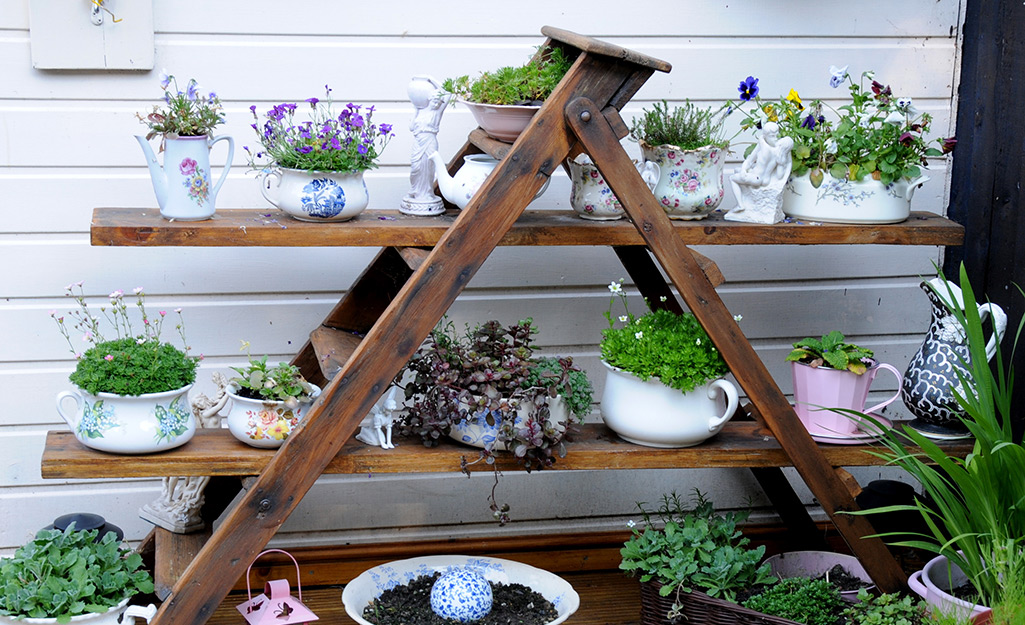 A fun way of decorating with ladders is to use wood shelves to create a unique plant stand. Start by opening up your ladder as far as it will go. Place wood shelves from one side to the other. Fill with plants potted in vintage containers with lots of character.
Suite Side Table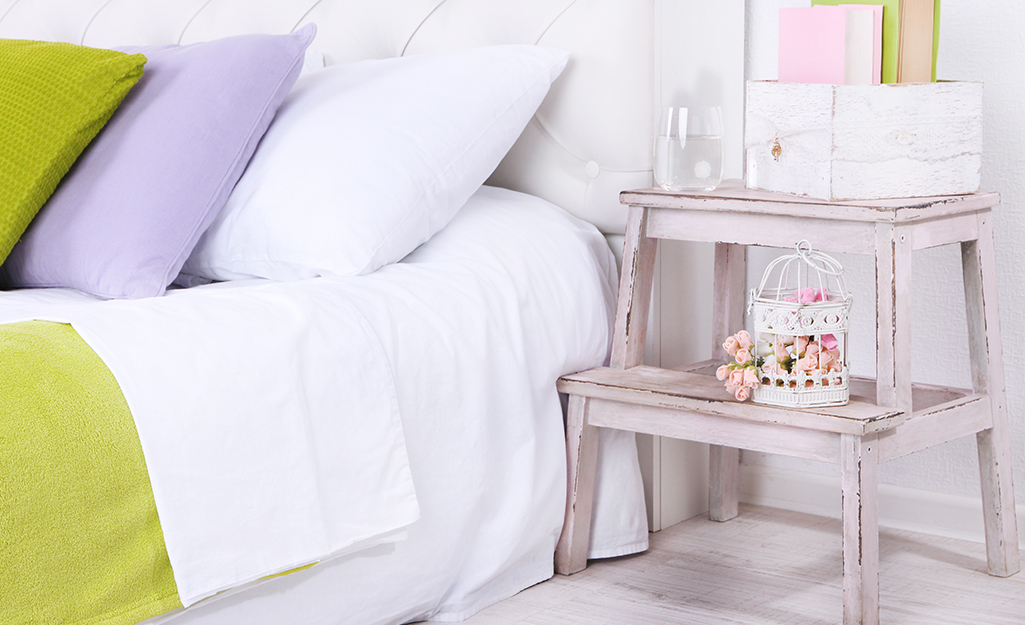 Wake up your bedroom decor with a nightstand that's both chic and sized right. Start with an old step ladder and paint it a shade to complement your bedding. 
Cozy Corner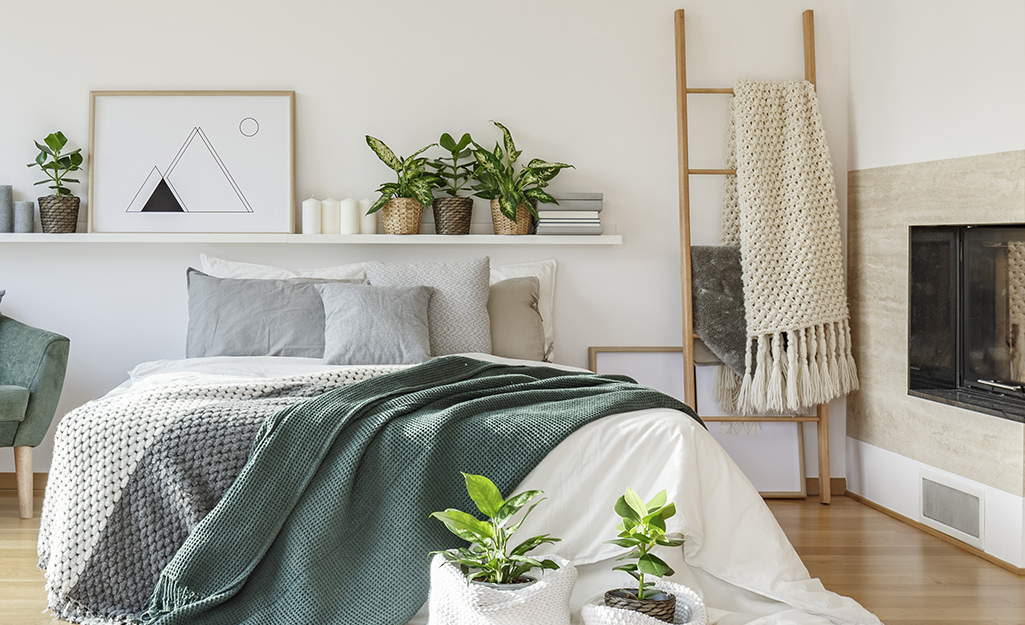 One of the most popular places to use wooden ladders for decorating is in the bedroom. Drape your extra blankets, throws, quilts and other bedding over the rungs and they'll be up and out of the way until the next time there's a chilly night. 
On Display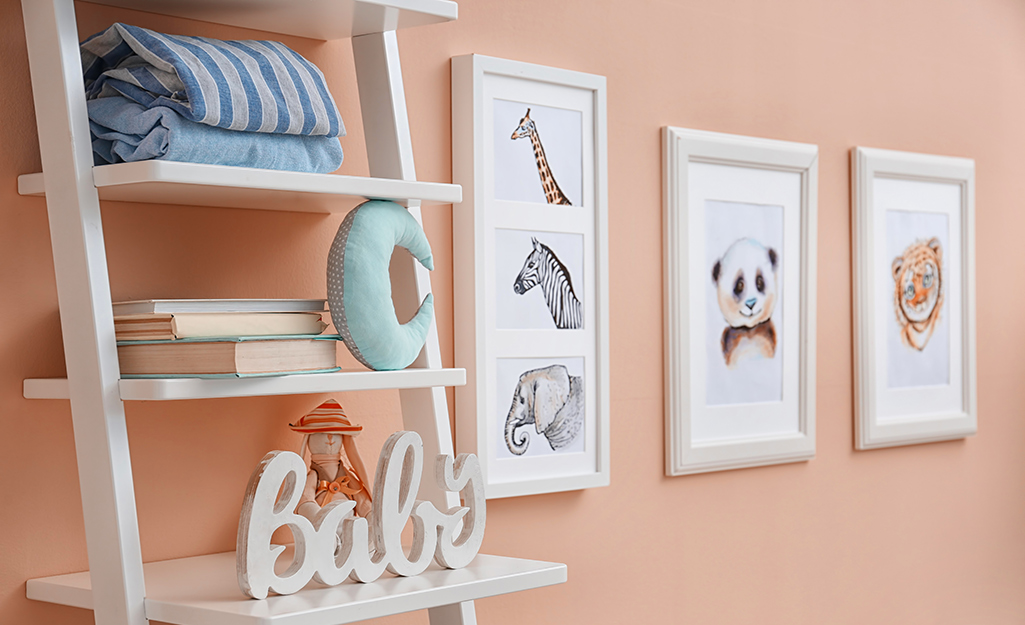 Decorating with ladders in special rooms such as a nursery lets you display keepsakes and keep items out of the reach of little ones. Complete the look with a charming arrangement of matching wall art.
Tip: Make sure you attach the top of the ladder to the wall and the bottom to the floor to make it secure and safe.
Shelf Life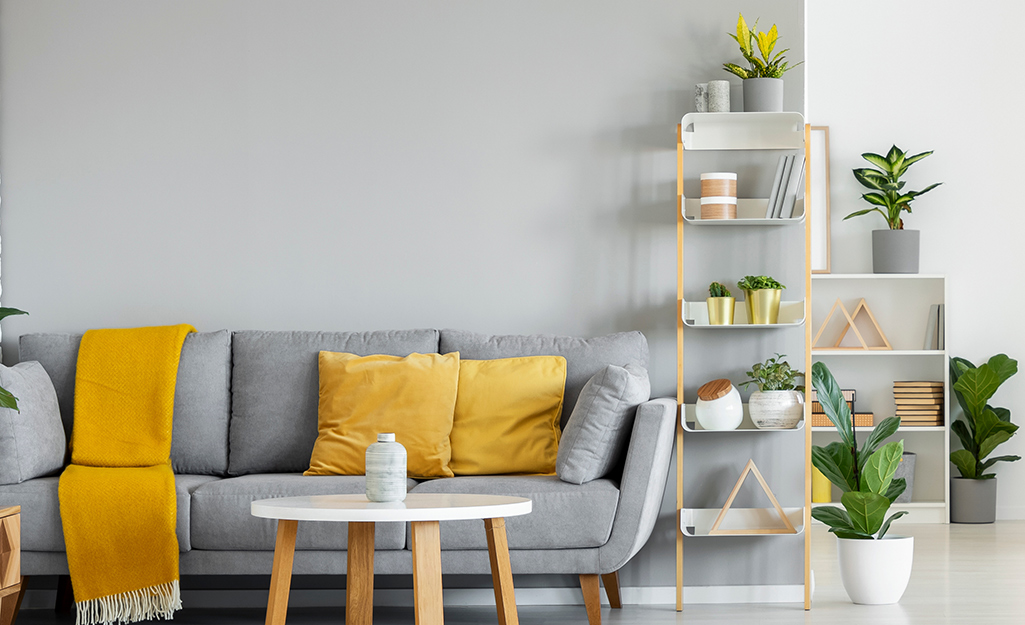 You can never have too many plants to liven up a room, especially when they're nicely displayed on a ladder in a natural wood finish. Make sure to choose plants that won't grow taller than the space between the ladder's rungs.
Add Closet Space
Decorating with ladders is more than just making a room look better. A simple ladder against a wall in the corner of your bedroom will extend your closet space and showcase a few choice pieces at the same time. 
Kitchen Helper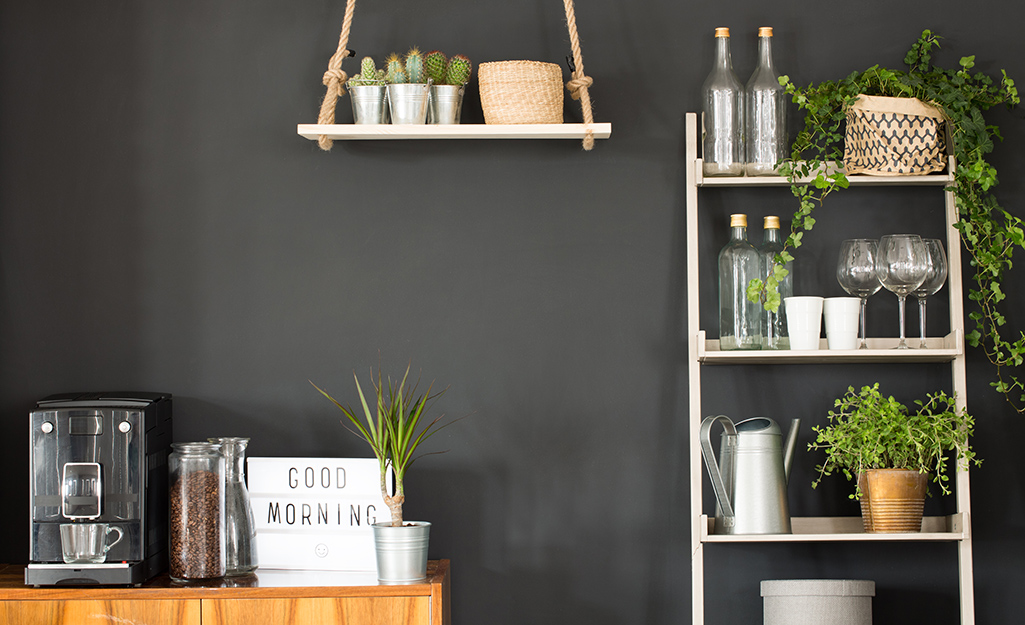 Who doesn't need more storage in the kitchen, especially if it makes cooking and everything else easier? A sturdy ladder propped next to a counter instantly becomes the perfect place for growing fresh herbs, storing glass jars and even keeping wine glasses handy.
Clean and Simple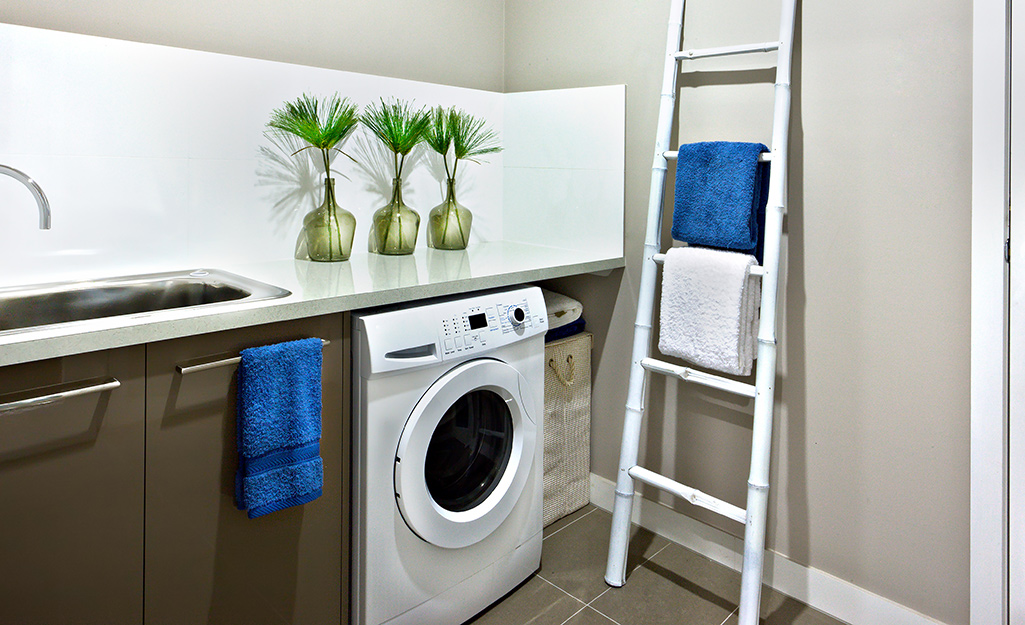 If any room in a house needs a style makeover, it's usually the laundry room. A simple wood ladder painted a glossy white and attached to the wall instantly becomes a more stylish drying rack or a place to store extra linens.
Elevate the Entry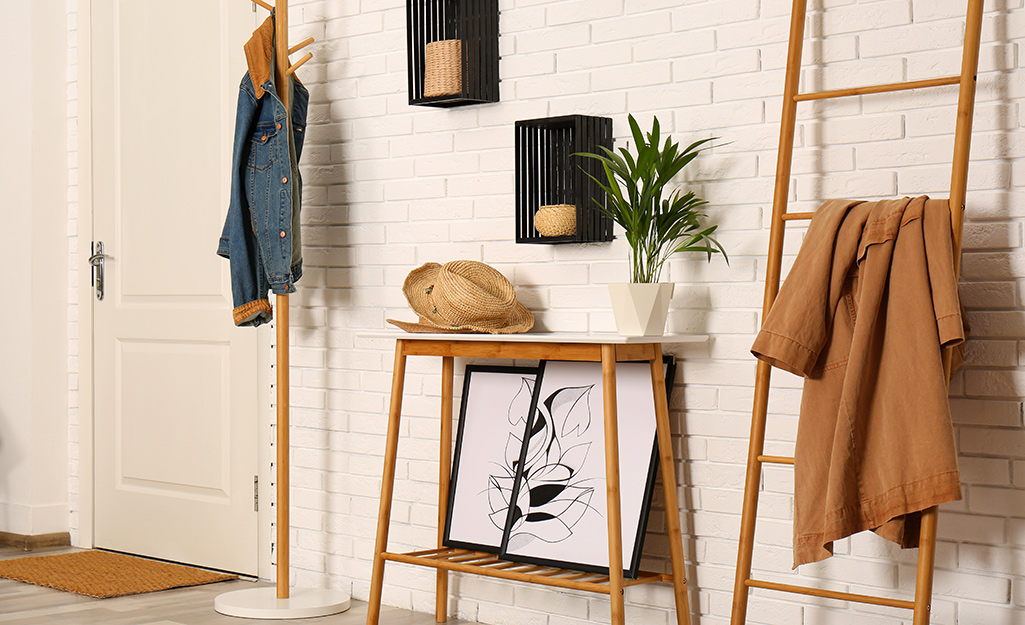 Transform the space right beside the front door into a clutter-free zone. Use a decorative ladder to hold heavy items like coats, a small console table for hats and a hall tree for lightweight items such jackets.
Seasonal Ladder Decor Ideas
Get ready for seasonal changes by decorating with ladders. For example, a vintage white ladder provides the perfect backdrop for a display of orange pumpkins and bright fall foilage. Go woodsy and warm during the holidays with a rustic wood ladder strung with real pinecones, gift tags and cozy red mittens. 
Explore More on homedepot.com