Ideas & Inspiration
Fall Flower Container Ideas
As summer's heat fades, it's time to take a fresh look at container plants (window boxes, too) and make plans for cool weather designs with fall flowers and foliage.
While most annuals will last until first frost, they can get leggy and played out.
The bright summer palette gives way to harvest tones of orange, deep red, golden yellow and purple.
Before you make the big switch, sometimes a bit of maintenance will freshen your summer annuals for a few more weeks, especially if the weather is still hot.
Try trimming leggy stems with pruning snips and giving plants a dose of a balanced plant fertilizer to revive them.
In keeping with the thriller-filler-spiller formula, here are our recommendations for fall container plants.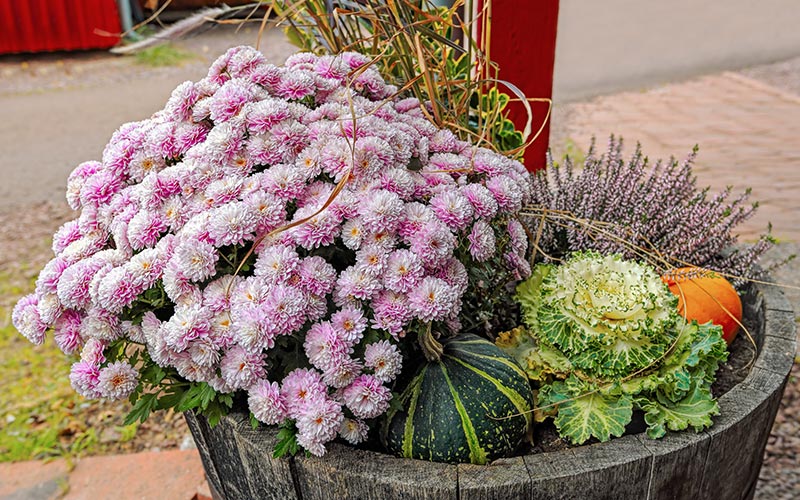 Ornamental grasses. Perennial or annual, ornamental grasses make great choices for containers with annuals like pansies. The swaying fronds of purple fountain grass add movement and height to your design.
Unlike many ornamental grasses, purple fountain grass is hardy only in zones 9 and 10. Try pink muhly grass or zebra grass if you're looking for perennial grasses for cooler climates.
Black-eyed Susan (rudbeckia) and sunflowers (helianthus). These bold flowers will bring the color of sunshine to your containers.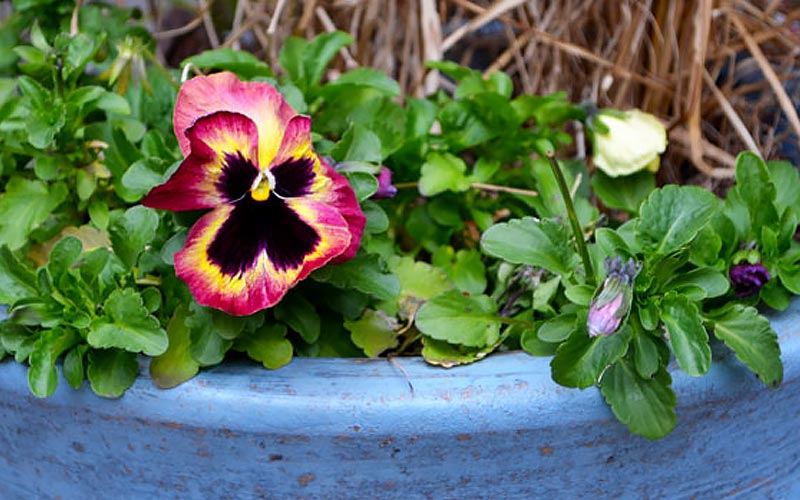 Pansies. These big blooms thrive when nighttime temperatures begin to dip into the 60s. In colors including deep reds, yellows and purples, with and without face markings, pansies and the smaller violas partner well in fall containers.
Mums. Mums like cool nighttime temps, too. The brilliant mounds of color add height to containers. Pop nursery plants into decorative containers and huddle around larger containers for a harvest display.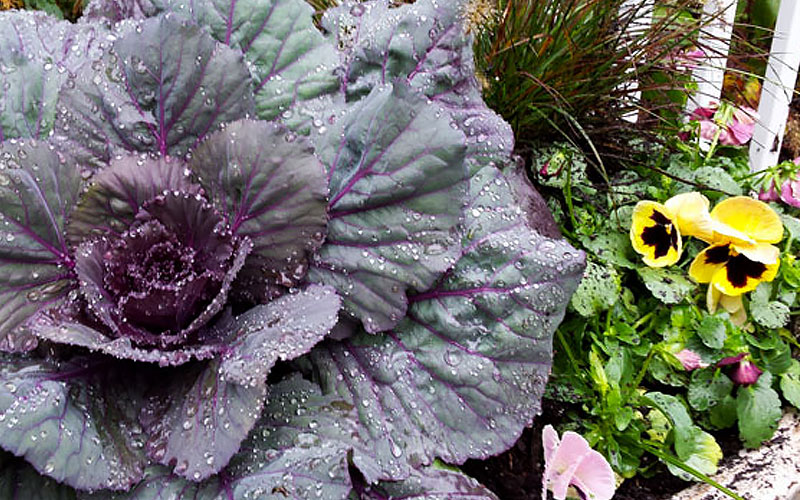 Flowering cabbage and flowering kale. Make room for the stunning rosettes and dramatic coloring of flowering cabbage and flowering kale. Choose the largest sizes, and plant the base a little deeper than you would the other plants. Wait for consistently cool weather before planting; heat makes them grow leggy. And cool weather intensifies the colors.
Ornamental greens. Plant Bright Lights rainbow-colored chard where the afternoon sun will hit the stems, casting a rainbow of red and yellow light. The red and yellow veining on the dark green leaves is a bonus. Ornamental greens like mustard have a pebbly texture and sturdy upright growth for filler. Greens will flag during cold snaps, but rally again when temps warm up.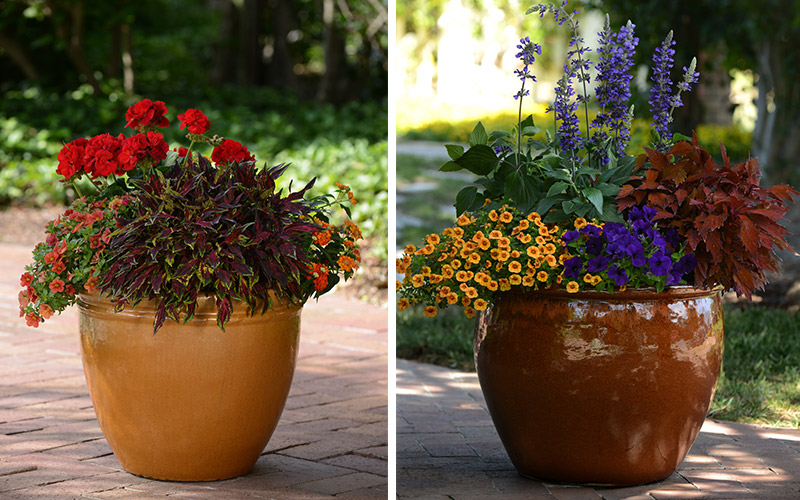 Gently remove spent summer annuals and toss them in the compost pile. If you planted summer bulbs such as caladiums, pull them out, trim them, brush off the dirt and spread on a tray. When dry, place in a labeled paper bag and keep in a cool, dry place. In spring, plant again, tucking into potting mix.
If you're keeping some plants, like Dusty miller or English ivy, take your garden scissors and shape them up. You can even pull them up by the roots and break up excessive root growth.
If potting mix is more than 6 months old, refresh it with some compost, peat moss and slow-release fertilizer like Osmocote.
If potting mix is more than a year old, consider fully replacing it. Dump contents into a garden bed or compost and work them into the soil.
Make sure there is adequate drainage in the bottom of your containers. Just above the drainage holes, add a layer of pine bark or rocks.
Fill container two-thirds full with quality potting mix, then nestle in plants. Top with more potting mix and mulch, or a layer of dampened sheet moss.
Feed once with a slow-release fertilizer or every week with a liquid fertilizer.
To complete the harvest look, just add pumpkins.