Welcome guests with flower beds that complement your home. Flower beds are a lovely way to showcase seasonal colors. This guide will provide you with inspiration for colorful flower bed ideas that will boost the curb appeal of your home.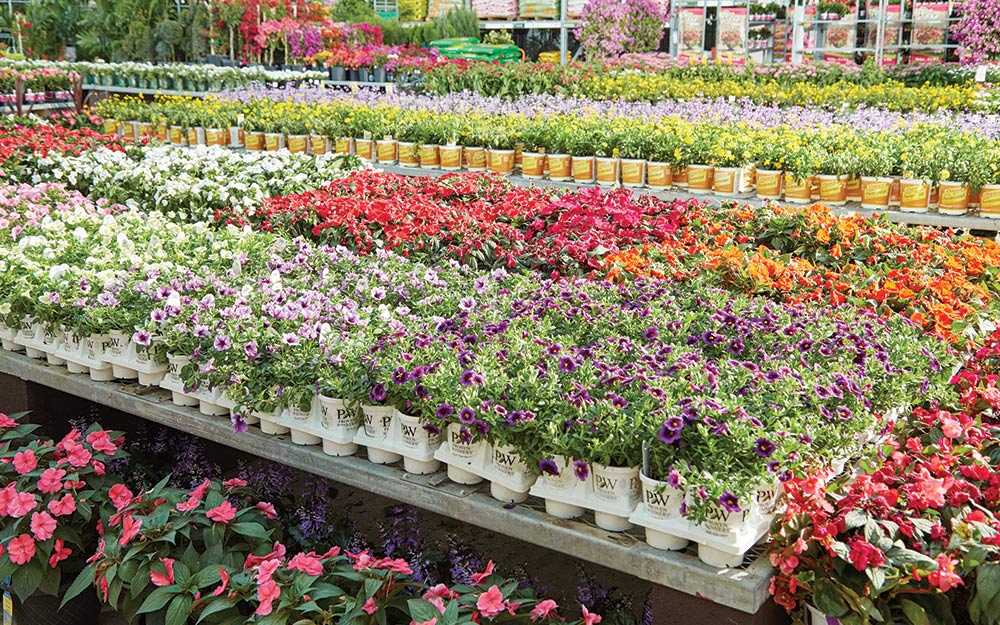 Choosing the best flowers for your garden will depend on choosing the right plants for the growing conditions and purpose of your flower bed. Before you head to your local Home Depot to buy flowers, here are a few things to consider:
Light
What are the light conditions of the area where you plan to plant your flowers? Plants are labeled with the best light conditions in order to thrive. You will need to purchase plants that match the light conditions of the flower bed. Light conditions are listed on plants as:
Full sun: prefers six or more hours of direct sunshine a day
Partial shade: can thrive in three to six hours of daily sunshine
Shade: does well with less than three hours of sun per day
Size
You will need to take into consideration the plant's size when fully mature– both its diameter and height. Many new gardeners get excited and pack in their flower beds with lovely plants only to see them get crowded out when they grow. The label on the plant will list the height and width of the mature plant, along with recommended spacing. Follow the planting guidelines. Plants need space to grow in order to thrive.
When to Plant
Garden centers will have plenty of brightly colored flowers well before last frost date. These plants were grown in a temperature-controlled greenhouse environment. Do not plant until the last frost date for your area. Most summer blooming plants will not survive a late spring frost. If you want early color, select early spring flowers such as pansies and primrose. Spring blooming bulbs typically need to be planted in the fall. However, you can find blooming bulbs to put in your garden in the spring for instant color.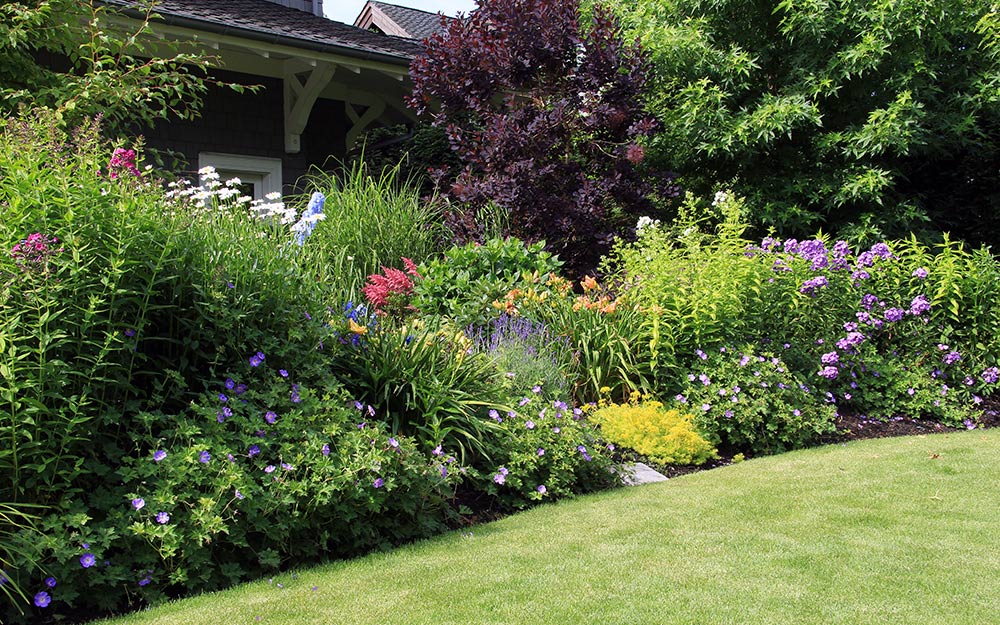 Keep blooms going year after year with perennials. Perennial flowers and plants typically cost more per plant than annuals, but they offer beauty and growth for years. In addition to perennials flowers like coneflowers, black-eyed Susans and daylilies, plant perennial herbs, ornamental grasses and flowering shrubs for added height and texture. You can pop in annual flowers for extra color in-between bloom time.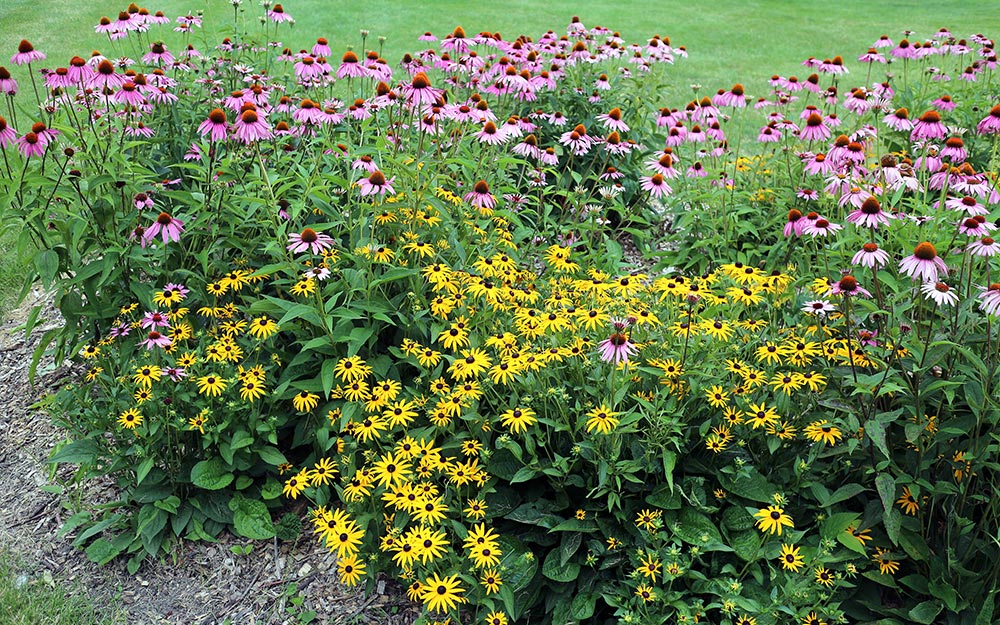 One advantage of using native plants in a flower garden bed is that they are low maintenance and typically need very little attention. Plants native to your area are bred by nature to thrive in your soil and environment. Plus, native plants provide vital habitat for local birds, many other species of wildlife.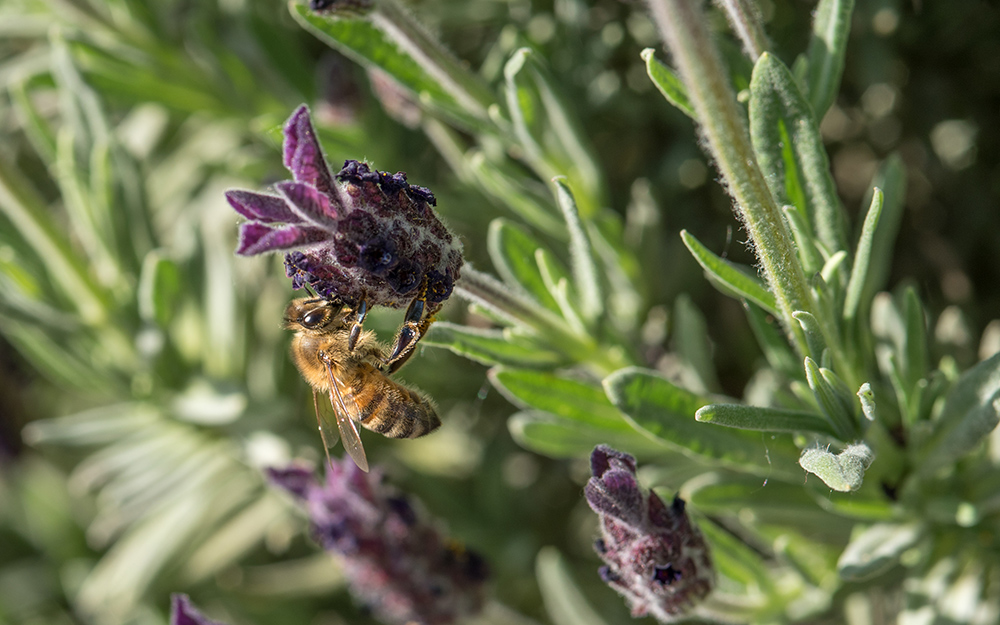 Blooming flower beds bring butterflies, bees and other pollinators to your yard. Plants and people need pollinators to thrive. Plant some pollinator favorites such as zinnias, lantana, bee balm and sunflowers. The pollinators and your plants will thank you with beautiful blooms and fruit all season long.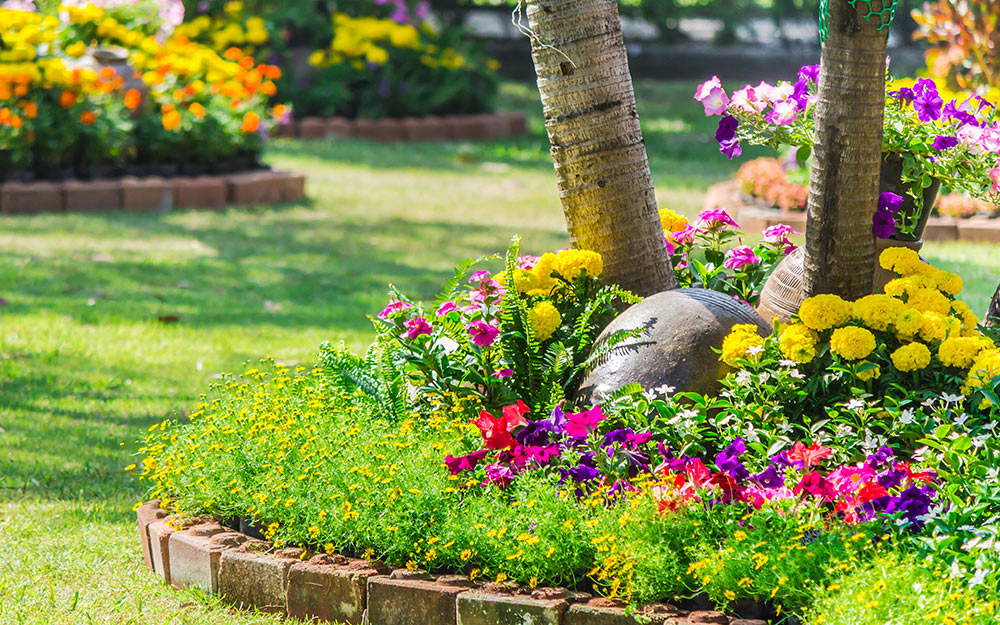 The base of a tree is a great spot for small flower bed. Plant flowers around the base of a tree in a circle or oval. If you have an old tree stump you have yet to remove, hollow out the middle and plant some annual flowers. The flowers will hide the stump until you are ready to have it removed.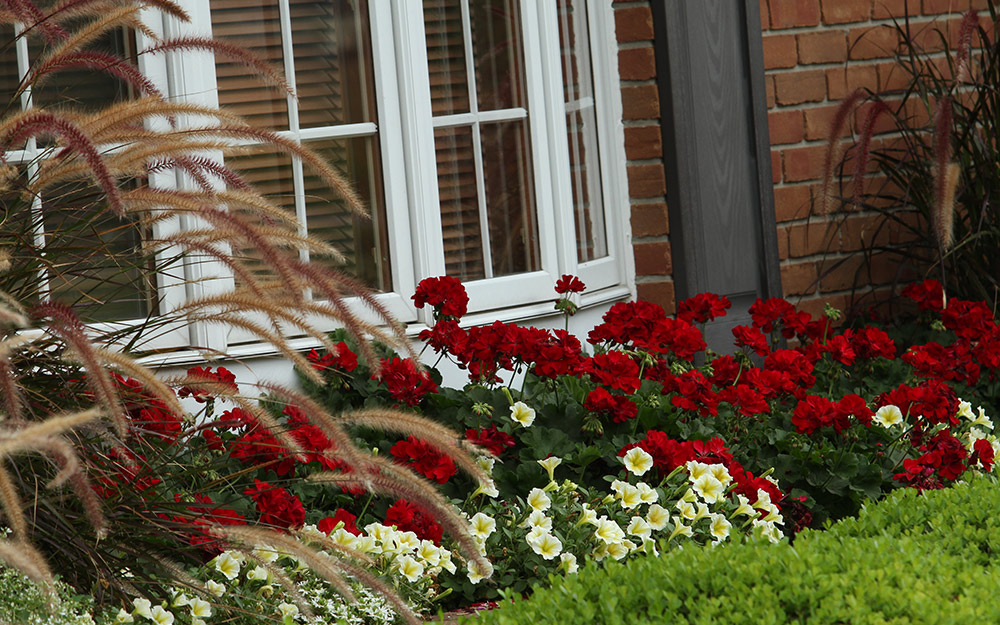 The front and back of the house aren't the only spots for flower beds. Give the sides of your house some love too. If the area gets too much shade, no problem. Plant shade-loving plants like hostas, azalea, hydrangeas, begonias and snapdragons.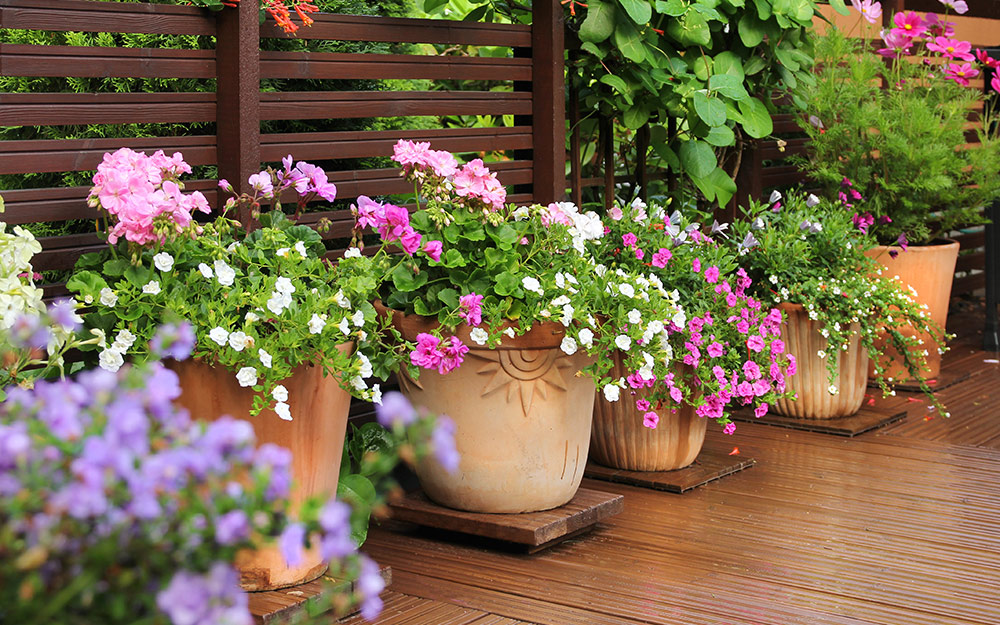 Even the smallest patio can have a flower bed. Plant a colorful array of annuals in containers and group them for an instant flower garden. Pots and planters are mobile and customizable. They are perfect for annual flowers that will add fun pops of color to your porch or patio.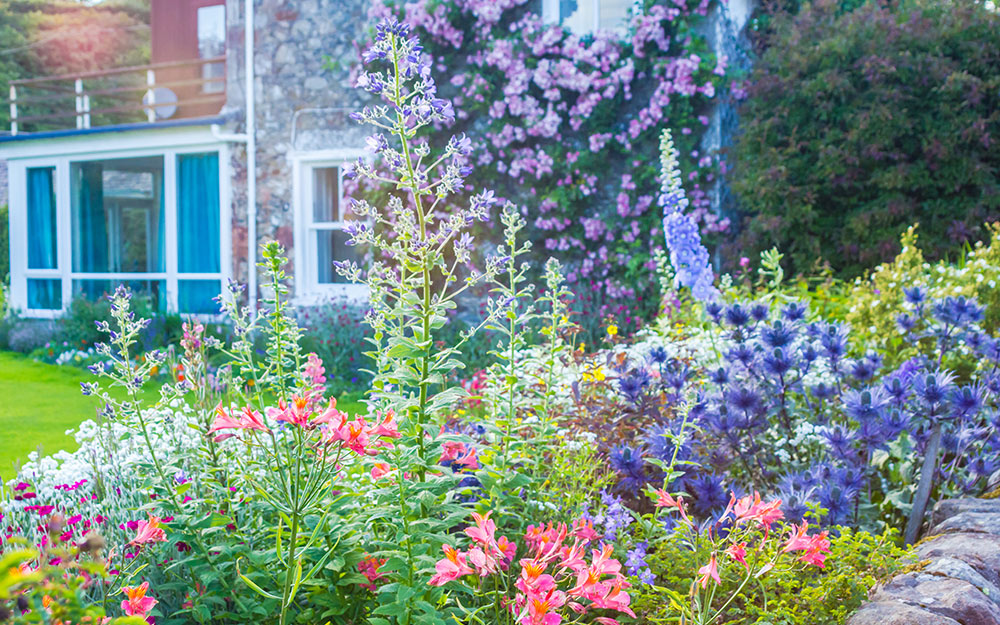 Flower beds connect the landscape to your house, as well as, add color and interest. They fill in the framework provided by your trees, shrubs and other architecture in your yard. Consider these steps to balance flower beds in your yard:
Pick a view. Place flower beds in areas where they can be easily viewed and appreciated. Make sure they look good from all sides.
Think about the size. Flower beds can be any length and width, but wider beds tend to me more attractive to the eye. Plant taller flowers towards the rear of your bed. Plant smaller flowers at the front of the flower bed. Medium height plants are wonderful fillers and are best located in the middle of your flower bed.
Watch the lines. Horizontal or vertical, curved or straight–each type of line will create a different impression in your flower bed and garden.
Strike a balance. Most designs are based on two types of balance–symmetrical and asymmetrical. A symmetrical balance will create a formal garden layout, while an asymmetrical balance is more informal.
Your local Home Depot has everything you need to create attractive, colorful flower beds for you home. Stop by to find the latest seasonal flowers, gardening supplies and everything you need to create attractive flower beds in our yard.