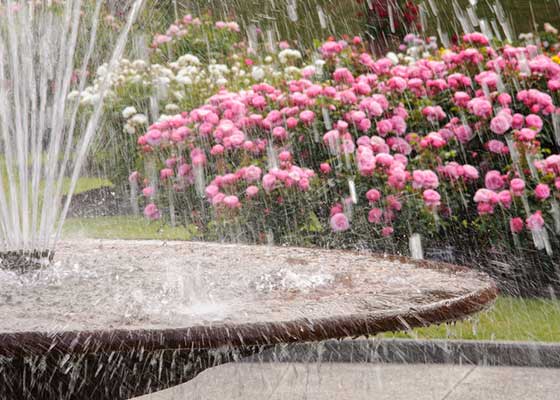 Fountains add a new dimension to the garden: sound. Moving water can make a soothing trickle or a lively bubble and burble. Put a fountain on a bed of stones, and the splashing water refreshes the air around it. Use a fountain on a patio, and it can mask the noise of traffic and neighbors.
Whether you garden on an urban balcony or in your backyard, you'll find a size and style to fit your needs, and you'll enjoy your fountain even more when it's surrounded with flowers and foliage.
Where to Put Your Fountain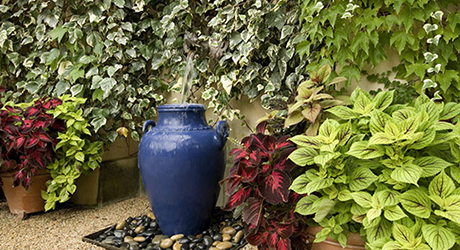 Take a look around. Can you position your fountain near a window, so you can see it from a breakfast nook or family room? A fountain garden can also fill an empty corner in your landscape, ornament a plain wall, or disguise a view.
Keep it near an electrical outlet if it has a motorized pump or lights. You can hide any cords with plants. 
To keep the water flowing properly, place your fountain on a stable, flat surface. If it's in the yard, remove any grass underneath.
Avoid putting your fountain too close to trees that drop leaves or other debris.
Put a bench or chairs near the fountain, so you can sit and enjoy it.
Plants for a Fountain Garden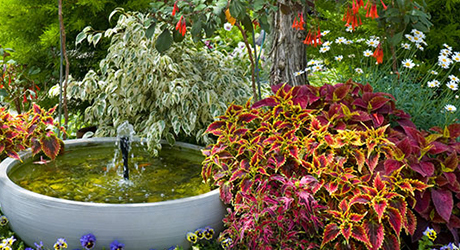 Consider how much sun you get and how you'll use your fountain when choosing plants. For shady spots, grow plants with attractive leaves, such as hostas, caladiums, heucheras and coleus. For flowers, try impatiens, tuberous begonias, astilbes and Browallias. There are many flower choices for sunny sites, including zinnias, vincas, marigolds and petunias.
If your fountain splashes a lot of water around, use plants that like moist soil. Ivies, ferns, creeping Jenny, Japanese iris, spiderwort and marsh marigolds are good choices. (If the water tends to pool on the ground, work some organic matter or compost into the soil to improve drainage.)
For a fountain that backs up to a wall or other structure, plant a living backdrop of ivy, climbing hydrangeas, wisteria, coral honeysuckle, climbing roses, sweet autumn clematis or trumpet vines. Some vines should be trellised to avoid causing damage; your Home Depot Garden Center associate can give you details.
Sun-loving Knock-Out roses or neatly clipped boxwood shrubs give a fountain garden a formal look.
Moving water often attracts birds and other wildlife. Invite butterflies with coneflowers, daylilies, lavender, spice bush, butterfly bush and a variety of flowering annuals.
Add movement to your fountain garden with ornamental grasses that sway in the wind; many will tolerate hot, dry conditions. While some varieties grow quite tall, others, like 'Little Bunny,' top out at about 15 inches. Liriope, black mondo grass and blue fescue (Festuca glauca) are good choices for short, ornamental grasses.
If you live in a tropical or subtropical area, try lush bougainvilleas, mandevillas and orchids around your fountain.
To keep your garden colorful, use a variety of annuals, vines, perennials, bulbs and shrubs. Spring pansies and snapdragons can be followed by ageratum, vinca, celosia, lantana and other flowers in the summer, and mums and ornamental kale in fall.
Explore More on homedepot.com