Gazebos are wonderful outdoor structures that will instantly up the curb appeal of your home. The traditional gazebo shape is octagonal. However, square and rectangular shapes are just as popular, especially in a modern setting. A square gazebo is often confused with a pergola, but gazebos have a roof, while pergolas have cross beams. Both 10 x 10 gazebos and 10 x 12 gazebos are popular sizes for the structures. If you are looking for backyard gazebo ideas, here are some inspirational gazebo pictures to help you choose the best style for your home.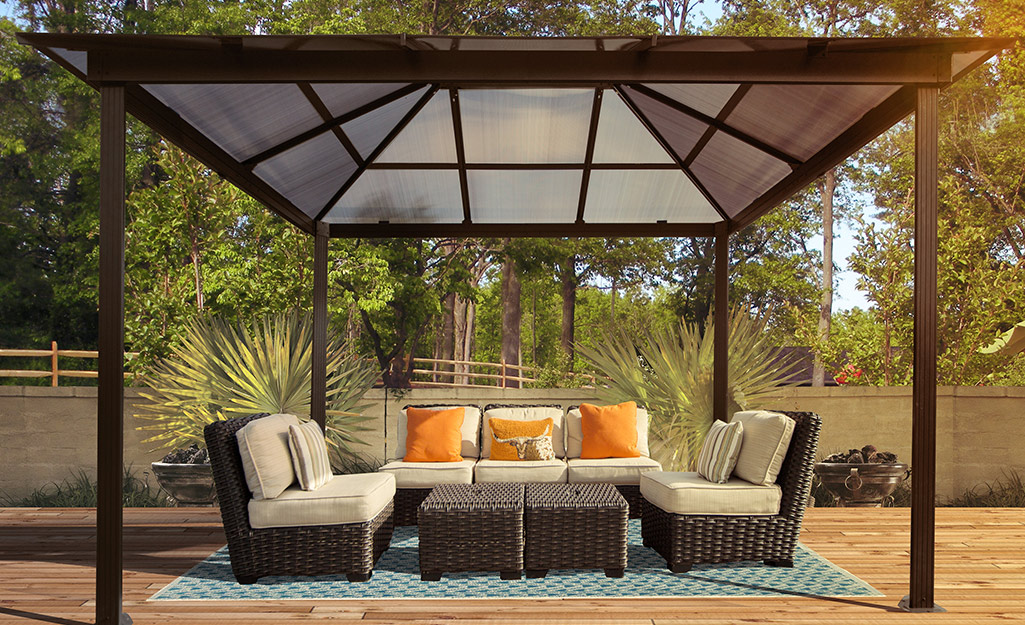 Simple in design, this metal gazebo has a modern, Asian feel. It features a solid fiber plastic roof canopy and black finished metal posts and panels. Metal gazebos are virtually maintenance-free as well as attractive. This gazebo style works with any type of minimalist decor.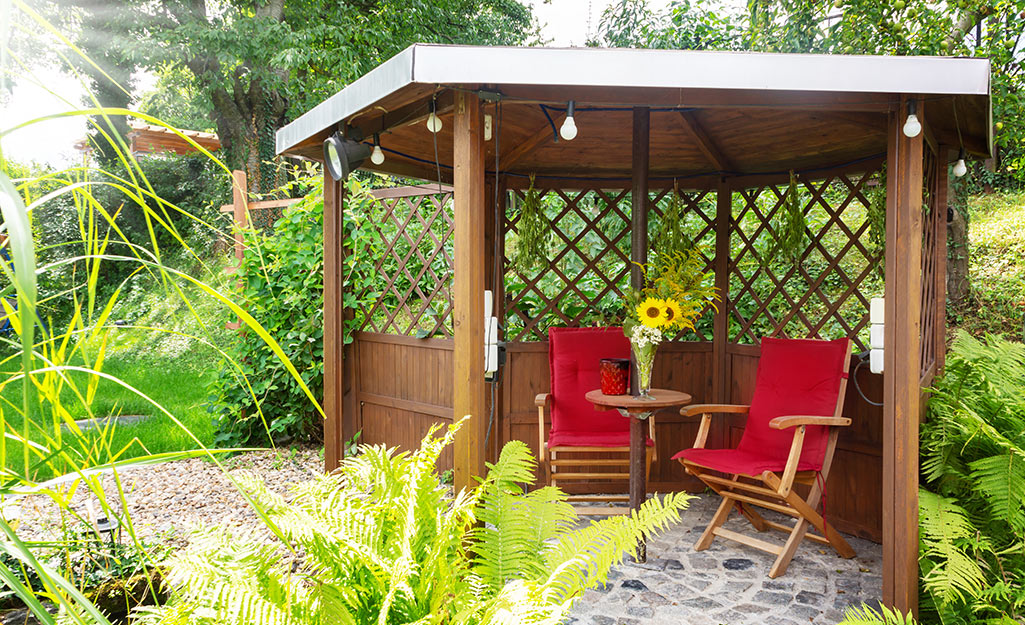 Octagonal wood gazebos are the traditional style for the structure. Sizes can vary, but this cozy, room-for-two gazebo is perfect for small yards or if you want to create an intimate sitting space. For additional ambiance, add gazebo lighting along the roof so you can hang out in your sitting area in the evening.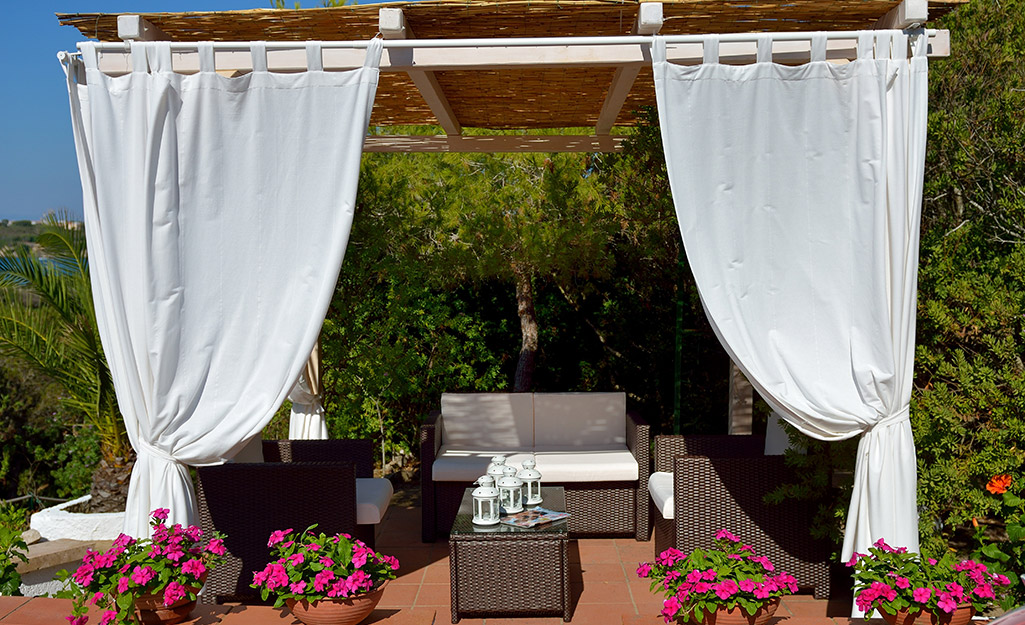 Although gazebos and pergolas can look similar, there are often hybrid versions of the two. This structure has cross beams (typical of pergolas), but it also features a roof (standard for gazebos). Removeable curtains transform the structure into a screened gazebo when needed. If you are not sure if you'd prefer a gazebo or a pergola, then consider a hybrid type.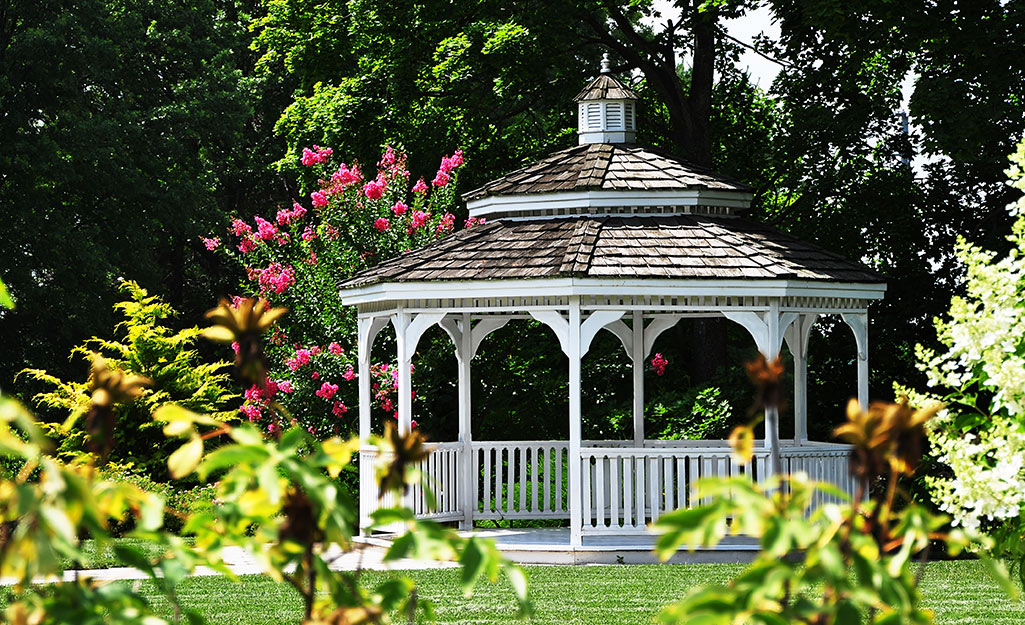 Cupolas offer a finishing touch to a gazebo. A cupola is a small dome-like feature that is positioned on top of a structure. Any stationary gazebo can have a cupola, but it needs to be proportional to the size of the structure. To determine the right size, take the gazebo's width and multiply it by 1.25 or 1.5 to get a general idea on what size base you should get for the cupola.
A gazebo will make a wonderful addition to any yard and one of these gazebo ideas can work to enhance your outdoor space. Shop The Home Depot for gazebo kits or supplies to build your own gazebo as well as patio accessories to decorate your outdoor space.