Ideas & Inspiration
How Kawahara Nurseries Delivers on Sustainability
South of Silicon Valley, just off United States Highway 101, tufts of purple blooms wave in the breeze from fresh fields of lavender grown at Kawahara Nurseries.
With locations in Morgan Hill and Gilroy, Calif., Kawahara Nurseries is among the more than 150 regional growers who supply locally grown plants to The Home Depot stores.
This practice of growing plants closer to the stores where they'll be sold translates to fresh plants that are just right for planting in your garden.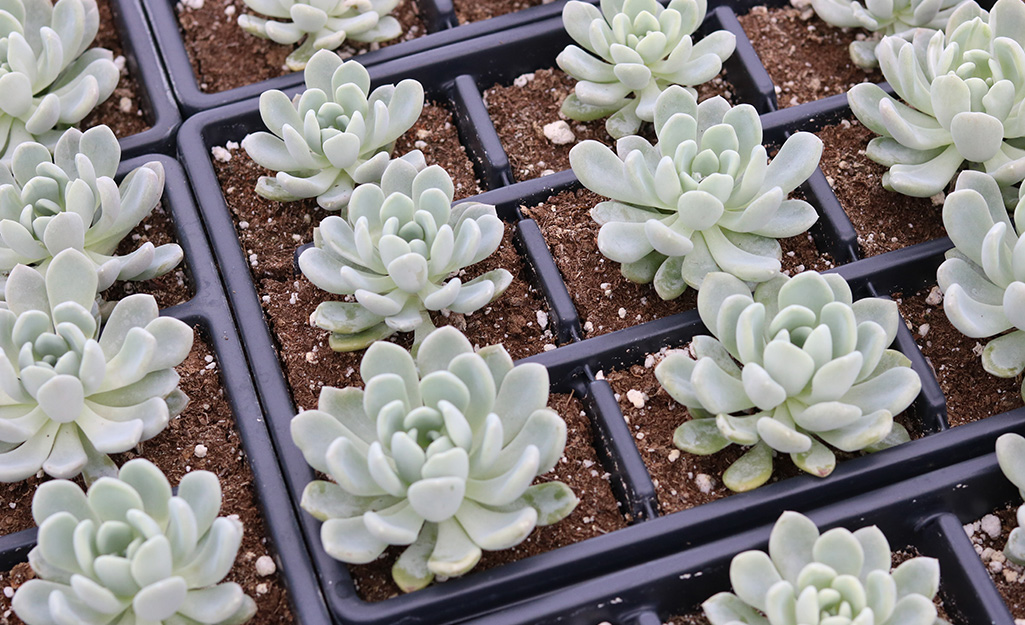 In addition to lavender, Kawahara, founded in 1949 by Sam and Jean Kawahara, counts succulents, Asiatic lilies, coreopsis, petunias and marigolds among the 10,000 varieties of perennials, annuals and other plants it grows from its two nursery locations.
It's from these nurseries that Kawahara serves 55 The Home Depots surrounding the San Francisco Bay Area, Sacramento and Reno, Nev. That means plants travel fewer miles to stores that sit less than 270 miles from Kawahara Nurseries.
This farm to garden to table philosophy and sustainable practice keeps plants fresh and thriving when you grow them in your garden.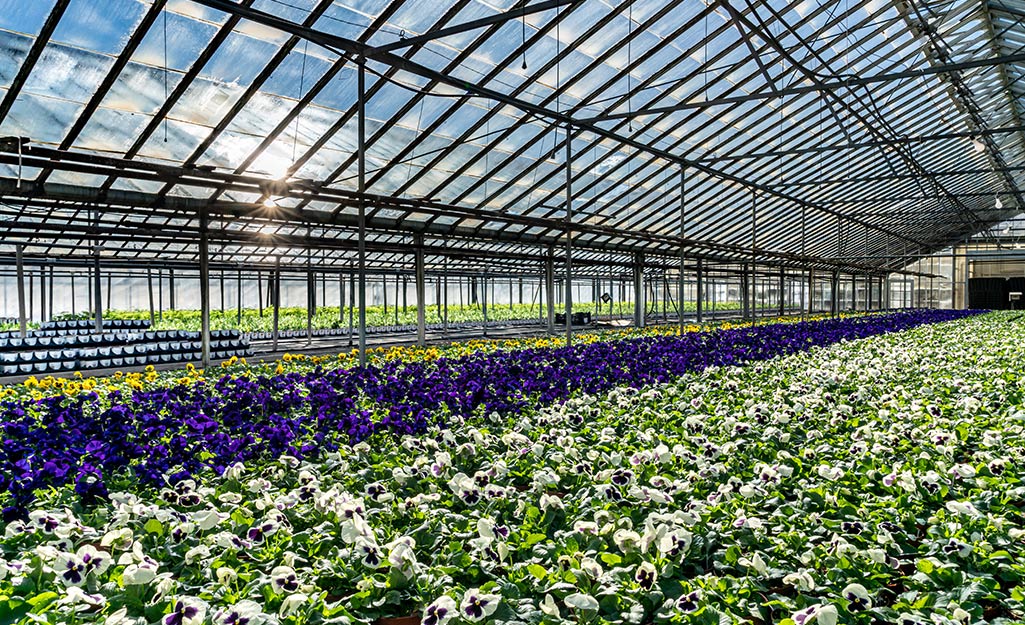 Kawahara also practices biocontrol methods, or using beneficial insects, to control invasive species such as aphids, so customers get fresh, pest-free plants not treated with pesticides.
"My grandfather always demanded a clean facility not only for safety, but for keeping pests and bacteria down," said Sami Kawahara, granddaughter of the founders, who now are both deceased. "We stopped using neonicotinoids (neonics) in 2014."
Andrew Kawahara, a grandson, runs the biocontrol program at the nurseries. He said that as the company stopped using neonics, the nurseries ramped up their biocontrol efforts, which were in use for the past 10 years.
Using sachets of mites and boxes of predatory wasps attached to or hung over plants, these beneficial insects control targeted pests. Other methods include using vials of fungus that can be sprinkled over the foliage of infested plants. The fungus overtakes the bad bugs and stops them in their tracks.
"Biocontrol is better for the environment, the plants and important for the future of our company," Andrew Kawahara said.
Sustainable farming practices also helped Kawahara Nurseries earn certification by MPS, or Milieu Project Sierteelt, an internationally recognized horticulture industry certification recognizing leaders in sustainability adhering to high standards.
Andrew Kawahara said it's a yearlong certification process and it's an honor to have received it.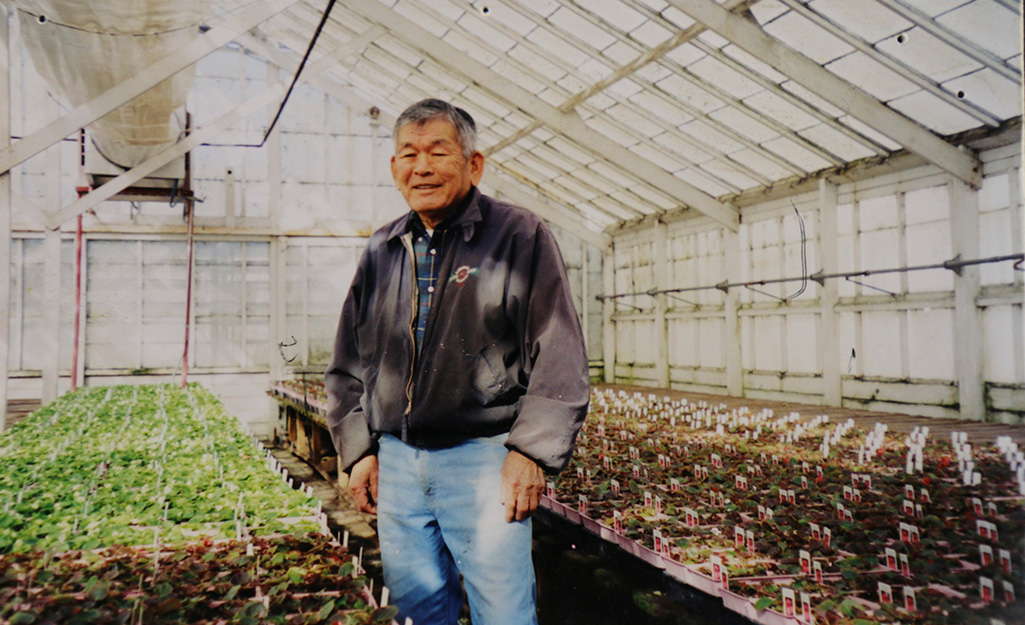 Sam and Jean Kawahara turned to agriculture after World War II as they began rebuilding their lives.
During this time in American history, following the battle of Pearl Harbor, 120,000 Japanese Americans were viewed as enemies to the U.S. government because of their ancestry and were forced to live in internment camps.
While at an internment camp in Utah, Sam Kawahara joined the U.S. Army to help commute his internment. While on his way to a mission in Japan, the war ended. His family later made their way back to California, where he met Jean and they married.
Initially, Sam Kawahara (pictured above) began growing strawberries on a sharecropping property on a 2-acre plot in San Lorenzo, Calif. Later, with the help of his parents, Sam Kawahara and his new wife Jean launched Kawahara Nurseries and began growing annuals in wooden boxes. Plants were sold to other nurseries and landscapers from the back of a pickup truck.
They had four children and their two oldest sons, Dave and John, started helping in the nursery business at a young age.
"My parents were fortunate," said John Kawahara, vice president of Kawahara. "They moved back to California after the internment camps and the military. It was a new start."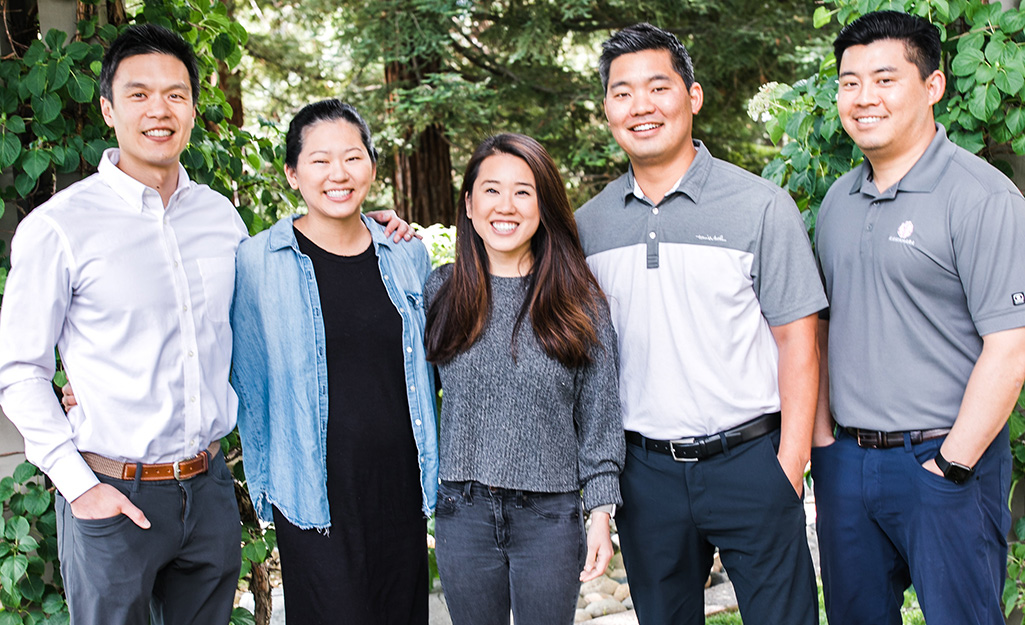 One flower crop at a time, business grew. Dave and John helped expand the nursery through acquiring more acreage. Kawahara Nurseries began working with The Home Depot in 1995.
"With The Home Depot, we began by selling annuals, vegetables, ground covers and some perennials," John Kawahara said. "We brought our plants in a box that was easily stackable at stores. Once Home Depot got to know our product, quality and service, we gained recognition and built the business from there."
By 2002, the nurseries acquired acreage in Gilroy to expand product selection for Home Depot.
Now Kawahara cultivates plants on 160 acres in 60 greenhouses with 350 employees. Though they still work in the nurseries, John and Dave Kawahara (president of the nursery) have handed the reins over to the next generation to continue the legacy that their father built.
Pictured from left to right above, Clinton Wu, Megan Kawahara Wu, Sami Kawahara Takala, Andrew Kawahara and Josh Kawahara, now run operations at both nurseries.
In the past year, the company erected a new greenhouse to support two new districts in Sacramento, Calif. and Reno, Nev.
That's a lot of plants, but Kawahara is ready for the next generation of growth.