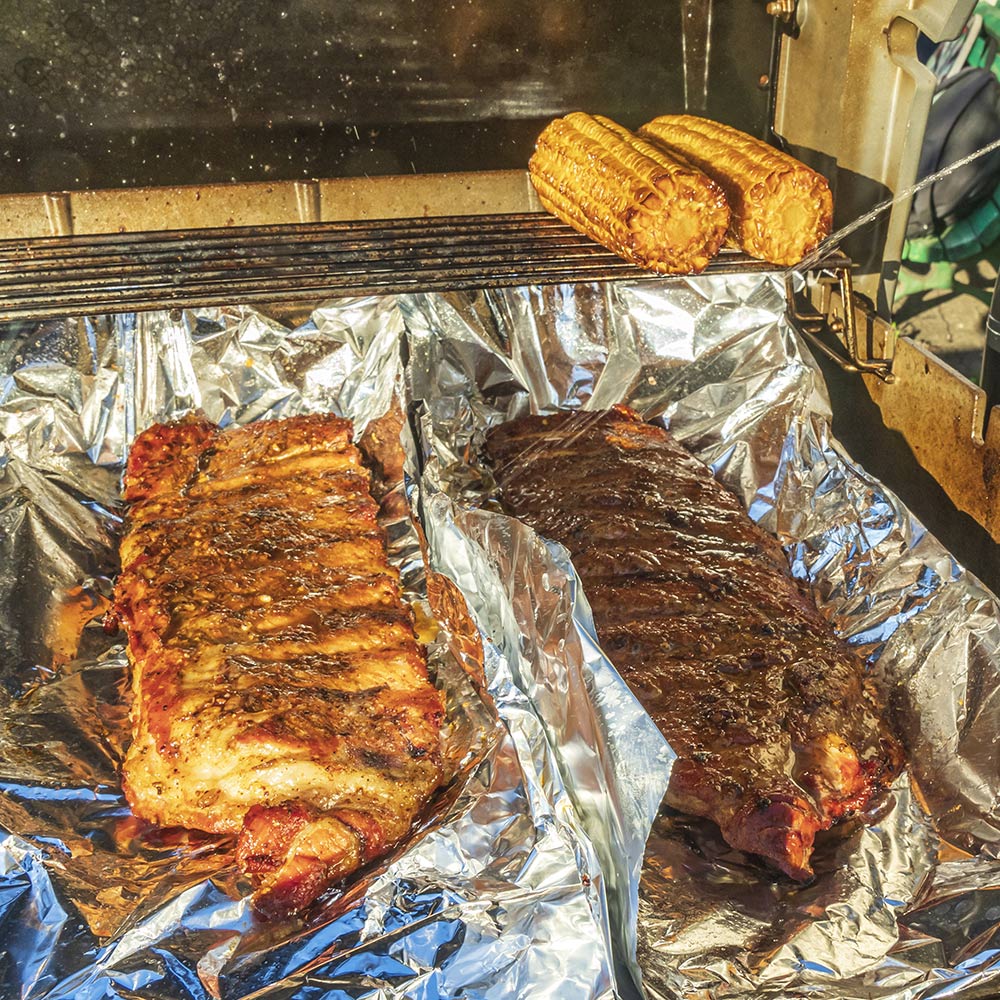 Presented by Weber Grills
Learn how to make foil-wrapped baby back ribs on the grill in one and a half hours that are every bit as tender as slow-cooked meat.
Foil-Wrapped Baby Back Ribs Recipe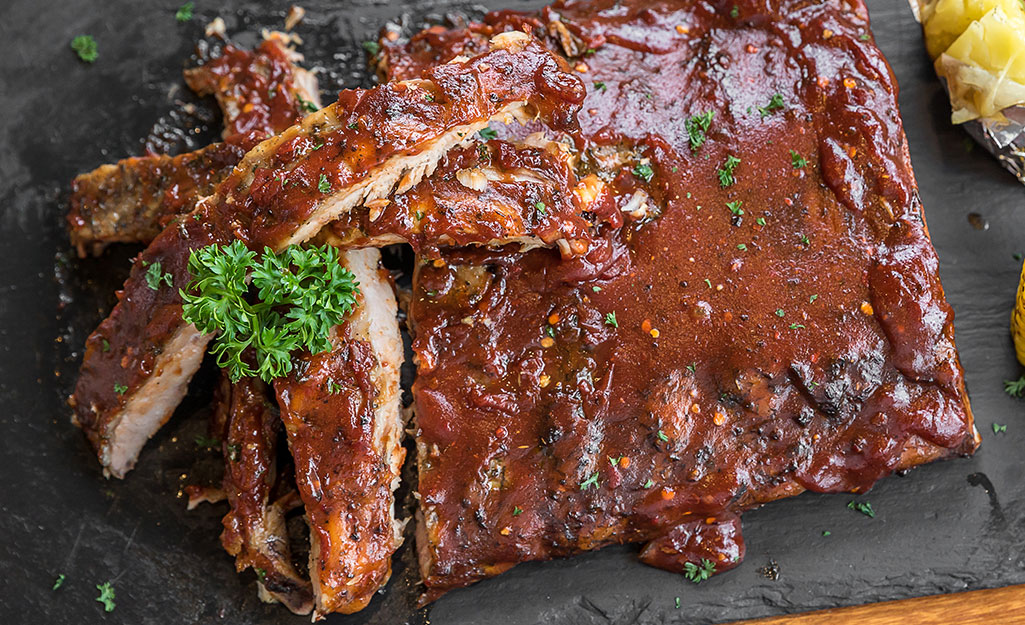 SPECIAL EQUIPMENT:
INGREDIENTS FOR THE RUB:
1 tablespoon kosher salt
2 teaspoons paprika
2 teaspoons granulated garlic
2 teaspoons dried thyme
1/2 teaspoon freshly ground black pepper
2 racks baby back ribs, each about 2 pounds
1 cup / 240 milliliters store-bought barbecue sauce
INSTRUCTIONS:
Soak the wood chips in water for at least 30 minutes.
Prepare the gas grill or charcoal grill for direct cooking over medium heat (350 to 450 degrees Fahrenheit).
In a small bowl, mix the rub ingredients.
Using a dull dinner knife, slide the tip under the membrane covering the back of each rack of ribs. Lift and loosen the membrane until it breaks, then grab a corner of it with a paper towel and pull it off.
Season each rack evenly with the rub. Using four 18 x 24-inch sheets of heavy-duty aluminum foil, double wrap each rack in its own packet.
Brush the cooking grates clean. Place the ribs on the grill over direct medium heat, then close the lid and cook for one hour, occasionally turning the packets over for even cooking and making sure not to pierce the foil.
Remove the packets from the grill and let rest for about 10 minutes. Carefully open the foil packets, remove the ribs and discard the rendered fat and foil.
Drain and add the wood chips to the charcoal or to the smoker box of a gas grill, following manufacturer's instructions, and close the lid. When the wood begins to smoke, return the racks to the grill, bone side down. Grill over direct medium heat with the lid closed, for 10 to 12 minutes, until they are sizzling and lightly charred, turning and basting once or twice with the sauce. Remove from the grill and let rest for about 5 minutes.
Cut into individual baby back ribs and serve warm with any remaining sauce.
Mexican-Style Corn on the Cob Recipe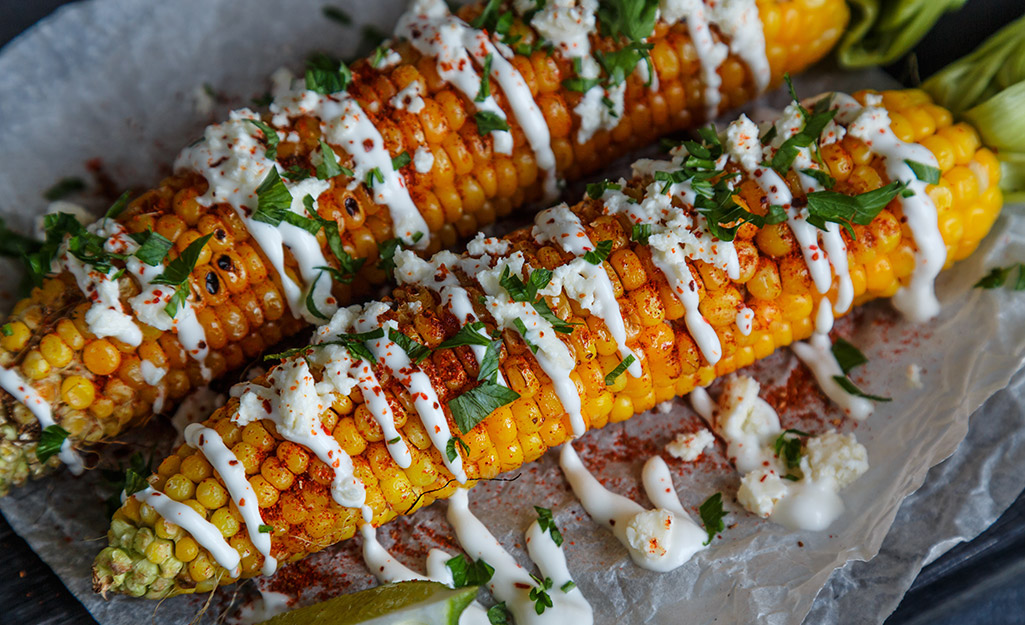 INGREDIENTS FOR SPREAD:
3 tablespoons mayonnaise
2 tablespoons sour cream
1 tablespoon fresh lime juice
INGREDIENTS FOR TOPPING:
3 tablespoons grated cotija or Parmigiano-Reggiano® cheese
3/4 teaspoon prepared chili powder
1/4 teaspoon chipotle chile powder
4 ears fresh corn, husked
INSTRUCTIONS:
Brush the cooking grates clean.
Grill the corn over direct medium heat with the lid closed, for 10 to 15 minutes, until the kernels are browned in spots and tender, turning occasionally. Remove from the grill.
Smear the spread all over the corn and then season evenly with the topping.
Serve right away.
Copyright 2019 Weber-Stephen Products LLC. Recipe by Jamie Purviance. Used with permission.
Explore More on homedepot.com