Ideas & Inspiration
How to Grow 3 Amazing Plants in Strawberry Jars
It's hard not to love strawberry jars, the cutest containers in the Garden Center. The 2-gallon terra cotta planters feature six pockets just the right size to hold strawberry plants. The plants grow, stretching their roots inside the container and spilling runners and fruit outside of the jar.
A pocketed planter that is perfect for your favorite strawberries also works for other kinds of plants like herbs and succulents.
This terra cotta strawberry planter is just the beginning. There are ceramic jars and innovative grow bags made of recycled materials, all designed to grow delicious fruit and edibles or beautiful succulents.
Pick up a strawberry planter, some potting mix and about a dozen strawberry or herb plants and put together a summery strawberry pot for your porch or patio. If low-maintenance succulents are more your style, be sure to pick up potting mix just for succulents and cacti.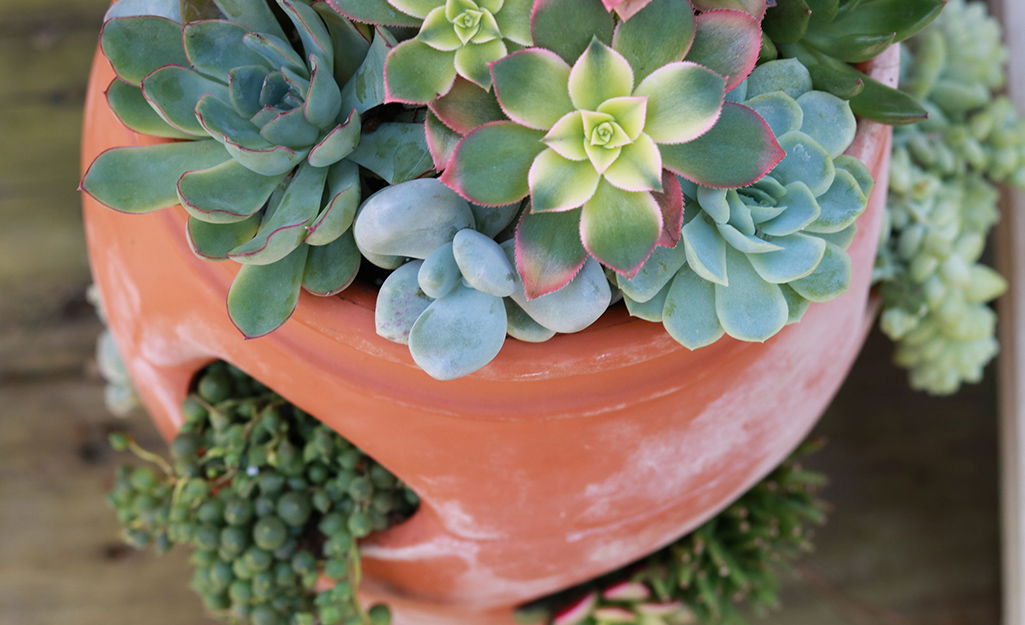 Terra cotta clay is porous and naturally pulls moisture away from the soil, making it the ideal material for a succulent container. And the pockets give you the opportunity to display a variety of textures in a single container.
Try trailing spillers like string of pearls and donkey's tails. Clusters of echeveria with their rose-like blooms create a thrilling bouquet on top. Quick-spreading hens and chicks are favorites for strawberry jars, too.
Get the look: This 2-gallon container holds about 20 succulent plants. To keep the look: display in filtered light and keep an eye on the moisture level.
Tip: Water when the soil is dry to the touch (you'll notice some of the succulents may get a little grayer when they need water), then water heavily, so water is dripping from the bottom of the container. Just make sure the container doesn't sit in water for too long.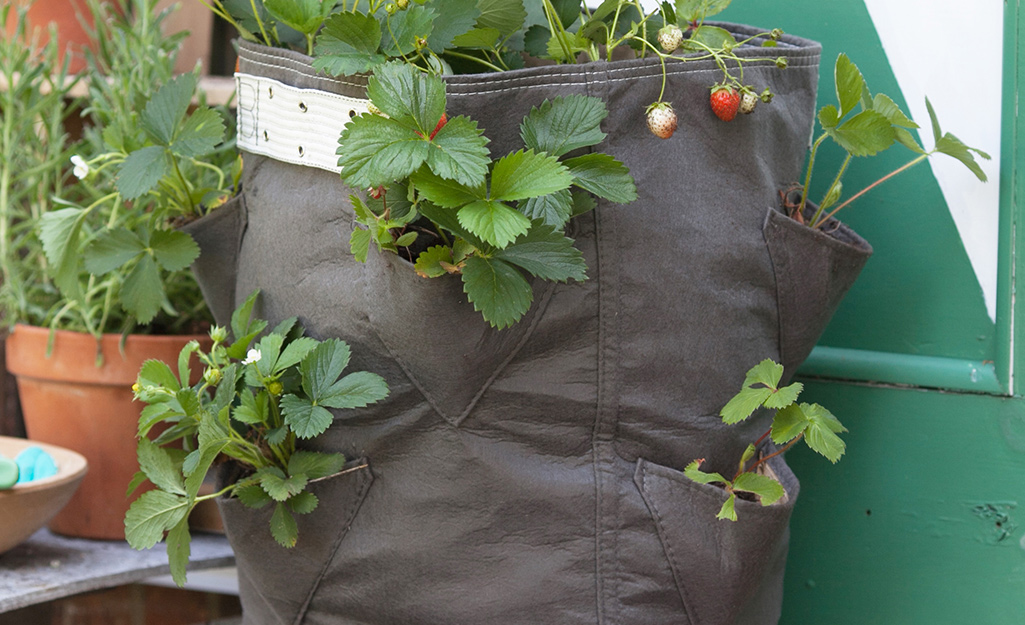 Try a brand new bag for growing strawberries, like a fabric planter from Bloem (available in many colors; the one above is Chocolate). This eco-friendly choice is made from recycled materials like plastic bottles. It's larger than a typical strawberry jar, with eight pockets and able to hold 38 quarts of potting soil. The grommets along the bottom drain away excess water, so the strawberries don't get waterlogged.
The handles make it easy to carry, although when it's fully loaded with plants, soil and water, it can be heavy. It's best to plant the bag in the same sunny site where the plants will grow.
Tip: Rotate the planter every few days so plants get full sun exposure. Learn more about growing strawberries.
How to Plant Strawberries in Containers:
Add a few inches of moistened organic potting mix up to the bottom of the first pocket.
Tuck a strawberry plant in the pocket, setting it at an angle.
Continue to add more soil to the height of each pocket, putting one or two strawberry plants in each pocket.
When you reach the top of the jar, plant more strawberries on top and add a layer of compost.
Water the pot well from the top and water each of the pockets.
Strawberries are perennial in zones 4 to 8. When the season is over, transfer plants from container to garden.
Tip: Ever-bearing varieties of strawberries typically perform better in containers than June-bearing varieties. In the Garden Center, both Ozark Beauty and Quinault strawberries from Bonnie Plants are ever-bearing. Read plant tags to know the variety you're planting.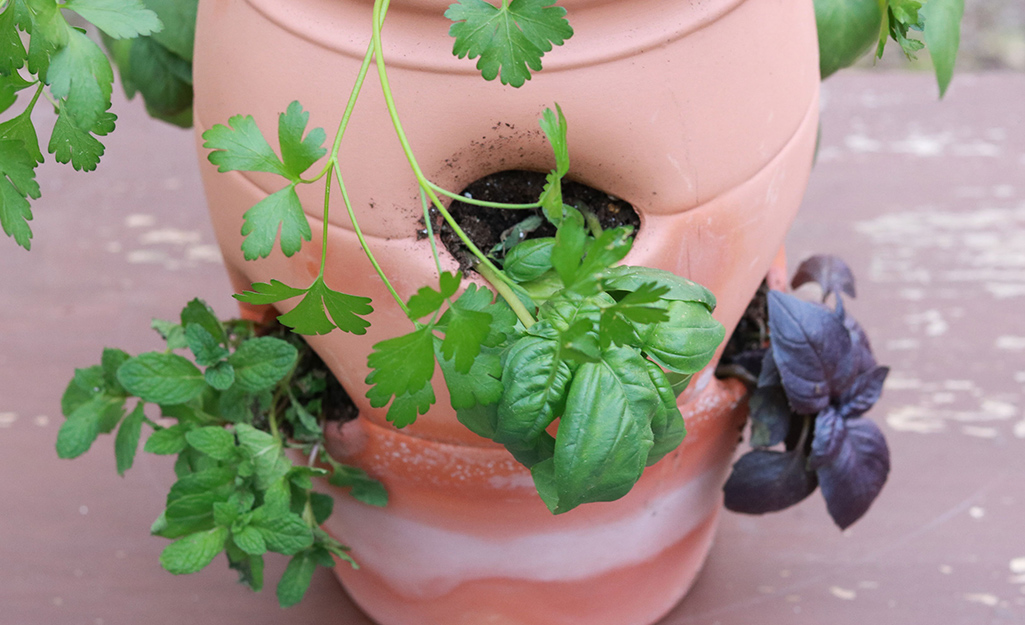 Summer-loving herbs like basil, parsley and mint will love their turn in a strawberry jar. This is a handy way to bring an herb garden to your porch or patio, especially if you have a spot in the garden where you can transfer the herbs when they get leggy. When the weather cools in fall, grow chives, parsley and dill in the jar.
Get the look: Begin with about a dozen herb plants and follow the instructions for planting strawberries. Select herbs that have similar water and light requirements. Most herbs can handle the filtered light of a porch or patio, although basil really likes the sun.
Tip: Keep thirsty strawberries watered during the growing season. Try drip irrigation for containers, or this easy trick: fill a galvanized tub or bucket with about 4 inches of water. Place the strawberry jar in the bucket to soak up the water.