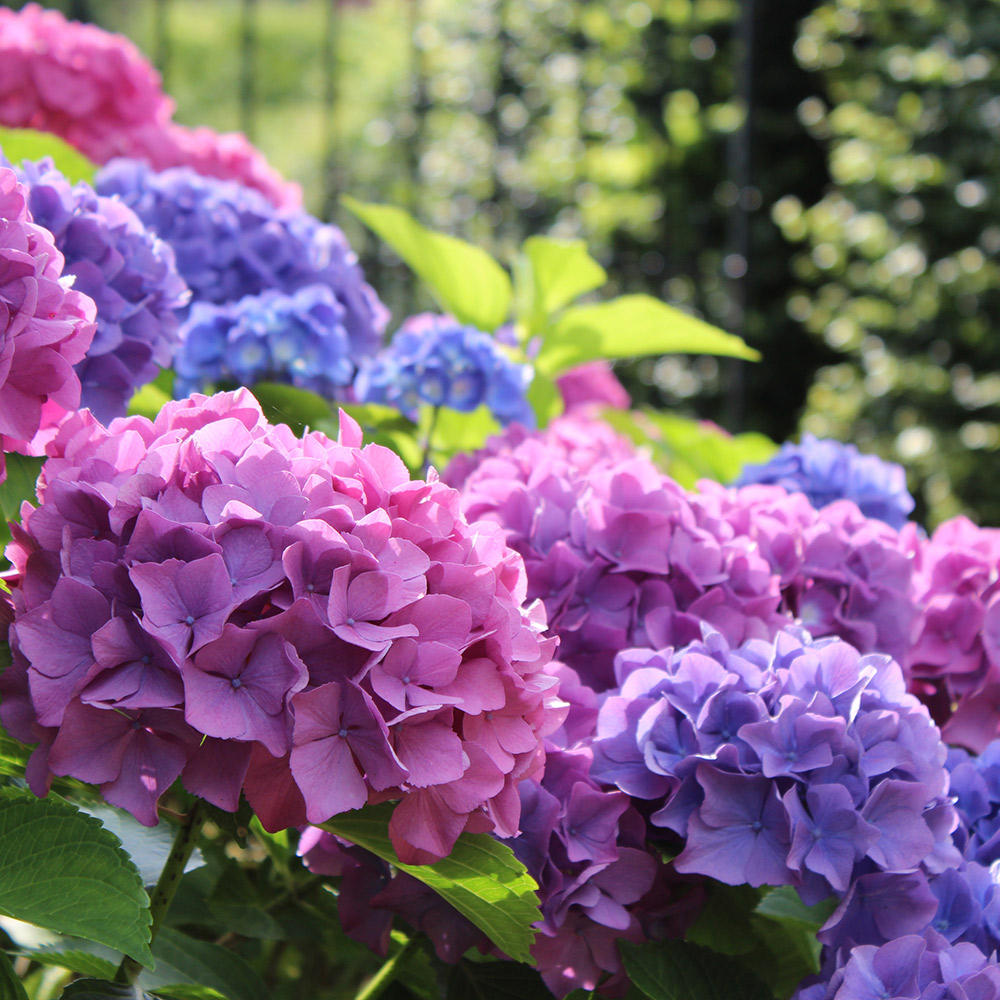 For a garden that explodes with color, you can't miss with hydrangeas. These carefree perennial shrubs open their big, beautiful flowers in summer, adding pops of pink, blue, lavender and snowy-white to the landscape. Hydrangeas fade beautifully into fall as well, with some varieties changing from creamy white into shades of dusty pink.
You may be surprised to know that while hydrangeas look delicate, they're actually pretty tough and adaptable to a variety of conditions when you choose the right type. In this guide, you'll learn about the best hydrangeas for your garden, plus how to plant and how to care for them. 
Get to Know Hydrangeas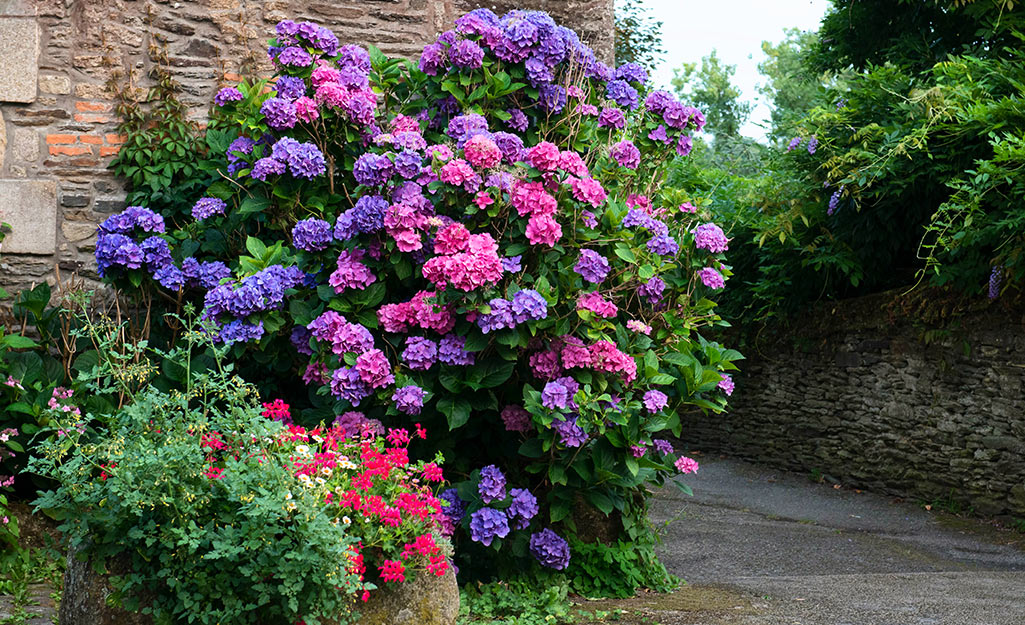 Hydrangeas are woody shrubs that are often treated like perennials due to their spectacular blooms and the fact that, like many other perennials, they need a little pruning for tidiness and blooms. Hydrangeas can be grown in-ground and in containers. They make lovely Mother's Day gifts that can be enjoyed indoors and then planted in the landscape.
The blooms make outstanding cut flowers for centerpieces and handmade bouquets of cut flowers from your garden. In late summer, the blooms can be cut, dried and used in crafts like dried flower wreaths.
These are just a few of the many reasons to grow hydrangeas in your garden. Read on to learn more about the different types of hydrangeas.
Mophead Hydrangea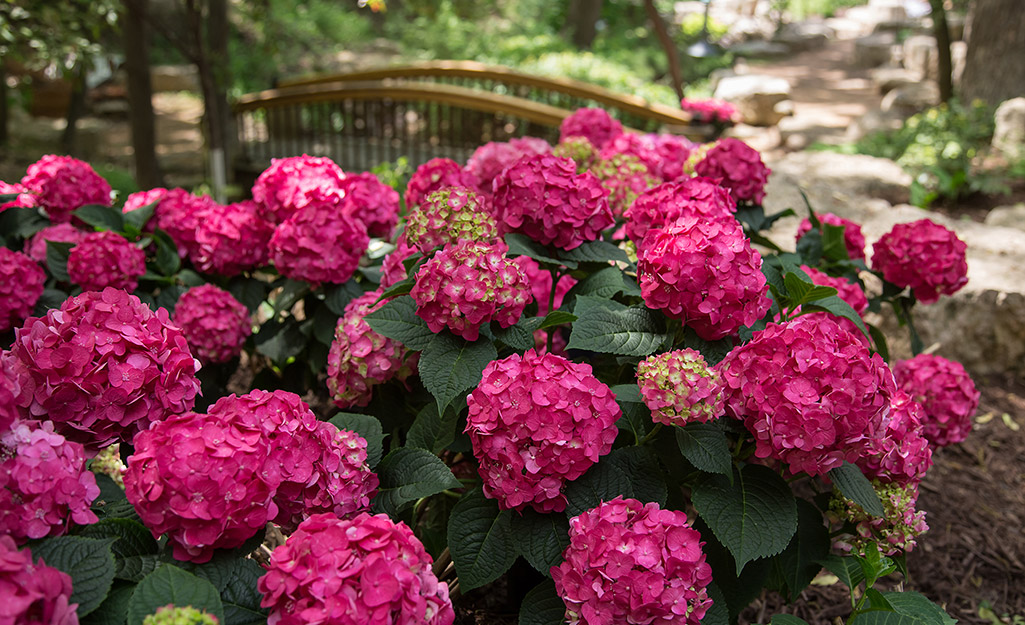 Mophead hydrangeas bloom in summer with big, fluffy blue or pink flowers. Properly called Hydrangea macrophylla (for their large leaves), they're also known as French, garden or florist's hydrangea. This category also includes lacecaps that feature a frilly floral edge on a flat cap. 
Hydrangea macrophylla bloom on old wood and set buds the year before they bloom. They require pruning soon after they finish blooming and before they set next year's blooms. This category includes reblooming varieties like 'Endless Summer.'
Smooth Hydrangea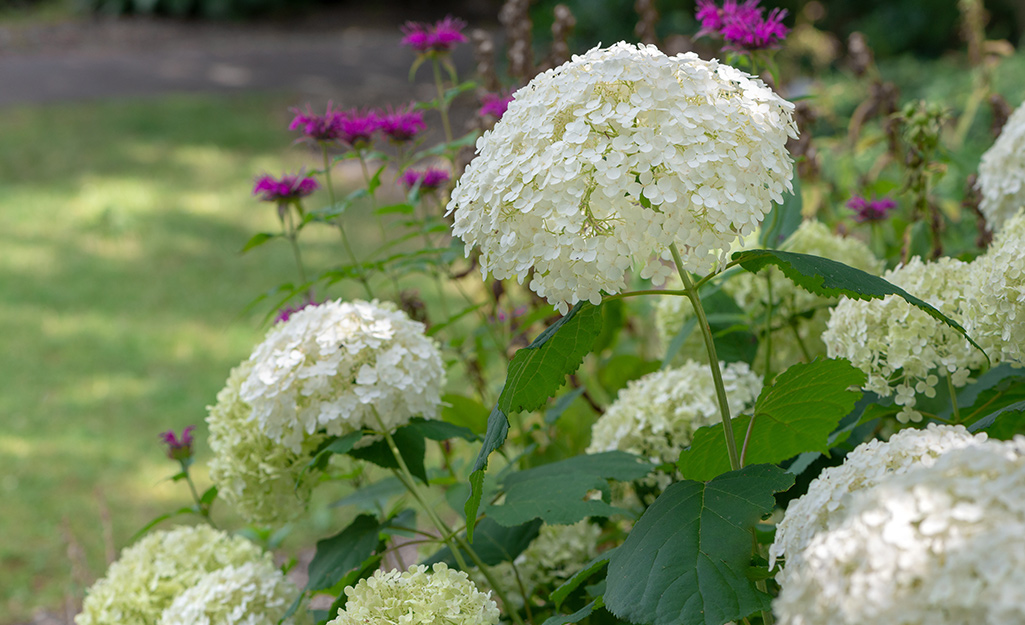 Smooth hydrangeas (Hydrangea arborescens) flower in early summer in shades of white and pink in both mophead and lacecap styles. To distinguish from bigleaf hydrangeas, smooth hydrangeas have slender, woody stems and thinner leaves. 
The classic smooth hydrangea is 'Annabelle.' In the Garden Center, you'll find Proven Winners' 'Incrediball 'and 'Invincibellle' series. Smooth hydrangeas, along with oakleaf hydrangeas, are native to the U.S.
Smooth hydrangeas are suited to cold climates because the flowers grow on new wood and won't be damaged in harsh winter weather. Look for reblooming varieties of smooth hydrangeas that will give you a second show of blooms at the end of the growing season.
Prune smooth hydrangeas in late winter or early spring before they set buds.
Oak Leaf Hydrangea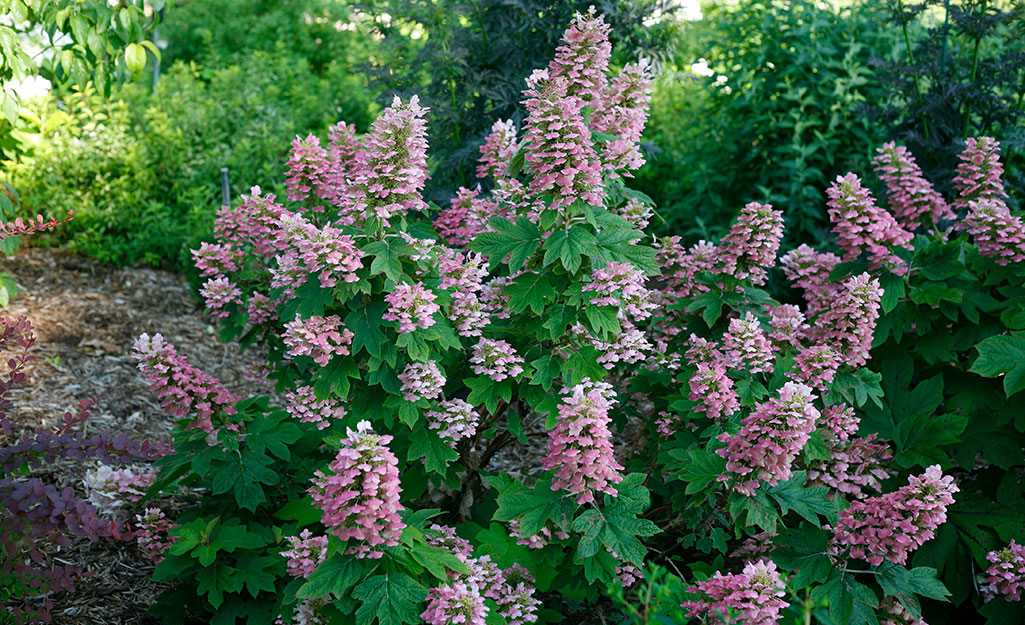 Oakleaf hydrangea, Hydrange quercifolia, looks just like it sounds. This hydrangea features plumes of creamy white or pink blooms on stems with distinctive lobed leaves like those found on oak trees.
Oakleaf hydrangea is one of two hydrangea species that are native to the U.S. Oakleaf hydrangeas are best suited for moist woodland gardens, or the edge of woodlands. Their foliage takes on shades of deep mahogany, green and rust in autumn, and the peeling bark is attractive.
These hydrangeas bloom on old wood and need pruning after they finish blooming in summer. 
Panicle Hydrangea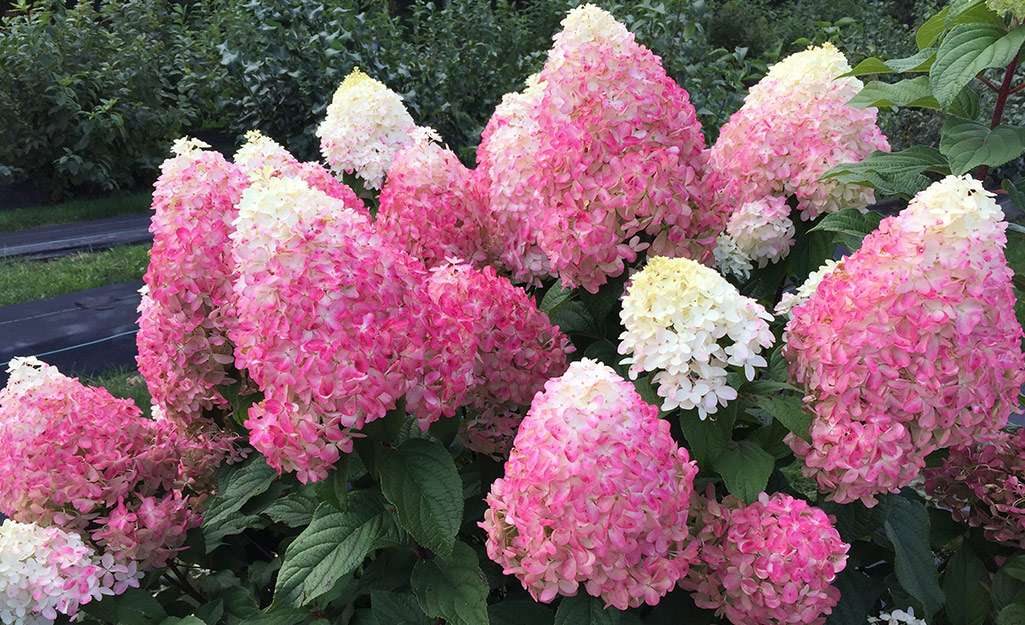 These easy growing favorites grow in USDA hardiness zones 3 to 8. One of the most popular cultivars, 'Limelight,' can even handle the heat of zone 9. Other names for Hydrangea paniculate are peegee hydrangea and hardy hydrangea. 
Look for varieties like Proven Winners' 'Quick Fire' and 'Pinky Winky' and First Editions' 'Vanilla Strawberry' that emerge creamy white in summer and turn pink as temperatures cool in early fall.
Plant panicle hydrangeas in sites with up to six hours of sunlight a day. Like most hydrangeas, they appreciate afternoon shade. Panicle hydrangeas are tolerant of soils, even clay soils. 
How to Plant Hydrangeas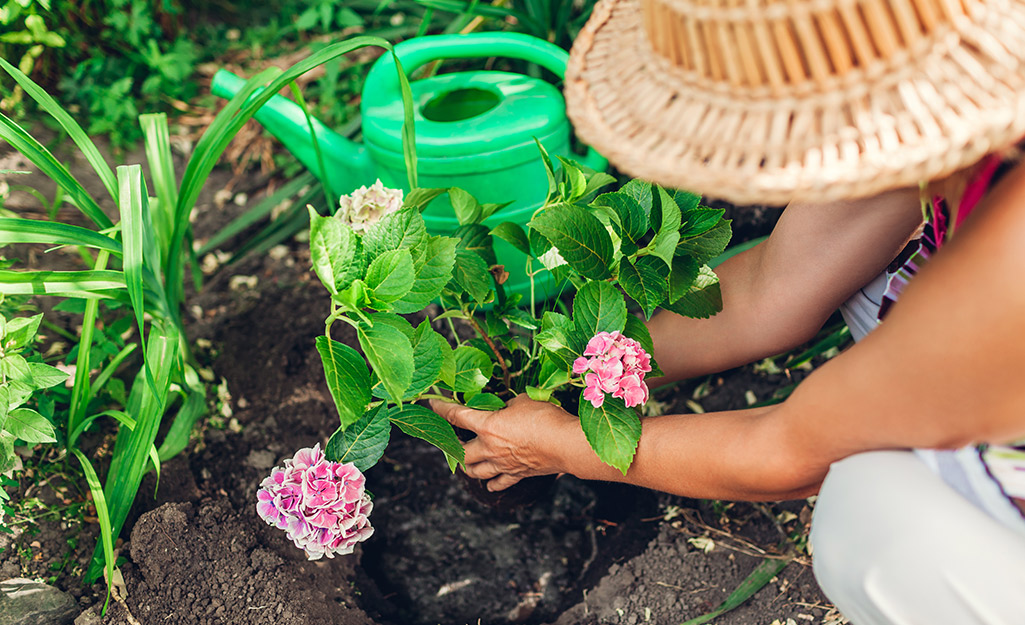 It's important to choose the right site for your hydrangea. They like moist, well-drained soil, and most need partial shade, especially in hot climates. (Avoid deep shade, though, or you won't get many flowers, and don't plant directly under trees, where the roots will compete for water and nutrients.) In general, hydrangeas can take more sun in northern climates than in southern parts of the U.S. Read the tag on your plant to be sure you're giving it what it requires.
Plant hydrangeas in fall or after the last frost in spring. Many hydrangeas bloom on the previous year's growth, so a late spring freeze will kill new flower buds. Or grow re-blooming hydrangeas, like those in the 'Endless Summer' collection. Proven Winners 'Incrediball' is another good choice. These plants bloom on the current year's growth. If your garden doesn't get hit by a cold snap, you may get two flushes of hydrangea flowers each season.
Steps to Plant Hydrangeas:
Dig a hole as deep and at least twice as wide as the plant's root ball. Hydrangea roots grow shallow and spread out.
If you have well-draining soil, there's no need to amend the planting hole with compost.
Gently release the plant from the container and place in the hole. Bring native soil around the root ball, up to the base of the plant. 
Water thoroughly after planting, and finish with a blanket of mulch to retain moisture.
Hold off on fertilizing hydrangeas until after the plant is established.
Care and Pruning of Hydrangeas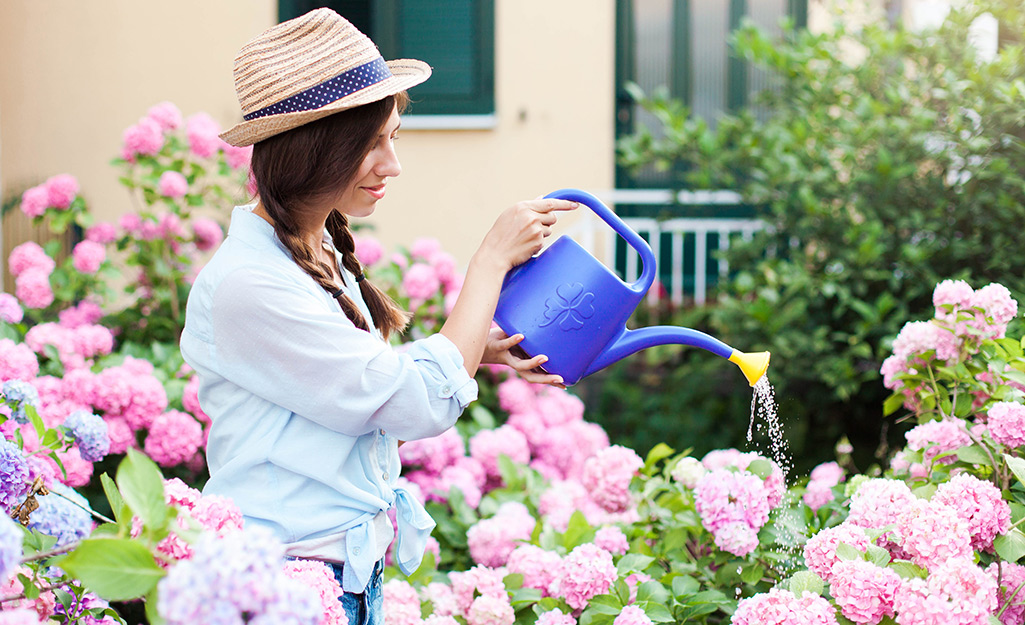 Hydrangeas require some care to keep them at their blooming best. For pruning, it's important to know the type of hydrangea you have in your garden and whether or not they bloom on old or new wood. Shrubs that bloom on last year's buds are said to bloom on "old wood." Hydrangeas that set buds on this year's stems bloom are said to bloom on "new wood." 
There is a lovely combination of these types, and that is a reblooming hydrangea like 'Endless Summer' that blooms on both old and new wood. 
A general guideline is to prune hydrangeas that bloom on old wood after they finish blooming and before they set buds for next year. Prune hydrangeas that bloom on new wood in late winter or early spring before they set buds. Follow plant tag instructions for the hydrangeas in your garden. 
Tips on caring for hydrangeas: 
Keep hydrangeas mulched through hot summers to retain moisture and in winters to protect the roots. 
Use a slow-release fertilizer or a 10-10-10, applied in early spring and again in early fall to promote growth and blooms.
Hydrangeas may wilt in hot summer afternoons. Oftentimes, this is due to heat rather than thirst. Make sure to site new hydrangea plantings so they're protected from harsh afternoon sun and give them plenty of mulch to keep their roots cool.
You can change the color of some hydrangeas from blue to pink or from pink to blue. Begin with a soil test to determine the soil pH and apply dolomitic lime to change the color from blue to pink. Apply aluminum sulfate to change hydrangea blooms from pink to blue. Bring your patience, the process can take at least several months and more than one season to see results. 
Whether you need the right planters, seeds or potting soil, The Home Depot delivers online orders when and where you need them.
Explore More on homedepot.com