It's easy to learn how to make a wreath to welcome visitors and dress up your home. Hang a wreath on your front door for the holidays, or let the changing seasons inspire other beautiful wreath ideas.  
Start with a base made of straw, wire, foam or grapevines, and decorate the base with ribbon, flowers, greenery or other materials. You can make a wreath to hang on your door or in your kitchen, in a bedroom, over a mirror or above a window. If time is short, look for a beautiful premade wreath.
How to Make a Wreath with Greenery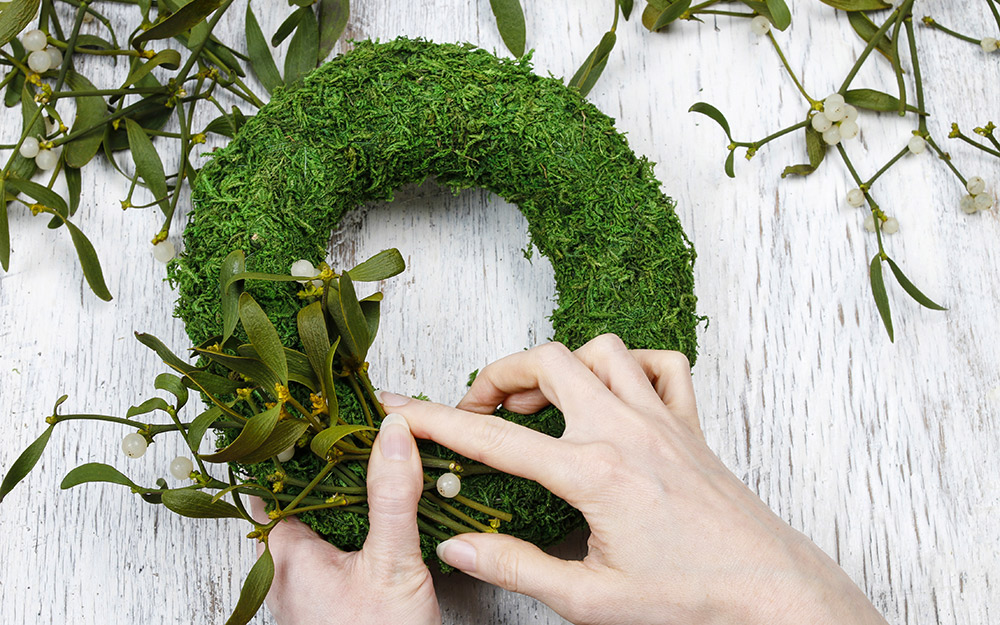 Start with a base covered with foliage and personalize it with your own wreath ideas. 
To cover a wreath with greenery, start with a premade wire form. A circular wire form will keep the wreath symmetrical.
Wire forms come with one, two, three or four wires. A single wire form is fine for a wreath covered with a little greenery with a few dried or fresh flowers.
Use at least a double wire form for a wreath with lots of greenery and heavy embellishments.
Gather stems of fresh or artificial greenery into small bundles. Put the first bundle on the frame and attach it tightly with floral wire. Add another bundle, overlapping half of the first one, and secure it with more wire. Keep going until the frame is covered. Use wire cutters to snip the wire when you're finished.
Add a ribbon bow and loop for hanging and decorate as desired.
Put your wreath on a wreath hanger or hook strong enough to hold its weight.
DIY Christmas Wreath Ideas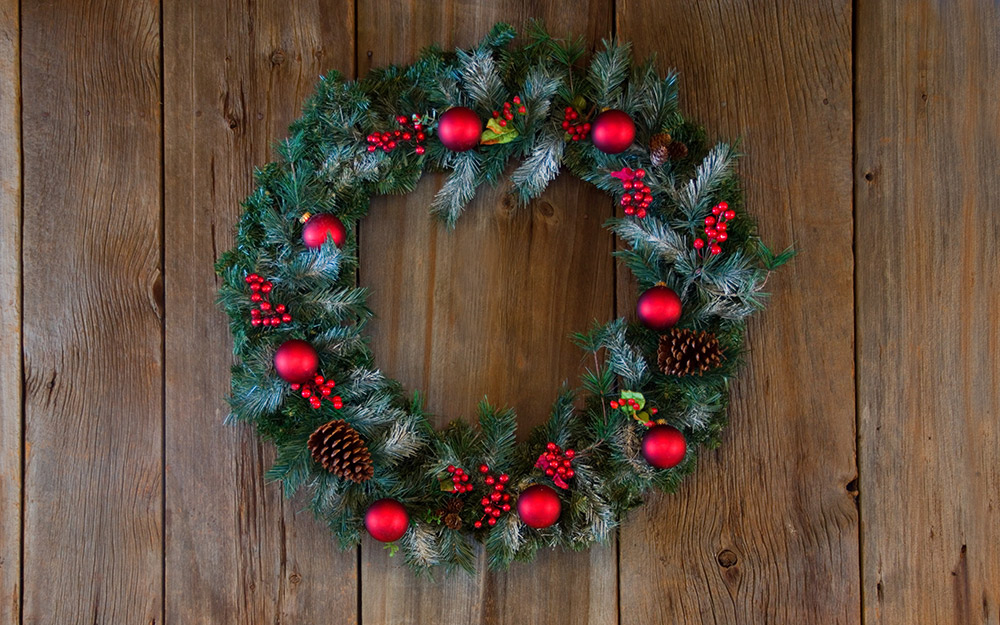 Look through your own decorations or visit stores to find Christmas and winter wreath ideas. 
For a fun project while the kids are out of school, learn how to make a wreath with them.For a fun project while the kids are out of school, learn how to make a wreath with them.
Wrap a foam base with glittery or metallic ribbon to make a simple, basic wreath.
Add ornaments, artificial flowers like poinsettias, sprigs of red berries or mistletoe, magnolia leaves or jingle bells to a wreath covered with greenery.
For a wintery look, spray pine cones, walnuts, twigs and other natural items with faux snow. If you prefer, brush a little white glue on them instead and sprinkle them with silvery glitter. Attach them with floral wire.
Clip or hot glue holiday cards to a wreath you'll keep indoors or in a covered location, so the weather won't damage them. Don't use cards that are irreplaceable.
Weave battery-powered mini light strings around a wreath.
Finish your wreath with a loop for hanging and a bow.
Burlap Wreath Ideas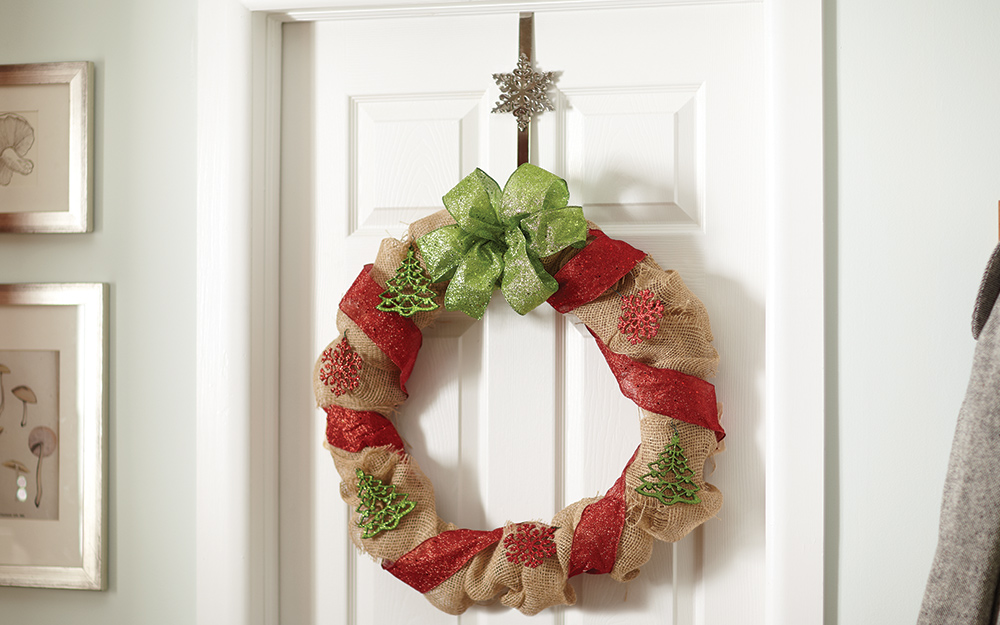 Learn how to make a wreath from burlap to use in any season or give as a gift for a special occasion.
Start by a making a circular base from foam pipe insulation,. Use burlap ribbon or burlap fabric cut into strips to cover the base and decorate as desired. Natural or rustic items like seashells, dried flowers and faux leaves look especially nice with burlap.
If you prefer, make a burlap wreath from a premade wire form with four wires and burlap strips. Fold the strips in half, and then in half again. Push the folds between the first, second and third wires. Twist the burlap at the back of the form and push the next set of folds through the wires. Continue until the form is covered.
Don't forget a loop for hanging and a bow.
How to Make an Easter or Spring Wreath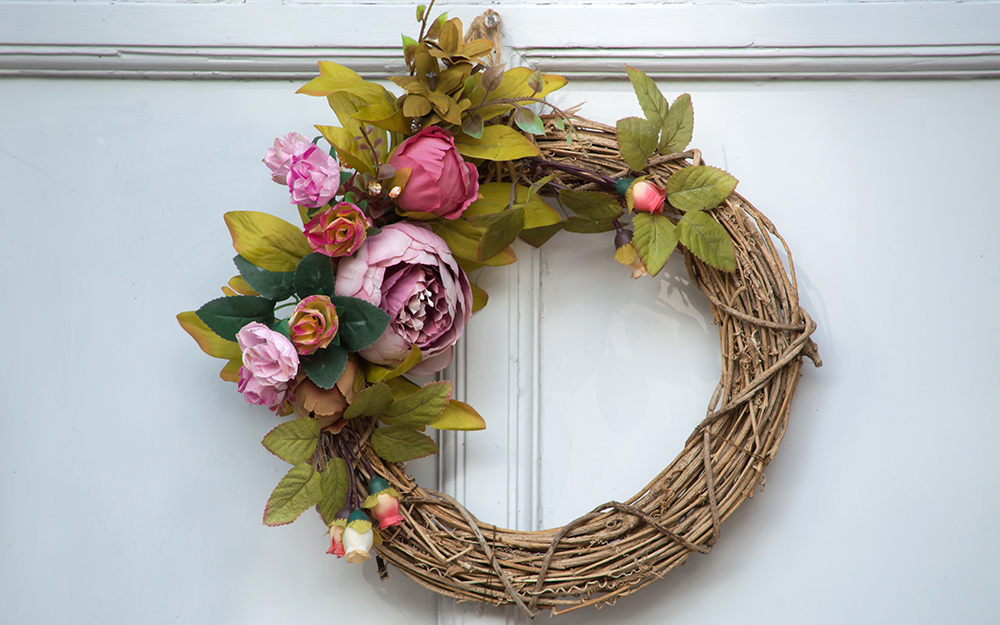 Start with a grapevine or straw form to make an Easter wreath.
Insert silk spring flowers and foliage to the form and add pastel ribbons. You can also use seasonal decorations like faux eggs, silk flowers, faux birds or a small toy bunny. Attach the items with hot glue as needed.
To soften the look of your wreath, tuck in bits of moss, artificial leaves or stems of dried grasses.
If you prefer, cover a straw or grapevine wreath with coloful gingham strips and decorate as desired.
Make a bunny-shaped wreath with a round, 10-inch grapevine wreath for the body and a round, 8-inch grapevine wreath for the head. Connect them with wire. Squeeze a 6-inch grapevine wreath into an oval with a slight point at one end, like a rabbit's ear. Repeat with another 6-inch grapevine wreath. Attach the "ears" with wire. Decorate the wreath with silk daises, faux carrots or other seasonal items.
After the holiday, turn the Easter wreath into a spring wreath. Replace the eggs and bunny with a faux bird and nest, pussy willow stems, artificial forsythia branches, a tiny birdhouse or other small garden items.
Grapevine Wreath Ideas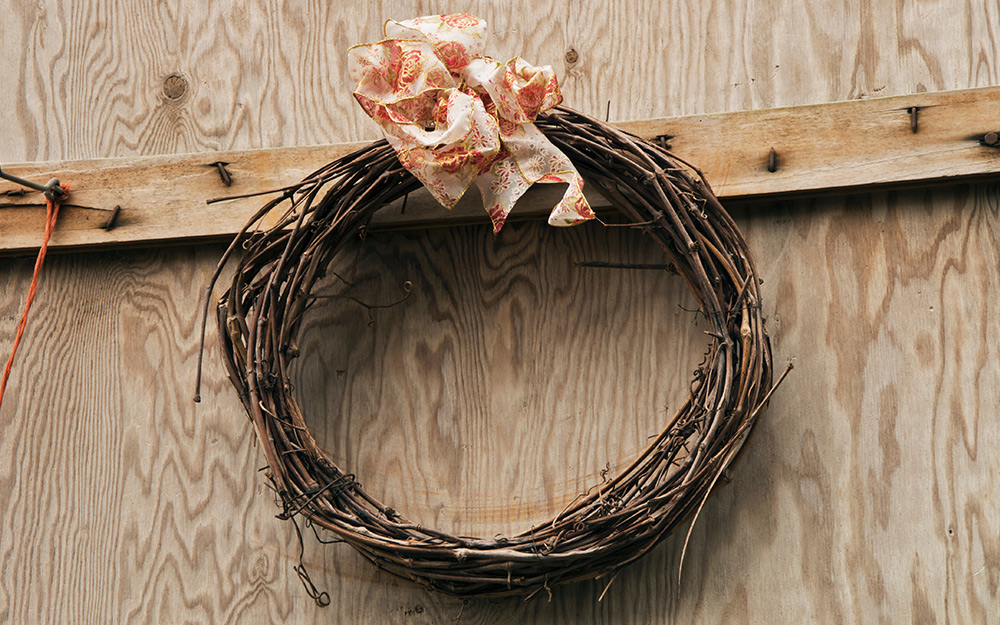 Buy a premade grapevine wreath or learn how to make one from wild vines.
To make a grapevine wreath, cut some long, wild grapevines and strip off their leaves.
Put them in a bucket of warm water and let them soak for an hour, or until they become flexible.
Take them out of the water and wind them into a wreath shape. Make it any size you want.
Wrap the thin side branches around the bigger ones to hold them in place.
Lay the wreath flat and decorate it after it dries. Add a bow, if desired, and a loop for hanging.
How to Make a Straw Wreath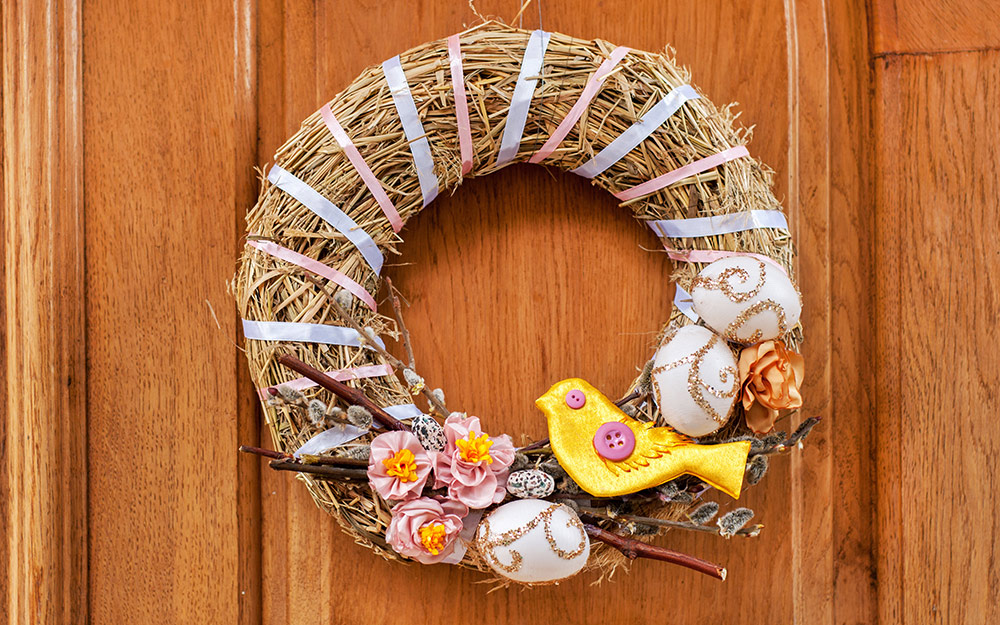 Straw forms are inexpensive and easy to use. 
Straw wreaths are available premade, or you can make your own from a wire frame with wheat straw. Follow the directions for covering a wire wreath form with greenery, substituting small bundles of straw for the greenery. Attach them with floral wire.
Insert floral picks, flowers with sturdy stems or any other embellishments you like into the straw wreath.
For a fun twist on a straw wreath, decorate a straw garden hat and hang it.
Add a ribbon or loop for hanging.
Foam Wreath Ideas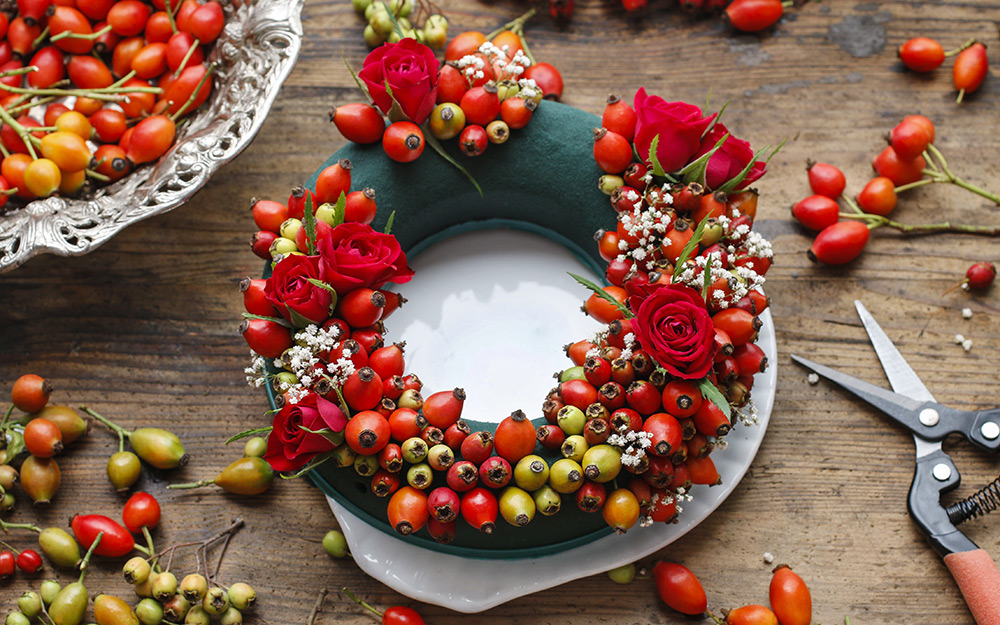 Learn how to make a wreath with a premade foam base to use indoors or in a sheltered outdoor location.
Start by using long pins or greening pins, available from craft and hobby stores, to cover the foam with sheets of moss. You can also wrap the base with ribbon, yarn or strips of burlap or other fabrics. Cover the base completely, so the foam doesn't show through.
Decorate with silk flowers or as desired.
Add a bow and a loop for hanging.
Learn How to Make a Wreath for Fall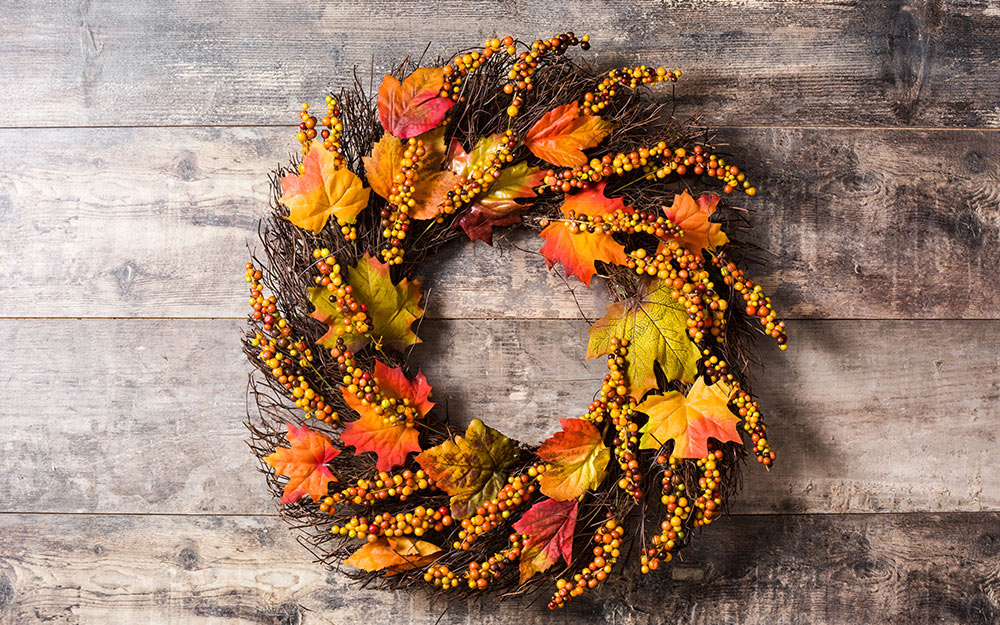 A straw, burlap base or grapevine wreath is perfect for the fall season. 
Use autumnal colors like gold, orange, tan, purplish-red and brown in artificial flowers and foliage.
Accent your wreath with floral picks with acorns, miniature pumpkins, tiny pine cones and seasonal seed pods.
Use harvest materials like wheat sheaths, faux berry clusters or silk seasonal flowers like mums.
Spray paint fresh leaves in a metallic finish or use preserved ones.
Finish with a bow and loop for hanging. Plaid bows add a fun touch to rustic burlap wreaths.
Where to Find Wreath Supplies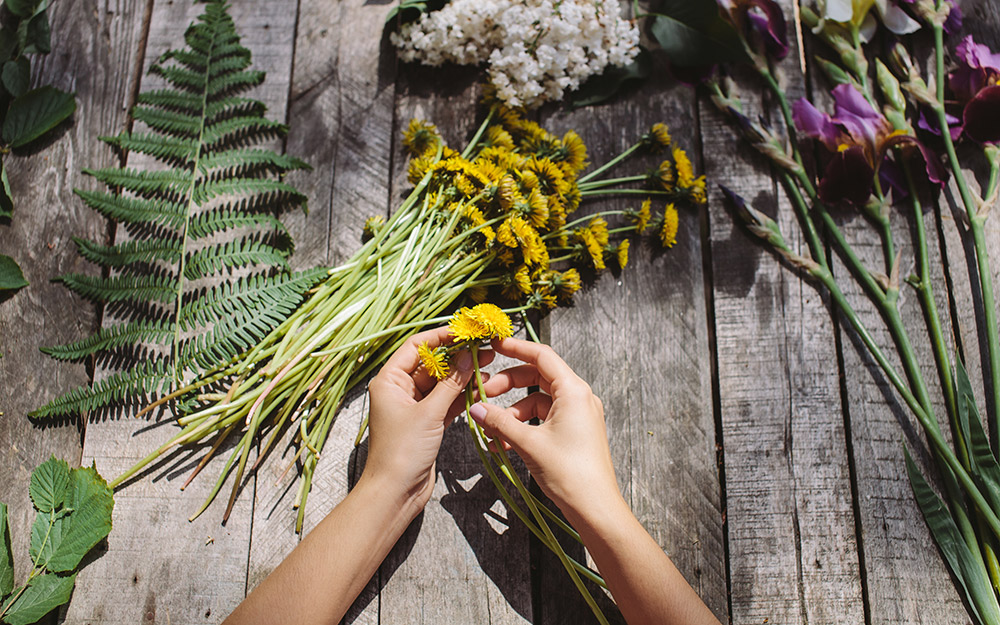 Some wreath supplies are as close as your own backyard.   
Use floral snips or pruners to cut flowers, twigs and stems of berries or foliage from your yard, or ask friends if you can cut from theirs.
Boxwoods, pines, magnolias, cedars, olive trees, laurels and many other trees and shrubs are great for making Christmas wreaths or seasonal wreaths covered with greenery.
Visit a floral shop if you can't find what you need. They can often supply unusual or hard-to-find flowers and foliage.
Look for small decorations and floral picks in craft stores and hobby shops. Consider seashells, small toys, jingle bells, ribbons, Christmas ornaments and strings of battery-operated mini-lights.
Use your imagination and browse The Home Depot Garden Center. Tiny clay pots, gardening gloves and colorful packets of flower, vegetable and herb seeds make pretty spring and summer wreaths. A gardener's straw hat can used as a wreath by adding ribbon and artificial flowers.
Dried hydrangea blossoms and other dried flowers are also good choices, along with pine cones, seed pods, bunches of dried grasses, interesting-looking twigs and other natural materials.
To attach decorations, use floral wire, a crafter's glue gun, ribbon, pipe cleaners or twine. Stick flower stems, twigs and other decorations directly into a grapevine, straw or foam wreath.
Explore More on homedepot.com