Ideas & Inspiration
How to Make Flower Planters
For Mother's Day, treat the special moms in your life to a blooming gift of beauty with bright and cheery flowers, fragrant edibles in a planter, or both!
From colorful flowers to aromatic herbs and tasty lettuces, we've got three easy ways to create a planter that will keep on giving from Mother's Day through the summer.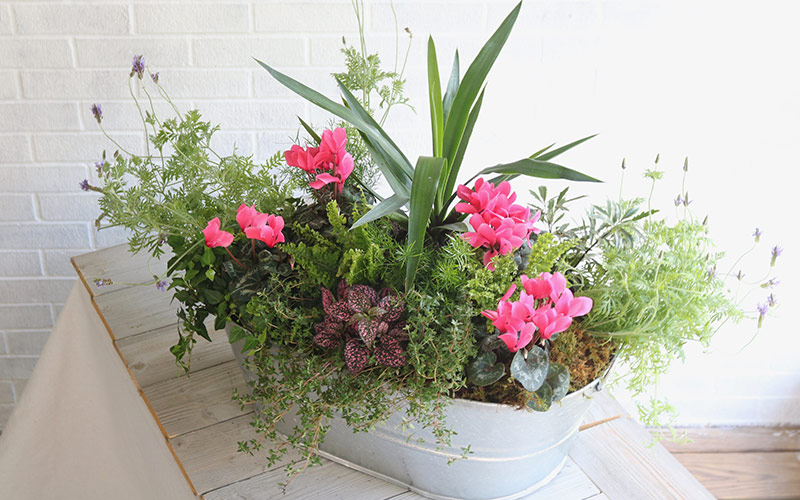 If your favorite mom likes herbs and flowers you can go all out with this DIY living centerpiece bursting with eye-popping flowers surrounded by green and pink foliage. Just pick out a pretty pot or planter and add as little or as much to it as you like, depending on your budget. The best part about this arrangement is that it's mobile – Mom will love this living arrangement whether on the coffee table or a console. Or, you could even move it around!
Try using a window box planter or a galvanized tub, as seen above, for a unique twist. Using a drill, make holes in the bottom of your planter if it doesn't have them. Fill the container with potting soil and then start creating your living centerpiece.
Choose a tropical houseplant as a thriller, such as yucca, surrounded by brightly colored cyclamen, pink polka dot plants and fluffy ferns. Anchor the container on both ends with plumes of wispy fernleaf lavender. Create a spilling effect with trailing thyme and ivy. Tuck in decorative moss so plants retain moisture.
Read more about how to put together thrillers, fillers and spillers. Check out how to integrate houseplants into your space.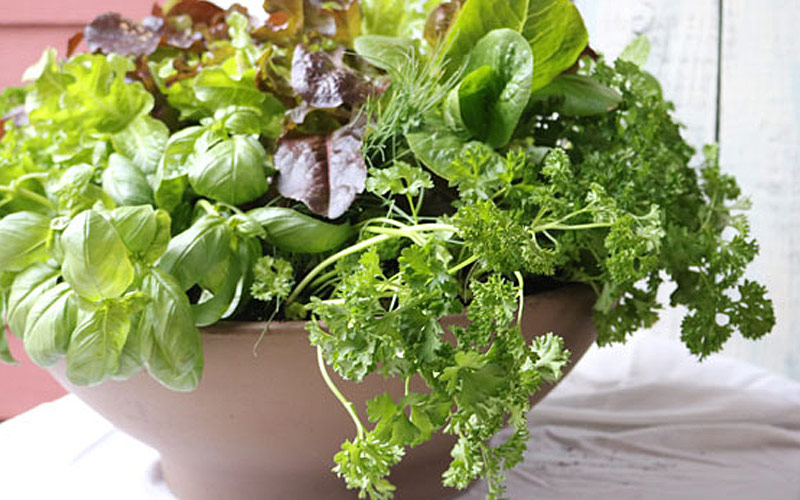 Give endless edibles to mom with a chef's bowl. Pick up a planter bowl about 25 to 30 inches wide. After filling it with potting soil, stuff it with delicious and organic options such as red and green leaf lettuces and herbs such as parsley, chives and basil, shown above. This combination works well for moms who prefer salads and herbs within reach when entertaining indoors or out.
Another yummy idea: add bush cherry tomatoes surrounded by basil. Mom will love serving the goodies with mozzarella for a fresh Caprese salad drizzled with olive oil and balsamic vinegar.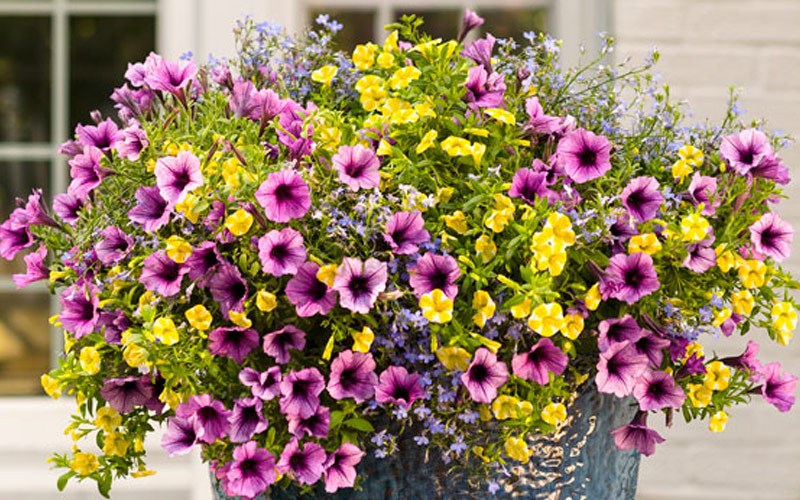 If you're pressed for time, pick up a ready-made arrangement that you can pop in a pretty urn or other container
In the Garden Center, look for container-ready plantings like Drop-N-Blooms with a han-selected mix of flowers or succulents. This is ian easy choice as a gift because you simply drop them in a planter, place in full sun and they will bloom continuously through summer.
This container spills over with annuals: Yellow Calibrachoas, Sky Blue Lobelia and Bordeaux Supertunia petunias. This hardy arrangement of annuals takes little maintenance except the occasional haircut to encourage more blooming.
Tip: If you're still not sure what to get mom, tuck a gift card from The Home Depot inside a flowering hanging basket because no matter what you do for mom, she always knows it came from the heart.