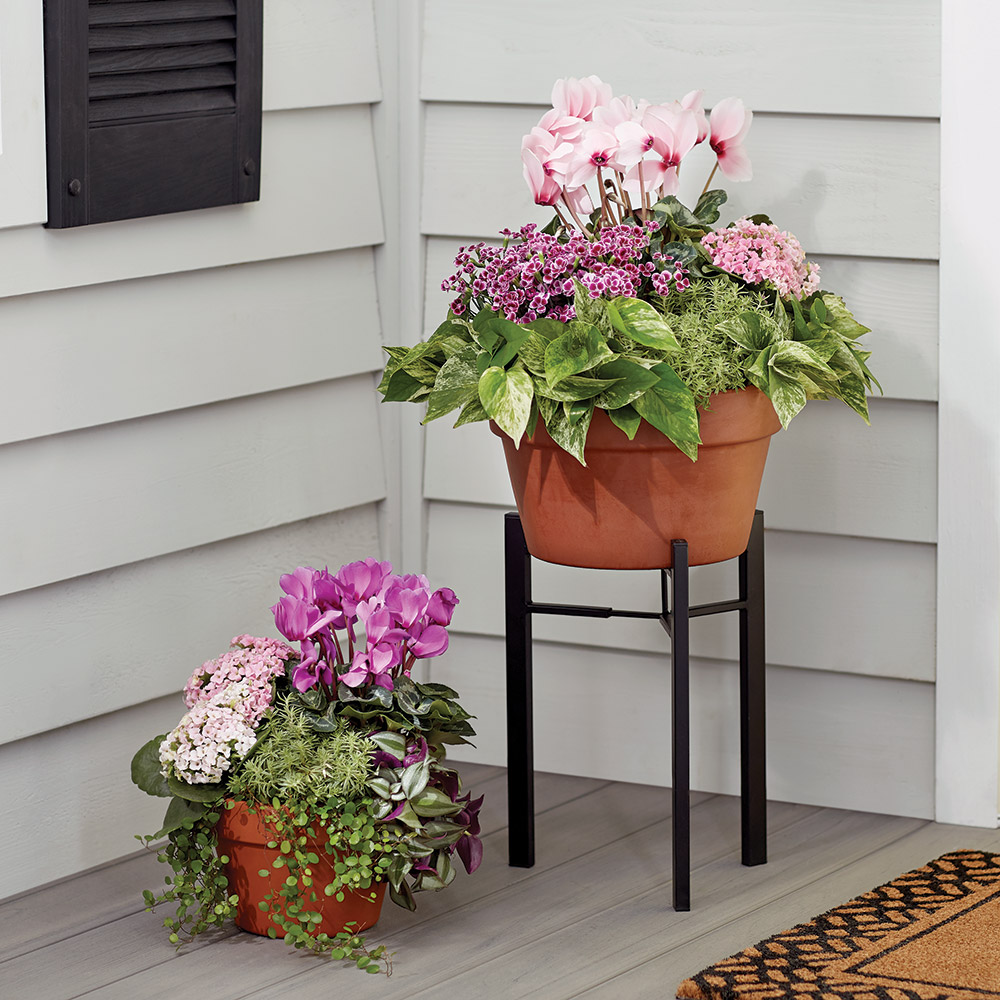 Bigger is certainly better when it comes to containers of flowers. Our eyes are naturally drawn to big containers of colorful blooms that instantly create a show-stopping focal point.
There are several ways to get big, beautiful flower planters. For a quick splash of color and guaranteed success, you can buy ready-made containers or hanging baskets with combinations of flowers that thrive in the same conditions. Or you can be creative and personalize a container with your favorite flowers, grasses and foliage. You can create flower planters for your own landscape, or give them as gifts for special holidays like Mother's Day.
Read on for tips on creating your own flower planters.
Pick Plants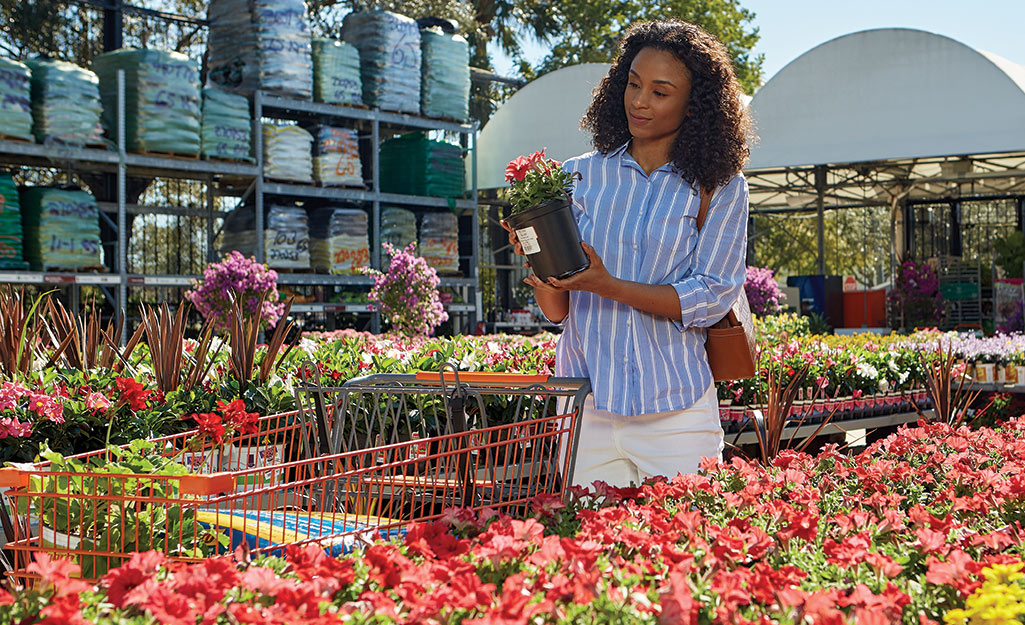 Cover all of your bases by picking plants that will fill, spill and thrill. You want to have a tall plant in the center, plants to fill the middle, and finally, plants that will spill over the edge — known as cascading plants. This kind of helpful information is located on the plant tag and in online descriptions. 
Get more inspiration for container gardening.
Pick Planters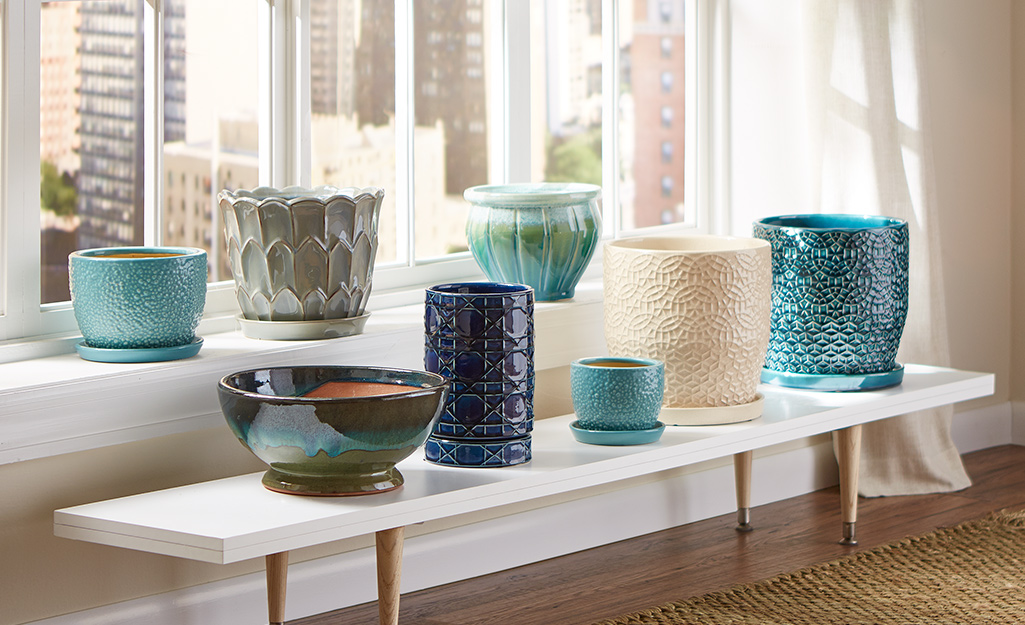 Choose your container wisely. When selecting your container, keep in mind that it must have adequate drainage. Without a hole for water to flow through, the plants will get soggy and the roots will rot. There are many different types and styles of planters available, made from cement, lightweight composite materials, pottery and classic terra cotta.
Bigger is almost always better when it comes to planters. Look for containers wider than 16 inches. You can fit more soil and more plants in bigger planters, and increase the visual impact of the display. Larger containers won't dry out as quickly, either. A container that's too small will force the plants to become root-bound (or potbound), with roots circling the pot seeking out soil and nutrients. Keep in mind a drawback to larger containers: portability. Urns and heavy containers need to be placed before you plant them, or you can use planter caddies to move filled containers. 
Plant a Large Container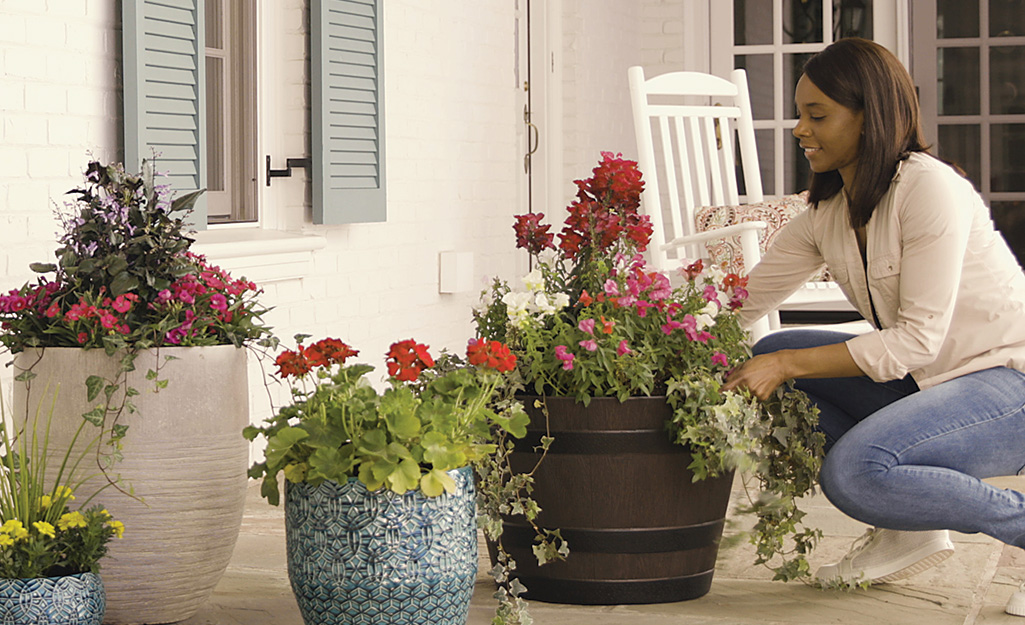 Place the planter in its ideal location. Completed containers can hurt your back if they are too heavy to move.
Fill the planter three-fourths full with a moisture-retaining potting mix that also contains a slow-release fertilizer.
Remove the plants from their pots and loosen their roots. Never pull the plant out by the flowers or stems.
Arrange the flowers in the container. Choose thrillers as the focal point, then place fillers around them. Next, let the spillers fall over the sides.  
Using your potting soil with slow-release fertilizer and moisture control, fill in gaps and let the soil settle. 
Feed your plants if needed. If you're using potting soil without added fertilizer, feed with a slow-release fertilizer. Follow the package directions to know when and how much to use.
Help your container retain moisture. Add 2 to 3 inches of mulch, moss or decorative rocks around the plant to retain moisture.
Water when first planted and as needed. When the top of the soil is dry to the touch, water until it trickles out the drainage holes.
Tip: If you're using a very large container, you may fill the bottom one-third of the planter with non-soluble filler materials such as aluminum cans, plastic containers, broken clay pots or packing peanuts.
More Ideas for Container Plantings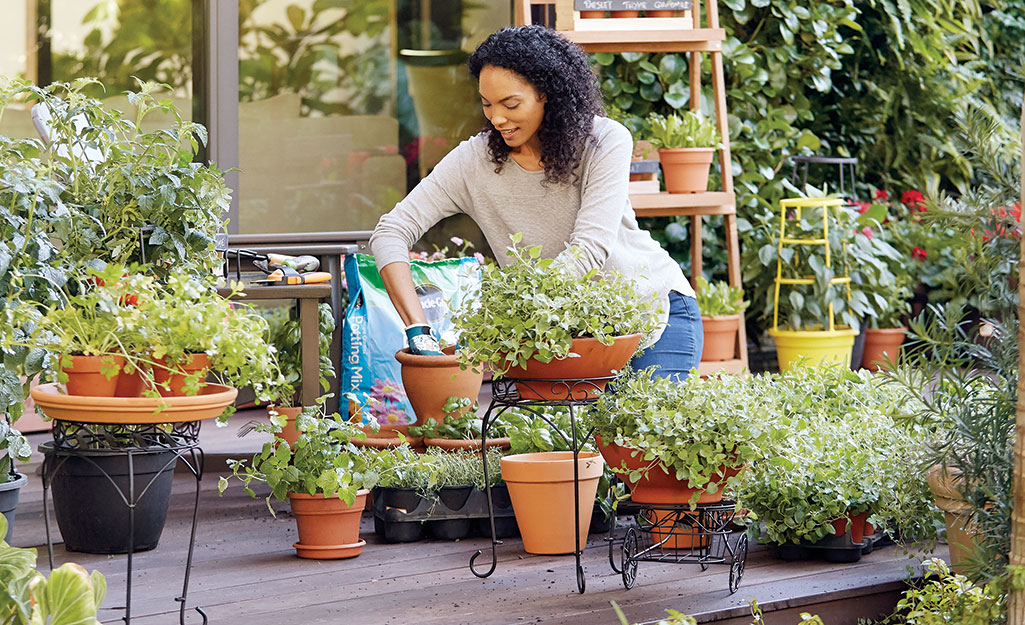 Color and convenience are top of mind when selecting flowers for planters, but are not the only considerations. Fragrance and foliage add variety and dimension to your arrangements. An easy way to get fragrance into your container plantings is to add herbs like basil and mint to your arrangements.
Edibles like lettuces in spring and Swiss chard in fall add freshness to your arrangements. And a rosemary shrub makes a fine thriller element in a planter, surrounded by bright impatiens in summer and pansies in spring and fall.
Learn how to make an herb tower garden.
Flower Planters in Fall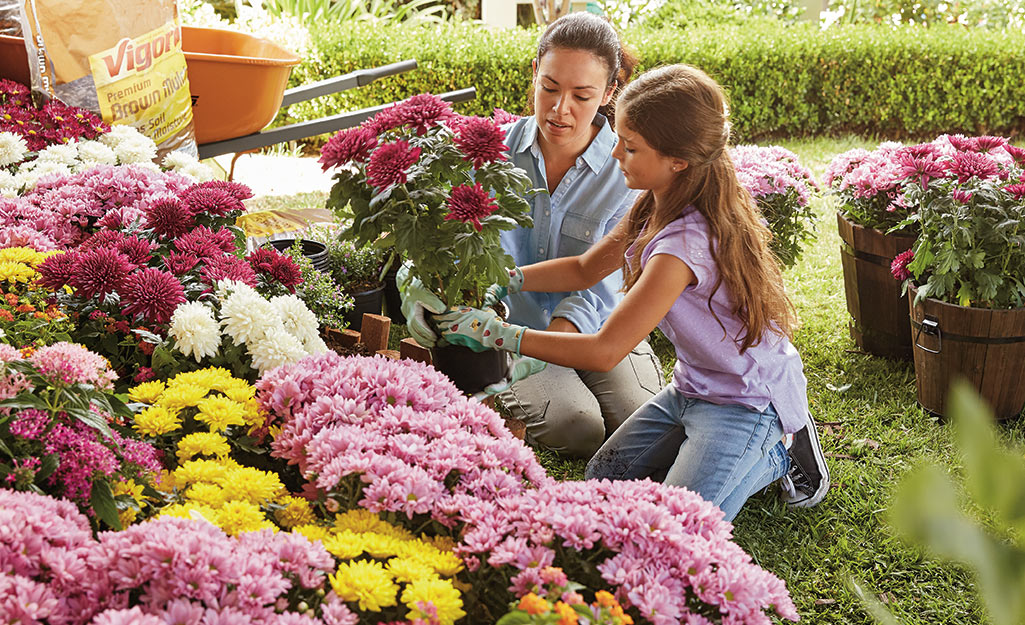 Fall is the time to rejuvenate front porches, decks and patios with the bronzy hues of autumn. Cooler temperatures, shorter days and more rain mean less stress on plants and less maintenance for you. Change out warm weather containers or treat yourself to new ones for a fresh, seasonal look.
Try these creative combinations:
Select plants that suit your light conditions.
Choose tall plants for the back and trailing plants to spill over the sides. Fill in with colorful mounding plants.
Remove old plants from containers and compost. Clean containers.
Soak plants in a bucket of water or with a hose.
Fill container 3/4 full with moistened potting mix containing a fertilizer.
Remove plants from original containers, loosen roots and plant.
Top with potting mix, gently pressing down. Water and let soil settle.
Mulch with decorative moss or pebbles to retain moisture.
Water when soil is dry.
Remove spent flowers to keep containers looking full and vibrant.
Keep in mind these reliable combinations for fall containers:
Mums in assorted colors and sizes.
Ornamental grasses, mums and flowering kale and cabbage.
Snapdragons, pansies and lobelia.
Grasses, ornamental peppers and calibrachoa.
When giving a gift of a flower planter for Mother's Day or a birthday, tuck a gift card from The Home Depot inside a flowering hanging basket and present it to your loved one.
Whether you need the right planters, flowers or potting soil, The Home Depot delivers online orders when and where you need them. 
Explore More on homedepot.com