Who doesn't love a great-smelling home? Freshly baked cookies, simmering stews or the smell of just-cut grass through an open window. These scents are heavenly and can only be matched by the power of a just-right air freshener. It's no wonder that in 2018, more than 250 million Americans used air fresheners. The perfect scent transforms a space. Air fresheners are extremely useful in providing the finishing touch to creating a home at equilibrium – clear, inviting and energizing. This Home Depot guide shows you how to create DIY spray with a scent that goes with your mood and personal preferences.  
Choosing Essential Oils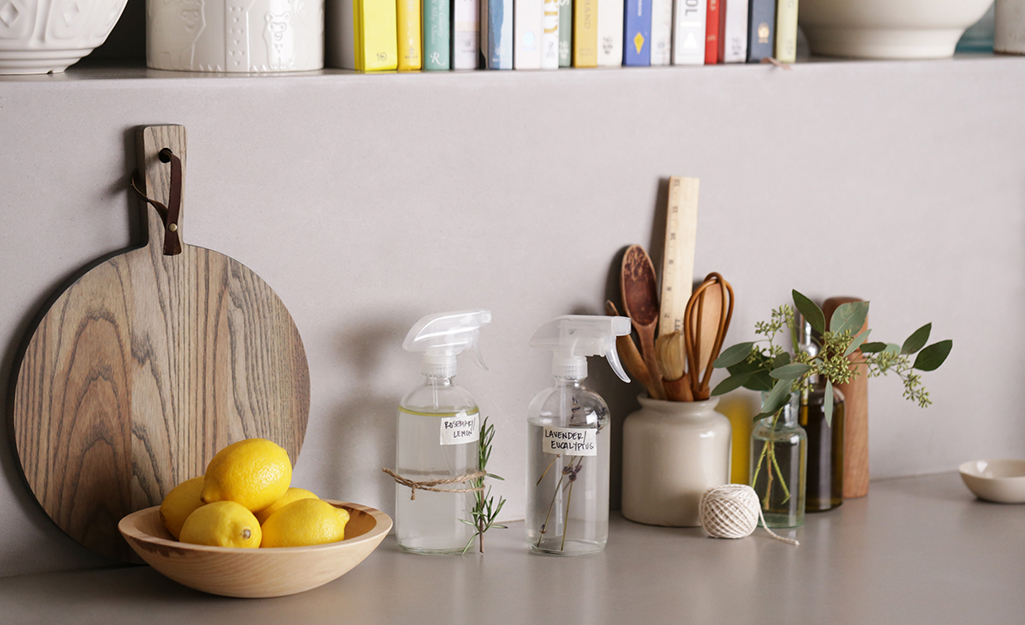 As is the case with any DIY project, the first thing you'll need to do to create your own room spray is to gather your ingredients. Essential oils will play a key role in your DIY spray. 
Essential oils are compounds extracted from plants, so they present the qualities of the plants used to create them (smell, therapeutic benefits, etc.). They are, in essence, a super-concentrated version of a plant. Many people use essential oils for aromatherapy or topically to help with health concerns. However, essential oils are, in their most face-value sense, a lovely tool to make sure your surroundings are smelling nice. There are more than 90 types of essential oils, so your options are endless. 
Many essential oils are antibacterial. This makes them ideal cleaning aids. When combined with witch hazel, which is quite astringent, they help combat the development of germs. So not only will you feel great about using an all-natural product to make your home smell nice, but you will actually be helping reduce development of germs every time you spritz. 
Distilled Water & Dried Botanicals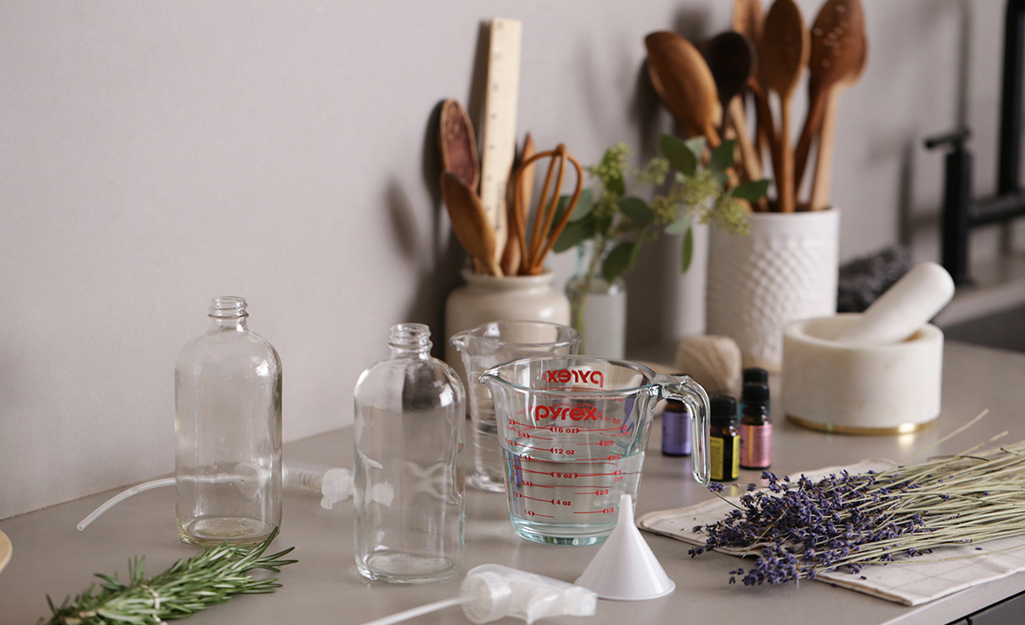 Distilled water is important for the spray's stability and quality. Though some tap water will be passable, "hard water," or water with a high mineral count, is commonly what pours from one's taps and needs to be avoided. If you use hard water to make a room spray, not only will you be spraying mystery minerals into the air when you spritz, but your spray will also leave a solution of film on surfaces. To combat this, you can purchase distilled water, or easily make it by boiling tap water to rid it of minerals. 
To distill water, fill a pot halfway with tap water. Place a glass bowl in the water, making sure it does not touch the pot's bottom by placing it on a baking rack within the pot. 
Boil your water. Once the water is boiling, place ice on top of the pot's lid to make it cold. This will effectively activate condensation (which arises when hot and cold come in contact). The condensing steam will fall into the bowl, and that will be your distilled water. Make sure to keep the heat low enough so that the water in the bowl does not boil. 
You can, of course, buy dried flowers and herbs, but did you know that drying fresh herbs and flowers is easy? Here's how to dry flowers and herbs. 
Start with sturdy, low-moisture herbs like rosemary, thyme and sage. Just rinse off your selected sprig, remove any discolored leaves and pat dry. 
Delicate flowers need to be handled with lighter fingers. Avoid pouring water directly on the blossoms. 
Securely tie a string around your herbs or flowers and hang from a rafter, cabinet, clothes hanger or another piece of string. If you want to guard against dust and debris, you can cover them with paper bags. Your dried herbs or flowers will be ready in one to three weeks. 
Making Your DIY Spray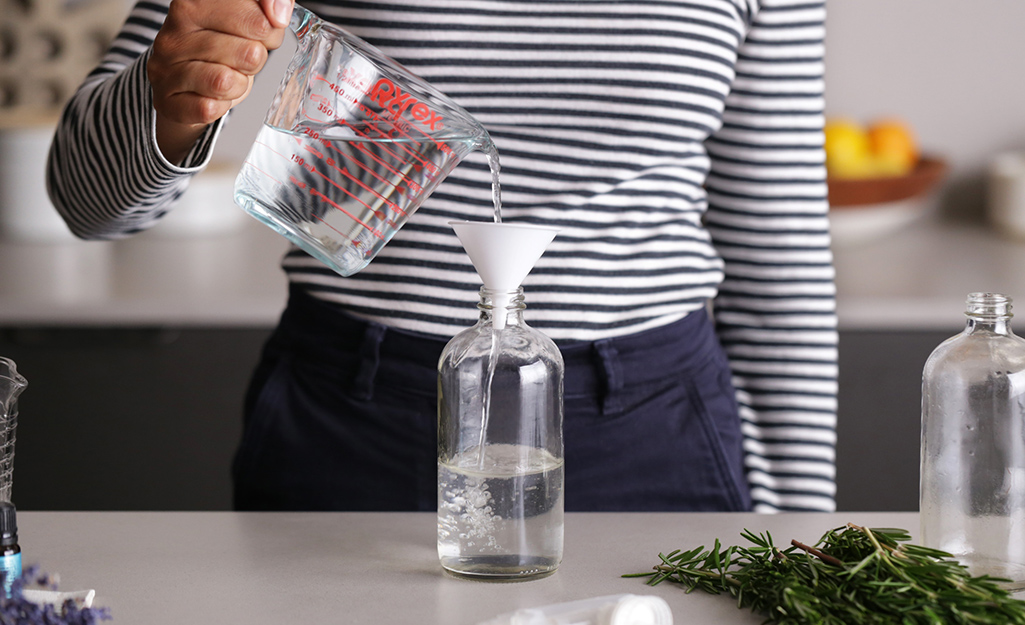 Follow these instructions to create your very own DIY air freshner spray.  This freshener will never expire, although the essential oil scent may fade over time.
Pour your selected essential oils into a spray bottle, using a ratio of 10 to 15 drops for every 2 ounces. For example, if you have an 8-ounce bottle, you should be using 40 to 60 drops. 
Using a funnel, fill the bottle halfway with witch hazel. This will help the oil and water combine and will keep your scent lingering in the air longer.
Fill the rest of the bottle with distilled water. This one-to-one ratio can be used in any size bottle. 
Shake to combine.
Insert a sprig or two of dried flowers. While they may contribute ever so slightly to the spray's scent, this is mostly a decorative element and will remind you exactly what scent is contained in the bottle. 
Tip: Tie herbs or flowers to the outside of the bottle, particularly if you plan to gift the spray.  
Air Freshner Recipes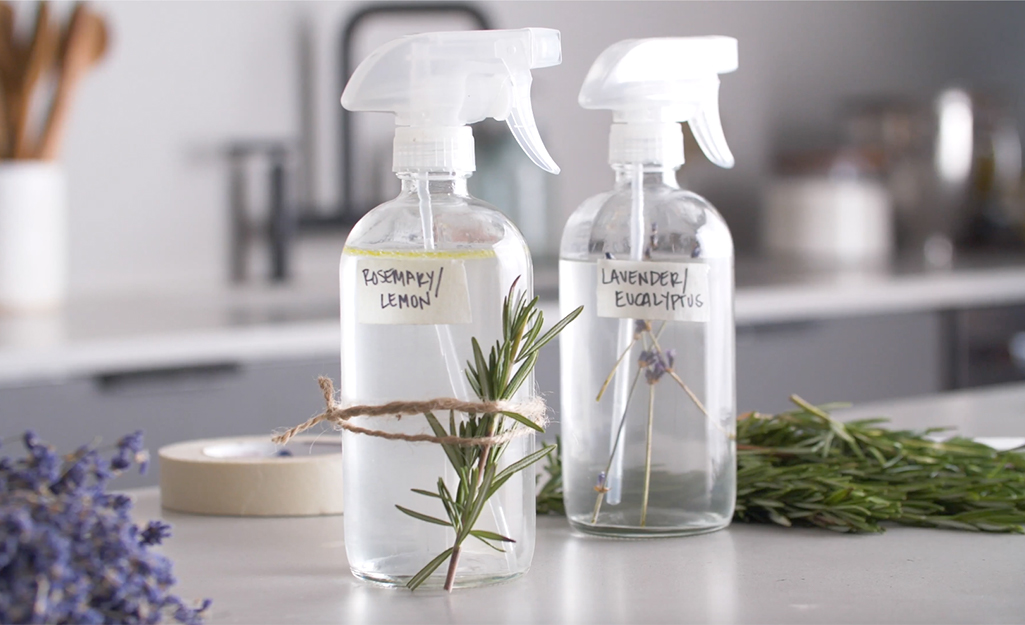 Looking for a spray that that will energize? Citrus and peppermint essential oils should be your go-to. Want to feel calm? Lavender or cinnamon essential oils are good bets. Be diligent about your selection and you should be set up to enjoy, relax and feel your best. To help you with this goal, here are some of our favorite scent combinations: 
For something invigorating, combine tea tree (naturally antibacterial), rosemary and peppermint essential oils (naturally antibacterial).
For a zesty spray, try lemon (naturally antibacterial), orange (naturally antibacterial), grapefruit and lime essential oils. 
Looking for something cooling? Give the following a go: peppermint (naturally antibacterial), lavender (naturally antibacterial) and eucalyptus essential oils (naturally antibacterial). 
To create a woodsy atmosphere, combine bergamot, lemon and cypress essential oils. 
If you need to feel grounded, try lemon, rosemary, thyme, and cardamom essential oils. 
If you'd like a warming effect, mix cassia, clove and ginger essential oils. 
If you need a spray that's cleansing and calming, go for rose, chamomile, and lavender.
A nice spicy scent is achieved by combining white fir, cedar wood and frankincense essential oils. 
Explore More on homedepot.com