Ideas & Inspiration
How to Make Your Own Indoor Herb Garden
Savor the flavor of your favorite herbs and add a bright bit of green to your kitchen when you bring your herb garden inside. If you have a sunny windowsill with at least four hours of sunshine a day, you have everything you need for a flourishing garden full of herbs such as chives, mint, oregano, parsley, rosemary, sage and thyme.
This guide contains herb growing tips recommended by our experts at The Home Depot Garden Club, as well as instructions on building your own DIY indoor herb garden.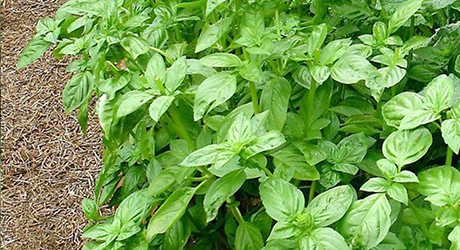 Herbs are easy to grow indoors. Begin with either seeds or seedlings, set in a sunny window and water occasionally.
Begin with good quality plants. You can start herbs from seed, but you can harvest sooner if you start with seedlings, either purchased from the Garden Center or plants in your own garden. If you're bringing herb containers from the outside in, let them experience a few cold, not freezing nights, to toughen them up for the transition indoors. It's wise to quarantine plants for a few weeks and monitor for plants and diseases.
Select the right location. Herbs like light and require a minimum of four hours of sunshine a day. A bright, south facing window is ideal. Supplement natural light with grow lights, if needed.
Choose the right container. Terra cotta containers tend to quickly dry out. Try a glazed container and saucer to keep water from damaging your windowsill or counter. Herbs like water, but too much will cause root rot and mildew problems. Place a few pebbles in the bottom of the saucer as a layer of protection for the roots.
Add good quality potting mix. Choose a moisture retentive, well-draining potting mix for houseplants, never garden soil or garden dirt.
Feed and water routinely. Indoor air can be dry. Water or mist herbs frequently. Feed every month with an all-purpose plant fertilizer.
Build a unique indoor container garden to display your herbs.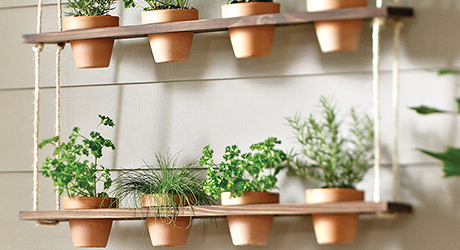 Now that you've selected your herbs, show them off in style with a unique planter that adds to your kitchen's appearance. Complete any of these DIY projects in under two hours: the hanging herb planter pictured above, which can be hung indoors or out, a vertical herb garden or herb container tower that can be installed on your porch, or this case that displays herbs in glass jars.