A deck can provide your home's outdoor space with a comfortable, inviting area for relaxing and entertaining. To create the perfect deck, you first need to learn how to plan a deck. You can hire someone, or you can build your own deck using a few common tools and the right lumber. This guide gives you the basic steps for properly planning a deck, plus tips on what kind of wood to buy. 
Things to Consider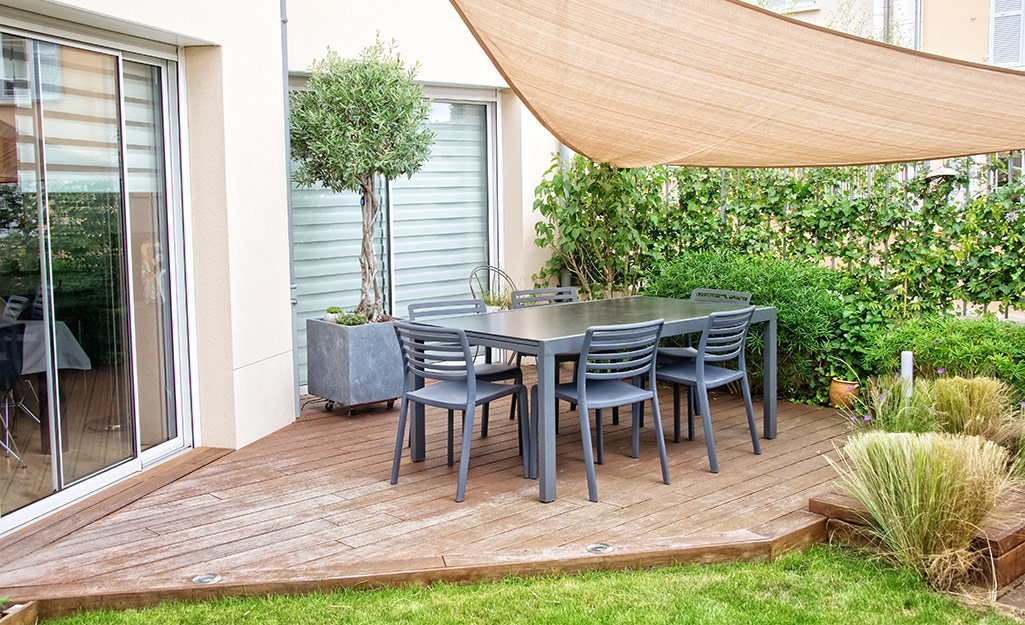 Figuring out how to design a deck that fits all your needs can seem intimidating. Before getting into the details of planning a deck, start by considering the big picture.
Your yard's current look: Don't draw your final plans until you have looked around your yard to see if anything needs changing. Pay particular attention to the terrain, soil and weather influences of your landscape. Unleveled or sloping terrain can make your decking project more complicated but not impossible. Loose, sandy soil is great for gardening but may not provide the sturdiness needed to reduce erosion and provide lasting stability for a deck.
Determine why you want to build a deck: Are you hoping to extend your living space or add an entertaining area outside for dining? Or is it more for gardening or pool privacy? These factors will contribute to the types of materials you'll need and design options you have.
Climate: Areas of direct sunlight, shade or wind can affect how frequently you use your deck and your comfort level. Make sure you are mindful of the weather elements at play and adjust for climate control. An awning, pergola or umbrella can help to shield you from the elements or provide shade.
Location: The size of your lot will play a big role in where your new deck is located. The view you wish to have from your deck and the proximity to your house will also be determined by the location you choose.
Budget: Before planning, be sure to factor in the size and design of the deck, any extras such as railings, flowerbeds, the choice of material and whether this will be a DIY project.
Design: Keep in mind that single platform decks are usually easier to build and are more cost-effective. Raised decks will require extras like railings and more structural support for safety.
Building codes: It's important to check your local building codes and have your blueprints approved by the city or county prior to getting started. Always check your local building permits and codes before beginning a project like this.
Parts of a Deck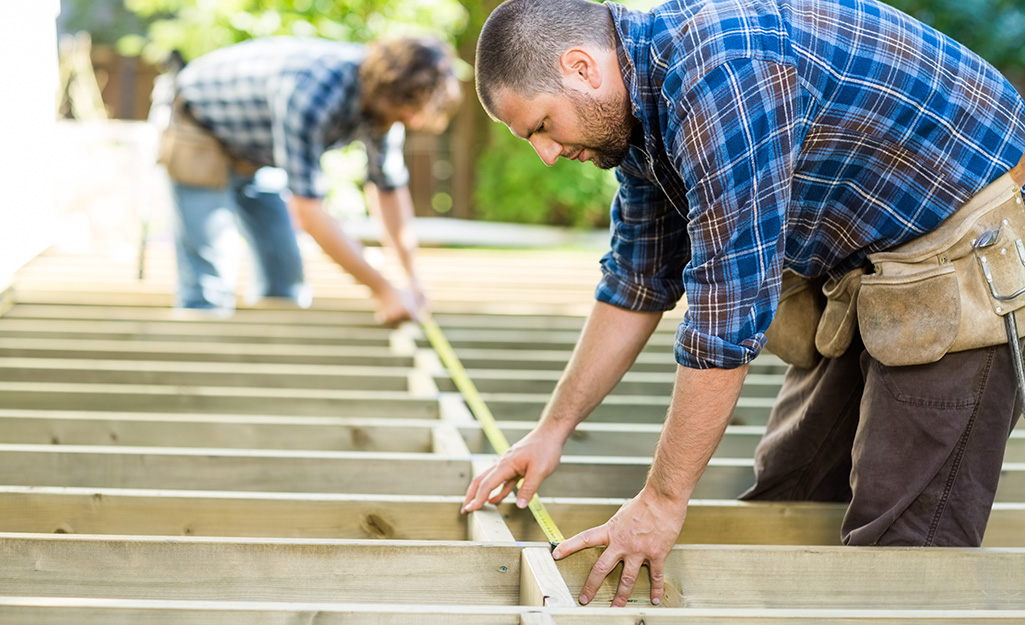 Decks are built using many building materials and structural elements. Understanding the various parts can help the process of adding a deck easier.
These are the primary parts of a deck you should know:
Footing: Typically made of concrete, these underground components support deck posts.
Joists: The elements that make up the deck's horizontal frame.
Piers: Above ground, concrete support posts.
Ledger: Attaches to your house to support one side of the deck.
Flashing: A protective layer that prevents water from entering the space where your deck connects to your home.
Decking: The boards used to form the floor of the deck.
Decking Materials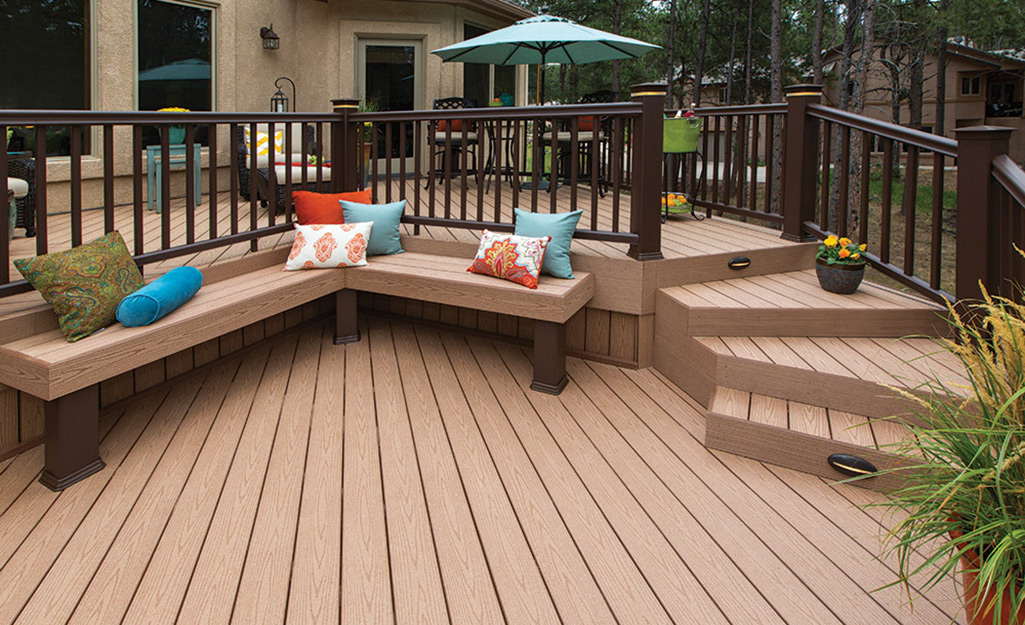 Part of planning a deck is choosing from the many available decking materials. The look and design of your deck surface will depend on the materials you use.
Pressure-treated wood: Wood decking is affordable, highly durable and customizable. You can choose from cedar to redwood lumber and easily stain or paint to your preference. Maintain wood decks by pressure-washing and regularly staining and sealing.
Composite decking: Made from both plastic and wood, composite decking allows you the best of both worlds. It's scratch-resistant and easy to maintain. Composite is also resistant to termites and warping. Although it costs more than wood decking, composite can be cleaned with a hose and doesn't need to be stained or sealed.
PVC decking: One of the most low-maintenance options, PVC boards are an all-plastic material that will not scratch, crack or splinter. They also won't require stain, paint or sealant and are pest and termite resistant. You shouldn't pressure wash PVC, but you can easily clean it with soap and water.
Deck tiles: Deck tiles are an interlocking system that allows you to create custom patterns on your deck surface. Deck tiles can be made from composite or wood.
The materials you use for railings, stairs and enclosures are also important. Depending on your deck plan and design, you'll need to keep these elements in mind.
Railings: Typically, the material you choose for your deck should also be the same material you use for the railings. Wood is the most common option.
Stairs: While your stair landing should be made of concrete, deck stairs are made from pressure-treated lumber called stringers and feature a few components (hangers, risers, treads and railing). While you can cut your own stringers, custom-built stringers may save you time and energy.
Consider the Location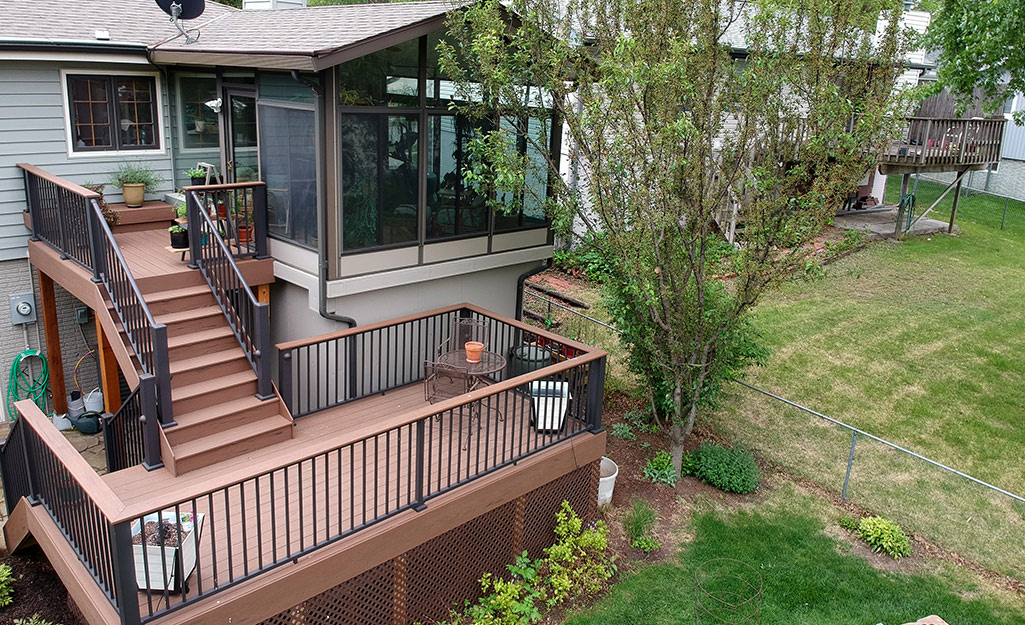 There's a lot to consider when choosing a prime location for your deck. For example, there's no rule that says a deck must be attached to the house. You might find that a detached location provides the perfect spot for a natural getaway.
If you plan to put the deck next to the house, take advantage of its exterior walls to get the best fit for your deck design.
Consider the features of your landscape. The slope of the grade, any existing vegetation and views can all impact the design of your deck and where you build it.
A deck can be single-level or multi-level, depending on the shape of your outdoor space.
If you are dreaming of building a new deck, but your location doesn't leave a lot of room for a large project, consider a ground deck. Sitting anywhere between 6 and 30 inches off the ground, ground decks are built on a level lot, don't typically require a permit and can create a beautiful outdoor space with less time and money involved. Because they are built low to the ground, the wood should be sealed to protect against moisture and outdoor elements.
Unleveled or sloping terrain can make your decking project more complicated but not impossible. Loose, sandy soil is great for gardening, but may not provide the sturdiness needed to reduce erosion and provide lasting stability.
Areas of direct sunlight, shade or wind can affect your comfort and how frequently you use your deck. Be mindful of the weather elements at play and adjust for climate control. An awning, pergola or umbrella can help to shield you from the elements or provide shade.
Consider Your Space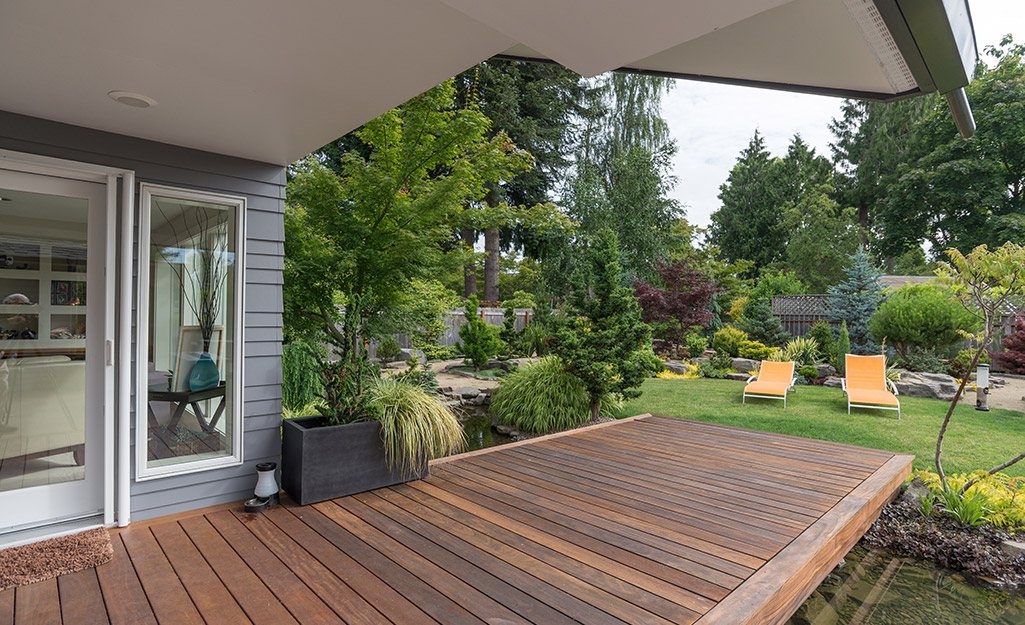 A well-designed deck should be an expression of how you live. Its style and size should match your taste and fit the way you and your family use the deck.
Your deck should complement its environment, which includes its location in your landscape, its connection to your home and the natural elements that surround it.
Decide how large your deck should be. Your deck should be large enough to comfortably handle all the activities you want to take place on it. Start with a sketch. You'll need enough room for the activity itself, traffic flow through and around the area and outdoor furniture.
If you don't think you have enough room in any one area, make that area larger or find ways to make spaces do double duty. If you need space for a private retreat, sometimes you can create just the right feeling in a corner of the deck. Just moving a chair can make a small part of a larger area feel more secluded.
If you have a pool, a pool deck can be a great addition. Pool decks not only provide additional space for lounging, but they also add a degree of privacy and security to any above-ground or in-ground pool.
Make sure the deck design accounts for your home's windows and doors and won't conflict with the deck's railing.
Once you have a solid understanding of your deck dimensions, our deck resurfacing calculator can help you determine everything from exactly how much decking material you will need to which color and edge type you prefer.
Tip: To get a better sense of your deck's potential size, mark the layout in your yard using mason's line and batter boards. 
Deck Design and Decor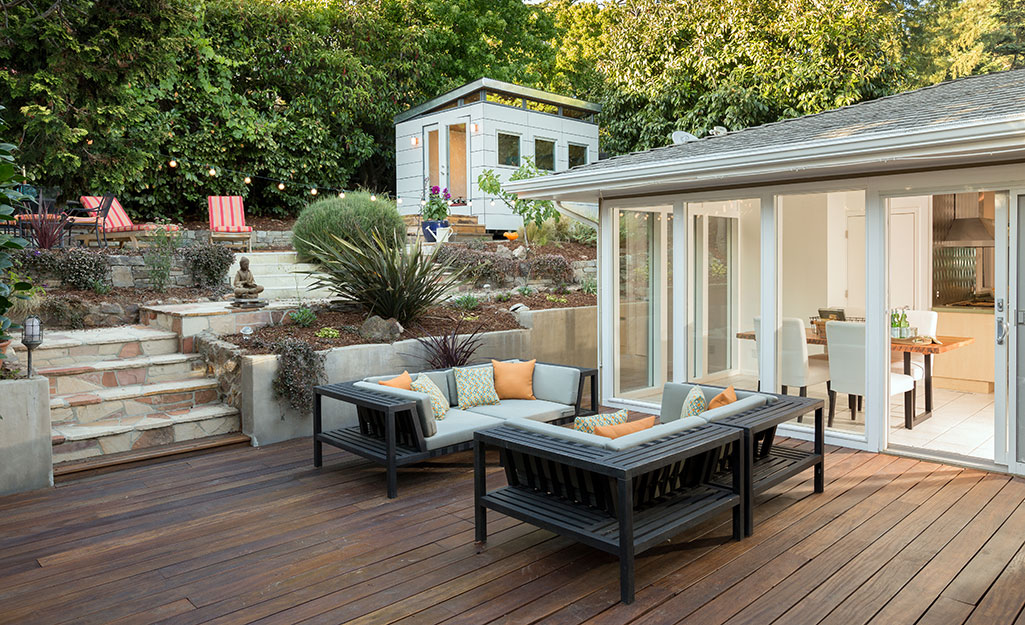 Once you have the location, material and size of your deck in mind, consider its layout and decor. Having a full image of your completed deck space will help you finalize the details of your design.
Consider how you plan to light the space. Outdoor lighting can include path lights near stairs and pathways leading up to the deck, floodlights, sconces, railing lights or atmospheric string lights.
Blend your deck into the surrounding landscape by building nearby planter boxes, trellises and garden beds.
For maximum seating space, frame the deck with a built-in bench.
When areas with different functions will be used at the same time, you can separate them visually and physically by using planters, trellises, benches or by changing the decking pattern.
If you're planning to build a wood deck, consider the stain or paint color you'll use for finishing the deck.
Consider the type of outdoor furniture you want on your deck. Knowing where you plan to put eating areas and lounging areas will inform your placement of lighting, awnings and other built-in features.
Knowing what to consider in how to plan a deck will streamline the building process, whether you choose to DIY or hire a professional. Choose the materials and determine the design based on your yard space and your family's needs. When determining how much material you'll need, don't guesstimate, calculate. Know exactly how much you need with our project calculators. 
Explore More on homedepot.com