Ideas & Inspiration
How to Plant a Colorful Window Box
A lush window box planting just seems to say, "A gardener lives here." Carefully tended in all seasons, they are generous yet compact displays combining the best of floral arranging and garden design techniques.
Window boxes are container gardens with the advantage of a strong horizontal line. Rather than a round shape that you look down on, window boxes accent homes and porches with floral color, texture and shape at eye level.
Window boxes come in a variety of styles, and at their most basic, are simply boxes or baskets that attach with hardware to windows or porch railings. Look through the window box styles available and ask the knowledgeable Garden Center associates when in the store to help choose the right window box for your home.
Follow the mantra of container design, thriller, spiller and filler, when planning your window box. Thrillers are the bold, strongly vertical, show-offs usually planted in the back of the box. A thriller can also be a vibrantly colored bloom that catches your eye in the center of the box. Fillers are neutrally colored (and for the purpose of gardening, green is a neutral) or small in shape and provide visual mass. The spiller simply flows over the edges of the container, leading the eye in and out of the box.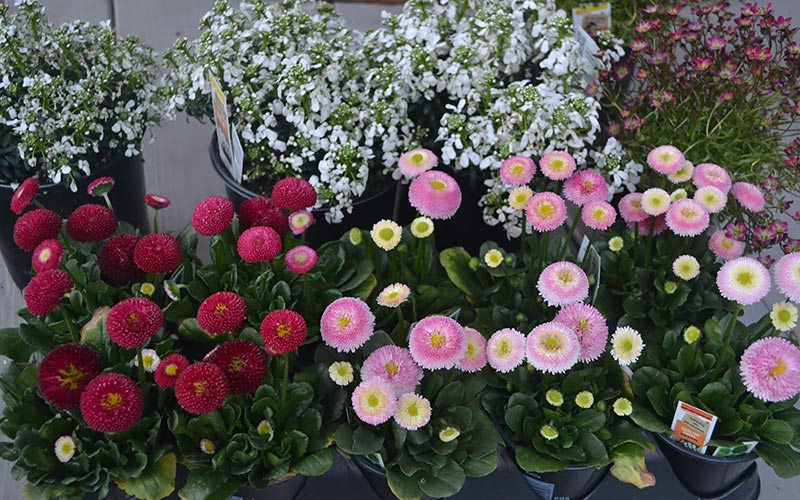 Select plants first by their light and water requirements. Sun-loving and shade-loving will not live happily ever after in the same box.
Next, color. What color is the house or structure that the window box is in front of? Coordinate colors. For example, this spring assortment in shades of pink, white and dark red picks up on the deep red color of the house. Another approach is contrast. For example, mix coral geraniums and chartreuse sweet potato vine with dots of calming baby blue lobelia. Brilliant red double begonias, shots of yellow and orange marigolds and pops of glossy grass, with trails of creeping jenny, makes a sunny summer combination.
And then, texture, meaning the foliage shapes and variegation. If you have a lot of color, don't overdo it on texture. Conversely, if your color palette is static, mix up the texture. Variegated hosta, delicately colored hellebores and vibrant heuchera create texture for a shady box in spring and early summer.
To determine how many plants to purchase to fill up the window box, use the rule of thirds. This tenet of design says that the eyes break spaces into thirds. Choose an odd number of plants — three, five or seven. While the temptation is to divide the container into evenly spaced areas, break into thirds and see how pleasing an arrangement that is.
When it's time to plant, keep in mind that heat from driveways and houses can dry out the container. Window boxes may need to be watered twice daily in the heat of the summer.
Use a potting mix especially formulated for containers, like Miracle-Gro Moisture Control Potting Mix to conserve water. This mix retains water up to 25 percent better than regular potting mix. Adding perlite and peat moss increases drainage.

Regularly fertilize with an all-purpose plant food for healthy, beautiful plants.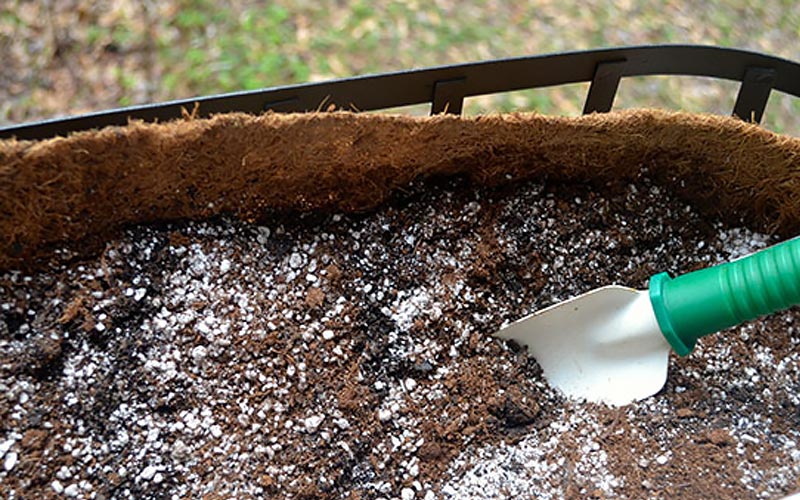 Planting out a window box involves an initial investment of about $50. With a bit of planning, you can stretch your investment by purchasing perennials like ivy and small evergreens that can be refreshed throughout the year.
In the spring, use forced bulbs like daffodils and tulips for height, or even small boxwoods. Fill in with creepers like phlox, add pansies and English daisies, and drape ivy over the sides.
In the summer, go for bright geraniums and petunias, cascades of lobelia and sweet potato vine, and clusters of drought-tolerant marigolds. And let's not forget basil and other herbs for a kitchen-garden-themed window box.
In fall, refresh with pansies and the ivy, and fountain grass for height. In the dark of winter, boxwoods can hold their own. Supplement with clusters of evergreens, outdoor Christmas tree ornaments, and ribbons.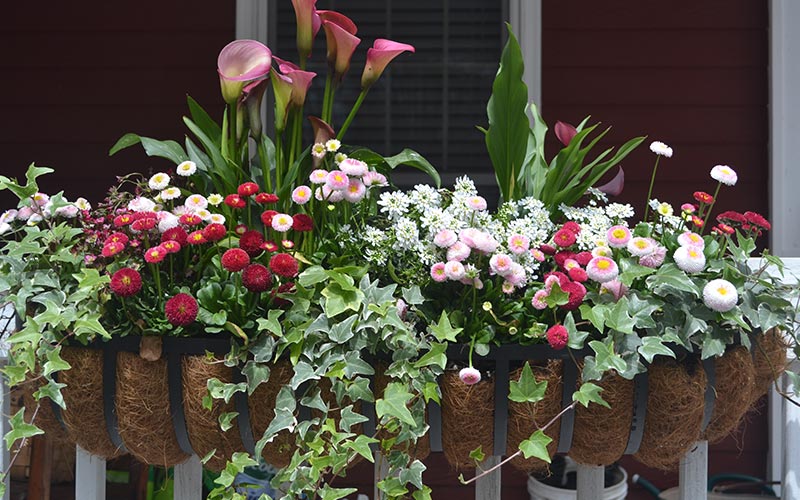 For this project, I used a Vigoro 36-inch Horse Trough Planter with a coco liner. Replacement coco liners can be purchased at The Home Depot Garden Center. Some gardeners will line their coco mat with plastic, but it's not necessary if you use a good-quality, water-retentive potting mix.
This window box is filled with English daisies, English ivy, creeping phlox, candytuft (Iberis) and calla lilies.
All photos by Lucy Mercer