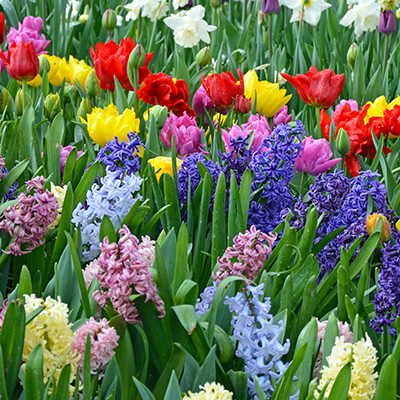 Every experienced gardener knows a beautiful spring landscape begins in fall. Plant fall bulbs now for a burst of color as soon as spring awakens. A little effort while the weather is still warm will pay off in just a few months.
The key to a beautiful spring landscape is lots and lots of flowering fall bulbs. Choose tulips, daffodils and other fall-planted, spring-blooming bulbs in your favorite colors. Plant in fertile, well-drained soil as soon as the weather cools. 
Designing a Landscape with Fall Bulbs:
Gather inspiration to determine favorite color schemes and types of fall bulbs.
Buy bulbs that bloom early, mid- and late spring to increase total bloom time. Buy more than you think you need for maximum impact. Place fall bulbs in a cool location until it's time to plant.
Daffodil, muscari (aka grape hyacinth), snowdrop, crocus and iris are good choices because they come back year after year. Grow tulips close to the house to protect them from deer.
Avoid the temptation to plant fall bulbs in single rows. For the most natural look, group them in a pyramid, rectangle or circular shape.
Plant bulbs among ornamental grasses to create a flowering focal point and draw the eye away from sheared grass.
Choose shrubs and understory trees that also bloom in spring, such as crabapple, dogwood, deciduous magnolia and redbud. Fall is a great time to plant these, too.
Explore More on homedepot.com