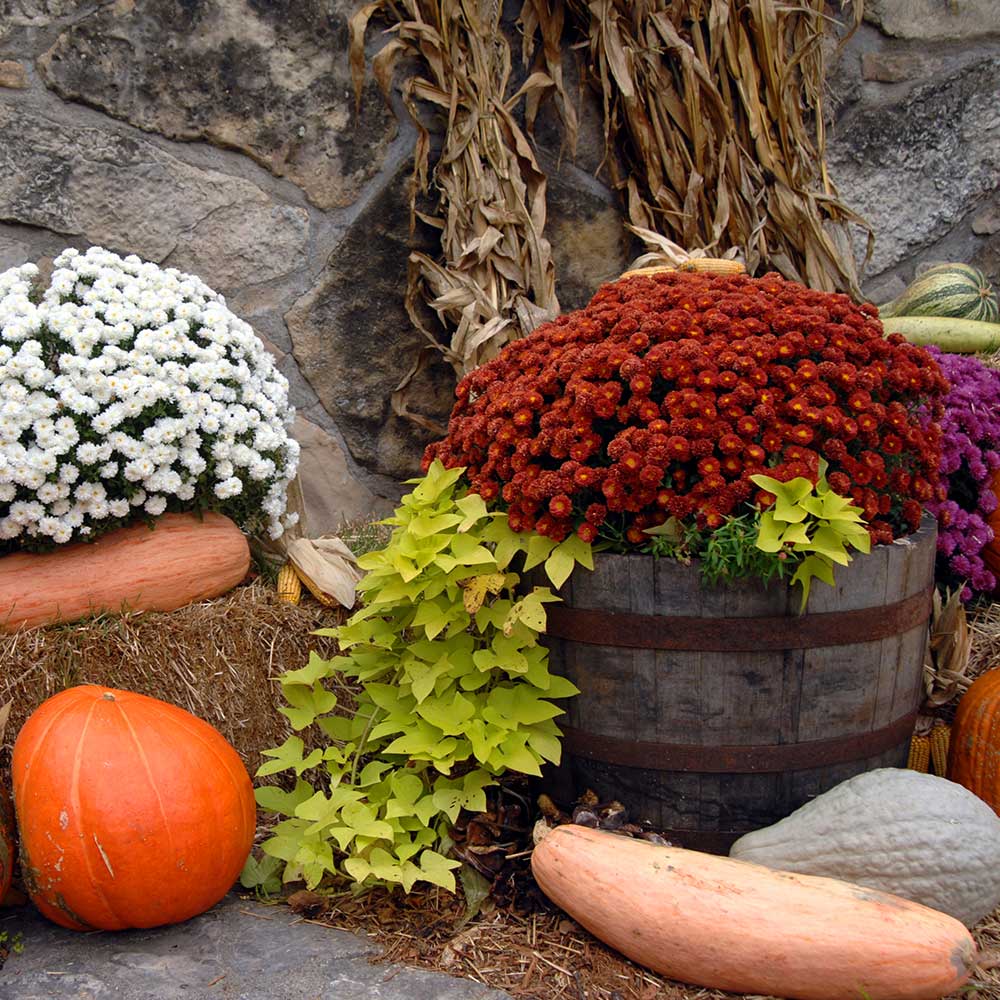 Sometimes in gardening, you need to go big or go home. That's the case with container gardening. In fall, pack a large pot to capacity with chrysanthemums, ornamental grasses and late-season perennials and annuals to punch up your porch or patio.
Not just for commercial landscapes or formal gardens, large containers bring blooms to eye level, pulling together color, texture and shape in a touchable space.
Large containers also have the advantage of protecting plants during cold weather. Add planter caddies for portability and you can wheel your container of mums to a protected space.
Choose the Right Planter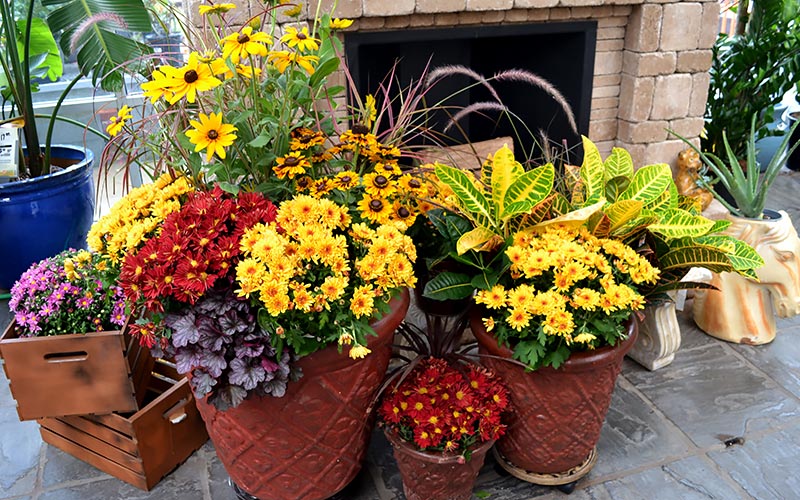 To bring this look to your home, begin with the right planter. You can choose from heavy ceramic or clay pots, or go for lightweight synthetic containers.
Some synthetic containers are self-watering with reservoirs that will prevent the plants from sitting in water, causing root rot.
The Home Depot breaks down the variety of container options in this buying guide. Before you plant, make sure the container has drainage holes. If not, use a drill to create some. 
Fill Planter with the Right Soil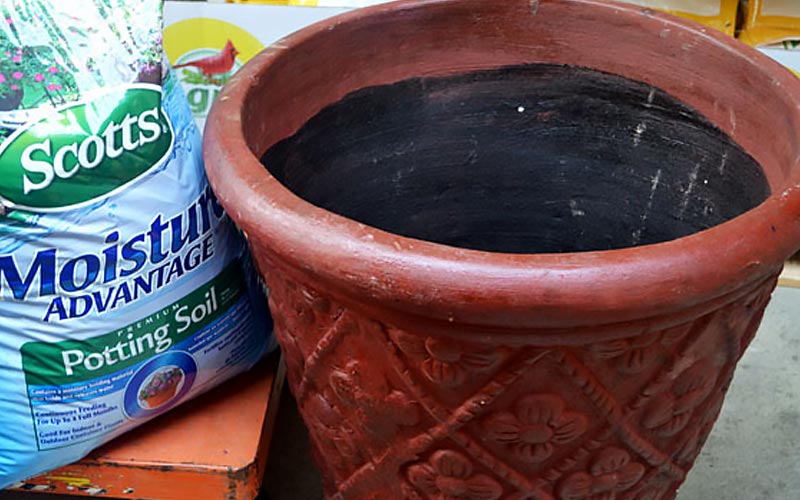 Use high-quality, well-draining potting mix. The best potting soil is both moisture-retentive and well-draining so that plant roots can get the nutrients they need. Some large containers will take at least one 32-cubic foot bag of soil and possibly more, but it's not necessary to use soil in the entire container.
Options include collecting empty plastic soda or water bottles, layering them in the bottom third of the container, putting sheets of newspaper or newsprint on top, then topping with potting mix. You can also put a layer of pine bark mulch.
Another trick is to place a nursery pot upside down over the drainage hole and top with potting mix and plants.
These options will make the planter as lightweight as possible. Gardeners in windy climates can add pavers, bricks, rocks or even cinder blocks to the bottom of the container to add heft.
Tip: Large containers need to be set up off the ground to improve drainage and to prevent insect infestations. For portability, consider planter caddies. If mobility is not important, pavers make convenient props.
Choose the Blooms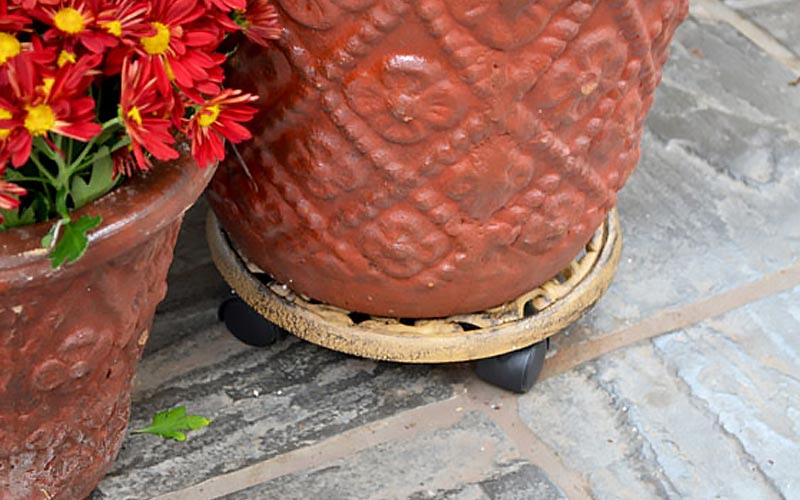 How will your container be viewed? If it's from all sides, center the tallest element in the middle and surround it with clusters of chrysanthemums, then fill in with pockets of spillers.
If the container will be on a porch or viewed from one direction, begin with the tallest plants in the back and make a semi-circle of mums, varying the colors for vibrancy. Choose spillers like heuchera, loropetalum or sweet potato vine placed in pockets along the edge.
Plant the Container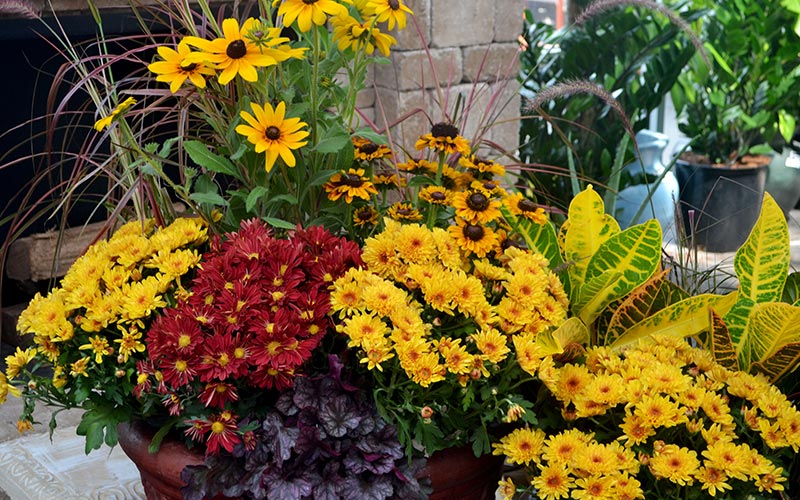 For maximum impact, group coordinating containers with similar plantings. Above, mums are planted with brown-eyed Susans, purple fountain grass, croton and heuchera. Place a sunny display like this on your porch steps for a welcoming entrance.
Keep Your Fall Mums Display Fresh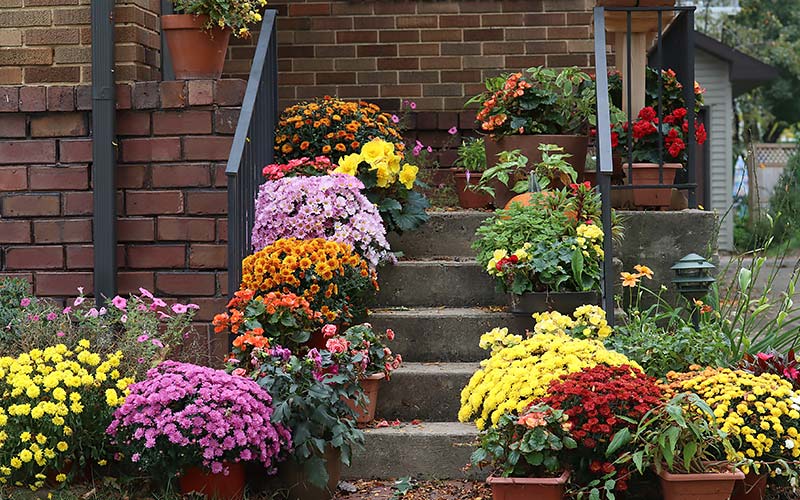 Position planters in light shade and sun, such as on the edge of a sheltered front porch.
Check the moisture level in the soil daily. Mums like soil that's a bit on the dry side.
Trim spent flowers.
Cover the planters or move them inside when the nights dip close to freezing.
Keep in mind that in fall, days are shorter and plant growth is slowed. Unlike planting containers in early spring, in the fall, pack the planter full to get a lush look.
Plant Mums in the Garden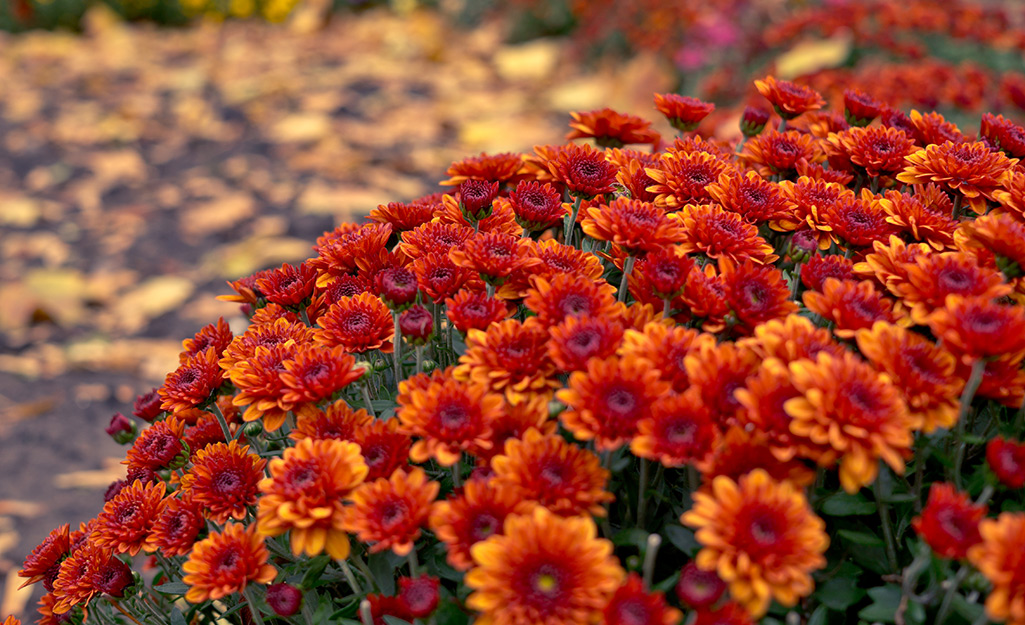 Potted mums add easy instant color when treated as annuals. Some mums are perennial and will come back next year if you plant them in your garden. These impressive plants mature into stately 2-foot-tall mounds covered with blossoms that return every fall. 
For years of enjoyment, make sure you buy garden mums instead of florist mums, which are beautiful plants for patios or sun rooms, but often succumb to cold injury when planted outdoors in the fall.
Here's how to plant hardy mums:
Choose garden mums that have not yet begun to bloom, and check plant tags for flower form and color. The best choices are small plants in 4-inch containers that are just beginning to show buds or have no buds at all, but any garden mum is worth planting as a perennial in late summer.
Plant fall-purchased garden mums early — even as early as late August — to help plants develop strong roots. Otherwise they may experience frost heave in freezing temperatures, and be pushed from the soil.
Garden mums need at least six hours of sun a day, along with fertile, well-drained soil. Dig planting holes twice as deep and wide as the container it came in. Mix in a generous spadeful of compost or packaged garden soil to give your plants an easy start.
Squeeze the plants from their containers and tease apart a few of the outermost roots on the sides and bottom of the root ball. This slight disturbance triggers the plants to repair the damage by growing new roots.
Set the plants in the hole slightly higher than they were in the containers.
Water well.
Surround the plants with a 2-inch blanket of attractive mulch. Do not let mulch touch the plants' main stems.
Trim plants after flowers have faded in late fall, leaving a 10-inch umbrella of stems. Old stems help shelter the plants' crowns from harsh winter weather and can be clipped off first thing in spring.
Whether you need the right planters, seeds or potting soil, The Home Depot delivers online orders when and where you need them.
Explore More on homedepot.com